This article first appeared in Personal Wealth, The Edge Malaysia Weekly, on October 21, 2019 - October 27, 2019.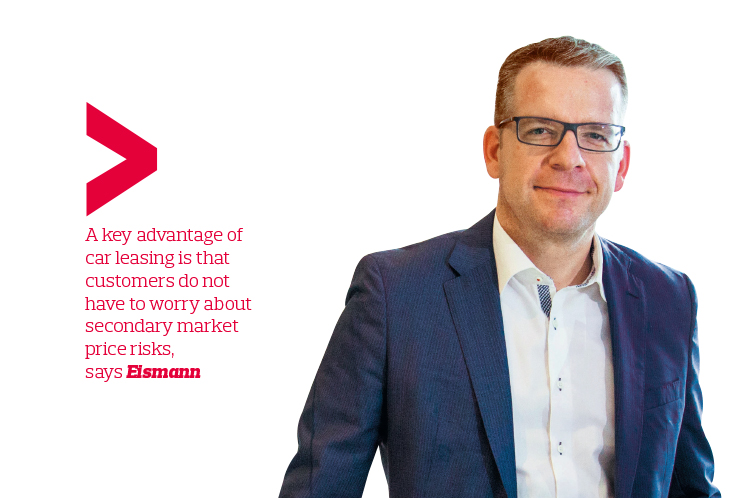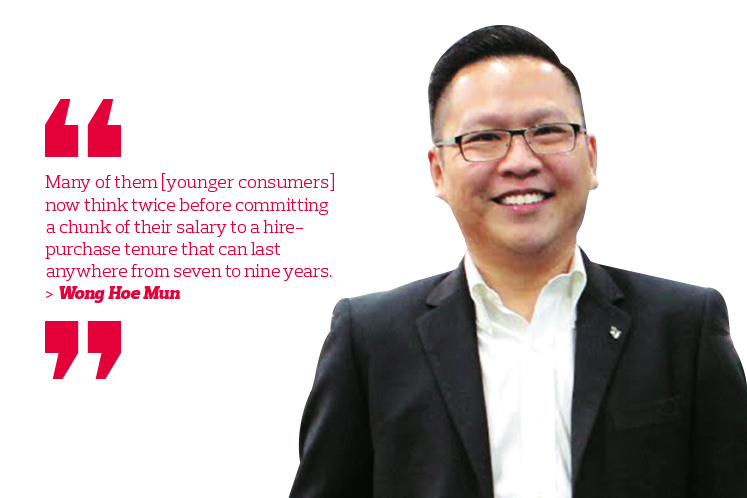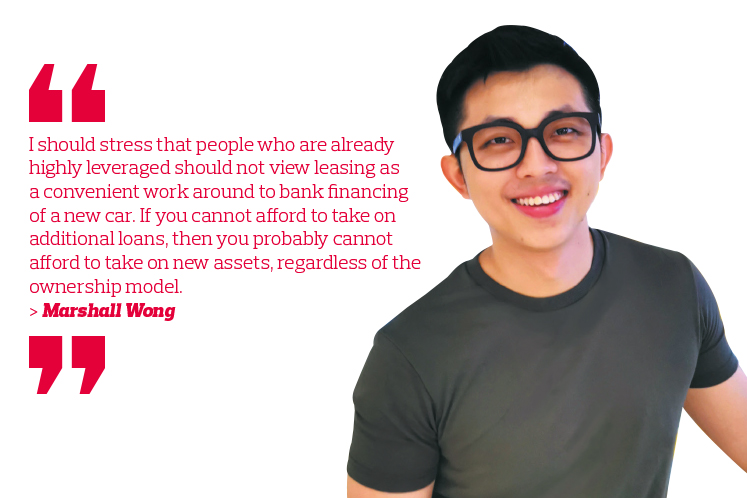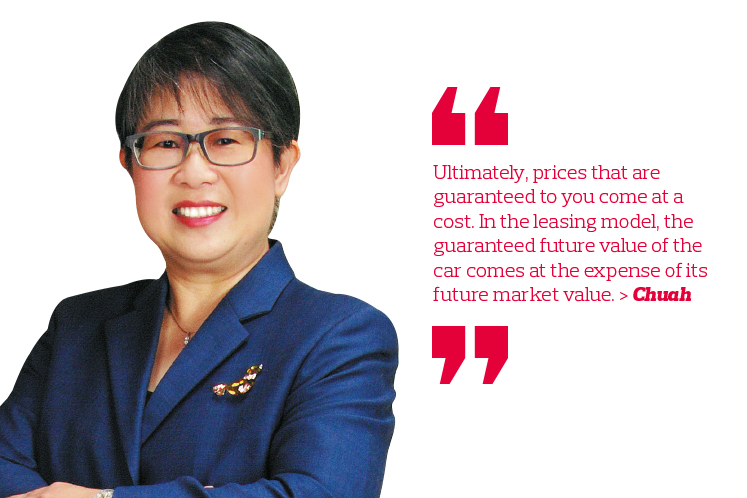 Digital disruptors and evolving consumer preferences are changing the way people look at traditional passenger car ownership. This, in turn, has led to an increase in alternatives to the traditional hire-purchase route in the country.
A number of car manufacturers and a start-up have introduced new leasing and subscription schemes in the country that are making it easier for private individuals to drive a car of their choice for the long term. These schemes, which see ownership of the cars retained by the companies, also benefit consumers by freeing up more of their disposable income for investment or other expenditure.
Unlike hire-purchase car ownership, leasing is a long-term rental arrangement that lasts anywhere from three to five years, and the user need not face depreciation costs.
BMW Group Financial Services Malaysia CEO Tobias Eismann says the rise in leasing models stems from broad-based trends like digitalisation and disruption. "With these factors, new business models as well as products and solutions can be introduced to provide customers with more comprehensive but flexible solutions. Examples are car-sharing and ride-hailing services, which have revolutionised traditional industries to offer customers more flexibility and value."
A key advantage of car leasing is that customers do not have to worry about secondary market price risks, Eismann adds. "There is a measure of certainty for the customer without the yearly road tax and vehicle insurance renewal concerns."
Business owners who want to conserve their capital for other investments and do not want the purchase of a car to appear on their balance sheet may prefer to lease one instead, says
Volvo Car Malaysia managing director Nalin Jain.
"A lease doesn't appear as an asset on your books, so you can use your capital for other investments instead of buying a car. People forget just how important balance sheets are to a business. So if you can now make your balance sheet lighter [by leasing a car rather than buying one on hire-purchase terms], you can load it with other assets that are more important to the business."
Another alternative to hire purchase is the subscription model, which is a short-term service with lower commitment. Similar to a Netflix or premium Spotify subscription, subscribers are given access to a range of vehicles for a monthly fee. Recently, Renault Malaysia became the first in the country to provide a vehicle subscription service with TC Euro Cars Sdn Bhd as its sole distributor.
Early this month, new local company Flux entered the market with an app-driven, vehicle subscription service that targets the urban population and offers various car brand options. Its founder is Permodalan Nasional Bhd group chairman Tan Sri Dr Zeti Akhtar Aziz's son, Aziz Ayman.
Interestingly, the rise in these alternatives to hire purchase has coincided with a multi-year slowdown in new passenger car purchases. According to Malaysian Motor Association (MAA) data, new purchases rose steadily from 2010 and peaked at 591,275 in 2015, the year the now-defunct Goods and Services Tax (GST) was introduced. Since then, however, sales have plunged, dropping to under 514,000 in 2016 and 2017. In fact, 2016 recorded the worst sales (514,594) since 2009 (486,342). Sales recovered slightly to 533,202 last year when GST was removed and consumers enjoyed a three-month tax holiday. As at June this year, passenger car sales stood at 270,875.
However, the drop was only seen in certain segments of passenger cars. Some manufacturers say premium vehicles, in particular, have seen strong year-on-year sales over the last few years. In fact, replacement rates for vehicles in the premium segment remain high. According to BMW Group Malaysia, its customers tend to replace vehicles every five years on average, which is when the warranty period ends.
"While it is true that total industry volume has decreased since 2015, BMW Group Malaysia's has grown by double digits since then. While our expanding product portfolio has driven the growth, our dynamic financing programmes have been key to it," says Eismann.
Wong Hoe Mun, CEO of TC Euro Cars, says the MAA data indicates that the automotive market, like any other industry, is experiencing major shifts in consumer behaviour and consumption patterns. For a growing brand like Renault, he says the changes and consumer trends are big growth opportunities.
"The Renault subscription offering was created from our observation that there is a gap currently in the market where consumers can access affordable and flexible mobility solutions beyond the traditional hire-purchase and leasing options."
These changing preferences can be attributed to the fact that many younger, highly educated urban users prefer to spend their money on experiences rather than things. "This goes back to the 'you only live once' mindset. Younger consumers prefer to spend their hard-earned money on interesting holiday and culinary experiences, in addition to prioritising saving up for a property," says Wong.
"Many of them now think twice before committing a chunk of their salary to a hire-purchase tenure that can last anywhere from seven to nine years. The drain on their finances would be such that they would have to give up a lot of the experiential activities that they would have otherwise wanted to enjoy.
This is why we believe that now is the right time to introduce a flexible, low-commitment subscription service to the market."
New Options
Leasing schemes have existed in Malaysia for many years now but recently, car manufacturers have begun introducing them directly, independent of such third-party companies. Among other reasons, this has enabled the car manufacturers to provide more competitive rates by cutting out the middleman. This has made the programs more accessible to consumers.
In a lease arrangement, the consumer first chooses a vehicle, then agrees to a tenure that typically ranges from three to five years. Consumers are free to choose the options for the car, including trim level (a broad term that denotes optional extras and premium features)and colour combinations.
A contract is then drawn up, specifying the tenure, maximum allowable annual mileage as well as payment structure. The cost of the lease depends on a number of factors, including the initial purchase price of the car, its estimated value at the end of the tenure (also known as the residual value), lease tenure and maximum mileage allowance. If the mileage allowance is exceeded, customers will then pay a fixed rate for every kilometre overrun.
The customer then makes a down payment, usually 10% of the vehicle's purchase price, and fixed monthly payments until the end of the lease. Generally speaking, the longer the tenure, the lower the monthly payments. Once the customer reaches the end of the lease, he simply returns it and payments cease.
While this is a basic leasing model, brands tend to compete on the provision of various value-added products and services that they bundle into the payments. For example, the fixed monthly payments may include the road tax and vehicle insurance costs. More advanced leasing schemes provide what is known as a guaranteed future value (GFV). This is essentially a guaranteed price at the end of the tenure in case the customer wishes to purchase the car.
BMW Malaysia's BMW Easy Drive programme, which was introduced in February, reads like a lease at first but according to Eismann, it is in fact a hybrid offering. He says it provides the flexibility of a leasing model and an ownership model via hire-purchase financing.
According to the programme's press release, customers get to choose a down payment of between 10% and 30% on any BMW model, along with a loan tenure of three or four years as well as mileage options of either 20,000km or 25,000km annually.
A monthly instalment is calculated and the car's GFV is then agreed upon and built into the contract. At the end of the tenure, customers are given a number of options to choose from: they could simply return the vehicle, thus ending the agreement; they could trade in the vehicle for a newer model and, therefore, new financing terms; they could extend the existing loan on their current contract; or they could simply settle the GFV in full to own the vehicle.
Flux is yet another alternative ownership model that has emerged in Malaysia with even lower rates than those of the independent leasing market.
According to its press release, Flux provides a monthly vehicle subscription service with such features as short-term contracts and the ability to swap vehicles. Also built into its prices is comprehensive insurance coverage, road tax payments, regularly scheduled maintenance services and an anti-theft system.
However, answers to questions from Personal Wealth reveals that it operates more as a hyper-flexible sub-leasing company. It leases its fleet of vehicles from various local brand distributors and then sub-leases them to end-users. It lacks a key feature of vehicle subscription services available in other markets: tiered subscription offerings with a range of vehicles to choose from in each tier. Under Flux, whenever a user swaps his existing car for another, the monthly price is readjusted to reflect the value of the current vehicle.
However, unlike traditional leasing companies that lock a user into a multi-year contract, Flux's offerings stretch from one month to up to 36 months, according to information on its website. The company is not the first brand-agnostic lease company in the market. Government e-service provider My EG Services Bhd (MyEG), for instance, provides a service called SmartLease on its MyMotor online platform. A quick comparison of prices on the two websites reveals that Flux provides more competitive monthly rates than SmartLease.
Under Flux, a Toyota Vios 1.5L Sportivo costs RM1,671 per month in a 12-month contract. On a three-year contract, payments drop to RM1,308 a month. By contrast, SmartLease does not offer tenures that are shorter than 36 months. And even then, with payments spread over three years, SmartLease offers RM1,826.43 a month for the same make.
Subscribe to your car
Vehicle subscription tenures tend to be shorter and more flexible than those of traditional leases. They could be anywhere from a few months to a few years with few, if any, minimum duration stipulations.
Depending on the user's chosen subscription tier, he gets access to a host of hatchbacks, sedans, sports utility vehicles (SUVs) and even high-performance variants.
Vehicle subscription services are relatively new, even in Western markets. In fact, Malaysia is Renault's first market for its subscription service. "This was an idea that we brought up to Renault and they were happy to have us pioneer it in the Malaysian market," says Wong.
Furthermore, no down payment is needed. TC Euro Cars requires an initial security deposit of between RM2,500 and RM3,000, which is much cheaper than the traditional 10% down payment requirement. The security deposit is returned to the user, subject to the condition of the car, at the end of the subscription period.
The service has two tiers — the Fixed Plan and the more premium Switch Plan — both of which come with various add-ons, optional extras and built-in ancillaries. According to Wong, regardless of the tier, the monthly payments cover vehicle insurance, road tax and regular scheduled servicing.
The plans are broken down into additional packages that users can choose from. Broadly speaking, the Fixed Plan allows users to sign up to a service that lasts between one and two years. The shorter the subscription tenure, the more expensive the monthly subscription. For example, the entry-level SUV, the Renault Captur, costs RM1,299 on a two-year subscription and RM1,499 on a one-year subscription.
According to Wong, the Fixed Plan has more stipulations, conditions and controls. There is also a 20,000km per year mileage cap. Wong says this is a generous allocation, noting that road users tend to travel about 20,000km in a year. However, a 2018 news report quoting research from the Malaysian Institute of Road Safety Research found that drivers in Peninsular Malaysia, on average, travel 2,349km a month or slightly more than 28,000km a year. There are more stipulations than just the mileage cap, however.
"Under the Fixed Plan, users do not have the option to cancel their subscription ahead of time. Also, while vehicle insurance, road tax and scheduled maintenance are all provided for, we do not include wear and tear items as part of our maintenance services. Even on hire-purchase terms, it is very rare that brands include wear-and-tear components as part of their warranty. These include the cost of replacing tyres, brake pads, wipers and car fluids," Wong explains.
"In the Switch Plan, users get to enjoy all these perks in addition to the ability to cancel their subscription at any time, subject to providing us with 30 days' notice. Also, the Switch Plan, as the name suggests, allows users to swap from the entry-level Captur to our top-of-the-line Renault Koleos SUV."
Subject to availability, users get to use the Koleos for between two and four months out of 12.
At this very early stage, Renault's subscription service does not go quite as far as other brands in more mature international markets. For instance, the brand does not provide the ability to swap vehicles in all its subscription tiers. However, says Wong, this is simply because in Malaysia, Renault's two major sellers are the Captur and Koleos.
"For Renault in the Malaysian market, it just so happens that we don't yet have a very extensive product line-up. Therefore, our two main products — the Captur and Koleos — form the basis of the subscription service.
"That said, even other brands that might offer subscription services in other markets have various stipulations on users' ability to swap cars. Certain brands control the number of days users can swap cars in a year. Other brands, meanwhile, allow unlimited switches within a tier. But at the end of the day, all of these stipulations are subject to the availability of the vehicles."
Nissan Malaysia also recently introduced its own subscription service. According to its
website, however, the service extends to just two of its cars, neither of which is available as a petrol-only option. Furthermore, users are tied to a three-year contract.
Moving forward, Wong does not rule out the possibility of more brands introducing alternative vehicle ownership schemes of their own. "In the competitive automotive industry in Malaysia, we believe that meeting the consumer's needs is what every company strives for. Thus, it would not be surprising if other brands follow suit with alternative ownership schemes of their own."
According to Volvo Car Malaysia's Nalin, consumer behaviour is evolving not only in Malaysia but the world over. "Slowly, consumers are migrating away from ownership of a car. So, the idea is to provide more flexibility to the consumer to decide on his mobility needs. The conversation has now shifted. It's no longer just about selling a car but we're now talking about mobility as a service."
More choice is a good thing
The increase in alternative passenger car ownership options bodes well for Malaysians, say financial planners. For licensed financial planner Marshall Wong, the proliferation of new ownership options means people have more freedom to make useful comparisons and select an option that more closely fits their individual needs. "I do hope more brands in Malaysia introduce alternative ownership models to complement their existing hire-purchase ownership options," he says.
In addition, Wong, who also goes by the social media moniker PlanNERD, says vehicle ownership is such a personal matter, subject to so many individual and unique considerations.
"It is a major personal milestone for young people, regardless of what brand they end up owning. Thanks to the proliferation of these new alternative ownership models, it is slowly becoming more practical for Malaysians to strike a balance between budgetary requirements and personal aspirations," he adds.
According to Wong, an advantage of leasing a vehicle is that it does not impair one's loan-to-income ratio since leasing does not require a bank loan. "This can potentially free up disposable income to be used on other expenditure, for example a home mortgage. However, I should stress that people who are already highly leveraged should not view leasing as a convenient work around to bank financing of a new car. If you cannot afford to take on additional loans, then you probably cannot afford to take on new assets, regardless of the ownership model."
The hire-purchase option is great for users who envisage holding on to the vehicle for the long term. He suggests that one broad demographic that might benefit most from the traditional hire-purchase model is the head of a young and growing family. This class of consumer tends to hold on to a vehicle for years, at the very least, certainly well beyond the hire-purchase tenure.
The vehicle is first driven by the parents but later on, when the children grow up, it gets passed on to them, which they then use to commute to college. Having been bought out of necessity, the vehicle gradually gains a lot of intangible, sentimental value.
Other demographics stand to benefit from shorter-term alternative ownership arrangements, particularly as these models become more competitive in the future. Joyce Chuah, licensed financial planner and CEO of Success Concepts Sdn Bhd, says car enthusiasts, for example, might prefer a flexible, low-commitment alternative ownership arrangement as it gives them the freedom to change cars every few years.
"Ultimately, users must weigh the costs and benefits of all these forms of ownership. It is easy to just assume that getting a car on hire-purchase terms is the best way to own it. But you might be surprised to find out that the hire-purchase model is not always the way to go, particularly if you are the kind of person who fancies a new car every few years," she says.
However, in a comparison of the hire-purchase and leasing models, she believes the built-in cost of some leasing options makes it unattractive relative to hire purchase.
According to calculations made on the price points of a particular car manufacturer, it is apparent that a heavy depreciating rate is built into the lease payments, she observes.
Chuah's calculations show that over a 48-month tenure, a 21% annual depreciation rate is built into the monthly lease payment. In contrast, an 84-month-long hire purchase of the same model has a 16% annual depreciation rate. Her calculations are based on a European compact executive sedan.
More significantly, the calculations show that in a four-year lease, a consumer would have ended up paying more than 70% of the purchase price via monthly payments with no prospect of owning the vehicle at the end of the tenure.
This is why she believes leases are more suited to businesses that wish to acquire vehicles without impairing their long-term finances. Leases do not show up as liabilities on a company's books unlike vehicles acquired by a business on hire-purchase terms.
In addition, there are various tax advantages associated with leasing a vehicle in the course of a business. Leases are generally tax-deductible when it can be shown that the vehicles are being used to generate assessable business income.
Simply put, there is no such thing as a free lunch, Chuah says. "Ultimately, prices that are guaranteed to you come at a cost. In the leasing model, the guaranteed future value of the car comes at the expense of its future market value. This is because the depreciation rate in the lease payment model has been set at a higher rate than market depreciation.
"In a traditional hire purchase, you have the option to finance the vehicle for longer than the usual three to five-year lease tenure. Additionally, you have the freedom to sell it anytime you wish."
Chuah also cautions against potentially onerous terms and conditions pertaining to the vehicle's condition when it is brought in at the end of the lease period. Checks by Personal Wealth reveal that some leasing schemes have detailed physical requirements that the vehicle must satisfy when it is turned in, failing which monetary penalties are imposed on top of the monthly payments.