This article first appeared in Options, The Edge Malaysia Weekly, on September 14, 2020 - September 20, 2020.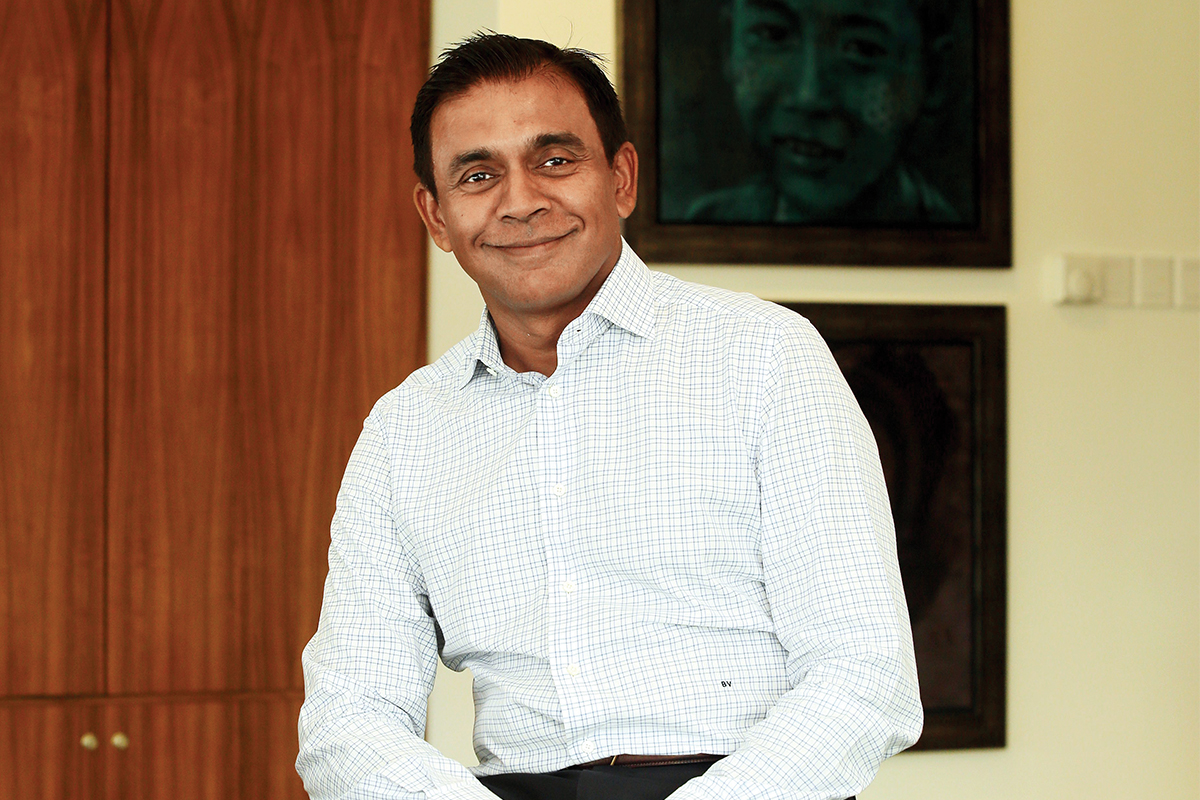 Financial literacy levels in our country are not as high as they should be, and private equity firm Creador is playing its part in providing Malaysians with a valuable platform to access quality information on the subject for free in an easily understood format. Called Multiply, it is exactly the resource that young people trying to understand consumer finance have desperately needed. Creador's founder and CEO Brahmal Vasudevan talks to Anandhi Gopinath about the insights that inspired its inception and his plans for it going forward.
Creador deals with finance, but the thing I will remember most about its office is the art. My favourite is Birth of a Nation/Death of a Nation by Ivan Lam — a majestic piece in resin that features elements of the Jalur Gemilang, it takes up almost an entire wall in the entrance area. Damien Hirst's Five Stages of Dying provides a glorious pop of colour to a corridor that connects the foyer to the offices within, where a piece by architect/artist Indra Ramanathan takes pride of place. In another nook sits a brass Ganesha, the elephant-headed Hindu god said to be the remover of all obstacles, while several sculptures I am unable to get the details of dot the rest of the space. There is a disarming honesty that emerges as a theme to what I see — this is a collection anchored by passion and love, not quite dictated by investment value.
A private equity firm focused on high-growth markets in South and Southeast Asia — one often needs good money for good art — Creador was founded by Brahmal Vasudevan in 2011. A graduate of Harvard Business School and Imperial College, London, he spent time at British American Tobacco, Boston Consulting Group and Astro before assuming the position of managing director of ChrysCapital, a leading private equity firm focused on growth capital investments in India. Upon returning to Malaysia, he started Creador.
The company, with offices in Indonesia, Singapore, Malaysia, Vietnam, the Philippines, India and Sri Lanka, has done remarkably well over the years. It has raised close to US$1.5 billion (RM6.2 billion) of investor commitments across four private equity funds since its inception and has invested in a variety of industries, including financial services, consumer durables, retail, food and beverage, pharmaceuticals, healthcare, media and business services.
For the full story, pick up a copy of The Edge Malaysia (September 14, 2020) at your nearest news stands or visit optionstheedge.com.