This article first appeared in The Edge Malaysia Weekly, on September 27, 2021 - October 03, 2021.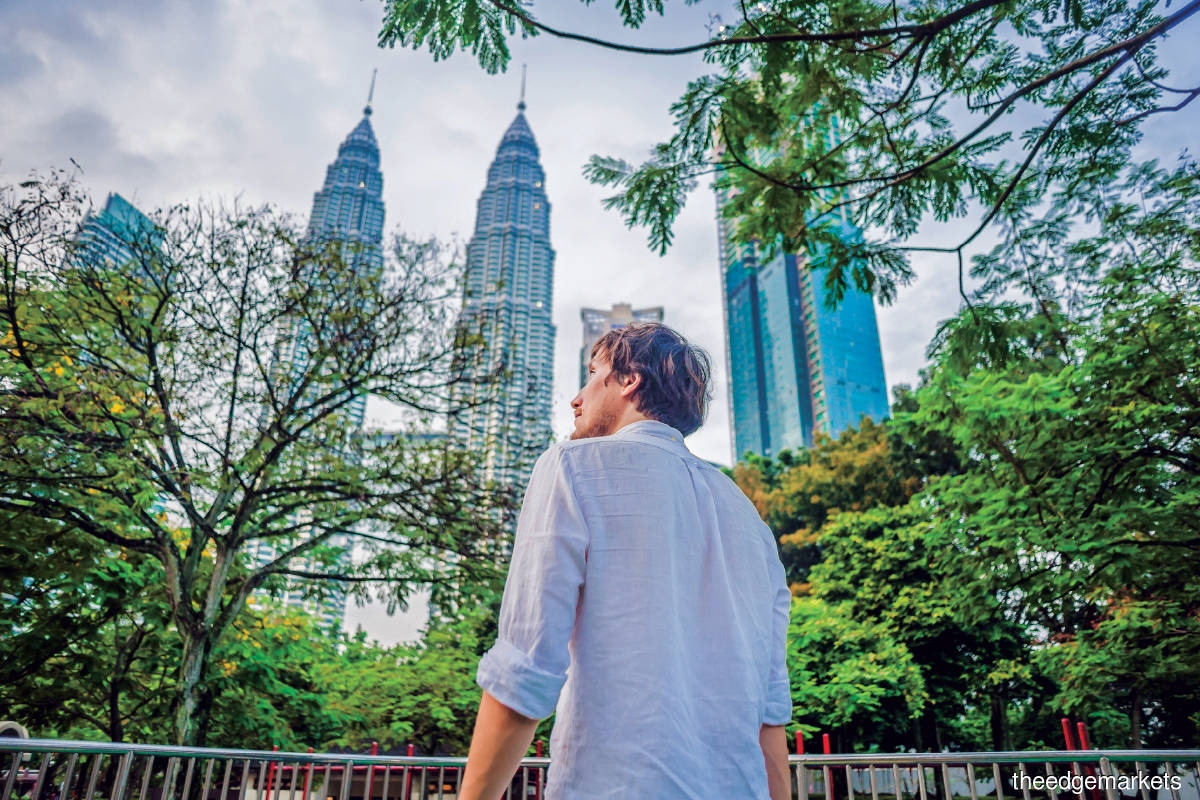 GORDON has been living in Penang for the past eight years under the Malaysia My Second Home (MM2H) programme. The 70-year-old Briton, who does not want to disclose his surname, chose to retire in Malaysia as it is located between his country of birth and Australia, where his daughter and grandchildren live.
Since his move here, Gordon has purchased four cars — one every two years — and has been renting his home on the island. Of late, however, the septuagenarian has been very worried about his future following news of revised criteria for both new and existing MM2H participants. He is unsure if he will be able to comply with the new rules, and if not, whether he will have to uproot himself from his life in Penang.
"(Previously,) Malaysia extended an open invitation to all of us under a 10-year programme. But quadrupling some of the financial requirements (such as the offshore income) when I am in my 70s will be tough for me," says Gordon, who spends 11 months each year in Malaysia.
In a phone interview with The Edge, Gordon admits he was initially angry about the new financial conditions, but this has since turned into dismay over what he deems as lack of thought by the Malaysian government when formulating the new rules.
After a hiatus of about a year, the Ministry of Home Affairs (MOHA) last month announced that applications under the programme will recommence in October and will be processed by the Immigration Department instead of the Ministry of Tourism, Arts and Culture (Motac). While stakeholders in the industry welcome the return of the programme, many have voiced concerns over the new thresholds for the financial requirements, describing them as "draconian" and illogical amid an economy still struggling to recover from the Covid-19 pandemic.
Under the revamped programme, a participant must now have a minimum offshore income of RM40,000 a month. This is a fourfold increase from RM10,000 previously. In addition, a participant must also have a minimum fixed deposit (FD) of RM1 million in a Malaysian bank — up from RM150,000 for applicants aged 50 or older, and RM300,000 for those below 50 previously.
Applicants must also prove that they have liquid assets of RM1.5 million, compared with the previous requirement of RM500,000 for applicants below 50 years and RM350,000 for those 50 and above.
Gordon says the new financial requirements do not make sense when interest rates are low. A back-of the envelope calculation shows that parking RM1 million cash in an FD account with a 2% annual interest would give monthly interest of RM1,667.
"It is as if the government is telling us we are not worthy to be here as we do not have enough money," he says, adding that had he anticipated this turn of events, he would have moved to Panama, Mexico or Belize instead. Should he be forced to leave Malaysia, he is looking at a possible move to Thailand.
"The Malaysian government appears to be telling us we don't want you here anymore. What happened to the promise of 'integrity' and 'trustworthiness' as per the MM2H approval letter that everyone received?"
As for the minimum offshore income requirement of RM40,000 per month, while it is not specified what form the proof of regular monthly income should be in, it would be safe to assume that it would likely include income from property rental and interest from FDs.
If an applicant were to take just interest income from FDs that pay an annual rate of 2%, he or she would have to put at least RM24 million in offshore banks to meet the minimum offshore income requirement of RM40,000 a month.
Similarly, let's assume a rental yield of around 4% per year. A back-of-the-envelope calculation shows that the applicant would need to own properties worth at least RM12 million in order to generate the minimum offshore income requirement of RM40,000 a month. How big is the market of individuals who own overseas properties worth at least RM12 million?
Of course, for most MM2H applicants, their offshore income could come from a mix of sources. As such, it remains to be seen if the new financial conditions are prohibitive.
Trevor, 57, is also a British national living in Penang under the MM2H programme. Since coming here in 2017, he has bought a car but rents his home on the island. On why he chose to retire in Malaysia, Trevor says: "This is my only home. I fell in love with Malaysia when I first came here to visit in 1997. My mother is originally from Penang. I also have my extended family here and there are no language problems."
He adds that moving to Malaysia was appealing under the previous renewable 10-year multiple-entry MM2H visa, which will be reduced to five years. Like Gordon, Trevor spends most of the year in Malaysia. He believes that the new financial requirements are too stringent, especially since he is living on his personal pension from the UK.
Gordon's and Trevor's stories resonate with thousands of other MM2H participants in the country who are now in limbo. Should they do everything possible to stay or should they liquidate their assets and leave?
Why the drastic new changes?
On Sept 13, Home Minister Datuk Seri Hamzah Zainudin in a parliamentary reply said that the criteria revision for the MM2H programme was made to attract high-quality participants who can contribute positively to economic growth. He reportedly said that the conditions were tightened after the Immigration Department found that more than 7,000 of the 57,478 foreigners enrolled in the programme were believed to be not residing in Malaysia.
He also noted that the stricter new criteria was for security purposes as "some of them are disguising as MM2H participants, but they are actually using it as a 'transit' to carry out unwanted activities, in terms of security".
What was MM2H's original objective? Datuk Seri Dr Victor Wee Eng Lye, an economist and professor at the School of Hospitality, Tourism and Events at Taylor's University, says the Silver Hair Programme was launched in 1996 to target senior citizens from the UK, Japan and other Western European countries and was handled by the Immigration Department.
However, the programme drew "barely a trickle" of participants, says Wee, prompting its rebranding to MM2H in 2002. The programme was taken over by Motac in 2006 as part of its overall tourism promotion efforts.
Wee, who was the secretary-general of Motac from August 2004 until he retired from the civil service in 2008, tells The Edge that prior to the temporary suspension of the MM2H programme in August last year to allow Motac to review and re-evaluate the programme, both the ministry and the Immigration Department had operated the one-stop MM2H Centre that had a "profound effect on the success of the programme".
According to people familiar with MM2H, however, there were allegations of abuse in the administration of the programme under Motac, particularly as the programme was attracting many Chinese nationals and Bangladeshis, who were not the original target groups. Data by Motac shows that 48,471 foreigners were granted MM2H status between 2002 and 2019, the majority (32.8%) of which were from China, followed by Japan (10.6%) and Bangladesh (8.9%) (see table).
Given that the programme attracted fewer than 50,000 foreigners over 18 years with less stringent requirements, how many would be keen to settle in Malaysia under the new, much stricter rules? The government's precedence of changing the rules — which are applicable even to existing MM2H residents — could also deter those interested from applying.
The economic benefits of MM2H
Hamzah has repeatedly stressed that Malaysia needs "the quality of people, not the quantity". According to him, at the end of July, the total number of MM2H participants was 57,478, comprising 28,249 principal participants and their 28,229 dependents.
Subsequently, in parliament on Sept 13, he updated the figures — there are now 34,347 principals, of whom 27,894 are MM2H participants and another 6,453 from the replaced Silver Hair Programme. He added that in 2019, MM2H participants only placed RM921 million of deposits in Malaysian banks.
Has the programme been a boon or bane? If it has not made a big contribution, should it continue?
Maybank Investment Bank group chief economist Suhaimi Illias says that the number of MM2H participants makes up a fraction, around 0.01%, of cumulative foreign tourist arrivals since 2002.
"Consequently, their economic contribution is also very low when we look at the ringgit and sen, for instance, as ratios to gross domestic product (GDP), consumer spending and the banking system's total deposits," he tells The Edge.
"The reported consumption spending by MM2H participants in the immediate pre-Covid-19 [period] of around RM4.5 billion per year was equal to 0.6% of annual private consumption expenditure. MM2H's gross value-added of almost RM12 billion between 2002 and 2019 is just 0.07% of cumulative GDP over the period.
"The 'largest' number with regards to MM2H is the capital/fund flows in terms of deposits — reportedly a cumulative RM41 billion since 2002. This is equivalent to 1.9% of the banking system's total deposits of RM2.1 trillion," Suhaimi says, adding that these statistics are likely the reason behind the review. It is hoped that the more stringent eligibility criteria will attract expatriates with higher net worth who can generate greater added value to the economy.
Dr Yeah Kim Leng, professor of economics at Sunway University, says from an economic perspective, the policy objective of the revamped MM2H programme is to attract high-quality and high-net-worth retirees. While understandable, the timing and intention is contrary to what the economy needs currently.
"I think the impact (of the new financial conditions) would be quite severe both for those affected and those that cater to the MM2H programme," he says, noting that MM2H participants do not just bring their income but also help to generate new demand and consumption spending in the country, which currently remains weak.
He believes now, when the economy is still in the recovery phase, is not the right time to implement such restrictions as it could result in a net outflow. "You only do this when the economy is strong, facing overheating pressure, and if you want to filter the higher quality, wealthier class of MM2H applicants.
"If you are worried about whether they are taking away our resources, then compare them with the number of unskilled foreign workers in the country," he adds.
In terms of their contribution to the country's economy, Yeah notes that a typical MM2H family spends four to five times more than the average unskilled foreign worker in the country.
"When they bring in their capital, they actually help increase the demand for the ringgit. In fact, it helps to support the ringgit. For Malaysia, in the aftermath of the pandemic downturn, there is a slack in the economy, so inflation is unlikely to be a threat.
"At a time when there is under-consumption, the (new) policy will further reduce the contribution from this small group of the population. [Based on their contribution relative to that of the unskilled foreign workers], if the policy objective is to restrict foreign participation in the local economy, then it is obviously wrong because we are dependent on three million to four million of unskilled foreign workers who are currently in the country," Yeah says.
Wee concurs. "The objective of MM2H is to help boost the economy and bring in foreign exchange (forex) in the same manner that tourists to the country help to boost consumption, investment and improve the foreign exchange. Unlike tourists who come for a few days, MM2H participants are like tourists who stay in the country for long durations. The country gains from their expenditure made within the country and using income derived from foreign sources."
He believes the net effect of the revised programme could result in potential forex outflows as MM2H residents leave the programme or the country.
"We could potentially see very few new applicants coming in given the high financial requirements. For instance, are we still looking at retirees if the minimum offshore income is raised to RM40,000 per month? That's because this amount is equivalent to the salary of a working CEO or CFO," he points out.
"That said, the increase in the thresholds of the new financial conditions under the revamped MM2H programme may not result in the desired improvement in the quality of the holders," he says. Wee cites a recent survey by TEG Media of 1,400 MM2H visa holders from 58 countries that shows 79% of the MM2H visa holders will not be able to meet the new RM40,000 monthly offshore income requirement and even if they could, close to 91% will not be able to meet the fixed deposit requirement or were unwilling to do so.
The same survey also revealed that only 2% of the existing MM2H visa holders were able to meet the new criteria. This, Wee notes, could have serious implications on the outflow of foreign exchange as well as the disposal of property with an average value of RM1.4 million.
"They were invited to choose Malaysia as their retirement home and recruited based on the earlier requirements. Many MM2H participants have sold their properties in their home country to be located in Malaysia, which has become their only home."
On the argument that the foreigners are "taking away" subsidies that are given to the people, Wee says: "Any resident of Malaysia would enjoy the subsidies if they were to use the subsidised goods and services. However, MM2H visa holders are not free-riders [who] enjoy goods and services without contributing much to the economy."
He points to their use of private hospitals, which contribute to the national coffers by paying corporate taxes. "In addition, they will attract their friends and relatives to visit Malaysia for holidays, medical tourism and educational services. In short, the MM2H residents contribute more to the country's economy than the quantum of subsidies that are embodied in the goods and services consumed."
The MM2H programme has put Malaysia on the map as one of the top 10 retirement destinations globally. It was one of only two Asian countries voted among the 10 best places to retire in a 2021 survey by InternationaLiving.com. It placed seventh while Vietnam came in 10th.
While the reactivation of the MM2H programme is a good move, Associated Chinese Chambers of Commerce and Industry's Socio-Economic Research Centre executive director Lee Heng Guie says there is still room for improvement in positioning Malaysia as a second home destination in Asean. "We need to compare our programme with those of the neighbouring countries to see if the bar has been set too high so as to make Malaysia less attractive," he says.
He cautions that if the requirements are too high, Malaysia may not be able to get the intended outcome and may in fact lose out to other countries.
Lee says it is also about the country's brand and reputation, and the spillover effects on the local industry, the most obvious being tourism and real estate agents. "There is a whole supply chain along the programme.
"A person who wants to retire in Malaysia will weigh all considerations and not just the cost of living, but also its stability and surroundings. The (applicant) must also have some financial standing, which permits them to look for a second home."
He asserts that the revision to the MM2H programme has nothing to do with matching inflationary pressures, especially since it has been in existence since 2002. Malaysia's inflation, as measured by the consumer price index, turned negative to 1.14% in 2020 from 0.66% in 2019. Economists have maintained that the country's 2021 full-year inflation will be between 2% and 2.5% while Bank Negara Malaysia is forecasting that it will come in at between 2% and 3%.
"From a currency perspective, the ringgit has been weakening (against most major currencies), which is good for whoever who wants to come here to spend. You have more money to spend in ringgit terms. This is a plus," Lee adds. Bloomberg data shows that year to date, the local currency has fallen 4% against the greenback to RM4.18 on Sept 23.
What's next?
Despite threats by existing MM2H participants that they will leave if the country's policies are overly restrictive, MOHA has so far not changed its decision. On Sept 17, Sultan of Johor Sultan Ibrahim Sultan Iskandar expressed his concerns over the ministry's reluctance to review the new criteria of the programme. Sultan Ibrahim said he would be taking up the matter soon with Prime Minister Datuk Seri Ismail Sabri Yaakob. He noted that Johor is a popular MM2H destination and the potential loss of revenue to the state from this programme would be enormous.
Members of the Malaysia My Second Home Consultants Association (MM2HCA) are also not giving up hope. Its president Anthony Liew says the association is waiting for MOHA to arrange a dialogue with it and related industry players on revising the programme's terms.
For instance, the association is proposing an offshore monthly income of between RM15,000 and RM20,000 depending on the applicant's age, from the ministry's proposed RM40,000; and for the fixed deposit criterion to be reduced to RM500,000 from RM1 million (see table).
According to data provided by MM2HCA, between 2002 and 2019, the programme contributed RM38.17 billion in revenue, of which RM19.36 billion included one-off purchases such as visa fees, and purchases of big-ticket items like houses and cars, and another RM19.41 billion was for annual medical insurance and household expenses.
MOHA, however, says the programme's revenue contribution was lower at RM11.89 billion during the period, which was derived from visa fees, property and vehicle purchases, FDs and monthly household income.