This article first appeared in The Edge Malaysia Weekly, on September 12, 2022 - September 18, 2022.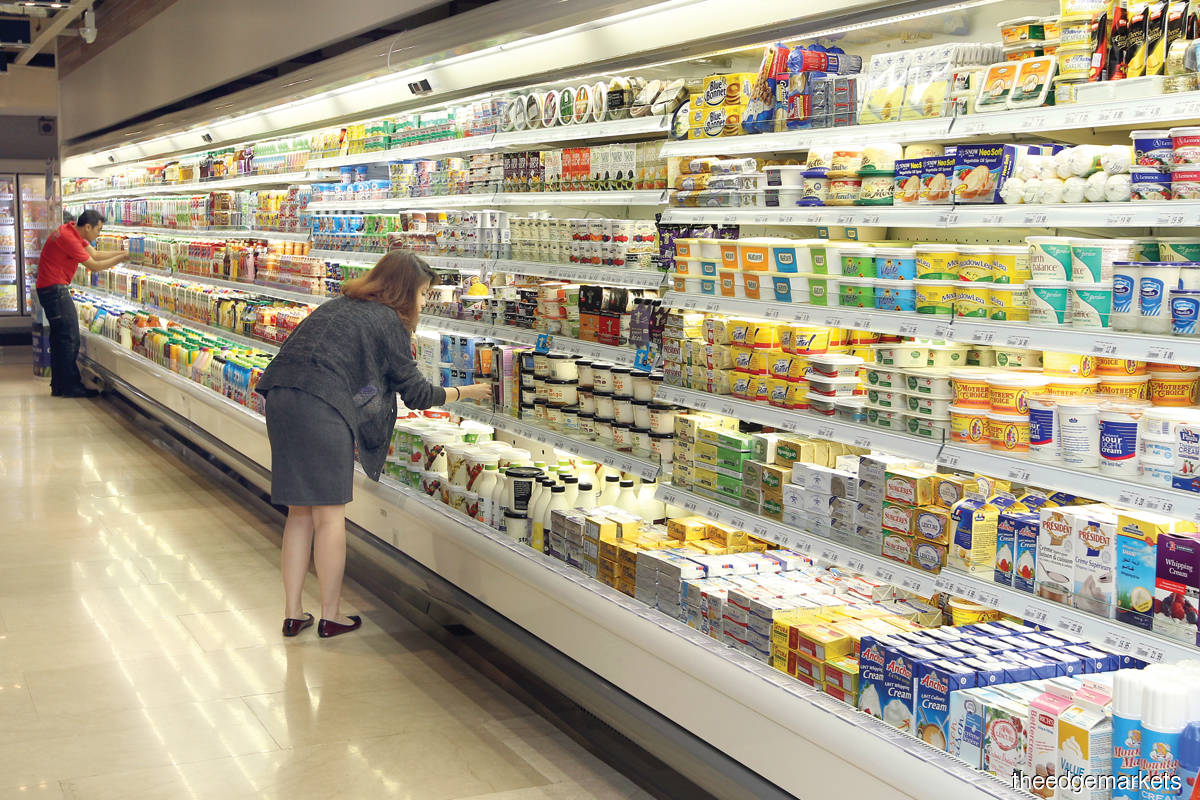 RETAIL Group Malaysia has revised upwards the retail industry's 2022 estimated annual growth rate to 31.7% from 13.1% after the sector experienced the enthusiastic return of shoppers, following the lifting of movement curbs earlier this year.
However, how that translates to the performance of retail stocks on Bursa Malaysia is subject to interpretation as some analysts and fund managers believe the uptrend in these counters in recent months will come to an end in the medium term. That is because they believe revenge spending will taper off when the pent-up demand is met and the funds from the Covid-19 stimulus, as well as the RM10,000 under the Employees Provident Fund's special withdrawal facility (paid from April 20), are spent.
TA Investment Management Bhd chief investment officer Choo Swee Kee tells The Edge that consumers are turning more cautious in view of higher prices as a result of inflation and that, at best, demand will stabilise at current levels.
"There is limited upside for retail stocks as they face waning domestic demand and cost pressures. However, those that can benefit significantly from higher tourist arrivals may buck the trend," he says.
Rakuten Trade Sdn Bhd head of research Kenny Yee shares Choo's view. He says, "The current rapid growth momentum in the retail market is not sustainable and will normalise over the mid term going into the next year. Rising costs will impact the net disposable income of net consumers."
Fortress Capital Asset Management Sdn Bhd CEO Thomas Yong believes, however, that the retail sector may still have legs if spending recovery can be sustained amid an improving job market and rising wages, with the return of tourists giving it a boost.
"As we move further away from the experience of pandemic disruptions, the retail sector's outlook will eventually revert to assessments of disposable incomes and demographics. Industry players, malls included, await the full return of tourism spending to complete the sector's recovery," says Yong.
"The luxury goods segment should stay resilient. Despite inflationary concerns, the retail sector's recovery does seem to have more legs. Clear winners will be those most able to pass through cost inflation."
Areca Capital Sdn Bhd CEO Danny Wong remains positive on retail, travel and leisure stocks. He believes the reopening of borders and resumption of travel activities will bode well for recovery-play beneficiaries such as Berjaya Food Bhd and Genting Malaysia Bhd.
Wong believes the retail sector — despite being subject to recession risk — can sustain its growth for the next two to three years at least. "We like certain REITs (real estate investment trusts) and consumer stocks related to revenge consumption counters and tourism-related counters such as food and beverage as well as breweries as they [continue to be key] in the recovery play," he says.
Wong forecasts that the next 12 months will be positive for consumption and retail stocks. Ample liquidity in the market will also continue to drive revenge spending, he adds.
"With more borders opening globally, this will help sustain consumption patterns. Some people may view inflation negatively, but I believe inflation actually pushes spending. The B40 (bottom 40% income group) may be [adversely] affected but the M40 (middle 40%) and T20 (top 20%) will continue to drive consumption. Therefore, it cannot be generalised that inflation results in everyone tightening their purse strings," says Wong.
Last Thursday, the share price of home-grown garment player Padini Holdings Bhd had climbed 21.99% year to date (YTD) to RM3.34, while that of AEON Co (M) Bhd — which operates supermarkets and department stores in Malaysia — had risen 4.98% to RM1.45. The stock prices valued Padini at RM2.24 billion and AEON at RM2.05 billion.
Meanwhile, breweries Heineken Malaysia Bhd and Carlsberg Brewery Malaysia Bhd saw their share prices rise 17.93% and 19.76% YTD respectively to RM23.90 and RM23.10 last Thursday. This gave Heineken Malaysia a market capitalisation of RM7.21 billion and Carlsberg, RM7.03 billion.
"If business activities are sustainable and the economy is not showing signs of recession, the growth momentum will move on to other sectors," Wong explains, adding that the financial sector tends to be a proxy to the economy and consumer spending.
Analysts selective of REITs
REITs with malls in their portfolios have garnered investor interest.
"In the case of retail REITs, we are positive on their rental recovery prospects and consistency in dividend yields. We are happy to get constant dividend yields even if there is no growth," says TA's Choo.
According to Bloomberg data, the yields of retail REITs range from 2% to 5.78% per year.
RHB Research Institute senior analyst Loong Kok Wen notes that the second half of the year could prove more challenging than the first half in the absence of incentives, coupled with the impact of interest rate hikes on the market. Loong observes, however, that as footfall in malls continues to hold, "quarter-on-quarter performance of the sector may dip, but will not be too bad".
She is hopeful of a vibrant fourth quarter in the light of the year-end holidays and return of foreign tourists.
"Shopping malls may then see a vibrancy that is comparable with pre-pandemic levels," predicts Loong, noting that Pavilion Real Estate Investment Trust's Pavilion Kuala Lumpur is seeing encouraging sales from luxury brands even though the REIT's earnings growth has been offset by "slow progress at its Da Men Mall in Subang Jaya and Intermark Mall in Kuala Lumpur".
For its second quarter ended June (2QFY2022), Pavilion REIT posted a net profit of RM55 million, a 169.4% year-on-year jump from RM20.4 million in 2021. For the quarter, it proposed an income distribution of 4.08 sen per unit (1.83 sen in 2QFY2021). Its unit price had risen 7.7% for the year to Sept 8.
For investors who want exposure to the revenge shopping phenomenon, Choo suggests they "stick with REITs that own well-known and prime shopping complexes in the light of market volatility and uncertainty of economic growth".
"Prime shopping complexes are better at attracting tourists and meeting the lifestyle needs of domestic consumers. International brands also prefer to set up flagship stores at prime shopping complexes," he explains.
"We turn more positive on REITs as a defensive play due to their 'guaranteed' rental income. However, we encourage investors to pick those with quality assets as it remains a tenants' market. [In any case,] REITs are likely to trade range-bound until the year end barring any economic shocks," says RHB's Loong.
In terms of upside, she is positive on IGB REIT, given its position as a beneficiary of pent-up demand and healthy footfall at its retail malls.
In a Sept 6 note, Kenanga Research research analyst Goh Yin Foo said several REITs — including Sunway REIT, Pavilion REIT and KLCCP Stapled Group — posted results that met the research house's expectations, with IGB REIT surpassing its expectations.
"An analysis of the earnings report cards unveiled several pertinent developments in the sector. Broadly speaking, Malaysian REITs with exposure to the right business segments, particularly industrial and retail, and which own property assets in prime locations (such as the city centre) have benefited from resilient rental income streams," says Goh, who has reiterated his "neutral call" on the REIT sector.
Areca Capital's Wong says, "If the prices of REITs don't fall further, then it will be a good time to invest in them. Investors have their eyes on the yields. The risk-reward may not be right for now because certain commodities are too volatile. Note that funds are currently holding plenty of cash."
He points out that another catalyst to watch for in retail stocks is the resumption of dividend payouts. "Many companies had put a pause on paying out dividends in the past two years [owing to poor earnings or losses during the pandemic]. Now that earnings are strengthening, that will pose an upside for retail stocks," he explains.
Wong adds that should China's borders reopen, Malaysia's exports and trade with the republic will naturally be lifted, which will boost sentiments.
"But China's reopening anytime soon is a long shot, looking at China's [zero-Covid] policy," says Rakuten's Yee.
"Consensus ratings for REITs are quite neutral [as] REITs are fully valued for now. Bear in mind that expectations of another rate hike by the central bank could curtail share prices. I believe [instead of climbing further], REIT counters will maintain at this level for some time." He adds that retail stocks such as 7-Eleven Holdings Bhd, AEON and Padini may have room for growth.