This article first appeared in Personal Wealth, The Edge Malaysia Weekly, on June 7, 2019 - June 13, 2019.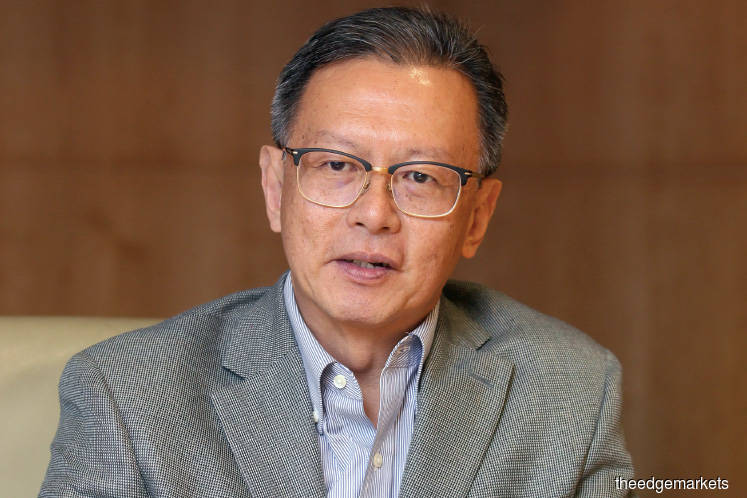 It is important to protect breadwinners who are in their prime in case something unfortunate happens to them. In the hierarchy of financial planning, purchasing a life insurance plan to protect the family is the top priority. > Low
Over the past few years, there has been a growing emphasis on increasing the country's insurance  penetration rate, which stood at 54% last year. However, Etiqa Life Insurance Bhd CEO Paul Low Hong Ceong points out that it is equally crucial for the industry to ensure that consumers are adequately protected by offering them the most suitable products.
He says there is a mismatch between what consumers really need and the insurance products they have purchased, especially among working adults in their prime and who are breadwinners. Many consumers have bought insurance savings plans that provide them with lower life protection coverage but higher potential investment gains. Such products, however, may not be suitable for them, he adds.
"Let's say you pay a total of RM100,000 [in premiums] for a product that provides you with life coverage of RM100,500 over 20 years. After paying your premiums for five to six years, you will receive a guaranteed cash payment at the end of each policy year until the policy matures. If you do not make any claims during the period, you will get your money back with some interest upon maturity. Such plans offer forced saving but less protection than a permanent life plan," says Low.
"It is fine to buy such products and consumers may find these attractive. But what if you are 35 years old and the sole breadwinner of your family? If something unfortunate happens to you, the family members who are left behind may not have enough money to sustain them, at least for the next few years.
"It is important to protect breadwinners who are in their prime in case something unfortunate happens to them. In the hierarchy of financial planning, purchasing a life insurance plan to protect the family is the top priority."
According to him, the primary purpose of life insurance products is to protect consumers against unfortunate events, instead of catering for their investment needs to generate higher returns. However, savings plans that focus more on the investment element continue to be widely sold to consumers, says Low.
Why has there been such an increase in the take-up of life insurance policies with an investment component? Low says some consumers have this perception because some insurance agents, who have not received proper training, do not provide them with the right information. "They like to sell savings plans as consumers are more easily attracted to the shorter premium-paying terms."
Thus, it is crucial for insurance companies to provide the right information to their agency force as well as educate the public. "Insurers play an important role in educating their agents and consumers," says Low.
'Allow insurers to set up financial advisory firms'
Low says the industry and the regulator, Bank Negara, are aware of these issues and have been trying to elevate the professionalism of insurance agents. One example is the recent implementation of the balanced scorecard for intermediaries.
This was one of the initiatives introduced by the central bank under the Life Insurance and Family Takaful Framework and implemented last year by insurance players.
Simply put, the scorecard sets out the basic structure for insurers to remunerate their agents to achieve outcomes that will benefit consumers. Instead of assessing agents mainly by the number of products they sell, they are now evaluated based on several other non-sales-related metrics.
Besides achieving the sales target (30%), agents have to conduct customer fact-finding (15%) and ensure that customers pay their insurance premiums continuously for two years (30%). They are also required to attend 30 hours of continuing professional development programmes (15%) and minimise the number of substantiated complaints lodged against them by their customers (15%).
Although the scorecard has not been well accepted by some agents, insurance companies in general view it as a positive development for the industry. They expect it to further encourage agents to conduct their business more professionally and make it a full-time career. This measure will also weed out the half-hearted part-time agents from the industry.
Low says that while the intention behind the scorecard is good, there are alternative ways to elevate the professionalism of the industry or curb the issue of product mis-selling. One way is for the regulator to further liberalise the industry by allowing insurers to set up financial advisory firms.
The financial advisers would sell a range of products, including a variety of insurance policies and unit trust funds, based on the real needs of clients. They would then charge clients a consultation fee based on the amount of money they manage for their clients, instead of deriving commissions from the sales of products. Agents are currently restricted to selling life insurance and family takaful products offered by two companies at the most.
If these financial advisory services took off in the market, consumers would benefit from receiving a holistic analysis of their financial status and being provided a comprehensive solution instead of several products to choose from.
"The financial advisory trend would take off much faster if insurers could do so. That is because insurance players have a big war chest and can grow the financial advisory firms quickly," says Low.
He adds that there are independent financial advisory firms in the market, but they are not growing fast and big enough to make meaningful changes to the market. "It is not easy to start such a firm as there is a lot of compliance to adhere to and you need enough capital to hire a meaningful amount of licensed financial advisers. In fact, some existing firms that are struggling to survive still follow the current market trend of earning commissions from product sales."
Low says this scenario is already happening in Singapore, where some insurance companies have grown their financial advisory firms very quickly.
Is the market prepared for this?
Low says such a change would need the buy-in of industry players, especially the insurance companies, even if the regulator decided to further liberalise the market. "Would our insurance companies want to sell other firms' products and compete on the financial
advisory front?
"Locally, insurers are more biased towards their own products. This is different from some countries, such as Singapore, where they [the financial advisory arms of insurance players] sell other companies' products as well.
"The reality is that your product cannot be the best in every area. This would allow financial advisers to compare the various products offered by the different companies and recommend them to their consumers. By doing so, it would encourage competition between insurance companies to come out with better products than their peers."
Low says the local insurance industry may not be ready for such a change yet, but he would like to see the industry move in such a direction in the coming years. "It would be good for consumers and the industry."
Growing Etiqa's life insurance arm
Paul Low Hong Ceong was appointed CEO of Etiqa Life Insurance Bhd in February. He was previously chief executive of Manulife Wealth Advisors. Before that, he held senior positions at CITIC-Prudential Life Insurance Co Ltd and ING Capital Life in China, among others. In total, he has been in the financial services industry for more than 30 years.
Why did he join Etiqa Life Insurance? Low says it started with the conversation he had with Maybank Ageas Holdings Bhd CEO Kamaludin Ahmad, who oversees the entire insurance and takaful business of Maybank Group and who was looking for a suitable candidate to head the life insurance arm of Etiqa.
The appointment was a vital one, especially since Etiqa was in a business expansion mode. The group is the sixth largest insurer in Malaysia and aims to be in the top five in the future. Currently, the top five are Great Eastern, Prudential, AIA, Hong Leong Assurance and Allianz.
The expansion of Etiqa's life insurance business is key to propelling the group to achieve such a target, says Low. "The group is strong in the general and family takaful segments. But in terms of conventional life insurance, we are not there yet.
"It is essential for the group to grow Etiqa Life Insurance to become one of the top five insurers locally. When you talk about long-term profitability, our life insurance segment can definitely contribute to the whole group."
Low's industry experience stood him in good stead. Kamaludin had a chat with him to find out if he would be interested in joining Etiqa Life Insurance as its CEO. "We have known each other since 2012. Then, he assumed the role of CEO of Maybank Ageas while I was working with a local insurance company. Both of us served as council members of the Life Insurance Association of Malaysia and we used to talk and share our views," says Low.
More importantly, Kamaludin knew about his track record of growing a company's agency force while ensuring that the quality of services provided by the agents remained high.
For instance, in 1997, when Low was CEO of SBB Mutual Bhd, he grew the number of agents from about 1,000 to 5,000 within eight years. The firm was eventually acquired by CIMB Group Holdings Bhd and renamed as CWA — the wealth management and product distribution arm of CIMB-Principal Asset Management Bhd.
CIMB-Principal Asset Management was recently renamed Principal Asset Management Bhd after US-based asset manager Principal Financial Group raised its stake in the company to 60% from 40% previously.
"It was the second largest unit trust agency back then and it remains one of the biggest today," says Low, who understands the importance of professionalism in the industry and has zero tolerance for mis-selling.
In fact, he witnessed first-hand how bad a company could be affected by mis-selling when he was tasked with cleaning up the mess and turning around a local insurance company in 2012. The company was suffering losses as many of its agents had misrepresented the products they were selling to customers. As a result, the customers lodged complaints with the regulator, prompting an investigation into the matter. Subsequently, these products had to be taken off the shelves.
Not only did customers lose confidence in the company, but many insurance agents also left the firm as they could not earn a living without enough products to sell. Agents with other companies seized the opportunity to spread news of the mis-selling to gain more market share.
"Basically, I had address the low level of confidence coming from the board of directors, regulators and agents. It was tough. I slept about three hours every day in the first few months after taking over the job," says Low.
He also spearheaded team-building efforts and activities to boost employees' morale and made the effort to regularly engage with them. "Every week, I would have 20 people, from key management to executives, sit down and tell them, 'Hey, we are on track!' I would also keep them up to date on what we were doing and let them chip in [suggestions] on what we should do to turn around the company."
With all this hard work, Low successfully turned the company around after cleaning up 70% to 80% of the initial issues. A foreign insurer subsequently bought a substantial stake in the company. He resigned shortly after.
"I spent two years in the company. After quitting the post, I took a year off before starting a new position in another company. It was tiring," says Low.
Going forward, Low wants Etiqa to ensure that its agents give customers good financial advice and facilitates easy claims quickly. "We are in the insurance business. We should pay claims to our customers during their difficult times. We want to honour these as long as they are legitimate," he says.
While some insurers with a strong agency force may not venture quickly into the digital space, Low is very keen to explore the online distribution channel. "We are ahead of many other insurance companies. We just launched our e-medical and e-cancer products [the former covers the medical expenses of policyholders while the latter helps ease their financial burden for cancer treatments]," he says.
While the sales of online products are not significant in Malaysia yet, Low says it is only a matter of time before this channel takes off. He saw the online distribution trend take place in China when he was working there from 2006 to 2012. Today, simple insurance products, such as medical cards, can be bought through e-commerce apps like WeChat.
"The insurance platform pushes products and related articles for you to read via WeChat. Chinese consumers use the mobile app all the time to chat and there is a chance they will read the information and possibly buy the product later," says Low.
User experience is key for the online trend to take off in a more meaningful way, he adds. This can be done by allowing consumers to make claims more efficiently and delivering the money quickly.
"For instance, we have a travel insurance product that will automatically deposit money into your bank account when a flight is delayed for more than two hours," says Low.
"Another example is our motor insurance product. If you have an accident and the damage to your car is not too serious, you only need to take a video [of the damage] and upload it on an online platform before sending it to a premier authorised workshop to have it fixed.
"You do not need to go to the insurer's offices to do all these. If consumers think this experience is good, they will share it online or tell their friends. Good customer experience must be there before [the online channel trend] can happen."
He cites an example of good customer experience in China, where insurance companies even send customers the insurance policy they purchased at a place most convenient to them, even if they are shopping at a mall.
Low says Malaysia is not as advanced as China in terms of utilising technology to sell insurance products, facilitate claims and enhance the user experience. A life insurance product, which is more complicated than a general one, is also harder to sell online. However, that is the future trend.
"Etiqa Life Insurance is not there yet, but we will work on it. We have a plan to move towards providing consumers with more products online and better user experience while we build our agency distribution channel," he says.