This article first appeared in The Edge Malaysia Weekly, on March 14, 2022 - March 20, 2022.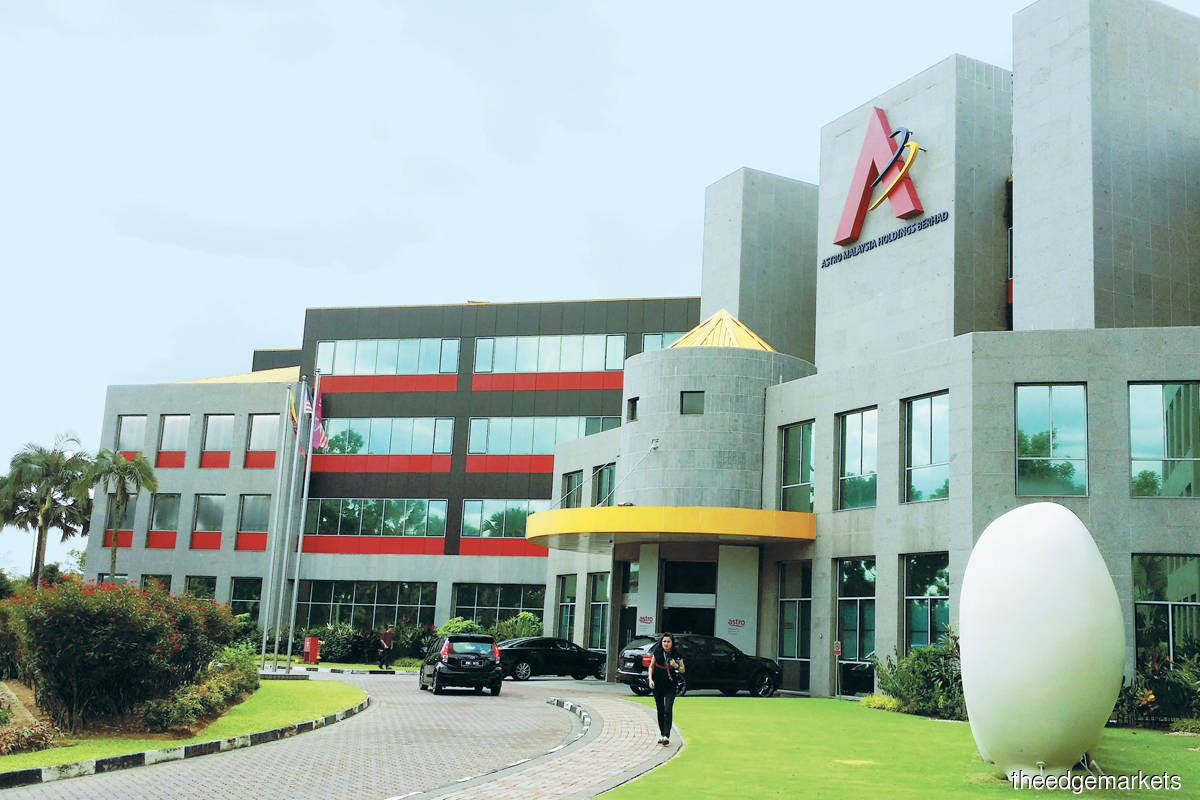 NUMBERS can tell a story. If one were to look at recent numbers reported by four of the largest Malaysian-listed media companies, two of the three that had been reporting losses are no longer in the red. All seem to be showing early signs of improvement, if not a turnaround.
While sustainability remains to be seen, this turn of the tide is supported by a shift in sentiment as the government relaxes movement controls as well as cost rationalisation exercises that are starting to bear fruit.
Take, for example, Media Chinese International Bhd (MCIL).
The publisher of newspapers such as Sin Chew Daily in Malaysia and Ming Pao Daily News in Hong Kong had seen losses for three financial years between FY2017 and FY2021.
In its latest full year ended March 31, 2021, MCIL fell into the red with a US$1.3 million (RM5.45 million) net loss versus a US$7 million net profit a year earlier.
In its results for the nine months ended Dec 31, 2021, however, MCIL returned to the black, recording US$1.17 million in net profit versus a net loss of US$3.5 million in 2020.
The group attributes the recent earnings turnaround to the gradual resumption of economic activities in most of its markets and "efficient cost rationalisation" as well as control measures that reaped savings in manpower cost, which mitigated the escalating newsprint cost.
Media Prima Bhd — which has seven business segments, including broadcast and publishing — also returned to the black in its latest full financial year ended Dec 31, 2021.
It registered a net profit of RM51.56 million after two consecutive years of losses. In FY2019, it registered a net loss of RM177.85 million versus a net profit of RM58.62 million in FY2018. It continued to bleed red ink in FY2020, incurring a net loss of RM18.37 million.
The latest first full-year (FY2021) profit is an operational one — the first in many years. Media Prima group managing director Rafiq Razali believes the group's current earnings momentum is sustainable, citing fruits from its rationalisation efforts and improvement in advertising revenue (see main story).
It was no walk in the park. The group had spent most of the past six years swimming in red ink, with a record-high net loss of RM650.6 million in FY2017.
It undertook a series of rationalisation exercises that included impairments and job losses as it tried to keep its head above water. Headcount at the media giant was cut by 1,904 in a span of five years — from 4,236 in December 2015 to 2,332 in December 2020.
In the past couple of years, Star Media Group Bhd also undertook a series of rationalisation exercises that saw impairments and job losses. The number of staff was cut to 1,052 in 2020, from more than 1,800 in 2015.
In its latest full-year results ended Dec 31, 2021 (FY2021), Star saw one-off expense items for impairment of assets and reversal of compensation income of RM71.64 million and RM52.52 million respectively. Excluding these one-off items, the group saw its losses before tax narrow to RM25.29 million in FY2021, compared with the RM54.1 million loss before tax in FY2020.
Star noted in its results announcement on Feb 28 that the improvement is also partly attributable to savings in operating expenses resulting from the cost rationalisation exercise carried out in the second half of 2020 as well as better cost management.
Factoring in the one-off expenses, Star ended FY2021 in a larger net loss position of RM132 million versus a net loss of RM19.7 million a year earlier.
In a six-year timeframe, Star's top line has been on a downtrend, falling from RM630.43 million in FY2016 to RM187.11 million in FY2021.
Star said on Feb 28 that it would remain focused on its digital transformation initiatives and strategies across all media platforms, and continue to improve its operational efficiencies.
Digital disruption
Digital disruption — which had taken away the lion's share of the media advertising pie — has spurred industry players globally to accelerate their own digital transformation as well as explore new businesses to diversify income.
The initial presence of Facebook and Google disrupted the local advertising and media landscape as they took up an estimated 80% of digital advertising expenditure (adex) in Malaysia, which cannibalised some of the traditional media's share, notes Hong Leong Investment Bank (HLIB) Research in a Feb 15 report. It adds that advertisers preferred Google and Facebook, owing to low cost (an advertisement can be run at less than RM10), ease of setting up an ad, targeted audience reach and superior customer analytics.
"The big elephant in the room is that digital advertising is a big part of the local advertising market share but, as we all know, it predominantly goes to two big players that are not even based in Malaysia," Rafiq tells The Edge.
"We have found our competitive space, however, where we can operate in a profitable manner and still have a sizeable revenue line that can capture a lot of people. One of the main reasons that we acquired REV Asia (Holdings Sdn Bhd) is to bring that model into our business and sort of use that model to grow all our digital arms in the organisation as well, which is why we have merged all the digital brands in the group under one umbrella, and that has helped us grow our revenues last year. That is something we are quite proud of.
"Yes, we still can do more, but we have found a sizeable niche in which we can dominate, in which we don't necessarily have to compare with the Facebooks and Googles of the world."
Media Prima acquired REV Asia in 2017 for RM105 million, making the group the largest digital media company in the country. Today, its digital reach is 14.7 million unique visitors for mobile, the largest in Malaysia, and 15.2 million monthly unique visitors, the third largest in the country.
Rafiq shares that the group's myMetro — with eight million average unique visitors — is the most read online news portal in the country.
Astro Malaysia Holdings Bhd has also been undertaking a transformation with a digital focus. It recently signed access and wholesale agreements with Telekom Malaysia Bhd to lay the foundation for Astro to become an internet service provider so that it can value-add its product bundling proposition.
"The group continues to invest in its transformation plans — particularly broadband, streaming, customer experience, data, addressable advertising and technology infrastructure — to simplify our processes, reduce overheads and, most importantly, better serve our customers," group CEO Henry Tan said in December 2021.
For the nine months ended Oct 31, 2021, Astro's net profit fell 10.14% year on year to RM334.29 million, from RM372.02 million, on lower earnings before interest, taxes, depreciation and amortisation.
The move by media players to transform and look beyond their traditional income streams began at least five years ago.
In 2015, Astro announced a joint venture with South Korean multimedia retailer GS Home Shopping Inc to launch Go Shop, a 24-hour shopping service available on Astro TV, Astro On The Go, as well as web and mobile platforms. It was the company's first foray into e-commerce.
Media Prima had also ventured into a new business segment to diversify its income. In 2016, it entered into a joint venture with South Korea's CJ ENM Co Ltd to launch a home shopping company, CJ Wow Shop. Today, it fully owns of the home shopping business and is looking to expand its reach via its digital platforms.
In 2016, Star also explored new business ventures such as a video-on-demand service called dimsum entertainment, but the unit was closed last year.
Adex making a return
Interestingly, HLIB Research points out that there are "early signs that local advertisers are returning to traditional media in advertising". "On the local front, based on a Nielsen report, total industry adex for 2021 was RM5.93 billion (+18.4% y-o-y). If digital contribution [were] excluded, traditional media adex for 2021 [would be] RM4.9 billion (+20.3% y-o-y)," the report says.
It adds that free-to-air (FTA) TV (+38.5% y-o-y), radio (+10.2% y-o-y) and in-store media (+28.8% y-o-y) witnessed increases in adex.
The traditional media's 2021 adex market — valued at RM4.9 billion in 2021, according Nielsen Malaysia data — soared 20.3% y-o-y to come in just 5% shy of 2019's adex market value of RM5.2 billion, notes CGS-CIMB Research in a Feb 14 report.
It finds this "impressive", considering that Malaysia was put under Movement Control Orders for most of 2021.
CGS-CIMB's "overweight" sector recommendation is underpinned by its preference for stocks focusing on visual media and entertainment, that is, Astro and Media Prima. "Astro is a total-return stock with CY2022/23F yields of 7.8% to 10.5%, and a CY2021 to CY2023F [earnings per share compound annual growth rate] forecast of 11.5%," it notes.
It adds that Media Prima is seeing a resurgence in FTA ad sales while its open-source policy of selling content to third-party streaming services should give it an income boost.
HLIB Research reiterates its "overweight" rating on the media segment premised on the "improving outlook as well as the undemanding valuations" for the sector.
"With inflationary pressure on raw material cost compressing the operating margin of sectors such as consumer and manufacturing, investors who look for inflation-resistant havens could find the media sector (especially Astro and Media Prima) to be appealing, as their cost base (content cost) is largely unaffected by inflationary pressure," it says.
"Furthermore, the net cash positions of Media Prima and Star and the generous dividend yield from Astro also provide a decent buffer to the downside of share prices."
So, are traditional media players out of the woods?
An industry expert comments: "I think there is a bounce back from the worst of the two-year slump in ad revenue of media players caused by the pandemic ... but is that an indication of advertisers pivoting back a bit to traditional media? I think it's too early to tell from 4Q2021 ... We'll have to wait and see 1H2022 numbers and compare them with 1H2019 (pre-pandemic)."