This article first appeared in Options, The Edge Malaysia Weekly, on May 7, 2018 - May 13, 2018.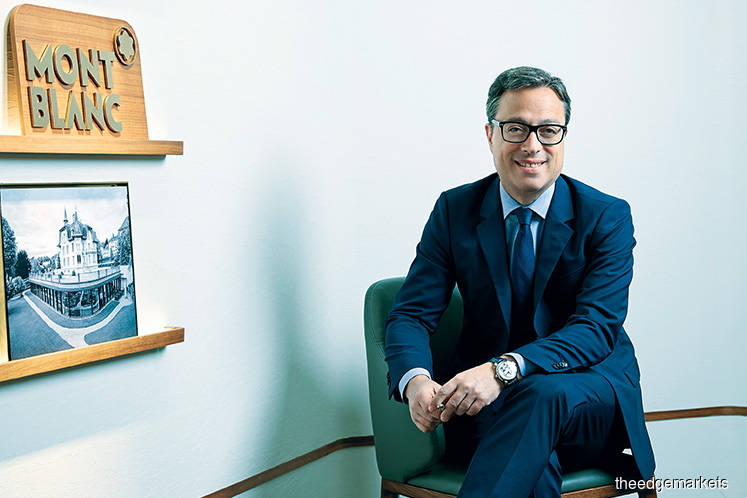 Nicolas Baretzki celebrates his first anniversary as Montblanc CEO with the launch of the Meisterstück Le Petit Prince collection. He speaks to Petrina Fernandez about the brand's organic and absolute diversification strategies, the retention of its label of tactile luxury in a digital age, and his thoughts on time and travel.
Having arrived in Southeast Asia less than 24 hours ago and flown in from Singapore just an hour prior to our interview, Nicolas Baretzki seems remarkably chipper for a man who doesn't set great store by the curative powers of coffee. I am naturally inclined to distrust a fellow who crosses several time zones without need for caffeine but the Montblanc CEO appears to thrum with as much sincerity as he does energy. "I get by on adrenaline, passion, youth; call it what you like," he jokes.
Baretzki has captained the brand for just over a year, taking over the mantle from Jérôme Lambert who moved on to the role of chief operating officer of the Richemont group, the Swiss luxury goods holding company that is parent to houses such as Montblanc, Cartier, Van Cleef & Arpels and Jaeger-LeCoultre. In fact, Baretzki and Lambert were colleagues at the last brand, where Baretzki served as international sales director for 12 years. He then joined Montblanc as executive vice-president of sales in 2013 and in April 2017, stepped into the [polished leather] shoes Lambert had left.
Watches were second nature to him when he came on board Montblanc. The company was founded 112 years ago as the definitive name in fine writing instruments but has since expanded its supporting pillars to include timepieces — which account for almost a third of turnover today — and leather goods. Categories such as fragrances, eyewear, large leather goods and men's accessories are growing significantly too.