This article first appeared in The Edge Malaysia Weekly, on May 17, 2021 - May 23, 2021.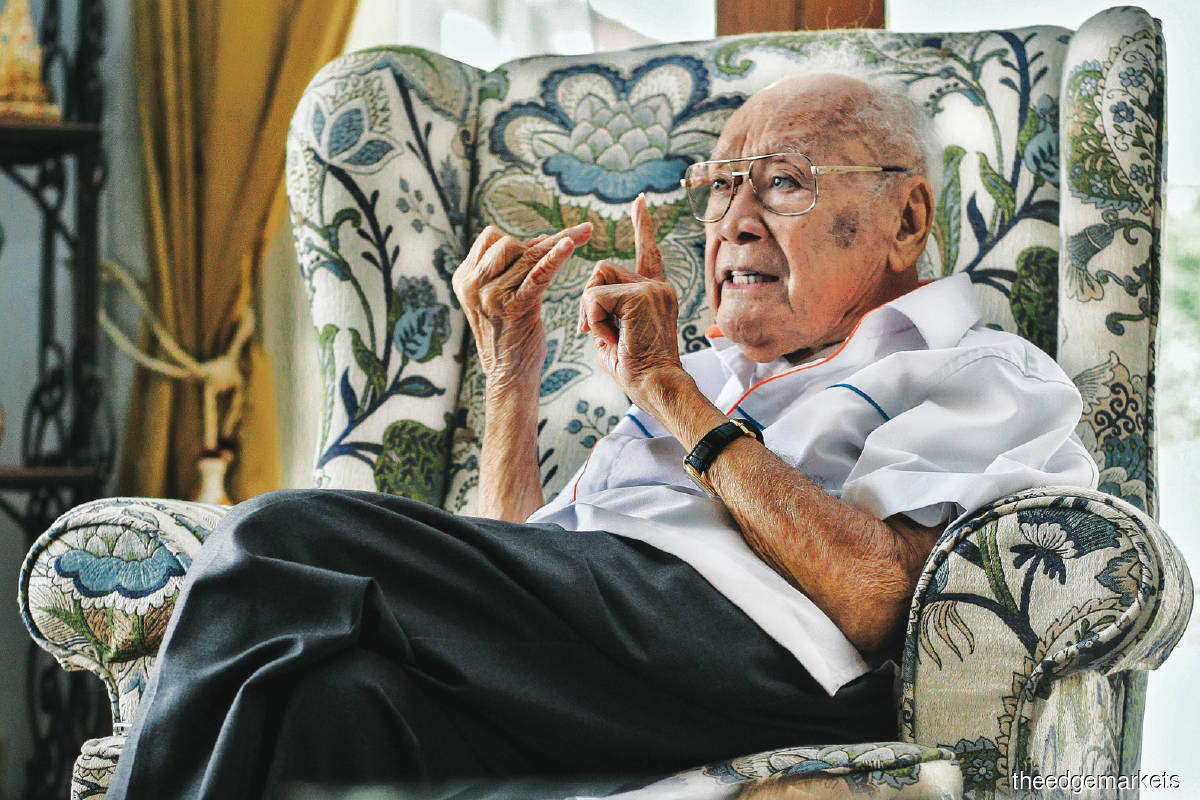 WHEN 92-year-old Tun Arshad Ayub talks about bumiputera institution Majlis Amanah Rakyat (Mara) and education, people listen. A pioneer in rural development, Arshad also played an important role in the setting-up of Institut Teknologi Mara, now Universiti ITM (UiTM) — an established institute of higher learning that has produced thousands of Malay professionals. In an interview with The Edge,the UiTM pro-chancellor feels Mara is in need of a review. Here are the excerpts:
The Edge: Can you tell us about your involvement with Mara?
Tun Arshad Ayub: It started in 1953; at the time, I was an assistant rural development officer. The British Colonial Office then saw the need to establish an agency to oversee the development of the rural area, developing the economy of the rural folk and the infrastructure. So, they set up what was called Rural Industrial Development Authority (RIDA). It was chaired by Datuk Onn Jaafar. Then, in 1966, there was a bumiputera congress, and the Malaysian government then changed the name from RIDA to Majlis Amanah Rakyat (Mara). So there are two words there — "amanah" and "rakyat". In other words, it is an organisation to develop the rural areas and the bumiputera community. The objective is the development of community, especially in the rural areas. So, we look at the development of the bumiputera, especially in terms of education and training, and [how] to increase the number of bumiputera professionals, and the development of rural areas — these are the main objectives.
Some argue that Mara should not be in business and should just focus on education and training. Do you agree?
I agree absolutely; that is the original objective. At the time, we had the New Economic Policy (NEP), so it became the policy tool to develop the bumiputera community. At the time, the bumiputera community was lacking in the professional sphere and students were lagging in science subjects. That is why Mara set up Maktab Rendah Sains Mara. The emphasis was different from those of the Ministry of Education. The Ministry of Education also has its boarding school programmes, science colleges, but not enough to cater for the bumiputera students, and they are merit-based. So, that is why MRSM was set up.
The role of Mara is to promote the development of business and industries among the bumiputera community, and not to conduct business. That is a conflict [of interest]. To promote is different [from] being an entrepreneur. If they say they want to be in business, then the staff must know how to run a business. Unfortunately, most of them don't. I was once responsible for promoting industrial development when I was in the Ministry of International Trade and Industry, but the ministry didn't get involved in business. We promoted businesses — tyre manufacturing, textiles and other industries.
I still remember when the government wanted to promote bumiputera equity participation in the stock market, Mara sent three people to learn the ropes to become stockbrokers. Among them was [Tan Sri] Rashid Hussain. Mara also sent two or three chaps to become captains of ships, on mercantile ships. It also sent people to become pilots. But they don't own aeroplanes. There is no need. You shouldn't be in business, but you promote people in businesses.
There seems to be a replication of the role to develop the bumiputera community among the ministries. Do you think this is wise?
When Mara's role in the development of the bumiputera community was recognised by the people, other ministries wanted to copy and be part of this. That is why there was a lot of replication afterwards. Everybody wanted to do it because they saw how successful Mara was, and everybody wanted to have a piece of the cake. So, they started their own. Almost every ministry has what they call a 'bumiputera unit'.
Everyone wants the recognition of helping to develop the bumiputera community. There should be proper coordination over this; too many people are doing it.
Maybe the time has come for Mara itself to look at all the training institutions from A to Z, from GiatMara and so on. Of course, from one angle, you provide employment, and most of them are bumiputera. But this is a multiracial society, the trainers should also be multiracial. The lecturers must be not only multiskilled, but also multiracial.
Because when you go out and set up your own enterprise, there is the question of chain of supply, where do you buy all those things? This is a question to ask when we want to develop the bumiputera community; we miss out on this connection and relationship with other people. The myth is that if you buy from a Chinese supplier, they charge you more. But there are so many Chinese shops, why do you have to go to just one supplier? The Chinese among themselves compete on prices.
There seems to be some allegations of corruption in Mara. What do you say about that?
The problem is people allow their colleagues or bosses to commit corruption or abuse of power. They should tell those who were trying to commit corruption and abuse of power not to. You don't have to have a whistleblower. If I am your boss and I am making a mistake, it is your duty to tell me not to do it. But why do you keep quiet? Let's say, after you have told them not to do it and they still do it, you bring the matter to a higher authority. We don't want you to join them. You read in the papers about corruption cases, a lot of people colluded to commit the crime. You see nice people colluding with the mastermind, because they are afraid that they'll be sacked if they don't. If you have already told your bosses or colleagues to stop or change, and yet they don't want to, then the responsibility is no longer yours.
What would be your hope for UiTM and Mara in the future?
Mara must be reviewed; it has been done before. The most important is the leadership. They must be full of honesty, integrity and transparency, and must understand what the objective of Mara is. I do not care who the chairman is, but [it should be] someone who understands Mara's concept in education and training. They must put in people who are committed to the development of Mara. I don't care whether they come from Umno or PAS or any other parties, that doesn't matter, but the person itself. Don't use Mara for your own benefit.
You once said that you want to bring the 'world' to the kampung folk. Is that why so many UiTMs and MRSMs were built in rural areas?
That is why we built UiTM in Dungun, Terengganu, Perlis and Jengka in Pahang. All these are rural areas. But, they went to the extreme. Not only in Dungun, they continued to build another campus in Kuala Terengganu. Then also another in Kota Bharu. There are now three campuses in the east coast — it's too many. In Melaka, there are three campuses, even one in town. So, most of the academic staff become administrators. We lose talents for teaching, for training, and we get administrators instead. So, to me, UiTM has got so big now.
The time has come for them to consider getting a royal commission to look at it. What are you going to do over the next 25 years? At the very least, there must be a review — even if it takes five years — of what Mara is going to do over the next 25 years. We must be brave enough. During my time, we reviewed UiTM twice.
How do you think Mara can play a role in the development of talent for the digital era we are living in today?
It is up to the leaders; we know what's going on. We know what has happened in the past, and what is happening in the present. And the present has become yesterday already. Now, you have to look at the future.
During my time, we saw what was going on. So, we taught people to become ship captains, pilots, surveyors, engineers, a lot of things. Now, the current leaders of Mara and UiTM have to look at what kind of people we should produce for the future. I do not know, don't ask me. To me, you do need the talent. For example, I do not know whether our universities are producing enough data analysts. I understand UiTM has data analytics courses; that's good. But I am not sure about other universities. Then, you have to get the people, the trainers and lecturers for the courses. You appoint a lot of people, train a lot of people.