This article first appeared in The Edge Malaysia Weekly, on May 27, 2019 - June 02, 2019.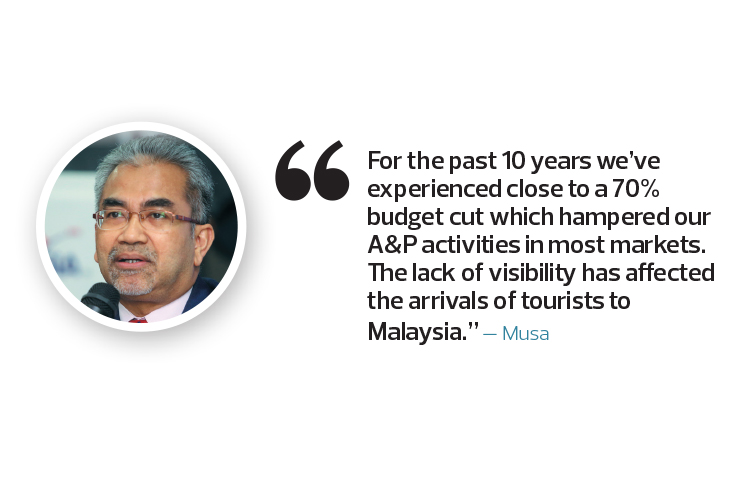 ALTHOUGH Datuk Musa Yusof was appointed director-general of Tourism Malaysia less than six months ago, he has spent over two decades in the agency, serving in sections that include market development, international promotion and enforcement and facilitation. On a packed schedule promoting the country ahead of Visit Malaysia Year 2020 (VM2020), Musa responded to The Edge's queries via email.
The Edge: Malaysia has continuously missed its tourist arrival targets. Why isn't growth like in the 2000s?
Datuk Musa Yusof: We know that the performance of the tourism sector has dipped and that we need to regain our footing in various markets. With the prime minister (Tun Dr Mahathir Mohamad) endorsing VM2020, we are confident of moving forward, provided there is more allocation for our advertising and promotional activities.
Firstly, adequate allocation is crucial. Other regional destinations have been aggressive in their advertising and promotional efforts and we need to have a strong brand presence in various markets to compete.
Rising media costs and the current currency exchange rate mean that advertising in other countries will be expensive.
Secondly, we have to ensure that accessibility is enhanced through point-to-point connectivity. Convincing international airlines to establish routes to Malaysia is not an easy task, but we will convince them that such a move is feasible and profitable.
Thirdly, positive media coverage will go a long way towards ensuring the success of VM2020. We hope that our media partners will publish positive news about Malaysia to regain the trust of tourists.
On April 9, the US government placed Malaysia on the newly introduced "K" list in its travel advisory relating to potential kidnapping or hostage-taking in certain areas of eastern Sabah. Such advisories — which the Ministry of Foreign Affairs has described as lacking in objectivity and does not reflect the reality on the ground — could hurt the country's tourism potential.
Is Tourism Malaysia targeting big spenders or a large number of arrivals?
While we look forward to receiving more tourists, we also want them to stay longer and spend more as Malaysia is a value-for-money holiday destination.
Tourist arrivals from medium and long-haul markets rose 19.3% last year due to increased connectivity and renewed interest in Malaysia. They stayed longer and spent more.
The West Asian markets remained the biggest per capita spender last year at RM9,947. Tourists from there also spent more nights in Malaysia at 9.7 nights, followed by Europeans at 8.6 nights (up 0.6 night from 2017).
In terms of receipts, Asean markets held the largest share due to the big base of tourist arrivals, but growth in spending came from the East Asian markets — such as China and South Korea — which recorded an increase of 42.1% from RM12.9 billion in 2017 to RM18.4 billion last year.
How are you addressing the issue of declining number of arrivals from Singapore?
Due to our proximity, naturally, our promotional efforts will focus on Singapore. We will look at providing new offerings and experiences to attract Singaporeans. The opening of Desaru Coast will rekindle their interest in Malaysia.
Border tourism is important to Malaysia as it constitutes 54% of arrivals. But since tourist arrivals from medium and long-haul markets have risen, it is time for Malaysia to look at these markets.
Are we expecting any new airlines to start flying to Malaysia?
We are working hard to convince our partners to bring in charter flights from Germany (Condor Airlines) and Kazakhstan (Sunday Airlines).
With the Joint International Tourism Development Programme, we hope to enhance accessibility to Malaysia through airline collaborations and operation of charter flights.
The new routes include Daegu to Kota Kinabalu (four times a week) and Busan to Kota Kinabalu (daily) by Air Busan, and Sharjah to Kuala Lumpur (daily) by Air Arabia.
How much of the Tourist Tax is channelled into tourism initiatives?
The collection of Tourism Tax is by the Customs Department. No specific sum has been received by Tourism Malaysia so far.
What are the other untapped areas we should focus on?
Other potential tourism developments include rail tourism via the electric train service, especially the Kuala Lumpur-Ipoh-Penang sector. With Ipoh gaining international attention for its food, there is an opportunity to promote it further.
While shopping in Malaysia is well promoted, Muslimah fashion is catching on fast among tourists from Indonesia and Brunei. They are looking for trendy hijabi wear.
Musical and theatre tourism has high potential as more international concerts and theatre performances are being brought in to Malaysia. Lately,
there have been many South Korean concerts. Coming soon is the much-anticipated musical The Phantom Of The Opera at Istana Budaya.
Medical tourism is also a lucrative sector and Asean is our potential market. Last year, 664,000 Indonesian health travellers visited Malaysia, generating receipts of RM929.4 million. As they usually travel with families, Tourism Malaysia is working on tapping this market.