This article first appeared in Personal Wealth, The Edge Malaysia Weekly, on July 8, 2019 - July 14, 2019.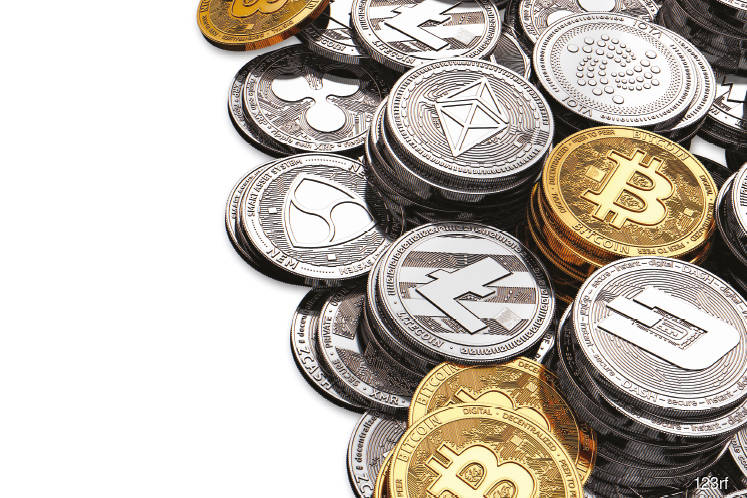 It has been a good year so far for major cryptocurrencies like bitcoin and Ethereum, which have seen prices rise since January. While this has brought cheer to some investors, others are concerned about whether there is still room for growth following their dismal performance last year.
However, local cryptocurrency players remain confident about the long-term potential of the market as the alternative asset class today is driven by stronger fundamentals compared with two years ago, when prices were primarily driven by speculative forces.
Hong Qi Yu, founder and CEO of Tokenize Xchange, says the long-term potential of cryptocurrencies has yet to be unlocked. "In 2017, the cryptocurrency market was rallying as a result of speculation and hype. Today, it is being driven by stricter regulations, increasing participation of reputable players accepting cryptocurrency as a method of payment, and fundamental factors such as better security and exponentially increasing amount of users.
"Due to all these, I think the valuation is still very discounted and I am very confident that there is still room for growth," he says.
Kelvyn Chuah, co-founder of SINEGY Marketplace concurs, adding that the recent rise in price and volume is an indication that the bear market for bitcoin has already passed. "I would not call it the start of another bull run just yet but I believe without a doubt that this asset class is here to stay."
Bitcoin, the largest cryptocurrency by market cap, recently experienced a bull run. As at July 2, its price had shot up to US$10,454 (RM42,280), a 182% increase since the beginning of the year, according to Coindesk data. However, this is nowhere close to its all-time high of nearly US$20,000 in December 2017. Meanwhile, Ethereum's price rose 120% to US$289.45 over the same period.
Last year was not a good year for cryptocurrency investors. According to Coindesk data, bitcoin prices plunged by about 70% from its price at end of 2017, marking its worst performing year. Ethereum took a beating too, losing more than 80% of its price from the start of the year.
While cryptocurrencies have since risen since the end of last year, Luno general manager of Southeast Asia David Low says investors should not be too fixated on prices alone as they are volatile in nature. Instead, they should pay attention to the digital assets' real-use cases and understand why an increasing number of reputable players are coming out pro-cryptocurrencies.
Each cryptocurrency was created with real-world purposes. Bitcoin, for instance, was created to prove that centralised ledgers (collection of transactions managed by a single authority) that charge arbitrarily for the mere transfer of funds are no longer relevant. Ethereum was introduced to be a one-stop shop for creating decentralised applications and smart contracts that have no single point of failure and are autonomous, while payment protocol Ripple was created to allow banks to send real-time international payments to each other without the need for a central counterparty or clearance hub.
"If they have a better understanding of the individual cryptocurrencies and the technology behind it, they are able to make a more informed investment decision and not be swayed by price movements alone. Cryptocurrencies do not exist solely as an investment vehicle — it is much more than that. Trading is only scratching the surface," says Low.
Putting processes in place
The local cryptocurrency community was abuzz with activity late last year when Finance Minister Lim Guan Eng announced that the regulations for cryptocurrency exchanges would come into force. On Jan 31, the Securities Commission Malaysia (SC) announced that digital asset exchange (DAX) operators would need to register with the regulator and meet its standards and requirements in their role as recognised market operators (RMOs). By the SC's definition, digital assets refers collectively to digital currencies or digital tokens.
Of the 23 DAX companies that have submitted their applications to the SC, only three players were granted conditional approval — Luno Malaysia Sdn Bhd, SINEGY Technologies (M) Sdn Bhd and Tokenize Technology (M) Sdn Bhd. All three companies have been given up to nine months from June 4 to fully comply with all regulatory requirements, the regulator said in a statement. Once the DAXs have full approval, they will be able to announce a "go-live" date for their platform, from which customers can then deposit money and start investing
London-based Luno, previously known as BitX, was launched in 2013. With a focus on emerging markets, it has recorded more than two million users in 40 markets across the globe to date. It was made available to Malaysian users in 2015. According to Low, Malaysia is one of the top three most active markets for Luno in terms of number of users.
Penang-based SINEGY, launched in 2017 by Chuah and an all-Malaysian team, is another approved exchange. Chuah says the company is the first fiat-to-crypto exchange to offer a trading rebate as part of the maker-taker model employed by the platform. Typically used in the equity market, this model rewards the makers with a rebate for transactions as they provide liquidity. Meanwhile, takers are charged as they take away the liquidity. Makers are individual or institutional traders who put up an order for a price, while takers, who can also be traders, can choose to accept the price offered by the makers.
The company also used to operate an over-the-counter cryptocurrency trading platform that managed to trade more than US$16 million within six months, but it was halted after the SC's announcement of regulatory requirements for cryptocurrency exchanges.
The last exchange, Tokenize was founded by Hong, another Penangite, in Singapore two years ago. The exchange, which is available throughout Southeast Asian and South Asian markets, boasts a competitive rate and offers the lowest trading fee in Singapore. Tokenize has grown steadily since its launch, with the number of users growing by 10 times to more than 100,000 over the past 12 months alone.
The three players have undergone a lengthy process to obtain conditional approval from the SC. However, Chuah says that there are a lot of things the DAXs need to do to comply with all of the regulatory requirements. These include building modules for market surveillance to prevent market manipulation and securing custodial trust accounts to prevent the companies from commingling client funds with those used for business purposes.
Low says there are a lot of investments that these companies will need to make to reach full compliance status. "That being said, money does not guarantee approval. A company may have all the money in the world but end up being rejected anyway because they do not have the know-how."
The SC's requirements for these companies include identifying possible sources of operational risk (both internal and external) and mitigating their impact through the use of appropriate systems, policies, procedures and controls. The exchanges must also have a business continuity plan that addresses events posing a significant risk of disrupting operations, including those that could cause a wide-scale or major disruption.
Nevertheless, Low emphasises that the strict regulations imposed by the SC is beneficial to Malaysian investors. Now that the regulators are stepping in to carry out due diligence on the exchanges, the latter are no longer able to make exaggerated claims about their services — a problem that was seen before the SC's announcement.
"I think the regulations give a lot more confidence to Malaysian users. Now, they are able to differentiate between legitimate businesses and non-legitimate ones. Additionally, if anything goes wrong at the exchanges, the authorities will have someone to go after. I think this will not only allow the entire industry to flourish more, but will hopefully be able to reduce scams," says Low.
Tokenize's Hong applauds the SC's decision to regulate the DAX space as it helps to reduce public perception that cryptocurrencies are merely tools for money laundering. "I think the move the SC has taken gives the market more clarity and credibility. Not only does it help to make this market safer for retail investors, it also creates more trust among institutional players such as banks.
"I operate in many different markets. While Malaysian regulators are not the first to draw up regulations for DAX, they have been the fastest, from the drawboard to implementation. As an industry player, I want to work very closely with them and help them create a safe environment for cryptocurrency investors in Malaysia," he says. Moving forward, the three exchanges are working towards fulfilling their role of educating the public about the digital asset industry as per the SC's guidelines. There is still a massive knowledge gap in Malaysia regarding cryptocurrencies and blockchain technology. Due to this, it is common to hear Malaysians falling for dubious projects or schemes.
"There is no nice way to put this — the crypto market is filled with scams. From fake trading platforms to scam ICOs (initial coin offerings), it is important for the market to differentiate what is real and what isn't. We are very grateful to have progressive regulators who are laying the foundation for our nascent industry," says Chuah.
Apart from online education platforms, the exchanges are also holding offline classes for local investors. Additionally, they are actively engaging with the local cryptocurrency community on social media platforms and messaging apps.
The next space within the local cryptocurrency industry that will be regulated is ICOs. The SC is currently seeking public feedback on frameworks for ICOs. The public consultation paper, which was released March 6, discusses the proposed framework for eligibility of issuers, the need for transparent and adequate disclosures as well as utilisation of proceeds of the ICO, among others.
"This is actually something that we participated in. We met with the SC to provide our views on what we think is the best for the market. I think we can look forward to a regulated space for ICO that can actually allow investors from all over the world to fund our local start-ups and small and medium enterprises. We are very excited to see the outcome of the public consultation," says Low.
What will the operators offer?
The three exchanges that were granted conditional approval by the Securities Commission Malaysia (SC) bear a lot of similarities when it comes to offerings. At the moment, the cryptocurrencies that Luno will support for trading include bitcoin and Ethereum. SINEGY and Tokenize will offer bitcoin, Ethereum and Ripple on their platforms.
The trading fee differs from exchange to exchange. Luno and SINEGY applies the maker-taker model, while Tokenize's fees will not exceed 1%, depending on whether the users are regular, premium or platinum users.
The three exchanges have also put in place cutting-edge security systems to address all potential vulnerabilities and threats. This is in line with the SC's guidelines, which requires the players to ensure that they comply with the regulator's Guidelines on Management of Cyber Risk and other relevant guidelines.
That being said, there are features that are unique to each exchanges. Luno, for example, has been available to users around the world since 2013, five years longer than its competitors. It boasts a very strong user base, leading to the exchange's high liquidity. It has never been hacked since the beginning its operations and secures users' funds with three layers of security — hot wallet, cold wallet, and "deep freeze".
Hot wallet is a wallet connected online, allowing users to withdraw their money. Unlike a hot wallet, a cold wallet is stored offline. Both are multi-signature wallets, requiring Luno as well as US-based digital asset trust company Bitgo's authentication to access the funds. The majority of Luno's user funds are kept in "deep freeze" storage. These are multi-signature wallets with private keys stored in different bank vaults. No single person ever has access to more than one key, according to the company.
Although SINEGY and Tokenize were only launched two years ago, they have big ambitions and projects to carry out.
SINEGY, for example, aims to build an integrated exchange in the future. In the traditional equity market, integrated financial markets allow domestic investors to buy the same assets in foreign countries and vice versa. For example, an US-based investor can buy a stock listed in Japan and sell it to a US stock exchange, where it is also listed, at a higher price.
As a former trader specialising in market-making and arbitrage strategies, SINEGY's co-founder Kelvyn Chuah expresses his interest in introducing a similar version as he notices that this integrated financial markets are not available for cryptocurrencies, even though the same digital coin is traded in different exchanges across the globe.
If SINEGY is able to connect with larger global cryptocurrency exchanges, it would be able to provide its users access to deeper liquidity pools as well as offer competitive rates. However, this will be no easy feat, says Chan Wei Chi, SINEGY's head of business and development. He explains that the technology behind the integration will need to be very well developed, while linking with players in different jurisdiction will mean regulation barriers.
Meanwhile, Hong Qi Yu, founder and CEO of Tokenize Xchange, says the exchange has a healthy pipeline of features it wants to introduce to its Malaysian investors, including a reward programme and several services related to cryptocurrency-to-fiat pairings. The reward programme, which is already in beta phase in Singapore, provides traders with rewards in the form of vouchers to spend on well-known brands.
Now that the exchange is regulated in Malaysia, business owners are more than happy to work with Tokenize for the programme, says Hong. However, this is part of a long-term vision. It can only be introduced in Malaysia after it smoothens out the front and back-end of its business to fully comply with SC's regulatory requirements, says Hong.
Weighing in on Libra
Last month, tech giant Facebook announced that it plans to launch its own cryptocurrency, Libra. The stable coin, or digital asset backed by a reserve of assets such as fiat money, will be introduced sometime next year. According to its official website, Libra will let users move money around the world "as easy and cheap as sending a text message". Users will be able to use Facebook's own Calibra wallet or other interoperable digital wallet to spend Libra at online and offline stores.
Digital Asset Exchange (DAX) operators in Malaysia welcome this move, adding that it will help cryptocurrencies to get higher mainstream adoption.
SINEGY Marketplace co-founder Kelvyn Chuah says the involvement of larger tech firms such as Facebook validates the belief that blockchain-based assets are indeed an innovation. "Facebook's Libra is just an example of more to come within the space. While there is a subset of investors who adopt the libertarian paradigm of total decentralisation, the actual fact is that the industry is garnering more corporate and institutional participation given the consistent growth it presents.
"Ultimately, mass adoption can only occur when the public has more trust in the technology and the entity that presents it to the market. Big tech firms such as Facebook still command strong public trust globally despite recent controversies," says Chuah.
David Low, Luno general manager for Southeast Asia, says the announcement is not only important for the cryptocurrency market, but for the entire global financial services industry too. "We've seen our fair share of crypto hype over the past few years, including initial coin offerings and the blockchain-can-solve-everything mania, but this is most certainly not one of them. In our view, this should seriously be considered as a potential game changer, not just for the cryptocurrency industry, but also the broader financial system.
"While there have been many stable coins introduced over the course of the past few years, many of them do not have, or lack the necessary means to distribute them globally. Stable coins also face the issue of trust where broadly, many do not understand them nor trust the issuers to have the necessary means to develop and sustain them. The same cannot be said here ... arguably, Libra is well positioned to tackle these two issues," says Low.
Facebook is already a trusted platform, says Low. Coupled with the fact that Libra is linked to a basket of currencies (like the US dollar and euro) that people already trust and understand, the company is able to easily solve the issue of trust. The tech giant can also solve the distribution problem by introducing it across all of its products, instantaneously giving billions of its users access to the cryptocurrency.
"While many crypto initiatives focus on building the product first and hoping the market will come to it, Libra essentially flips that around and tries to solve the harder problem of distribution before finalising the product, and this is where its global partner strategy is unique.
"It has formed the Libra Association, which counts Visa, Mastercard, Uber and others as part of its founding members. It is this combination that, in our view, will significantly accelerate broader adoption and arguably make Libra one of the biggest innovations in modern financial history," says Low.
This is not to say that Libra will not face any challenges. Low points out that the safety and security of Libra's blockchain have not been tested at scale, compared to bitcoin and other cryptocurrencies that have been around for many years.
"There will also continue to be regulatory challenges, for example, with capital controls, which are a reality of life in most developing economies. To enable many of the most important use cases, they will still likely require approval from regulators that have put cryptocurrency regulatory framework in place, as well as support from locally licensed exchanges that have the necessary crypto-to-fiat liquidity pools.
"Here, approval from the Securities Commission Malaysia and support from approved Registered Market Operators will be needed to make it happen. Many local crypto-to-fiat exchanges simply do not have the liquidity pools and reliability to deal with this ambitious project," says Low.