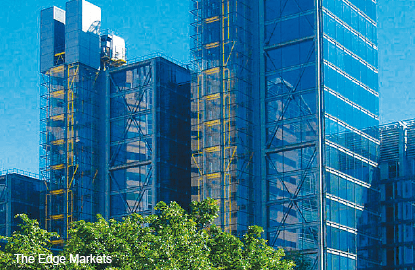 This article first appeared in The Edge Malaysia Weekly, on January 25 - 31, 2016.
GIVEN the rising volatility in the equity market, Kumpulan Wang Persaraan (Diperbadankan) or KWAP is looking to increase its exposure to real estate investments from this year.
The pension fund plans to raise the cap on its investments in international and domestic properties to between 8% and 10% of assets from 6% at present. It is in the midst of seeking approval from the Ministry of Finance for a larger allocation to invest in property assets.
Currently, international properties make up close to 4% of KWAP's total fund of RM109.43 billion while domestic properties account for 1%.
"We have to find high income returns that are sustainable because in volatile market conditions, as a pension fund, we are very mindful that our risk appetite is not too high. That is why we like steady income streams, which give us a base in terms of returns," KWAP chief investment officer Nik Amlizan Mohamed tells The Edge.
KWAP began to invest abroad in 2010 and its first international real estate investment was in Australia. In 2014, its Australian assets generated an annualised net yield of 6% while its UK assets achieved 5.1% (see table). KWAP's internal rate of return target is set at 5.5%.
Amlizan, however, notes that finding investments that meet this requirement in the current gloomy market will not be easy and stresses that KWAP will not divest underperforming investments unless it has found better ones elsewhere.
Chief executive Wan Kamaruzaman Wan Ahmad adds: "We have to look outside the areas we normally invest in. For example, in the UK, we cannot get returns of over 5% in the London area any more. So, we have to look outside London. Also, in Australia, we might not be able to look at the main cities like Sydney and Melbourne. We might have to look at Perth and so on."
KWAP is looking beyond its existing reach — Australia and the UK — to invest in the US. "We looked at the European market but the rates were not attractive. There is a crowding out by local investors unless you want to partner them. You can get better yields in the US even now [with the ringgit's depreciation against the greenback]," says Amlizan.
The pension fund is considering partners that it can work with. "We need to do that first and at the same time, identify the property that we want," adds Amlizan.
"We will start with commercial in most of the places we invest in. Then, once we get comfortable, we will move into other areas — logistics, industrial, shopping malls and so forth," says Kamaruzaman.
Just last month, KWAP announced that it will be selling an office tower at 88 Wood Street, London, for £270 million (RM1.7 billion).
It had bought the property in 2013 for £215 million, thus making a gain of £55 million (RM343 million) on the asset. At the time of the purchase, 88 Wood Street had a net yield of 6% but this has since fallen to 4.5%.
The government has urged government-linked corporations to repatriate funds from abroad since the sharp depreciation of the ringgit.
Kamaruzaman, however, says the pension fund was not forced to do so. "There are a couple of reasons why we are selling our properties. We were not forced to sell [to repatriate to Malaysia]. For me, we cannot be too sentimental about our investments. Even if it's a good asset and you paid a lot of money for it, there is no sin in taking profit. Everything has a price and the price is right for us to take profit."