This article first appeared in City & Country, The Edge Malaysia Weekly, on June 18, 2018 - June 24, 2018.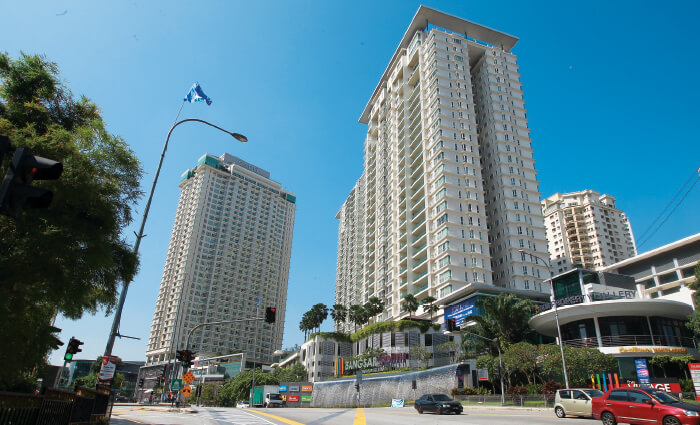 The RM10 billion fully integrated Bangsar South development spans 60 acres in Kampung Kerinchi and is forecast to have a population of 35,000 when it is fully completed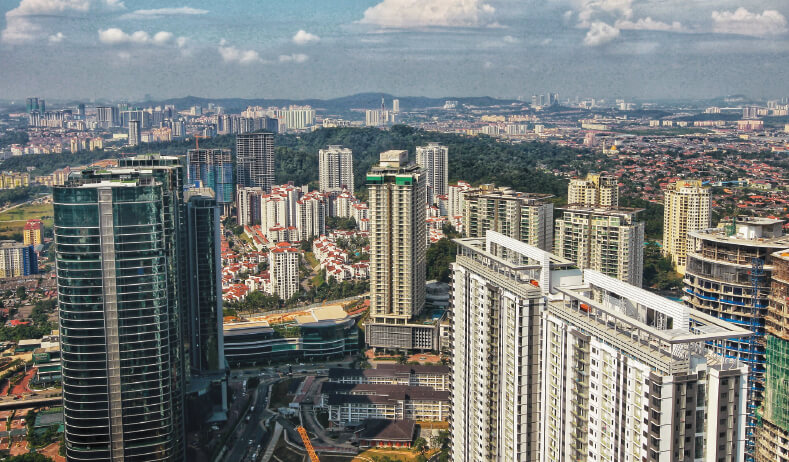 Kampung Kerinchi is bustling with new developments
Click / Tap image to enlarge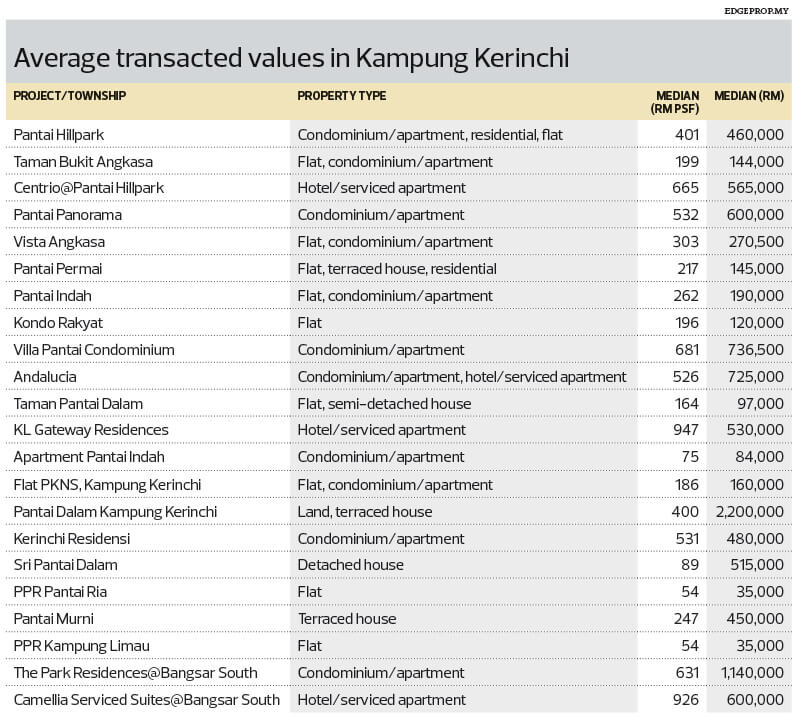 Kampung Kerinchi has become one of the Klang Valley's most sought-after addresses, with swanky Grade A office towers, hotels, high-rise residences, plenty of retail and F&B options. It also has several recently completed, ongoing and upcoming developments.
Almost a decade ago, City & Country wrote in its July 6, 2009, issue, "If the name [Bangsar South] sounds a bit unfamiliar, it is because many know the area as Kampung Kerinchi in Kuala Lumpur".
At that time, UOA Group, the developer of the 60-acre mixed-use Bangsar South development in Kerinchi, was in the midst of giving the area a facelift — widening roads, building pedestrian walkways, landscaping the area as well as upgrading the bus stop at the Putra LRT Universiti station and building a food court for the traders who operated roadside stalls.
Fast forward to today, the Bangsar South brand name has become synonymous with the locality of Kampung Kerinchi.
According to CCO & Associates (KL) Sdn Bhd director Chan Wai Seen, the large-scale Bangsar South project had a considerable impact on the surrounding area and many developments in the vicinity have capitalised on the prominence of Bangsar South by association while some tried to adopt the name in their projects.
"Like Ara Damansara, although it started with the township project by Sime Darby Property, many developers have used the name in their projects, especially when they launch, although the final address may differ. The name of the project then slowly becomes the locality's name," says Chan.
It is said the history of Kampung Kerinchi can be traced back to the 18th century when a group of people from Kerinci, in Sumatera, formed a settlement there. Some residents feel the name is part of the area's heritage and they fear a piece of history could be lost if the area sheds its name in the name of progress.
For that reason, Lembah Pantai member of parliament Fahmi Fadzil has recently requested to change the name Bangsar South back to Kampung Kerinchi and is in the midst of discussions with the Kuala Lumpur City Hall (DBKL) and various stakeholders on the matter.
UOA Group, the developer of Bangsar South, clarifies that Bangsar South is the project name of its mixed-use development and not the name of the area itself. The names "Bangsar South" and "Bangsar South City" are trademarks registered to UOA Holdings Sdn Bhd, which forms part of the UOA Group.
As reported in The Edge Financial Daily on June 11, property experts have dismissed concerns that the change of Bangsar South's name back to Kampung Kerinchi will drive down property prices in the area.
CBRE|WTW managing director Foo Gee Jen, was quoted in the newspaper article as saying that name and branding play a small part of the property value ecosystem. "This is only relevant mostly at the entry level, as part of the purchase consideration. The long-term investors or property owners need to look beyond this. Location, infrastructure, connectivity, and availability of services are crucial elements to support and sustain the value."
Savills Malaysia executive chairman Datuk Christopher Boyd added in the same article that it would be unfair to the developer who had invested so much time and money to create Bangsar South as an upscale area to live and work in.
"I think if a developer owns a very large patch of land, it should be allowed to call itself whatever it wants within reason," he said.
CCO's Chan says that many investors, especially foreigners and expatriates, are more familiar with Bangsar South than Kampung Kerinchi but the impact of any renaming will be short term as long as the location continues to offer good properties.
Promising market outlook
As Kampung Kerinchi has grown into an established location for residential and office developments, Chan is optimistic about the medium to long-term outlook for its property market.
"The presence of a large population who work and live here augurs well for complementary developments, such as shops, wellness and lifestyle developments," he says.
Before UOA started construction of Bangsar South in 2007, Chan says, the area housed mostly squatters and developments in Kampung Kerinchi were mainly residential. "Many residential units cater for students due to the area's close proximity to Universiti Malaya," he says.
Chan adds that the development of condominiums and apartments on small pockets of land, such as Vista Angkasa (by Kuala Lumpur City Hall), Pantai Hillpark (by YTL Land & Development Bhd) and Pantai Panorama (by Amcorp Properties Bhd) did little to raise the overall image of Kampung Kerinchi, which had mostly squatters and low-cost residential properties then.
Bangsar South has been a catalyst for the urbanisation of Kampung Kerinchi and has transformed the area into a well-planned and contemporary, integrated development, Chan says.
"The development has enjoyed great success, largely due to its central location within the Klang Valley — close to Kuala Lumpur city centre, Bangsar, Petaling Jaya, Old Klang Road and Damansara."
Property prices in Kampung Kerinchi have risen 30% to 40% over the past five years, he says. "Residential property prices are about RM750 psf to RM1,000 psf for projects completed less than eight years ago and about RM500 psf to RM650 psf for those more than 10 years old," he says.
The area enjoys access to the Universiti and Kerinchi LRT stations as well as several highways such as the Federal Highway, New Pantai Expressway and Kerinchi Link. "The completion of the Setiawangsa-Pantai Expressway (SPE, previously known as DUKE Phase 3) will further enhance accessibility at Kerinchi," says Chan.
The highest priced residential projects in Kampung Kerinchi are Camellia Serviced Suites, South View Serviced Apartments (both by UOA) and KL Gateway Residences (by Suez Capital Sdn Bhd). The affordable ones include Vista Angkasa and Pantai Panorama, he adds.
According to him, popular developments in the area are Camellia Serviced Suites and The Park Residences (by UOA).
"Camellia Serviced Suites — located next to Nexus, an F&B and lifestyle retail centre — offer smaller units suitable for bachelors and young couples with sizes ranging from 638 to 1,419 sq ft. Units come partially or fully furnished," says Chan. "The Park Residences is suitable for families, with typical sizes ranging from 1,260 to 2,097 sq ft. It is located next to The Village, which offers F&B outlets. Both projects come with good security systems."
South View Serviced Apartments, KL Gateway, The Park Residences and The Vertical at UOA's Bangsar South development are some of the new completions in Kampung Kerinchi.
According to Metro Homes Sdn Bhd director See Kok Loong, serviced apartments in the area are currently priced at about RM800 psf to RM1,000 psf while offices are RM900 psf to RM1,000 psf. "UOA's projects are popular in the area as they are connected to the Kerinchi LRT station by a bridge," he says.
Ongoing developments to look out for are Novum @ South Bangsar by Eupe Corp Bhd; The Estate by Bon Estates Sdn Bhd; and South Link Lifestyle Apartments by UOA.
Novum @ South Bangsar offers units with built-ups ranging from 647 to 1,441 sq ft with an average price of RM900 psf. The Estate will offer condominiums with built-ups ranging from 2,346 to
5,807 sq ft, priced from RM767 psf. The units at South Link Lifestyle Apartments range in size from 452 to 904 sq ft and are priced from RM784 psf.
 
Bangsar South offers such amenities as The Sphere lifestyle shopping mall, The Village's F&B outlets, the lifestyle centre Nexus, Life Care Diagnostic Medical Centre, Cengild Medical Centre and Sunfert International Fertility Centre.
In 2017, UOA revamped The Sphere, increasing its net lettable area from 67,000 sq ft to its current 110,000 sq ft. The mall reopened in February this year with 93% occupancy.
According to See, Kampung Kerinchi should be on the property market watch list as its medium to long-term outlook is positive. However, as most of the land in the area is leasehold, he says properties on the secondary market may be affected, although other factors could affect prices, such as maintenance and the community, rather than tenure alone. He sees no major impact for projects in the primary market.
"Most developers would be renewing their leases to 99 years and some other titles were issued recently. Also, by the time the development is completed, there will still be over 90 years remaining on the lease.
"This is especially true for high-rise developments as the structural building lifespan is around 50 years and many buyers are less fussy whether the tenure is freehold or leasehold," he says. He highlights that two new outliers, South View and Novum, are freehold developments.
Commercial segment trending upwards
The commercial and retail segment of the market is considered relatively new in the area as Kampung Kerinchi previously comprised mostly residential developments.
"The landscape has changed from condominiums and apartments to office buildings, retail outlets, a convention centre and hotel," says Laurelcap Sdn Bhd executive director Stanley Toh.
"The most prominent change was seen in 2013 to 2014, when the Horizon boutique office towers opened … then came Nexus Bangsar South and now the Vertical Business Suites," says Toh. He attributes this growth to the area's strategic location and accessibility.
According to Toh, prices for The Vertical Business Suites have moved from RM900 psf in 2016 to RM1,100 psf this year, which demonstrates the demand for office spaces in the area.
As for the Horizon Boutique Offices, Toh says that many purchasers are drawn to the concept of owning a standalone office tower with good visibility at an affordable price in terms of absolute amount. "It was priced from RM35 million to RM50 million when launched and the office towers are fully sold," he says. Toh doubts that any of the towers are on the market and believes that if they were, the asking price would be close to double the developer's price.
Recently completed commercial developments include KL Gateway, which offers offices with built-ups ranging from 1,200 to 11,800 sq ft in a 38-storey tower while in The Vertical Suites, the 35 and 32-storey Towers A and B offer offices in sizes of 735 to 1,350 sq ft.
According to Toh, prices in the commercial segment have been moving upwards, albeit at a slow pace due to overall economic sentiments.
Toh says the trend for companies to move from the city centre to the city fringe is apparent in Kampung Kerinchi with companies such as Pfizer Malaysia, Dagang Exchange Bhd, I Synergy Bhd, Touch & Go, Property Guru and Persys Technologies Bhd setting up shop in the area. CIMB Bank is also moving from its current office in Jalan Raja Laut to Bangsar South, he adds.
CCO's Chan reveals that the occupancy rates of offices in the area are relatively good, mostly over 70%, and the current average prices of offices are RM800 psf to RM1,000 psf, having increased by about 20%. The retail segment here, he notes, are all for leasing and has an occupancy rate of 50% to 80%.
Toh believes the office sector in Bangsar South has room for its value to increase as the median pricing is about RM1,000 psf.
"In comparison, KL Sentral and KL Eco City's average price is RM1,300 to RM1,500 psf while Damansara City Centre is about RM1,500 psf onwards," he says. Apart from The Vertical Business Suites Towers A and B and KL Gateway, most of the upcoming developments in the area are high-rise serviced apartments. Hence, there is still room for capital appreciation," says Toh.
As more projects are being developed in Kampung Kerinchi, the location has become more congested, especially during peak hours, say property experts.
Chan says accessibility from the NPE needs to be improved, while See believes that traffic management can be enhanced and suggests using flyovers to reduce the number of traffic lights. He also hopes the new SPE and the Pantai Sentral Park interchange will improve accessibility.
"Improvements in terms of accessibility and mobility in the area would be the key driving forces in pushing up prices," concludes Toh.