This article first appeared in Enterprise, The Edge Malaysia Weekly, on June 10, 2019 - June 16, 2019.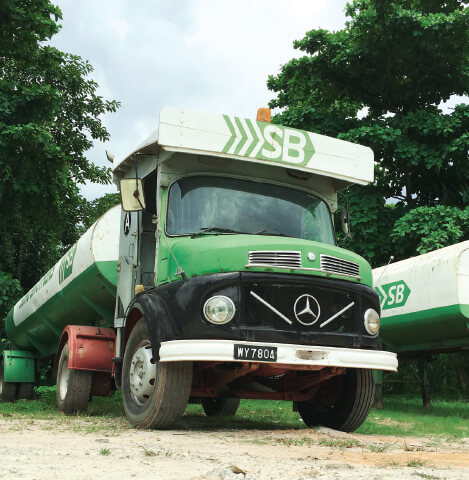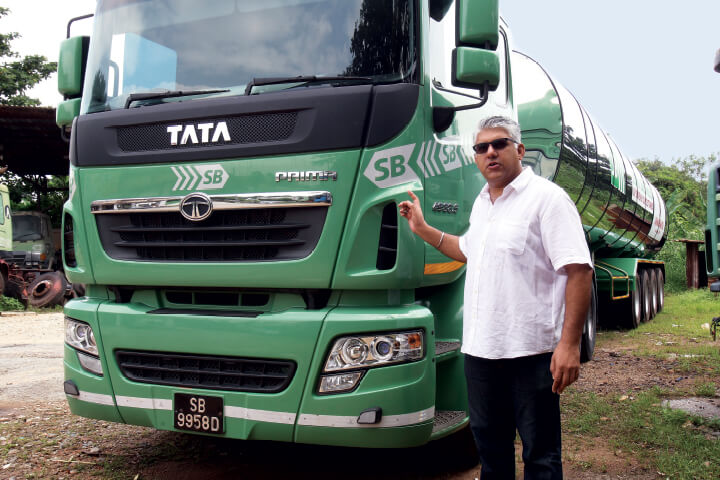 Jimmy standing next to his spanking new RM300,000 TATA Prime 4395, a long way from the Mercedes 911 (right)
When brothers Mahinder Singh Sidhu and Jaswant Singh Sidhu bought a Mercedes 911 in 1981, little did they know that the purchase would put them on a path to becoming a household name in the palm oil industry. At that juncture, however, all they wanted was to benefit from the booming industry following the government's recognition of oil palm as a complementary crop to rubber.
They had set up Sidhu Brothers Transport Sdn Bhd in 1979 to take on subcontracting jobs and leased a lorry to collect fresh fruit bunches from oil palm plantations and deliver them to processing mills.
The brothers had to use their savings to buy the truck as they did not have the approval and support of their father, Nika Singh Sidhu, a retired serviceman. Their father had a more traditional cast of mind and wanted his sons to continue being bus drivers as he felt this would provide them with a steady income. He abhorred the risks and uncertainties that came with running a business.
Their father's disapproval only made them more determined. They understood that they were on their own and would have to do whatever it took to succeed. After two long years, they finally had enough money to buy the swanky Mercedes truck, which they outfitted with a tanker for RM60,000.
"They got a tanker because they knew there were not enough tankers going around to transport palm oil. They bought a new truck because, after weighing the pros and cons, they felt a new one would allow them to use it 24 hours a day, seven days a week. Back then, they never took a day off because they needed to justify what they had spent," says Jimmy, Mahinder's youngest son.
"They were also very afraid of their father and how angry he would be if he saw a new truck parked on the lawn. If they parked the truck at the house, they would have been sure to get a good walloping or, at least, an earful from my grandfather. I remember how they would hide the truck at a friend's place whenever they were not able to secure a job."
To ensure that they never found themselves on the receiving end of their father's ire, the brothers took turns driving the truck from Semenyih to Singapore and back again daily. "It was a new machine and they did everything efficiently to boost productivity. My father would drive the truck in the morning and my uncle would take over in the evening so they could do the trip in a day," says Jimmy.
"A Singaporean company called Ngo Chew Hong Edible Oil Pte Ltd was impressed with their work ethic. Eventually, their hard work and perseverance won them a contract of their own from the company."
Today, Sidhu Brothers boasts a fleet of 120 tankers, which move more than 4,500 tonnes of palm oil and cement each day. Despite having expanded tremendously over the past decade, the business is still run out of their family home in Rawang. The company also has offices and warehouse facilities in Kuantan and Johor Baru.
"We mostly transport palm oil (95%) and some cement. Our fleet is the biggest in the country after that of the Federal Land Development Authority (FELDA)," says Jimmy, the company's commercial director, who oversees the day-to-day operations with his older brother, managing director Ranjit.
Mahinder roped in his two older sons — Ranjit and Mandeep — to help run the family business after it had been in operation for six years. Together with Jaswant, they poured their hearts into building the enterprise.
As the business expanded, Mandeep took charge of the company's depot in Kuantan and settled there with his family. He died in April last year so Jimmy and Ranjit now split their time between their headquarters and the depot.
Ranjit and Mandeep started out by driving tankers for the company. Thus, a commercial driving licence became a prerequisite for any family member interested in being part of the business.
Jimmy joined the company in 2008 after working in the corporate sector for several years. Mahinder brought him in to help with the submission of tenders during Sime Darby Bhd's mega merger of several plantation units.
"Since I was working in the property business and knew a few things about corporate tenders, my father asked me to help out. By that time, we were already transporting palm oil for Kuala Lumpur Kepong Bhd, Kumpulan Guthrie Bhd and Sime Darby," says Jimmy.
After securing a contract to service seven out of the 20 mills proposed in the tender, Mahinder gave the job of servicing those mills to Jimmy.
Mahinder died the following year. Ranjit and Jimmy now run the business with the guidance of Jaswant and their mother, Harbans Kaur Gill, who has been managing the company's accounts since the business was established. Ranjit is in charge of administration, procurement and corporate affairs while Jimmy is in charge of business development, technology and human resources.
Although they are managing the company, the brothers will not hesitate to get behind the wheel when needed. The other drivers are often surprised to see their bosses delivering cargo.
"We are all drivers. Those are my working boots right there. At any given time, if a driver does not turn up, Ranjit and I will take turns to deliver the goods. That has brought us closer to our customers as well. That is why our company is run by a board of drivers rather than a board of directors," says Jimmy.
This is where the commercial driving licence comes in handy. That is also the reason the close-knit family has no plans to change tradition, with members of the third generation already being groomed to take over the business.
Jimmy says his nephew, Jasdeep (Ranjit's eldest son), who is currently a pilot, has expressed interest in joining the company. "I told him that if he was serious, he would need to get a licence to drive a truck. It is a must and with it, he can go to the ground and understand the team better. We have always believed in working with our team, rather than making them work for us."
Although family members are always welcome if they are willing to knuckle down and do the work, Jimmy insists that the company adheres to a strict code of ethics in running the business. He says everyone must have a good working relationship and prioritise transparency.
"I believe that sharing information and knowledge is key to our success. If you do not share, then you are in trouble. If you share knowledge and are transparent with the board, you will be better off by getting the 'no' now rather than much later," says Jimmy.
As second-generation torchbearers, the onus is now on them to ensure that the family business continues to thrive, he adds.
Almost like a constant reminder of duty, the now tired-looking Mercedes truck with the registration plate, WY7804, still stands proudly at the edges of the gravel yard of their family home in Rawang as a showpiece of grit, tenacity and vision.
'Uber-ising' palm oil transport
Despite having the business acumen to go into the palm oil industry, the Sidhus have resisted diversifying and expanding into planting oil palm or trading palm oil. That was the decision Mahinder and Jaswant made years ago when they started the business: Never compete with your customers.
Until today, the founders' resolve serves as a tenet for the next generation in all of their business decisions. "If you notice, in the palm oil transport business, the majority of the operators are traders themselves. That is because they know where to pick up the goods and they know whom they are selling to. So, it is only natural that they start trading," says Jimmy.
"But we refrain from that because of our father's and uncle's position on the matter. They were steadfast in never competing with our customers because, in one way or another, you will end up crossing ethical lines. For the same reason, we never got into the plantation business — because then, we would be in direct competition with our customers."
But that has not limited the company's expansion. After increasing its fleet of tankers to 120 in 2010, Jimmy wanted to "disrupt" the palm oil transport industry. "We are an old business, but we have a new vision. Ever since we expanded our fleet, we have focused on improving the business using technology. In 2012, we were one of the first palm oil transporters to invest almost RM500,000 in advanced satellite tracking and live monitoring systems," he says.
"We did it because there was a lot of palm oil theft, especially when it was being transported. When the trucks were parked on the side of the road, thieves would plug into the trucks and tap the oil. We used to have to do a lot of physical surveillance, but that was inefficient and took a lot of time. By using technology, we have become popular among palm oil millers."
Now, Sidhu Brothers is venturing into the tech space by developing an application that will "uber-ise" the palm oil transport industry. "We have entered into a partnership with a tech company to form Transporter Asia Sdn Bhd. We hope that with this service, we can link up all 3,500 tankers with 618 palm oil mills and refineries in the country on one platform so that, like the ride-hailing apps, our customers can book transporters," says Jimmy.
Although the new venture is bound to cannibalise the company's existing business, Jimmy believes that it can no longer delay moving to the next stage of growth. "Why are we doing this? Why are we cannibalising the family business? We feel that this industry will be disrupted very soon, just like the taxi and hotel industries not too long ago," he says.
"We figured, why not disrupt our own business rather than wait for a third party to do so. Right now, we have very good and successful long-standing clients. But if we do not do it, someone else will."
While there isn't a dedicated platform to book palm oil transporters, there are similar platforms that provide on-demand trucking services for conventional cargo such as Ezyhaul.
"We want to focus on palm oil because there is plenty here. On average, there are 50 million tonnes of crude and refined palm oil as well as substitute oils such as biodiesel and oleochemicals in the supply chain that needs to be moved every year. We believe we are in the best position to disrupt the business because we know it," says Jimmy.
Currently, mills, refineries, traders and brokers book tankers whenever they need them while some lease them for a period of time. The existing booking system is often expensive due to obscure pricing practices and logistic costs, warehousing issues (as some of the goods have limited shelf life), rampant theft and shortage of tankers during high-crop seasons.
With an on-demand service platform, all millers have to do is publish a job and wait for a transporter to pick it up, says Jimmy. "The miller broadcasts the job and it goes to all the 3,500 tankers listed on the platform. The tankers then have the option of picking up the job. While they are en route to delivering their consignment, they can pick up a future booking.
"Once the transporter picks up the ticket, the miller decides if it wants to select the person asking for the job. When it gives the green light, the tanker goes to the mill."
Via the app, Transporter Asia will suss out all of its fleet partners to ensure that the carriers meet the required standards, as well as to monitor the movements of the tankers to minimise pilferage and loss.
"We will be a part of the platform as well … Sidhu Brothers' 120 tankers will be absorbed into the platform. This is on top of the 3,500 tankers that are already operating independently in the supply chain that will become our subscribers. We will become like booking agents. I believe that we can ride Sidhu Brothers' reputation because it is one of the most trusted names in the industry," says Jimmy.
"If you have palm oil or cement to transport and have the option of choosing between an unknown app and Sidhu Brothers, which would you go for? I am fairly certain that you will choose our company because you know that if the other tanker does not show up, we will back it with our own tankers."
He is not put off by the intense lobbying against palm oil. "Palm oil is being reinvented as we speak. Sustainability is on the rise and Malaysia has plenty of buyers. Countries such as India and China are keeping us busy. I do not know if the world can actually discount the potential of palm oil. It is the easiest to produce, takes up less land and has a smaller carbon footprint," he says.
Jimmy tells Enterprise that he mooted the idea at the meetings of the Malaysian Palm Oil Transporters Group — currently made up of 25 transporters — and the response has been encouraging. "It is a very simple solution, but it costs a lot of money. We are currently fundraising and once we have raised US$3 million, we hope to roll out the app.
"We know that in the first year, the valuation of the company will be RM12 million. That is expected to be our first-year revenue. We will charge RM1 per tonne. So, if the trucks are moving 4,000 tonnes a day, there is a pure profit of RM4,000 for the booking agency."
He has been approaching private equity and angel investors over the past year. "We are very particular about who we partner with. There are some big names in the palm oil industry who are ready to invest in us, but we rejected these offers because we want to be independent. That has been the cardinal rule of Sidhu Brothers — we never compete with our customers," says Jimmy.
"We have to be independent, always. We can have services that are complementary to our business but not compete with our customers. So, we have to be selective about choosing the right partners to ensure the longevity of the company and fulfil the aspirations of the founders."
He adds that Sidhu Brothers is not just a family business but the pride of the Sikh community as it is among the most successful lorry transporters in Malaysia. Although it intends to stick to its core business, he realises that it would be unwise to avoid diversification altogether, especially into areas that would complement its existing business.
Apart from rolling out a new on-demand service, the company is looking to expand into warehousing liquid products, says Jimmy. "We do not have the financial strength to go into those areas yet, but it is on the cards."
As he speaks about the groundwork he is laying to strengthen the family business, he mentions that he and his brother are looking into succession planning. "Our father and uncle, as the founders of the business, built the company and secured its foundations. As the second generation, we are growing the family business and taking it to greater heights. But what will the third generation do when they have had such a comfortable start? It is good if they progress. But what if they are not interested in running the company?"
Ranjit and Jimmy have decided that they will set up a trust to ensure that when they pass ownership and management to the next generation, it will be an orderly process. "A cardinal rule of the trust will be that the future generation cannot sell the business to an outsider. We want to keep it in the family. But they can nominate a corporate head to manage the business and assets," says Jimmy.
"We know that we will eventually need professionals to manage the company for the sake of longevity. Our children may not want to have anything to do with the business. So, they can manage the family office and let professionals run the business."