This article first appeared in City & Country, The Edge Malaysia Weekly, on February 10, 2020 - February 16, 2020.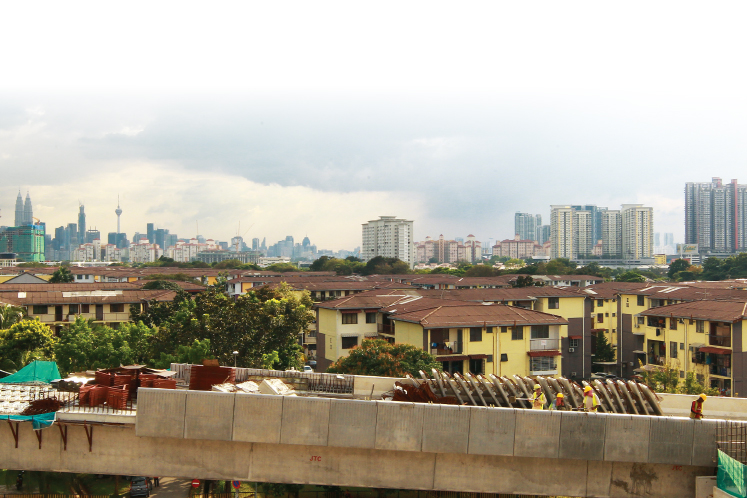 Photo by Patrick Goh/The Edge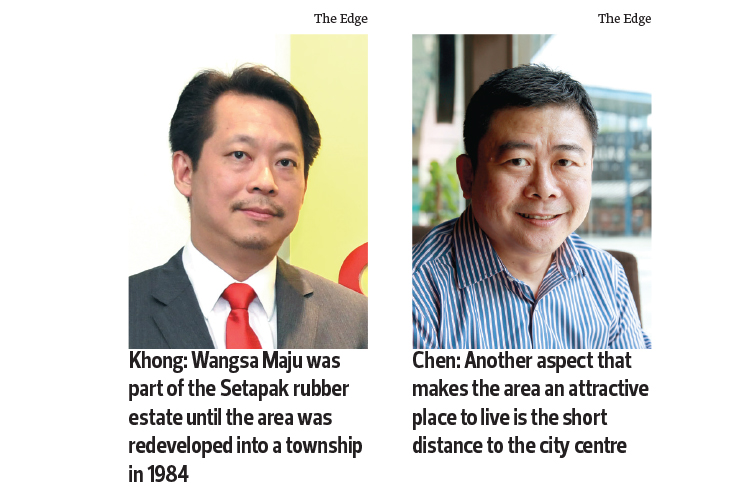 Photo by Patrick Goh/The Edge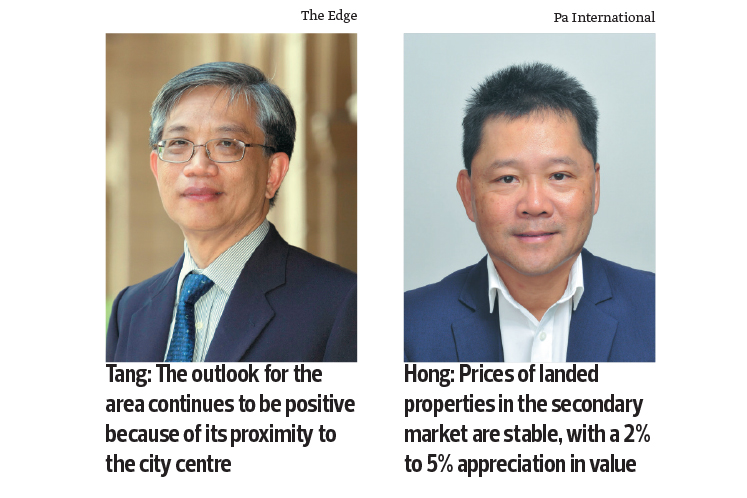 Photo by Patrick Goh/The Edge
Click / Tap image to enlarge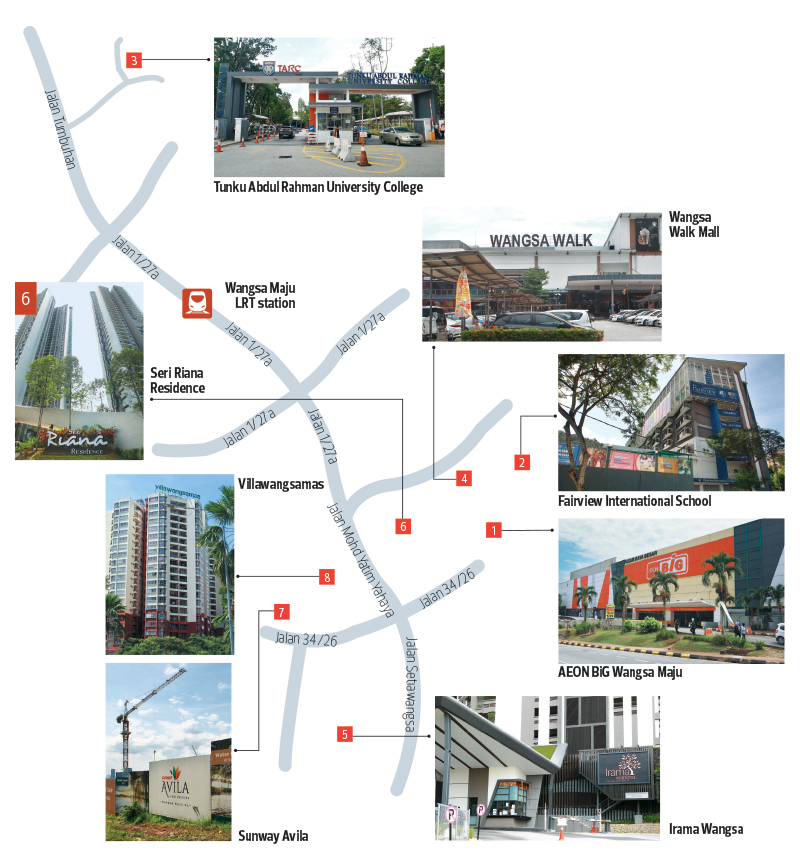 Pictures by Patrick Goh/The Edge
Located on an undulating piece of land surrounded by greenery, with trees swaying gently in the breeze in the warm glow of the rising sun, the densely populated and busy Wangsa Maju is close to shopping malls, international schools and healthcare and education facilities such as AEON BiG, AEON Alpha Angle, Wangsa Walk Mall, Giant Hypermarket, SK Wangsa Maju Seksyen 1, Hospital Wanita dan Kanak-Kanak Naluri and Fairview International School.
Owing to the area's affordable rents and wide range of facilities, it has become popular with tenants. The sustained demand for housing in the area is mainly from students at Tunku Abdul Rahman University College and Malaysian Institute of Art.
"Bandar Baru Titiwangsa Wangsa Maju, or more commonly known as Wangsa Maju, was part of the Setapak rubber estate until the area was redeveloped into a township in 1984," says Jerome Hong, managing director of PA International Property Consultants (KL) Sdn Bhd.
Spanning 937 acres, Wangsa Maju was initiated by PGK Sdn Bhd (now known as MSL Properties Sdn Bhd), a joint venture between Dewan Bandaraya Kuala Lumpur and Peremba Bhd. The township is located in Setapak and bordered by Desa Melawati and Taman Melati (part of Gombak district in Selangor) to the north, Setiawangsa to the south, Ulu Kelang to the east and other parts of Setapak to the west.
Known as one of the largest townships in Kuala Lumpur, Wangsa Maju consists of Seksyen 1, 2, 4, 5, 6 and 10. The area comprises commercial properties and various types of housing, comprising low- and medium-cost houses, 2-storey terraced houses and 2-storey semi-detached houses as well as projects targeting the higher-income group.
Wangsa Maju is centrally located, says Hong. "The area is easily accessible via major roads Jalan Genting Kelang, Jalan Pahang, Jalan Jelatek and highways Middle Ring Road 2, Duta Ulu-Kelang Expressway, Ampang-Kuala Lumpur Elevated Highway as well as the Setiawangsa-Pantai Expressway (DUKE 3), which is under construction."
The 29.8km four-lane dual carriage DUKE 3 expressway — which runs from north to south of Kuala Lumpur — is due to be fully operational in the first quarter of this year.
There are three existing light rail transit stations — Sri Rampai, Wangsa Maju and Setiawangsa — which provide Wangsa Maju residents with greater accessibility.
"New and secondary residential properties in Wangsa Maju have attracted buyers from the surrounding areas such as Taman Melawati, Taman Melati, Setapak, Sri Rampai and Setiawangsa," says Tang Chee Meng, chief operating officer of Henry Butcher (M) Sdn Bhd, adding that the residential properties also cater for buyers who work in the city centre and suburbs.
Savills Malaysia Sdn Bhd (Savills) managing director Datuk Paul Khong says the Wangsa Maju property market has performed relatively well and registered higher transaction volumes in 2018 compared with the last two years, increasing 125% from 2016 to 2018.
"The average transacted price was the lowest in the last three years, however, with an average decline of 2% since 2016. This is due to reduced demand in a sluggish market," says Khong.
The demand for high-rise units has pushed up property prices in the area. Tang says there has been quite a lot of activity in the area, with many high-rise projects such as Infiniti 3 Residence and Villawangsamas by Setapak Heights Development Sdn Bhd and Lexa Residence by Beverly Group Sdn Bhd, all launched in the past five years. "These projects target the middle- to upper middle-income groups, and have seen a good response and upgraded the image of Wangsa Maju," says Tang.
Demand remains resilient
According to Landserve Sdn Bhd managing director Chen King Hoaw, Wangsa Maju is a preferred student location, as affordable residential properties are available. "Another aspect that makes the area an attractive place to live is the short distance to the city centre," says Chen.
"In terms of market performance, high-rise units and landed properties in Wangsa Maju are comparable to those in Setapak, Setiawangsa, Sri Rampai, Taman Melawati and Taman Melati."
As Wangsa Maju is a mature area with an increasing number of developments and infrastructure facilities, properties here are mostly owner-occupied, with demographics comprising mainly young couples and middle-income families.
Chen says the current landed residential properties in the area comprise mainly 2-storey terraced houses and 2-storey semi-detached houses.
"The terraced houses, which have average built-ups of 1,400 sq ft, were transacted at RM700,000 to RM888,000 each in 2018 and 2019. These units can fetch a monthly rent of RM1,700, which translates into a gross return of 2.9% a year," he says.
"The semi-detached houses with a built-up of 2,437 sq ft were sold at RM1.8 million each in 2018 and 2019. Owing to the lack of rental data, it is hard to work out the yields for the semi-detached houses."
PA International Property Consultants (KL)'s Hong notes that, in the secondary market, prices of the landed properties are stable, with a 2% to 5% appreciation in value, owing to their affordability, with the exception of Desa Andaman. "Recent asking prices of landed properties in Desa Andaman ranged from RM900,000 to RM1 million, which are on a par with transacted prices."
He reckons that, owing to the scarcity of land and higher home prices, homebuyers have moved their focus to high-rises.
"The high-rises in the area are well received; the average take-up rate in the primary market was more than 90% despite the soft market conditions. Average transacted prices of high-rises completed in 2010 and prior were RM360 to RM460 psf, while those completed since 2016 have been sold for RM530 to RM780 psf," he says.
He says SCP Group's Seasons Garden Residences'
770 to 850 sq ft units were sold for RM654 psf in 2018 and RM671 psf in 2019. Units at Irama Wangsa, measuring 1,206 to 1,335 sq ft, were sold for RM534 psf in 2019.
"Still, with the increase in the number of high-rises
in the area, which saw the completion of about 3,550 condos and serviced apartments between 2016 and 2019, and an additional supply of 3,289 condos by 2023, there is likely to be an oversupply in the future," says Hong.
Savills Research data shows that asking rents for high-rise units range from RM1.45 to RM1.70 psf, or RM1,060 to RM2,350 a month, yielding gross returns of 4% to 4.7% a year.
According to Khong, the top sales category of high-rises in the primary market are 3-bedroom units ranging from 800 to 1,199 sq ft, which constitute 58% of the segment. "In the secondary market, the most popular [high-rise] units are those with built-ups of 800 to 1,599 sq ft, which accounted for 31% to  35% of total transactions," he adds.
Commercial opportunities
Khong says 60.9% of commercial properties sold are stratified shoplots, followed by 3-storey shopoffices (30.4%) and 2-storey shopoffices (8.7%). "The majority of the transactions for the stratified shoplots were recorded in Pusat Bandar Wangsa Maju. Transactions of the 3-storey shopoffices were commonly found in Taman Sri Rampai, whereas Desa Setapak's transactions were for 2-storey shopoffices.
"A 1,570 sq ft, 2-storey shopoffice in Desa Setapak has a higher transacted price of RM2.1 million compared with a 3-storey 3,560 sq ft shopoffice in Taman Sri Rampai, which was sold at RM1.5 million in 2018 and 2019. The vast difference was due to the type and locality of properties," he notes.
"In 2018 and 2019, a 1,570 sq ft, ground floor shoplot unit in Pusat Bandar Wangsa Maju was sold at RM1.67 million, or RM1,065 psf. The higher the unit, the lower the price, where a 1,750 sq ft, first floor unit was sold at RM735,000, or RM420 psf."
The asking rents range from RM1.80 to RM6.70 psf, or RM3,150 to RM7,500 a month, giving gross annual returns of 4.3% to 5.7%.
Ongoing and existing developments
According to Hong, notable ongoing residential developments in Wangsa Maju are Sunway Avila by Sunway Property and Henna Residence, a joint venture between Beverly Group, Mapletree Investments Pte Ltd and Lai Sun Development Co Ltd.
Sunway Avila is located on a 4.43-acre freehold parcel and has a gross development value (GDV) of RM590 million. It will comprise two 37-storey towers with a total of 810 residential units and 30 retail units.
Priced from RM450,000, the residential units will have built-ups of 732 to 1,227 sq ft and the shops will have built-ups of about 1,600 sq ft. The integrated development is expected to be completed by 2023.
Henna Residence sits on a 2.47-acre freehold parcel in the 16.5-acre Quartz WM in Seksyen 10, Wangsa Maju. It has a GDV of RM350 million and comprises three towers of 23, 30 and 39 storeys, with a total of 653 units.
The units will feature four types of layouts — including 33 dual-key units with built-ups of 657 to 1,304 sq ft each and four 2-storey villas with built-ups of 2,400 to 3,198 sq ft — and will be priced at an average of RM700 psf. The development is due to be completed by 2021.
Existing residential projects include Seri Riana Residences, a joint venture between IJM Land and MSL Properties Sdn Bhd (completed in 2016), Beneton Properties Sdn Bhd's Irama Wangsa (completed in 2018), Seasons Garden Residences by SCP Group (completed in 2018) and Hedgeford 10 Residences by Hedgeford Sdn Bhd (completed in 2015).
Future prospects
Henry Butcher's Tang notes that the outlook for Wangsa Maju continues to be positive because of "its proximity to the city centre and easy accessibility to public transport".
Hong agrees. He says the area is surrounded by greenery and hills, which offer residents a pleasant living environment. As such, the area will continue to attract prospective homebuyers in the near term.
Chen also notes that, in addition to the working population, there is a large student population in the area, which will further support housing demand. "Against this backdrop and with the scarcity of land in the area, property values are expected to appreciate in the long term."