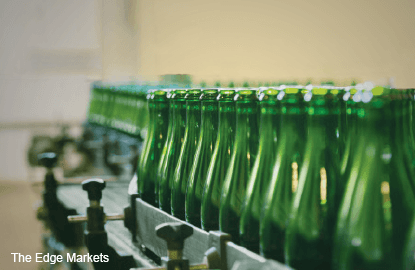 This article first appeared in digitaledge Weekly, on September 7 - 13, 2015.
In late 2008, when the local benchmark index sank to 829.41 points — one of its lowest levels ever — amid the global financial crisis, Daniel Nadraj, a professional stock trader, would head out for cold beers about twice or thrice a week to de-stress.
These days, he does not drink as often despite the return of a woeful stock market — on Aug 24, the FBM KLCI fell to 1,532.14 points, its lowest level in three years. Besides being more health-conscious, Daniel, who is in his thirties, says he has chosen to cut back on beer as he is feeling the pinch from the higher cost of living now.
"I used to go out to drink every Friday and Saturday, especially to entertain clients, but I have now cut down to just one of those days. I'm still drinking but it is becoming pricier to maintain the habit," he tells digitaledge Weekly.
It is no surprise that local brewers Guinness Anchor Bhd (GAB) and Carlsberg Brewery Malaysia Bhd (Carlsberg Malaysia) are facing arguably their toughest time in Malaysia as an increasing number of consumers like Daniel watch their spending, spooked by the weakening economy and rising cost of living.
Apart from the soft consumer sentiment and a much weaker ringgit these days, the brewers also find themselves having to deal with a newly amended law — the Price Control and Anti-Profiteering Act 2011 — which limits their ability to defend profit margins, at least up until June 2016.
Then, there's the possibility the government may later this year raise the excise duty on beer — already the third highest in the world after Norway and Singapore — even as the brewers fight to keep the contraband beer market down.
The two beer players, in exclusive interviews with digitaledge Weekly, admit they've got their work cut out to revive the sluggish demand for beer and stout (collectively known as malt liquor). 
"This year is probably the most difficult for the malt liquor market in Malaysia. But I think it is not just for the malt liquor market but a lot of industries actually," says Henrik Juel Andersen, managing director of Carlsberg Malaysia, in an Aug 10 interview.
Although the revenue of both companies grew in the first six months of this year, their net profit growth was muted.
Carlsberg Malaysia's revenue for the period grew 3.7% year on year to RM831.78 million. However, net profit fell by 14.6% to RM78.94 million. The group's underlying profit from operations decreased by 3% y-o-y to RM115.6 million.
Revenue for GAB in those six months to June rose 6.3% to RM835 million while net profit grew just 1.2% to RM83.5 million. It should be noted that unlike Carlsberg Malaysia, GAB's financial year ends on June 30.
Both companies, however, reckon that they can generate decent earnings in their full financial year with a bit of innovation and an increased focus on high-margin "premium" products while improving cost efficiency. 
"We have to be more creative. Yes, we feel the pressure but it's not unbearable. If you look at our profit and profit margins, I think it's all very healthy. We are running a good business," GAB managing director Hans Essaadi says of the group in an interview on Aug 19.
Analysts say it will be difficult for the brewers to grow their collective sales volume. They predict that growth will be flat this year, or at best around 1% or 2%, given the weak consumer sentiment, especially after the Goods and Services Tax (GST) came into effect in April.
"At the consumer level, they are seeing a net impact of having to pay 3% to 4% extra for our beers (post-GST)," says Andersen. He says it could take between three and six months for consumers to adjust to the new pricing, based on trends seen in other markets when GST was implemented.
"It is now more than three months since GST was implemented in Malaysia. I hope by the end of the year, we will start to see consumers, having adjusted to the new pricing, hopefully becoming a little bit more optimistic and starting to spend again," he says. 
The brewers are hoping that the government won't raise the excise duty on beer this year given the tougher environment they face.
Malaysia's Consumer Price index (CPI) has been on an upward trend since March, rising 3.3% y-o-y in July from 0.9%, according to the Department of Statistics. The price of alcohol and tobacco products increased by 13.3% y-o-y in July, the highest among the basket of products and services used to measure inflation. 
Meanwhile, consumer sentiment is at a low ebb. Sentiment, as measured by the Malaysian Institute of Economic Research's latest Consumer Sentiment Index survey, fell to 71.7 points in the second quarter of this year, not far off its record low of 70.5 in the same quarter seven years ago in 2008.
The weak ringgit, which has lost 21% of its value against the US dollar so far this year, certainly doesn't help. The declining currency has driven up input costs, including the price of raw materials, for the brewers.
"You would raise your price to protect your margin, but we are not able to do so because of the Anti-Profiteering Act. Interestingly, the Act says you can protect your margin. It says you cannot raise your price, but you can protect your margin," Essaadi says, highlighting the conundrum that brewers face with the Act.
"The problem is, when we went to see Customs (Royal Malaysian Customs) [explaining that] we'd got a real case to protect our margin and might want to raise the price, they said no, cannot. But there is a genuine reason for us to maybe look at the pricing angle, as input cost is going up and we are slightly diluting our margins," he adds.
GAB and Carlsberg Malaysia are focusing on improving efficiencies and reducing wastage as a way to help them bump up profits. Both say they are continuing to invest as much as before in their brands. 
"When we are in a soft market, we look to make sure that we spend the money in the right way, particularly the marketing dollars. We have been quite active, doing a range of consumer promotion and new campaign launches. A lot of that, in a way, offsets the impact of the increase in price on consumers and helps them go through these difficult times," explains Andersen.
GAB is focusing on "premiumising" its sales — increasing the contribution of premium beers in its portfolio to the group's overall sales. GAB's premium brands include Guinness and Heineken, with Essaadi pointing out that the former is a major force within the stout segment.
The stout segment makes up about 15% of the total malt liquor market, according to estimates by GAB. In this segment, Carlsberg Malaysia is represented by Royal Stout and Connor's Stout. 
"Since we cannot raise prices [due to the Anti-Profiteering Act], we have to look at other ways. Can we sell the same volume or can we 'premiumise' the volume? We love Tiger and Anchor, but if we are able to sell more Guinness and Heineken, that's how you can create more value from the sales," says Essaadi.
Carlsberg Malaysia too is pushing its premium brands such as Kronenbourg 1664 and Asahi Super Dry. The group is promoting Kronenbourg through fashion, while the Japanese premium beer is aligned with electronic dance music, says Andersen. 
"Asahi is doing very well, we are very optimistic about it. It's growing at a double-digit rate this year," he shares.
It remains to be seen whether the brewers' strategies and strong advertising and promotion spend will help prop up malt liquor sales volume. For now, consumers like Daniel are not likely to reach for cold ones as much as they used to.