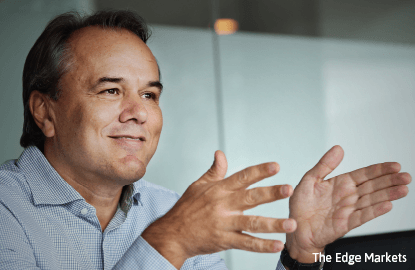 This article first appeared in The Edge Malaysia Weekly, on November 9 - November 15, 2015.
WHEN Morten Lundal returned to Malaysia to be CEO of Maxis Bhd in October 2013, he knew he was returning to compete in a completely different marketplace than what he had left just 5½ years before.
Unlike his four years as CEO of smaller rival DiGi.Com Bhd, during which time the country's mobile phone penetration rate went from 60% in 2004 to 90% in 2008, Malaysia's mobile penetration is now around 145% — which means every two persons have three phones.
What's worse, the billions of ringgit in profit from the simple text message or short message service (SMS) are fast dwindling, no thanks to the free SMS alternative, WhatsApp, launched by two geeks from Silicon Valley in 2009, 17 years after the first text message was sent in December 1992.
In February 2014, the two geeks — Jan Koum and Brian Acton — were made billionaires many times over when social networking behemoth Facebook Inc paid US$19 billion for WhatsApp, which makes less than 3 US cents revenue from each of its 400 million monthly active users.
WhatsApp has since amassed 900 million monthly active users, 12% of the world's population, of which two-thirds have cellphones, an indication of how quickly SMS revenue is dissipating.
If the 14.6 million SMSes sent in the first half of 2015 are any indication, Malaysia is set to see the number of text messages sent fall 40% year on year to about 29 million — the lowest in a decade. That's barely 30% of the 96.8 billion SMSes sent in Malaysia in 2010.
As an industry insider puts it, with an estimate of 400,000 messages sent every second, there are now more free messages sent in a day than the number of SMSes the entire industry sees in a year (see chart).
In short, billions of ringgit in real profit previously made by telecommunications companies like Maxis from the traditional phone (voice) calls and text messages are fast disappearing.
Instead, new billionaires are being minted in places like Silicon Valley from disruptive ideas such as WhatsApp — ironically made possible by technology advancement and the ubiquitous mobile internet infrastructure that cost mobile service providers big bucks to build and maintain.
"[The winners] used to have a big office, with a lot of resources and the small guys just could not compete. Certainly, that is not the case [now], the internet has levelled the playing field," Lundal tells The Edge in an interview.
As an example, he says the biggest seller of television sets in the US is today a company with only 200 people who sourced and sold everything online.
WhatsApp is, of course, the best example.
"WhatsApp had less than 60 people [employees] and still does. The internet enables you to have big advantages if you understand how the internet works, opening up areas where you could not compete before. As a bit of a business rebel myself, I like that. The rules can be challenged by new business models. It's fundamentally good," says Lundal, who goes on to relate how more traditional business models are becoming obsolete faster than anyone dared imagine.
It took Facebook and Twitter less than a year to get 50 million users versus 13 years for the humble television.
"Most of us are aware of the now famous disruptors of the classic middle men in industries like travel agencies, hotels, transport, music, media, books and so on … Who would have believed that an American company [Uber] could take value from taxi drivers in Kuala Lumpur or Kelantan?
"Who would've believed that a technology company (Airbnb) could compete with a high-end hotel in Paris with the brand and strategic location? There's a tremendous shift in value towards that [technology] cluster … one challenge is taxation and regulation of these new things. These are not trivial things.
"So, even though we all know that the internet is good … there are mega implications. That's why I think that while technology had in the past helped companies to evolve and change, today, they really have to evolve or be threatened," Lundal says with conviction.
"[Businesses] can leverage the internet in a positive way and thrive or you can be reactive and pay a price for that. I think in Malaysia, a lot of companies are being too reactive [when customer preferences are clearly changing] … If I'm in the taxi business, I would look for ways to also have a fantastic app, I would look for differentiated cars, female-only cars or fixed-price cars, look at buying different cars or having a loyalty programme and the like," adds Lundal, who has given up his personal office space to use a desk that is similar to everyone else's in the shared office floor.
His old office is now a staff café where only electronic payments are accepted.
That's perhaps an example of Maxis' purpose to "mainstream what's next".
"By that, we mean we will take selected upcoming trends and do everything we can to make it accessible to as many people as possible. A clear example is LTE (4G), which is a fantastic user experience. It is like walking around with a virtual fibre attached to your phone," explains Lundal, who has himself presented the scenario to business owners to get more customers to be aware of the challenges ahead and the technology options available to take their business to the digital age.
According to him, "most" big companies know of the challenges ahead but the awareness is still lacking among SMEs. Only 1 in 10 Malaysian SMEs is on social media and doing some business online, and only one in four SMEs here has a website and plans for e-commerce. That figure is low when Malaysian businesses have every reason to embrace what technology has to offer to reach consumers here and outside Malaysia.
Not only is Malaysia's mobile phone penetration rate high at 145% but also there are 20 million active internet users and 17 million active mobile internet users here — 90% of whom are active on social media sites like Facebook and Twitter.
Malaysians also use the internet for about five hours on average every day. Thanks to Chinese imports, mobile devices with advanced specifications are also increasingly affordable while higher-end handsets are being made affordable by operators like Maxis to attract and retain customers.
"It is easier now to support our SME clients because more and more applications are available in the cloud, integration of the customers' operations is getting easier, and it's all getting cheaper. Devices are getting cheaper; the cloud makes it cheaper. Standard software makes it cheaper. So to be able to digitalise your company, be it on the front end towards the customers, or in operation, it's getting easier," says Lundal, who reckons that book stores and shopping malls in Malaysia should be among those stepping up their game quickly.
"In Malaysia, there is a bit of a dangerous combination … this enormous establishment of malls, and at the same time, an exponential growth of online shopping," he says, relating how the UK's high streets in smaller towns are now one-third empty due to a shift in consumer behaviour.
"If you google book stores in the US, you will see closures but also that some are re-evolving. They're having kids' nights, pyjamas parties, loud reading, live reviews of books, they're having all these extra services that people now are wanting to buy again. That's how you should respond to a technology threat, by reinventing yourself, not by saying I hope it doesn't happen."
Maxis itself has to re-engineer
Admittedly, Maxis itself has had to evolve and search for new revenue sources to replace what's fast dwindling.
"Let me give you an example of our own challenge … Telecoms is one the biggest industries in the world … till today, much revenue comes from voice SMS. We're selling data, and the customers are using the same data to bypass our voice and SMS. And we can't protest that by saying this is unfair. Maybe there are ways to say this is unfair, but we are saying fine, we are selling data, and we were leading, I think in Asia, to stop charging for voice SMS in most of our products, so increasingly, we are insensitive to voice and SMS decline, and also customers can choose if they want to use an IP message or SMS or VoIP, or use our voice. We are indifferent to what they choose. I think that's fine. If we hadn't responded to that, if we had had the attitude to just say we hope it doesn't happen, we would've been in bad shape."
Lundal wouldn't say that the telcos' golden age is over, though.
"The last 10 years didn't feel easy when we were in it … no, it's going to be tougher. Competition is getting more intense. Going forward, it's anybody's guess. I think we're in a situation where it's reasonably hard to doubt that everybody wants more of our products, we're selling quality access to a world of opportunities, you know, the internet, and that demand has risen tremendously in the last few years, tremendously in 2015, and there's no particular reason why it should stop growing.
"Now it's a question of how we monetise that in the right way. We can't expect to grow that much as the demand is growing, we have to be more productive going forward. But we have a situation where the whole nation, everybody — businesses, government, kids — want more of our products. And that can't be a bad situation to be in," Lundal says.
"I like being a quality, leading provider, I think the future will differentiate more and more between the good-enough networks versus the best networks," he adds, reiterating Maxis' commitment to continue investing to support the expected increase in high-speed mobile internet usage.
"First of all, providing quality access to the internet is a big task. We are talking about an expensive and complicated task. We're investing over RM1.3 billion this year … that's a lot of money and a lot of people working to provide this thing called data. And we expect our network to need to quadruple  in capacity within the next three to four years. Just this year, we have more customers using 50% more data than they used a year ago. They're using as much as people do in advanced countries like the UK and the US [but] we don't expect our revenue to double [so] we have to produce much more effectively. Everything needs to be optimised and reassigned to be able to do this," he says, adding that spectrum usage is likely to rise in the coming years (see sidebar on Page 79).
Ultimately, Lundal says Maxis is "in a great position" to be that "one phone call away" operator that customers can always rely on 
anytime they have an issue with the internet. If all that is well executed, Maxis could well win back its position as the top favourite among investors who currently expect more dividends than it will pay.