This article first appeared in The Edge Malaysia Weekly, on June 6, 2022 - June 12, 2022.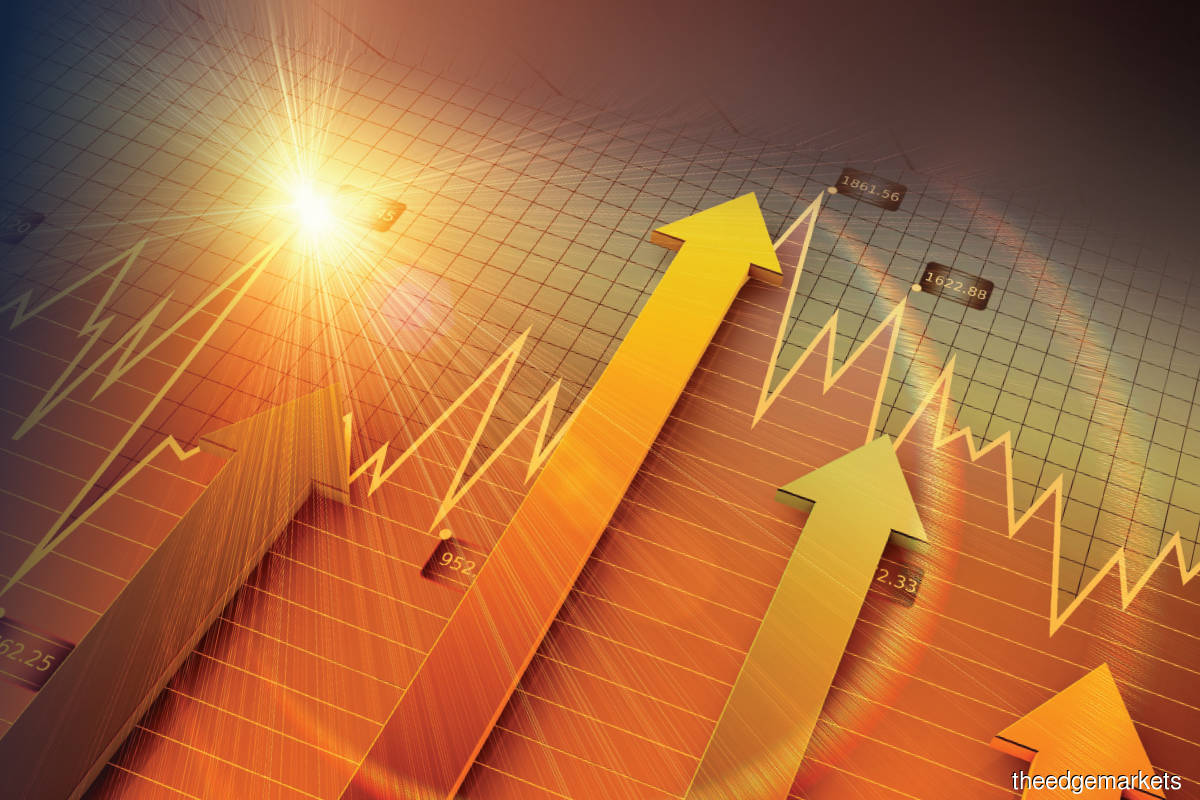 CORPORATE earnings for the first quarter of 2022 (1Q2022) have been described as mixed by analysts, with some companies continuing to benefit from elevated commodity prices while others see their recovery impacted by margin compression as input costs rise.
According to Bloomberg data, of the companies that reported their quarterly results in the recent earnings season, 337 posted a year-on-year growth in earnings per share (EPS), 496 delivered weaker EPS and six maintained their EPS.
The plantation sector has performed better, thanks to the robust crude palm oil (CPO) prices, whereas glove makers saw lower earnings with average selling prices falling from their peak during the height of the pandemic. As for Bursa Malaysia's technology sector, where semiconductor stocks dominate, earnings were largely in line with analysts' expectations.
Based on the latest quarterly results, have the fundamentals matched the share price performance of the stocks?
Semiconductor stocks were among the most highly sought after by investors in 2021, but not anymore. Maybank Investment Bank Research says in a recent report that as monetary policies tighten around the world, investors are switching out of long outperforming technology or digitalisation-related growth stocks, and into value plays and commodities exposure, driven by rising product prices, as well as to hedge against rising inflation.
Indeed, the Bursa Malaysia Technology Index has declined close to 30% since the beginning of the year as concerns about inflation, interest rate hikes, global supply chain issues, sanctions and lockdowns in China weighed on the sector.
Greatech Technology Bhd has slid 42% year to date, while Pentamaster Corp Bhd has shed close to 30% over the same period. Inari Technology Bhd and Unisem (M) Bhd have seen their share prices decline almost 29%, while ViTrox Corp Bhd shares have lost about 21% of their value since January.
What is interesting is that many of these counters reported a higher year-on-year net profit for 1Q2022. However, it should be pointed out that their earnings came in lower on a quarter-on-quarter basis.
The price-earnings ratio (PER) of the technology sector as a whole has declined, as investors fall out of love with tech stocks. The sector's PER currently stands at 25.22 times, compared with 36.73 times in 2021 and 46.61 times in 2020.
"We believe technology stocks have been oversold this year, especially as earnings were within expectations and could potentially improve further as demand continues to be strong," says MIDF Amanah Investment Bank Bhd's head of research Imran Yusof.
TA Securities Research, which is overweight on the tech sector, expects to see the semiconductor companies under its coverage chart growth this year — although it expects a mixed performance in the next quarterly results season. It cites added pressure on the global supply chain amid heightened geopolitical tensions and lockdowns in China as the basis for its view.
However, it also notes that the sales pipelines of semiconductor companies remain strong amid the global economic recovery, accelerating digitalisation and secular trends, including 5G and vehicle electrification.
On the other hand, the plantation sector — which has outperformed this earnings season — has only seen modest gains in the KL Plantation Index. Year to date (YTD), the index has climbed 20.8% to 7,915.61 points. Currently trading at a PER of 10.32 times, it is higher than its PER of 9.71 times in 2021 but lower than the 27.28 times in 2020.
The share prices of plantation companies have risen YTD, but the gains look modest considering their earnings performance. With the exception of Sarawak Oil Palms Bhd, which has seen its share price gain 57.5% since the start of the year, companies like IOI Corp Bhd, Kuala Lumpur Kepong Bhd, Genting Plantations Bhd and FGV Holdings Bhd have seen share price gains of between 13% and 20% YTD.
Many of the planters recorded a stellar earnings performance in 1Q2022, driven by higher margins owing to higher average CPO prices realised, says MIDF Research. This was despite the majority of plantation companies having lower fresh fruit bunch production in January and early February due to heavy rainfall that was compounded by a shortage of labour.
Are investors reluctant to put more money in plantation stocks as they are concerned about the sustainability of the companies' earnings, given that future earnings may be affected by rising costs, not to mention the constant scrutiny on environment, social and governance-related matters?
Formerly star performers, glove makers — which come under the healthcare sector — have certainly fallen out of favour among investors. Lower earnings from this group contributed to the overall weaker earnings performance in 1Q2022.
At their peak in 2020, glove counters were trading at a PER of 50 times. But now, Top Glove Corp Bhd is trading at only 3.61 times, Hartalega Holdings Bhd at 4.18 times, Kossan Rubber Industries Bhd at 2.15 times and Supermax Corp Bhd at 1.67 times.
In some ways, the swift decline in interest and earnings was anticipated, as seen from the decline in the share prices of glove counters. The ASPs and volume of gloves declined as the pandemic eased while glove manufacturers were confronted with a higher cost of production.
Many think the outlook for glove makers is fraught with challenges given the stiff competition and rising costs, on top of the difficulty of passing on cost increases to their customers.
Looking at the FBM KLCI as a whole, its forward PER of 14.89 times for 2022 is below the 15.01 times in 2021, 22.88 times in 2020 and 17.72 times in 2019. It is safe to say that investors are no longer willing to pay a premium for stocks on the index.
CGS-CIMB Research points out that Malaysia's stock market is trading at a prospective 2022F PER discount of 11% over the rest of the region due to its underperformance against its Asean peers and concerns about political uncertainty and earnings risks.
So, where are the good buys?
Recovery plays met expectations in 1Q2022 in terms of revenue, yet some — especially those in the consumer sector — were hit with higher costs, says MIDF's Imran.
However, it is not all doom and gloom as analysts do see things turning for the better for some of these stocks. Maybank IB Research is positive on the aviation sector and is expecting to see a strong recovery in domestic and international travel in 1H2022 as borders and economies reopen.
It says airport operator Malaysia Airports Holdings Bhd (MAHB), on which it has a "buy" call and a target price of RM7.17, stands as the main beneficiary of the reopening of borders given that the international passenger service charge (PSC) is five to seven times that of domestic PSC. For the first four months of the year, traffic at airports has recovered to 32% of the first four months of 2019, it notes.
Meanwhile, Capital A Bhd's outlook has also turned favourable with a recovery in operational cash flow, especially with the reopening of borders as AirAsia's Malaysian operation has historically contributed 80% to group earnings. Maybank IB Research has a target price of RM1.29 on the stock.
Genting Malaysia Bhd (GenM) is a new top pick for CGS-CIMB Research, which sees the leisure group as a recovery play. It projects that GenM will turn around this year, assuming that there are no more closures and movement restrictions. It expects the adverse impact from Covid-19 to fully subside in the following year. It has a target price of RM3.40 on the counter.
CGS-CIMB Research has added Mr DIY Group (M) Bhd to its top picks, as it sees the retailer as a beneficiary of the downtrading trend by consumers affected by inflationary pressures. It has a target price of RM4 on the stock.
"While Mr DIY posted weaker same-store-sales growth in 1Q2022 due to Covid-19-related disruptions, we expect the pick-up in economic activities and higher consumer footfall to translate into higher sales. On top of that, we believe that Mr DIY will also benefit from consumer downtrading activities due to the ongoing inflationary pressures," says the research house.
TA Securities Research opines that investors should maintain exposure to cyclical stocks in sectors such as banking, oil and gas, plantation, property and transport, which will see greater earnings traction during an economic recovery. It adds that undervalued blue chips — like Sime Darby Bhd (target price: RM2.68), Tenaga Nasional Bhd (RM10.70) and Telekom Malaysia Bhd (RM6.80) — should attract institutional and foreign investors while Astro Malaysia Holdings Bhd (RM1.20) and consumer stocks like Aeon Co (M) Bhd (RM1.90) and Scientex Bhd (RM5.25) will benefit from greater consumption due to the improving job market, higher minimum wage and return of foreign workers.