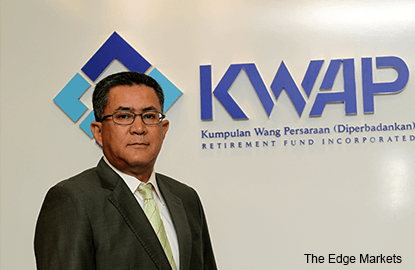 This article first appeared in The Edge Malaysia Weekly, on January 25 - 31, 2016.
KUMPULAN Wang Persaraan (Diperbadankan) (KWAP) is believed to have achieved a gross return on investment (ROI) of 5.5% to 5.7% last year — lower than its target of 6%, according to CEO Wan Kamaruzaman Wan Ahmad.
The pension fund's investments were not spared from the volatility seen in the equity market last year as the domestic equity market saw negative return for the second consecutive year, he says.
Although the full 2015 financial results of the civil service retirement fund have yet to be released, Kamaruzaman revealed its expected performance during an interview with The Edge.
"The Malaysian equity market was in negative territory last year by about 3.9%. After two consecutive years [of negative performance], the overall performance was quite poor.
"I think last year, we did not achieve the above 6% [target for our gross ROI]. We probably reached around 5.5% to 5.6%, or slightly higher than that," says Kamaruzaman. KWAP saw an average gross ROI of 6.68% between 2010 and 2014, according to the fund's 2014 annual report.
The FBM KLCI fell 3.44% in ringgit terms last year but plunged 20.96% in US dollar terms. The broader FTSE Bursa Malaysia EMAS Index slid by 19.8% last year, tracking the benchmark index.
The poorer performance of KWAP's investments is a concern. The retirement fund needs to grow its investments in order to shoulder at least half of the civil service's pension liabilities, given that the federal government's contribution to the fund isn't much.
The government is supposed to transfer an amount equivalent to 5% of the yearly emoluments budget to KWAP. Its contribution to the fund from 2011 to 2014 has stagnated at RM1.5 billion.
Last year, the federal government's emoluments budget was RM69.1 billion. Based on this, KWAP should have received RM3.5 billion from the government. Instead, the fund was given about the same amount as in 2014, says Kamaruzaman.
It is worth noting that growth in the annual pension payments far outstrips KWAP's investment performance.
In 2015, the government allocated RM15.7 billion for pensions, retirement allowances and rewards — 11.2% higher than the amount spent in 2014. This year, the number is expected to increase by 20.6% to RM18.94 billion, according to the Ministry of Finance.
KWAP's fund size stood at RM109.43 billion in 2014. Kamaruzaman expects it to grow to RM120 billion this year.
Based on the pension fund's 2014 annual report, 9.35% of its assets was invested overseas while the rest was placed locally. The government has given KWAP its approval to increase its international investments to 19% of its portfolio by the end of next year, from the current level of about 10%.
However, in view of the ringgit's depreciation against the US dollar, Kamaruzaman says KWAP may not expand its international portfolio so soon — it may only achieve the 19% target after 2017, amid the government's call to limit investments abroad.
"Last year, we were told to postpone our overseas investments because of the pressure created by the weakening currency. So, because of that, we need to delay our diversification to further down the road," he adds.
While information on the performance of KWAP's international investments is not readily available, one may look at the gains that the fund stands to reap from the disposal of its property in the UK.
Late last year, KWAP announced that it was finalising the sale of an office building at 88 Wood Street in the City of London for £270 million. The fund had purchased the property for £215 million back in 2013.
In terms of its domestic investments, about 31% is in local equities (see chart). According to Bloomberg, KWAP's total equity assets stood at US$6.7 billion as at Jan 14. The fund invests in companies in a diverse range of industries, including financials, industrials and utilities.
Among its top equity investments are those in blue chip companies such as Petronas Gas Bhd, in which it has a 5.48% stake, Petronas Chemicals Group Bhd (2.99%), Sime Darby Bhd (3.31%), Malayan Banking Bhd (1.8%), Tenaga Nasional Bhd (1.98%) and CIMB Group Holdings Bhd (3.54%).
Apart from the top companies by market value, KWAP is also the largest shareholder in Bursa Malaysia Bhd, with 19.8% equity interest. The pension fund is the second largest shareholder in S P Setia Bhd, with a 9.46% stake, as well as Boustead Holdings Bhd (8.96%) and Prestariang Bhd (11.96%).
In tandem with the bearish sentiment globally, the Malaysian equity market started the year on a weak note amid mounting concerns over the world economy. S P Setia's share price has fallen 5% this year up to last Tuesday, while Boustead's was down 4.88%.
Kamaruzaman predicts that it is going to be tough for KWAP to achieve its target ROI of 6% this year.
He believes the bond market will outperform the equity market in 2016. "This year, we feel there is a better chance for the bond market, after it underperformed for three years in a row. The first thing we look at is the central bank's interest rates. Monetary policy is still accommodative."