This article first appeared in City & Country, The Edge Malaysia Weekly, on May 10, 2021 - May 16, 2021.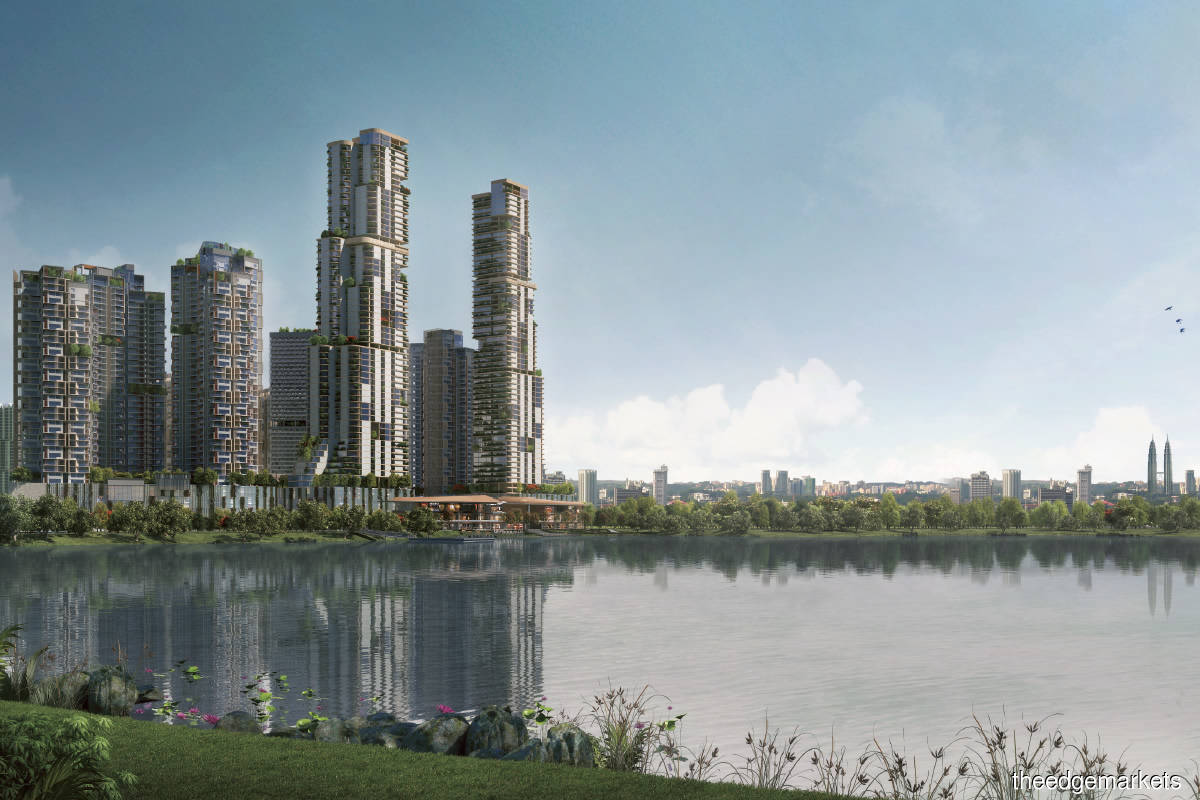 A warm breeze greets us the moment we step out of the back door of Kiara Bay's sales gallery. In front of us is a 141-acre lake, and the gentle swaying of the trees surrounding it and sunlight reflecting off the water have an immediate calming effect on us.
The 73-acre Kiara Bay was introduced to the public in October 2019. This was followed by the launch of its first phase, the 4.4-acre Residensi AVA, a month later. 
Kiara Bay is one of UEM Sunrise Bhd's flagship projects. It is a 50:50 joint venture with Melati Ehsan Group. UEM functions as the driver of the project, leveraging its competencies and track record in master planning and integrated townships. Kiara Bay has a gross development value of RM15 billion.
"We want our development to co-exist with this picturesque and beautiful park," says UEM Sunrise chief operations officer (Central), Liong Kok Kit, as he gives us a tour of the site. The park is the 235-acre Kepong Metropolitan Park, a popular spot for recreational activities and kite-flying. 
He explains that the name Kiara comes from Mont'Kiara, a brand the developer has built over the last two decades.
"With Kiara Bay, our vision is to develop an integrated township with a community-based master plan. We aspire for Kiara Bay to be an active, connected and multigenerational community that has something for everyone at every life stage," says Liong. 
The concept is built on the three pillars of community, connectivity and sustainability. Kiara Bay will have three main districts — The Waters, The Walk and The Village. 
The Walk will house the township's commercial component. "The Walk will be a major leisure and retail destination, integrated with offices, hotels and apartments. The Walk sits at the heart of Kiara Bay. This district supports the convergence of the retail walk, Middle Ring Road 2 (MRR2) interchange and MRT link road, connecting to all parts of the township within a 10-minute walk, three-minute cycle or short shuttle ride." 
Anchoring the east section of Kiara Bay is The Village, a compact community cluster. "It centres on a lively community park, fronted by a wellness centre, retirement living, community retail hub and an education facility. These direct interfaces will easily enable people of all ages to participate in the community to generate greater social capital and inclusion," says Liong. 
The site we are standing on will eventually be The Waters. "The Waters will be defined by the landmark towers, which [will] guide the views and ventilation to the lower levels of the township. These [will] remain a landmark for the whole community and wider Kepong district, addressing the lake and offering unparalleled views of the city, lake and mountains."
Taking advantage of the lake's edge, UEM Sunrise will build a new waterfront dining and leisure space and retail walk that Liong believes will ­galvanise the lakeshore experience, creating a unique and welcoming atmosphere. 
Urban liveability
With more than 30 years of experience and a successful track record as the pioneer developer of Mont'Kiara, UEM Sunrise knows what it takes to transform a sub-urban settlement into a fully integrated and thriving township. UEM Land Holdings Bhd merged with Sunrise Bhd in 2011, forming UEM Sunrise Bhd. "It is the learnings that we have uncovered along the way that we will be replicating [when] conceptualising Kiara Bay as an integrated, liveable and sustainable township with a community-based master plan," says Liong. 
This is why sustainability and liveability are at the core of the master plan. As Liong notes, people these days are looking for more than just a roof over their heads. "They want to live in a place that is convenient, connected and part of a larger community. This trend shift can mainly be attributed to lifestyle changes, which is why we continue to evolve and develop products that our customers can identify with and have that sense of belonging. For Kiara Bay, we ideated this concept of 'urban liveability', which comprises three main pillars — liveability, sustainability and community," he shares. 
Liveability focuses on infrastructure. UEM Sunrise defines it as the living conditions of a township by way of its access to fundamentals such as healthcare, education, daily needs and stability of infrastructure. 
"There will be a supermarket here where the local community can get their supply of daily necessities right at their doorstep. Visitors can also stop for a cup of coffee at Starbucks. They will be located at The Beat, our interim waterfront retail space whose doors are expected to open soon," says Liong. 
The township will have high-speed fibre optic internet infrastructure set up by TM, Time dotCom and Celcom. "This cutting edge and next-generation capability is the catalyst that will redefine businesses, education and lifestyle. With this, more technologies can be further introduced to create a seamless living experience," says Liong. 
Accessibility will be improved when two MRT stations under the Putrajaya Line — Kepong Baru and Jinjang — located about 2km south of Kiara Bay, become operational by mid-2021. There will also be a new interchange connecting MRR2 and Jalan Kepong via a 2.5km dual carriageway that is being constructed by Kuala Lumpur City Hall (DBKL) and Melati Ehsan. These upgrades are expected to make travelling easier for those commuting to the city centre and surrounding areas. 
"The sustainability aspect ensures Kiara Bay's ability to co-exist with nature, thereby creating a healthy environment for the local community's wellbeing," says Liong, adding that its location next to the park provides the community with access to a large environment with rich biodiversity.
As part of the environmental conservation objective of its corporate social responsibility initiative, UEM Sunrise and Melati Ehsan will be leading beautification initiatives around the park. Multiple designated charging EV stations will be placed around the Kiara Bay compound and parking areas to help reduce its carbon footprint.
The third pillar — community — focuses on fostering a multigenerational and inclusive community of people.
"A township's environment plays a crucial role in facilitating the bringing of people together. For Kiara Bay, there will be a yoga park, a waterfront space connected to Kepong Metropolitan Park, and other exciting facilities. For sports and football enthusiasts, they can look forward to premier football pitches for matches and training at the interim space," says Liong. 
Local sports facilities specialist, Jungle Bunnies, will develop the sports grounds. The company's flagship projects include pitches in Bandar Utama, Universiti Malaya and Setia Alam. 
"Kiara Bay will also have a lively energy with community events such as music festivals, cultural celebrations and themed events. We are known for our curation of such events at Publika Shopping Gallery," says Liong. 
Rejuvenating Kepong
Liong believes Kiara Bay will be the catalyst to rejuvenate the area. "We think we are the missing piece in the rejuvenation of Kepong, which as you know, is a very old area. There are probably two or three generations of residents staying in Kepong. You can find terraced houses, shops, good food, but what is really lacking are elements of new lifestyle and wellness services," says Liong. 
According to Savills Malaysia director of research and consultancy Amy Wong, Kiara Bay is one of the first large-scale township developments in the Kepong-Selayang area. 
"This is an area with a massive population and high demand, but it has not seen any large-scale, good-quality developments in the last couple of decades. Kiara Bay has plans for approximately 10,000 residential units, which is a significant addition to the circa 40,000 existing and incoming units in the Kepong area," says Wong.
Liong stresses that Kiara Bay's master plan is a holistic one that encompasses several components, making it a complete township and not just residential towers. 
"The business hub will attract companies to set up their offices here. We will be setting up a high-speed internet infrastructure and digital solution so they will have the capacity to adopt high technology in their businesses. 
"Other than that, there will be an education hub for the student community, and a healthcare and wellness facility that even communities outside of Kiara Bay can enjoy.
"We have always taken pride in our placemaking activities to create communities within our townships. Take Mont'Kiara as an example. In the active role of a lifestyle developer, we curate community events in the open spaces in Publika and community parks to bring people together. Over the years, this has built strong communities within the area that support each other and thrive together," says Liong. 
The creation of strong communities has economic value, which can be seen in the transformation of this part of Segambut into an affluent township with a prestigious postcode that is the epicentre of commercial and social activities, he elaborates.
"As a result of this, not only did our Mont'Kiara properties appreciate in value, the surrounding areas such as Sri Hartamas, Taman Tun Dr Ismail and Bukit Damansara did too, making it an attractive investment. Leveraging our experience with Mont'Kiara, we envision the same for Kiara Bay." 
However, Liong stresses that the developer is not just taking the Mont'Kiara template and using it wholesale for Kiara Bay. 
"We are integrating the surrounding communities into Kiara Bay as well. This part of Kepong has taken a nap for the longest time, so it is about time for us to really unlock its potential. If you look at this whole area, I would say we are almost like the nucleus to Batu Caves, Selayang, Sri Damansara and Kepong. We believe we will be able to create some vibrancy in this area to elevate the social economy of Kepong." 
Wong expects Kiara Bay to bring a new population into the area, on top of upgraders and second-generation dwellers. 
"What this means is that it will bring more amenities and demand into the area, which will benefit local businesses. UEM Sunrise is one of the top property developers in the country with an excellent track record. This is a confidence booster for new buyers in the area, as the past projects here mostly attracted the existing population and did not really encourage new in-migration," she says.
The area is not without its problems, one of which is traffic congestion. "In all our developments, we strive to give our customers the best experience that our products have to offer. As we develop Kiara Bay, we are upgrading the accessibility around the area in tandem, to ensure the smoothness of the traffic flow," says Liong.
A 2.5km spine road is being built to ease traffic congestion caused mainly by the high volume of vehicles from Selayang and MRR2 using the Taman Usahawan road as a shortcut. 
"Along the spine road will be pedestrian and bicycle paths from Kiara Bay to the MRT stations. An estimated 10,000 vehicles will be using this road each hour during peak hours. The road should be open for public usage sometime in mid-2021," says Liong. 
The spine road will be connected to two interchanges along MRR2 that will provide direct access into Kiara Bay. 
"With the Putrajaya Line close to completion, the local infrastructure should be able to support this influx of new population in the future. The DUKE 2 (Duta-Ulu Klang Expressway) has already improved accessibility and will continue to support this new population. Overall, we believe Kiara Bay will lead to a facelift of Kepong and improve the area's overall image," says Wong.
The next phase 
The first phase of Kiara Bay — Residensi AVA — is located at The Walk and comprises 870 units in two 41-storey towers. Built-ups range from 813 sq ft to 1,285 sq ft and units come with 2+1, 3- and 4-bedroom layouts. Prices start from RM567,800. It has a take-up rate of 70% for both towers and is scheduled for completion in 2024. 
"We are looking at the third or fourth quarter in 2022 for our next launch, which is likely to be another residential project. We are also in talks with a wellness medical group that is very interested in our concept. There will be aged-care component as well, which ties back to our concept of multigenerational living," says Liong. 
Most of the buyers of Residensi AVA are between the ages of 25 and 38, which fits the findings of the developer's research. The immediate plan is to create vibrancy in the township, starting with The Beat, which has 22 retail units. 
"We will have a grocer coming in and a Starbucks drive-thru coming up. It will be mostly F&B. We want to create a community even before the first phase is completed," says Liong. 
The developer is looking at taking 15 to 20 years to complete the entire township, though it is eager to expedite the process. It hopes to identify a suitable catalytic partner for the education and wellness component in order to activate the area and raise the values faster. 
"Upon completion of the entire ecosystem, the community would be able to enjoy more seamless living in Kiara Bay and around Kepong. This fulfils our goal to emulate the balance of city, nature and leisure," concludes Liong.