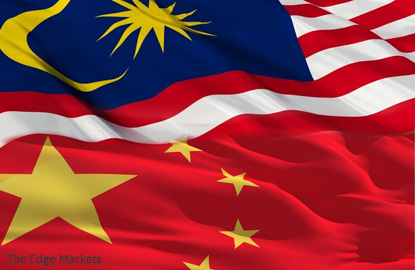 This article first appeared in
The Edge Malaysia Weekly
, on December 12 - 18, 2016.
KUALA LUMPUR
Bandar Malaysia
Parties: Bandar Malaysia Sdn Bhd and Greenland Holdings Group Overseas Investment Co Ltd
Details: Greenland Holdings to purchase land in Bandar Malaysia and carry out development
Value: NA
Bandar Malaysia
Parties: China Railway Group Ltd (CREC) and Iskandar Waterfront Holdings
Details: Development of an integrated office complex as a hub for multinationals
Value: US$2 billion
Huawei Technologies
Details: China's telecommunications giant Huawei Technologies to place its regional headquarters in Kuala Lumpur
China Construction Bank
Parties: China Construction Bank and Ministry of Finance
Details: China Construction Bank (Malaysia) Bhd has been granted a banking licence to operate in Malaysia. It will provide infrastructure financing for Malaysia's infrastructure development projects.
Value: The bank has an initial paid-up capital of US$200 million
Bandar Malaysia Financial Scheme
Parties:  A consortium of eight foreign and local banks have set up a new fund to finance the Bandar Malaysia development
Defence Deal
Parties: Malaysia's Ministry of Defence and China's State Administration for Science, Technology and Industry for National Defense
Details: Purchase of four littoral mission ships, which are fast patrol vessels that can be equipped with a helicopter flight deck and carry missiles. The first two ships are to be built in China, with the other two to be built in Malaysia. Further Malaysian-built ships may be in the pipeline, subject to government financing.
Value:  Undisclosed
SELANGOR
Bird's Nest Development
Parties: Yanming Resources Sdn Bhd and Fuzhou Xin Zibu Culture Communication Co Ltd
Details: Memorandum of understanding signed for both parties to collaborate on growth and development of the bird's nest market in China
Bird's Nest Research
Parties: Royal Bird's Nest, Walet Company-International Pte Ltd Co and Peking University
Details: Research and development collaboration agreement on edible bird's nest extract and medical properties for pharmaceutical drug discovery
SEPANG
Xiamen University Malaysia
Details: Xiamen University opened its 150-acre Malaysia campus in Bandar Sunsuria  in February 2016 following an invitation from Malaysia's Ministry of Higher Education
Value: Estimated total investment of RM1.3 billion
MELAKA
Melaka Gateway Project
Parties: PowerChina International and KAJ Development Sdn Bhd
Details: Joint venture to reclaim three islands off Melaka's coast for a massive harbour development
Value: Estimated RM30 billion
Melaka Gateway Port
Parties: KAJ Development Sdn Bhd, PowerChina International, Shenzhen Yantian Port and Rizhao Port
Details: Partnership collaboration on the Melaka Gateway Port, a deepsea port that is expected to be completed in 2019 and attract about 100,000 — mostly China — vessels
Value: Estimated RM8 billion
JOHOR
Forest City
Parties: Country Garden Holdings Ltd and Esplanade Danga 88 Sdn Bhd, an associate of Kumpulan Prasarana Johor
Details: A massive integrated development on four artificial islands comprising 700,000 residential units, shopping malls, medical facilities, hotels, international schools and its own immigration centre
Value: US$42 billion
Greenland Projects
Parties: Greenland Group
Details: Property development projects in Tebrau and Danga Bay
Value: US$3.2 billion
PAHANG
East Coast Rail Link
Parties: Malaysia Rail Link Sdn Bhd, China Communications Construction Company Ltd (CCCC) and China Communications Construction Company (M) Sdn Bhd (CCCCM)
Details: Engineering, procurement, construction and commissioning (EPCC) agreement for the construction of the East Coast Rail Link
Value: RM55 billion
Green Tech Park
Parties: BHS Industries Bhd and China Nuclear Huaxing Construction Co Ltd
Details: Development of a Green Technology Park in Pekan, Pahang
Value: NA
Solar Project in Kuantan
Parties: East Coast Economic Region Development Council (ECERDC) and Wuxi Suntech Power Co Ltd
Details: Wuxi Suntech to produce crystalline silicon solar cells and modules in the Malaysia-China Kuantan Industrial Park
Value: NA
Kuantan Port
Parties: Kuantan Port Consortium Sdn Bhd is co-owned by IJM Corp Bhd and Beibu Gulf Holding (Hong Kong) Co Ltd on a 60:40 equity holding basis, with the government of Malaysia holding a special rights share
Details: Kuantan Port has received government approval to establish a free zone port. The port's construction of Phase 1A New Deep Water Terminal is slated for completion in end-2017 while Phase 1B is expected to be completed by end-2018.
Malaysia-China Kuantan Industrial Park
New deals totaling RM1.58 billion signed this year, bringing the total investments in the industrial park to RM15.08 billion. This includes a RM580 million investment by Guangxi Investment Group Co Ltd in an aluminium component manufacturing facility and a RM1 billion investment by LJ Hightech Material Sdn Bhd in a centre to produce concrete panels for the construction industry and activated rubber powder.
Alliance Steel (M) Sdn Bhd, a wholly-owned Malaysian subsidiary of China's Guangxi Beibu Gulf Iron and Steel Investment Co Ltd, is also investing RM5.6 billion in an integrated modern steel mill.
SARAWAK
Sarawak Steel Plant
Parties: Sarawak government, Hebei Xinwuan Steel Group and MCC Overseas Ltd
Details: Cooperation to develop a steel plant in the Samalaju Industrial Park in Bintulu
Value: RM13 billion
Solar Ingots Manufacturing
Parties: Comtec Solar Systems Group Ltd
Details: Investment to manufacture solar ingots and wafer slicing
Value: RM1.2 billion
Solar Ingots Manufacturing
Parties: Xi'an LONGi Materials Corp
Details: Integrated manufacturing facility for producing solar ingots, wafers, cells and modules at the Sama Jaya High Tech Park
Value: RM1.066 billion
Rubber Factory
Parties: Sarawak Farmers' Association and Guangken Rubber Group Co Ltd
Details: Joint venture for a Standard Malaysia Rubber factory in Debak, Sri Aman
Value: US$20 million
Hydropower Dam
Parties: Sinohydro Corp, Yangtze Three Gorges Technology & Economy Development Co Ltd
Details: Construction of hydropower dams in Sarawak
Value: NA
Power Plant Deal
Parties: China Machinery Engineering Corp
Details: EPCC for coal-fired power plants in Sejingkat and Mukah and a combined cycle power plant in Bintulu
Value: NA
SABAH
Trans Sabah Gas Pipeline
Parties: China Petroleum Pipeline Bureau and Suria Strategic Energy Resources Sdn Bhd
Details:  Agreements for the EPCC of Trans Sabah Gas Pipeline and Multi-product Pipeline Projects in Sabah
Value: NA
Petrochemical Plant
Parties: Sabah Oil and Gas Development Corp Sdn Bhd and a consortium of three China companies: China National Complete Plant Import and Export Corp (Complant), Sichuan Chemical Industry Holding (Group) Co  Ltd and China Chengda Engineering Co Ltd
Details: Memorandum of understanding signed in July to undertake feasibility studies for the production of a urea and ammonia petrochemical development in the Sipitang Oil and Gas Industrial Park
Value: No details yet
Tourism Resort
Parties: Diving Best
Details: Proposed development of a tourism-based integrated resort near Sipadan Island
Value: RM2.5 billion