This article first appeared in Personal Wealth, The Edge Malaysia Weekly, on July 22, 2019 - July 28, 2019.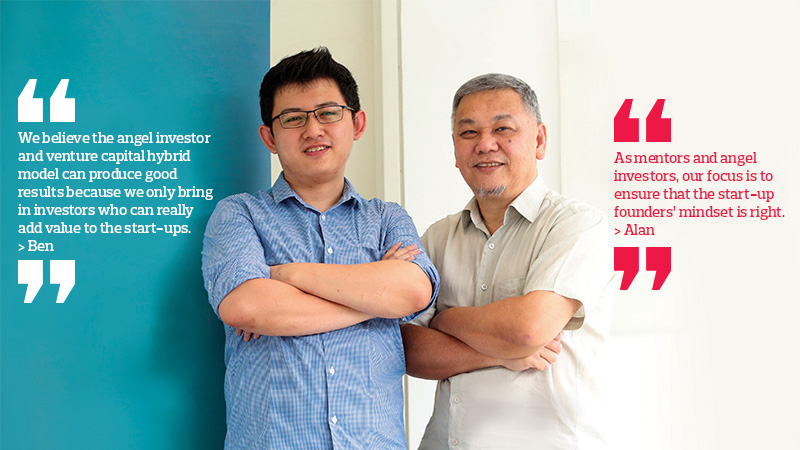 Angel investors should go beyond chasing financial returns and concentrate on providing mentoring that will help start-ups grow quickly. This way, they can attract investors easily, says Alan Lim,
angel investor, mentor and partner at NEXEA Angels Sdn Bhd.
"We have seen too many start-ups out there just chasing money, whereas we think they should go back and work hard on their business models. Too many start-ups fail because of that," he adds.
"As mentors and angel investors, our focus is to ensure that the start-up founders' mindset is right. If it is not, then it is our job to correct it and set up the fundamentals. This is the recipe for success."
This is related to a personal philosophy that the 55-year-old lives by — that one should not live life chasing money. Rather, one should do things properly so as to attract money later on.
Alan says money has the ability to "outrun" humans and if one chases it, he will not be able to catch it. That is because a bank note has four corners and in Mandarin, the word "corner" is called "jiao", which is pronounced the same way as the Mandarin word for "leg", he explains.
"A human being only has two legs, so he cannot keep up with money, which has four. A lot of founders and investors have the mindset of chasing money. But when you do that, most of the time you do not catch it as money tends to run faster," says Alan.
"We have met enough start-up founders to know which of them have the right mindset. They are the ones who understand how to get money to chase them [instead of the other way round].
"These start-up founders work really hard on their business models, so they know how to put the right team together. They see the opportunities and pain points in the market and know how to come up with the right solutions. They are a very rare breed. These are the ones we are looking for."
Alan, who is currently president of the Malaysian Business Angel Network, applied this philosophy when he joined NEXEA — a venture capital firm and angel investor network — in 2015. The name comes from the phrase "nexus of ideas."
Alan realised the importance of mentorship because of his personal experience. "After running my company — MediaBanc Group — successfully for about seven years, [the company and] I hit a point of stagnation. I looked for various support groups until I bumped into an old client and friend of mine, who is the owner of Fella Design. He told me about Vistage, a programme that helps CEOs [help one another to] grow. I was not convinced at first," says Alan.
But he decided to give it a try and joined the programme. A group of CEOs would get together for discussions once a month. They would also go through two hours of one-on-one mentorship. This process enabled him to grow again.
"I learnt that I was the problem. I was the one holding back the company, which had seen six years of tremendous growth. But how many people can continue growing that way without real help from outside? It takes a team to grow a company, along with support from advisers and mentors," says Alan.
He sold MediaBanc Group, a large media intelligence group in the region, in 2014. The company was renamed iSentia Pty Ltd and was subsequently listed on the Australian Securities Exchange.
Alan then began looking for ways to give back to the entrepreneur community by mentoring and providing financial support. By chance, NEXEA co-founder and managing partner Ben Lim approached him with the idea of starting a company that combined the two elements.
This fit perfectly into Alan's plans and he became one of the earliest angel investors to join the firm as a partner. He also brought in some of his close friends.
The other partners include Shi-Ying Lau, former head of GrabCar Malaysia, and Quah Teik Jin, co-founder and former group managing director of business solutions provider TFP Solutions Bhd.
"We believe the angel investor and venture capital hybrid model can produce good results because we only bring in investors who can really add value to the start-ups. The mentors and investors are those who have exited or listed their companies," says Ben, who has a background in web solutions and has advised more than 1,000 start-ups over the years.
"Half of them have been in C-level positions while the other half were owners of big companies. They have the necessary knowledge and industry background to give start-ups a huge boost."
Alan and Ben agree that start-up founders should focus on building their companies instead of being distracted by fundraising. The same principle applies to the angel investors the firm looks for. They should not be chasing monetary returns either.
"The more than 30 investors in our firm know how to get money to chase them. What is close to the hearts of my fellow angel investors and I is to see the start-ups succeed and what we can do to support them and help them grow. What is most important to us is not the money, but being able to give back [to the entrepreneur community]," says Alan.
In return, this relationship can potentially increase the value of the start-ups. For example, one of the firm's portfolio companies is Parkit Solutions, which matches those looking for a parking spot with those who have. The founders tested their business model in the firm's accelerator programme and received advice from several mentors.
"The whole acceleration process was successful and by the end of it, our mentors came in with a round of financing for Parkit. Since then, the investors have supported another two rounds of fundraising, which have given them quite a good valuation," says Alan.
Other start-ups in the firm's portfolio include robo-advisor Smartly, e-procurement system provider Lapasar and media analysis insight provider CommSights.
Unique model
NEXEA's goal is to combine the personal touch and mentorship of angel investors with a venture capital fund. According to Ben, this hybrid model is the first of its kind in Malaysia. Unlike other venture capital firms, the firm does not have a pooled fund. Instead, it invests on a per-deal basis.
"The other difference is that some limited partners of venture capital firms only invest. But our investors play a more active role in sharing their knowledge, insights and networks. So far, this has worked quite well. Our top five start-ups have consistently grown by two or three times a year, with the stronger ones growing by 10 times a year on average," says Ben.
Every year, the firm trawls through more than 800 companies in Asean and only invests in 0.4% or 0.5% of them. It then introduces these start-ups to investors using a pitch deck and a detailed information memorandum. "We gather those who are interested to invest and pool them in one entity, which we call a nominees' entity, that will represent them in their investment," says the 29-year-old.
Not all the investors in the firm invest in the same companies. What it does is match the investors with start-ups they may be able to mentor. Different mentors will be assigned as the start-up goes through the next stage of growth.
"We have designed it in such a way that the investors pay a lot of attention to adding value to each investment. We have structured it so that they are motivated to do so even though their time is extremely valuable," says Ben.
Alan calls the hybrid model a success methodology for start-ups and angel investors who, without expecting returns, could end up with a huge return in exchange for their time and effort. "Start-ups are young and inexperienced. Who can guide them better through this journey than veterans? I started this journey knowing that mentorship is extremely important because of my personal experience," he says.
"We are sure this model will work. But I think you will only be able to see real results in the next two or three years."
The mentors help start-up founders refine their business models and guide them through the process of networking and building the product. They also provide encouragement when the founders face tough times. For instance, one of the firm's portfolio companies almost failed when it was faced with a series of bad incidents.
"A lot of its assets got stolen at one point. In the same month, someone threatened to sue them. We later found out that this person goes around [threatening to sue others] for a living. Our legal mentor advised us to ignore it because the person could not do anything and was just trying to make money out of it. At the same time, they had to deal with a difficult client," says Ben.
The start-up could not meet the client's needs and also make a profit. Eventually, it decided to drop the client, even though it was a good connection.
"I remember sitting down with the founder after he was hit again and again with these incidents during a short period of time. But being experienced entrepreneurs, we were able to mentor them through this because it was not new to us. We have gone through similar situations," says Alan.
"Sometimes, the right thing to do is take a step back and rebuild yourself from there. There is no point crying and getting angry over it."
Ben believes that the advice and networks of mentors will help start-ups grow faster and consequently attract more investors. "The big picture view is to get the start-ups investable early on," he says.
"We have a methodology called Startup Fundamentals. If the fundamentals are right, it will be a no-brainer for investors to put their money into these companies. After that, we get the start-ups to strive for Unlimited Runway, where they do not have to rely on investments. It sounds contradictory, but those are the companies we really want to invest in because they are able to be profitable and self-sustaining."
Currently, most of the investors serve mentors, but this is set to change as the company has just set up a start-up fund for investors who do not want to offer mentorship. "We will be charging them a higher fee to be fair to those who provide a lot more value [to the start-ups]," says Ben.
Focusing on founders and investors
Since 2015, NEXEA has held four start-up accelerator programmes to screen the deals. It also has a venture builder programme for idea-stage start-ups, which helps the founders strengthen their business models and validate their ideas. Recently, it held its first start-up corporate pilot programme, which connects tech start-ups with corporations.
"We want to bring in corporations to guide the start-ups and see if they can start to have a relationship. It could be personal relationships between the top management of the corporation and the start-up founder. Or it could develop into pilot programmes, where the corporation is able to test the start-up's services," says Ben.
The leadership team of the corporation could also serve as mentors to the start-ups.
To date, the firm has funded more than 35 start-ups, whose consolidated revenues exceed RM80 million, according to its website. The funding amount ranges from RM50,000 to RM1 million per company per round. The firm does not focus on a particular sector. However, one of its criteria is that the start-ups must be technology-driven and serve the Malaysian and Southeast Asian markets.
"The start-ups must be disrupting an entire segment of an industry. They must be a tech company. It could be in a traditional industry such as logistics, where it is hard to scale and innovate," says Ben.
"The founders behind the start-ups are also important because you can change your business model and solutions, but you cannot change the team. In the early stage, you need a founder who is very resourceful. These people will not give up even if they go in the wrong direction."
NEXEA only adds a few angel investors to its network each year. These angel investors must be high-net-worth individuals or high-income earners. They are recommended to spread their investments over 20 companies to manage their risk levels. They also need to have entrepreneurial experience or are able to add value to the start-up community in other ways.
The firm does not charge investors a management fee. It only charges a fee on profit when they exit the start-ups. "We want to make sure we align our interests with our investors and start-ups. We do not make money unless they do and we are in it for the long haul. We do this so we can attract only the best investors and start-ups, so that we can become the best investment firm," says Ben.