This article first appeared in The Edge Malaysia Weekly, on September 7, 2020 - September 13, 2020.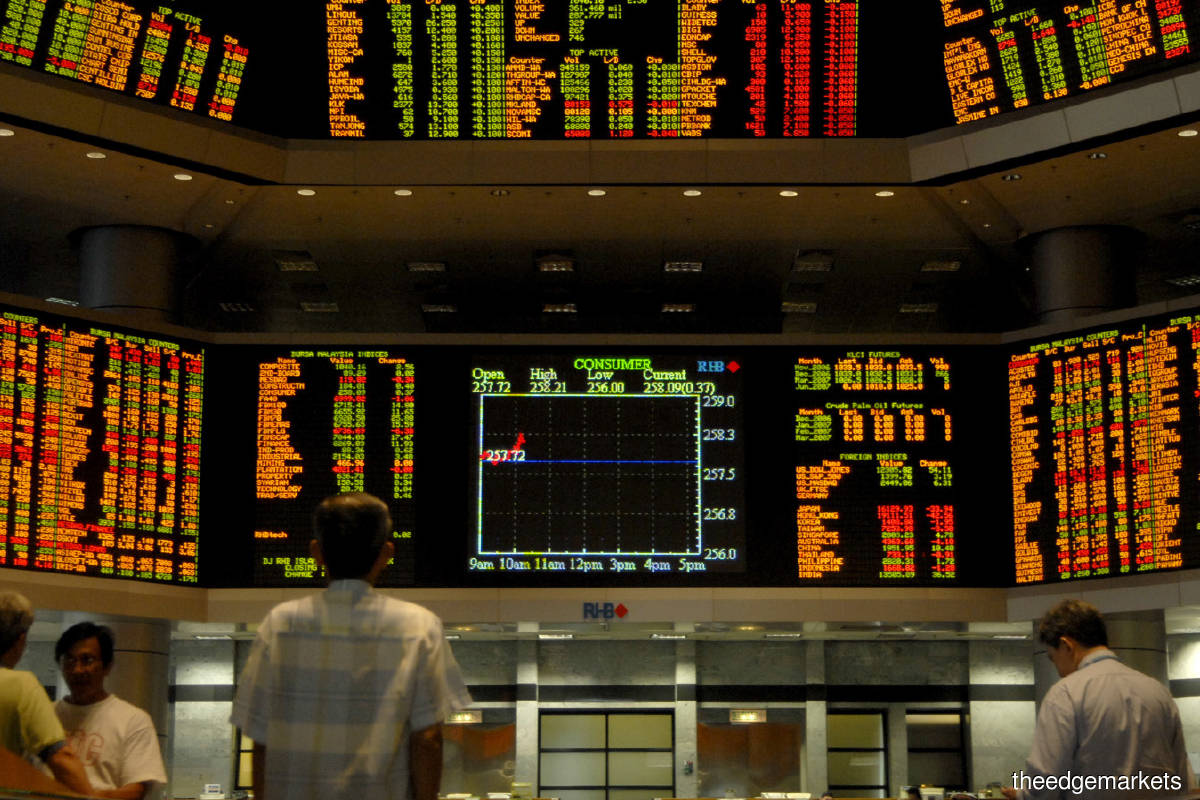 THIS has been a year of abundance for many investors. Supported by the ongoing market rally, RM448.46 billion in market capitalisation has been added to the local bourse since mid-March, bringing the total market cap of the local bourse to RM1.668 trillion.
Retail participation had been exceptionally high at 45.9% until the first half of August, as a result of ample market liquidity and the Movement Control Order (MCO) that saw many stuck at home and dabbling in the market.
For perspective, the trading volume on the local bourse surged to another peak on Aug 11. The value of the 27.8 billion securities came up to RM7.8 billion, which works out to 28 sen a share. This shows that investors have been focused on penny stocks.
Closing at 1,515.86 points last Friday, the benchmark FBM KLCI had gained 24.3% from its 11-year low of 1,219.72 points on March 19. However, it declined 4.6% year to date.
The market craze for lower liners propelled the FBM ACE Index higher by 239.1% between mid-March and early September, outperforming the FBM Small Cap Index (which rose 78.9%), FBM Mid 70 Index (+58.9%), FBM Emas Index (+33.4%) and FBM Top 100 Index (+31.6%).
Sector-wise, the Bursa Malaysia Healthcare Index — the best-performing sectoral benchmark — shot up 243.6%, underpinned by the glove and vaccine fever. The Technology Index has risen 144.9%, mirroring the spike in the Nasdaq.
From mid-March to early September, MSCM Holdings Bhd was the biggest gainer on Bursa Malaysia, surging close to 3,000% after Penang-based Hong Seng Group emerged as its largest shareholder with a 29.89% stake early this month, as well as its announcement of plans to venture into nitrile glove production.
The IT solution provider said it would be investing RM59 million in the nitrile glove venture, which is expected to start seeing a return by end-2021. The investment would be funded by the RM60 million in fresh capital that it raised via a cash call made last year.
MSCM also announced its partnership with Koperasi Persatuan Perubatan Malaysia Bhd (KOOP MMA), the investment vehicle of the Malaysian Medical Association, to digitalise primary healthcare in the country.
Ancom Logistics Bhd's share price has leapt more than 1,600% following tycoon Datuk Siew Ka Wei's move to inject the company into Nylex (M) Bhd under a corporate restructuring exercise. Ancom Bhd owns 45.06% of Ancom Logistics and 48.95% of Nylex.
Driven by plans to invest RM35 million in a factory for the venture into medical rubber glove production, Inix Technologies Holdings Bhd shares have jumped 1,625%. Careplus Group Bhd and Supermax Corp Bhd have been the best-performing glove stocks, with gains of 1,587.9% and 1,290% respectively, amid the strong surge in the demand for and selling prices of gloves.
As the development of vaccines for Covid-19 is intensifying, investors have started to shift their focus towards the potential beneficiaries. This includes Pharmaniaga Bhd and Duopharma Biotech Bhd, whose share prices have shot up five- and twofold respectively.
Three other companies that are looking to distribute vaccines in Malaysia are Solution Group Bhd, Bintai Kinden Corp Bhd and Ho Wah Genting Bhd (HWGB). Of the three, the gain in the share price of Solution was the highest at 1,266.7% after it signed a memorandum of understanding with China-based vaccine specialist CanSino Biologics. Solution told The Edge in a recent interview that it was the closest to the commercialisation of a vaccine.
Meanwhile, Bintai inked a deal with vaccine research firm NuGenerex Immuno-Oncology (Generex) to fund and manage a synthetic peptide vaccine for Covid-19. HWGB is investing US$1 million (RM4.2 million) in a joint venture with US-based E-MO Biology Inc that will entitle it to 40% of the profits from a commercialised vaccine. Earlier, HWGB also made a slew of announcements regarding its ventures into the provision of essential medical and healthcare products. Shares of Bintai and HWGB have risen 908.3% and 1,193.3% respectively, on the hope that the distribution of a vaccine will materialise soon.
Recently, the transport segment hogged the limelight when strong buying interest was seen in stocks such as loss-making Gets Global Bhd, whose share price has jumped nearly 16 times. Gunung Capital Bhd director Teong Lian Aik emerged as the single largest shareholder of Gets Global after acquiring a huge block of shares from managing director Datuk Che Azizuddin Che Ismail. Teong currently holds a 31.87% stake in Gunung Capital.
XOX Bhd is back on investors' radar screens following its agreement with Alipay Labs (Singapore) Pte Ltd for a three-year blockchain-based solutions collaboration, as well as its partnership with China-based Jiangsu Sulian Asset Management Co Ltd to link up with an undisclosed Chinese telecommunications firm to explore a regional 5G mobile network deployment.
Other notable gains include that at F&B operator Focus Dynamics Group Bhd and its substantial shareholder Fintech Global Bhd. The stocks have risen 293% and 540% respectively from their lows in March.
Focus Dynamics' share price went up from below 60 sen in March to more than RM2, giving the company a market cap of RM4.56 billion, despite achieving a net profit only in FY2017 over the past decade. Fintech Global has seen its share price surge from 2.5 sen in mid-March to 15.5 sen last Friday, giving it a market cap of RM214.1 million.
Fintech Global also has interests in AT Systematization Bhd, DGB Asia Bhd, Mlabs System Bhd, NetX Holdings Bhd, VSolar Group Bhd and, most recently, Saudee Group Bhd.
HLIB Research's Aug 18 note shows that sectors that have the highest share of retailers by average daily trading value (ADV) for the first seven months of the year are industrial products and services (21.6%), healthcare (19.5%), technology (16.2%), consumer (12.5%) and energy (7.3%). During the period, the top 10 retail counters were Supermax, Top Glove Corp Bhd, Comfort Gloves Bhd, Careplus, Hartalega Holdings Bhd, AirAsia Group Bhd, MyEG Services Bhd, Hibiscus Petroleum Bhd, Rubberex Corp (M) Bhd and Datasonic Group Bhd.
The research house said last Friday that the FBM KLCI would extend its range-bound consolidation mode in a seasonally weak September outing, compounded by domestic political uncertainty (ahead of the Sept 26 Sabah state election), a resurgence of Covid-19 cases in global hotspots and escalating US-China geopolitical tensions, among others. "Key support levels are at 1,509, 1,500 and 1,476 points while resistance levels are pegged at 1,538, 1,548 and 1,564 points."
HLIB Research believes that there may be a downward normalisation to the retail participation numbers in 4Q once the blanket loan moratorium ends on Sept 30 and changes to a targeted one.
According to CGS-CIMB Research's Aug 25 note, Bursa will focus on three key thrusts to sustain the robust retail equity market: retaining investor confidence (for example, extending the temporary ban on short-selling), undertaking targeted marketing plans and continuously improving the trading ecosystem. "For the ecosystem, Bursa plans to enhance the accessibility to stock market trading for retail investors by leveraging technology and increasing the total number of dealers and remisiers," says the report.
The regulator adds that in order to mitigate potential excessive speculative activities in the marketplace, it has put in place the necessary infrastructure, rules, processes and a robust mechanism to ensure the marketplace continues to function in a fair and orderly manner.