This article first appeared in Personal Wealth, The Edge Malaysia Weekly, on December 18, 2017 - December 24, 2017.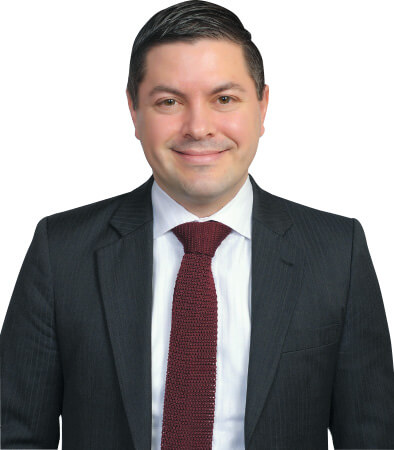 "Biotech has been the stock market's best performing sector in the US since the global financial crisis even though it had a bad year in 2016...The reason it has been such a good sector is because of all the amazing innovations going on that has really changed medicine. > Loncar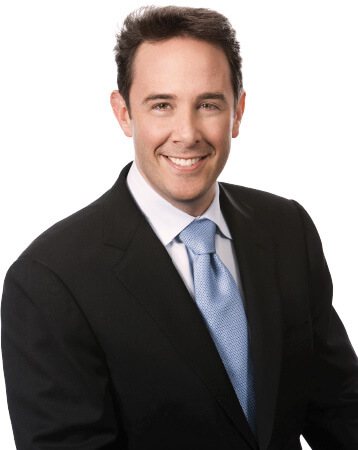 While there has been competitive pressure on pricing, we are finding that companies launching innovative products can get attractive pricing and returns. We are seeing exciting developments in oncology and immunology, among others. > Acker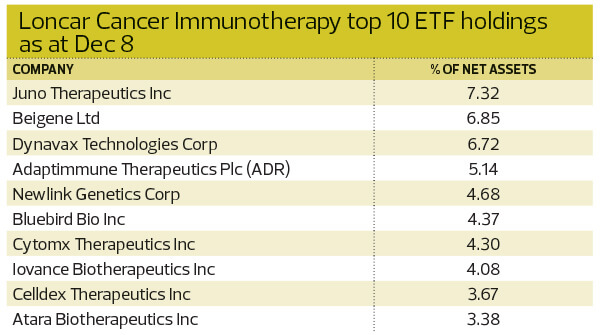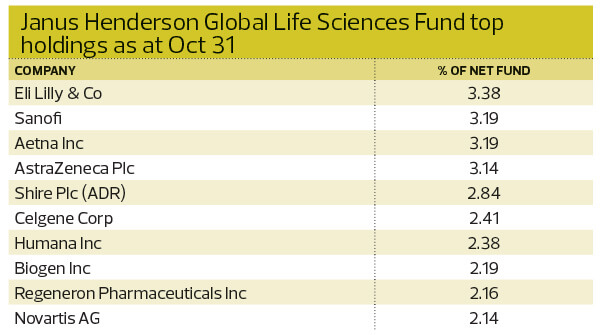 Biotechnology stocks around the world have seen impressive returns in the past few years due to breakthroughs in medical treatments and approvals of new drugs by regulators. The attractive valuations of the companies in this sector would appeal to investors looking to ride the biotech wave going forward. 
"Biotech has been the stock market's best performing sector in the US since the global financial crisis even though it had a bad year in 2016. But even if you account for that, it has been the highest growth area. The reason it has been such a good sector is because of all the amazing innovations going on that has really changed medicine," says Brad Loncar, founder of the Loncar Cancer Immunotherapy Index and Loncar Cancer Immunotherapy ETF. 
According to Nasdaq Index Research, the Nasdaq Biotechnology Index saw a cumulative return of 550% between January 2003 and June 2017. The stocks on the index rose 75.7% from 2010 to its peak in 2015. And while they experienced a correction last year, they have continued to rise this year. The index was launched in 1993 following the emergence of the biotech industry in the 1970s and 1980s.
According to Morningstar, of the 10 best-performing funds in the UK since the global financial crisis, three are focused on biotech and three are involved in healthcare. The funds include the Candriam Equities L Biotechnology Class, which had a 10-year annualised return of 22% as at Sept 19; the Franklin Biotechnology Discovery Fund, which had a return of 19%; and the AXA Framlington Biotech Fund, which returned 18%.
The Janus Henderson Global Life Sciences Fund, which invests in companies that address unmet medical needs or make the healthcare system more efficient, came in fifth with a return of 16% over the same period. The fund's portfolio is spread across companies in pharmaceuticals, biotech and the subsectors of services or devices. 
Andy Acker, portfolio manager of the Janus Henderson global life sciences strategy, says the biotech sector has contributed to the performance of the fund. "A great deal of the innovation in the sector comes from biotech companies and we have been consistently overweight on these stocks. Biotech companies have grown as a portion of the index and many of them have financial and business models that are not too dissimilar from the large pharmaceutical companies," he adds. The fund is open to professional investors in Singapore and a feeder fund in Thailand.
The global demographic trend is a long-term driver for the healthcare industry, especially as the baby boomer generation ages and requires more medical care. This comes as medical and technological innovations are being developed to target cancer and genetic diseases at the molecular level. Acker says investors should consider biotech stocks now due to the relatively favourable stance of the regulators in the US when it comes to approving new therapies.
"The biotech industry offers a compelling combination of growth and valuation if an investor can find those companies that will be successful with therapies addressing highly unmet needs. We also see the US Food and Drug Administration (FDA) as being committed to bringing important developments to market quickly," he says. 
"Finally, we think we will see more acquisitions within this space, which often spurs investor confidence and sector revaluations. While there has been competitive pressure on pricing, we are finding that companies launching innovative products can get attractive pricing and returns. We are seeing exciting developments in oncology and immunology, among others." 
As at Nov 30, the Janus Henderson Global Life Sciences Fund had a year-to-date return of 22.06%. 
Apart from the actively managed funds, there are several exchange-traded funds (ETFs) tracking biotech indices. The iShares Nasdaq Biotechnology ETF is the largest ETF in the world tracking the Nasdaq Biotechnology Index. As at Dec 5, the ETF was up 17.14% year to date. The SPDR S&P Biotechnology ETF, which tracks the S&P Biotechnology Select Industry Index, was up 41.6% for the year to Oct 31.
The Loncar Cancer Immunotherapy ETF, which is listed on the Nasdaq, offers a more focused segment of the biotech sector. It tracks the Loncar Cancer Immunotherapy Index, which comprises companies that are developing immunotherapies that treat cancer by harnessing the body's immune system. 
Loncar says as most of the latest developments in biotech are in immunotherapy, he decided to target this area. "I think the most impactful thing going on in medicine now is in cancer therapy and the idea of immunotherapy. The first round of these drugs are already approved in the US and they have already revolutionised melanoma, for example. 
"Former president Jimmy Carter had late stage melanoma and he was treated with one of these immunotherapy drugs called Keytruda by global pharmaceutical company Merck. And it essentially made his cancer go away. 
"They are doing the same for lung, kidney and bladder cancer. We think this is a long-term trend that will impact many, if not most, cancers in the coming years."
Keytruda was approved by the FDA for the treatment of melanoma, non-small-cell lung cancer, metastatic melanoma and cancerous tumours of the head and neck between 2014 and 2016. Merck's revenue and share price soared 31.42% in the first six months of last year following news of Carter's recovery in December 2015.
Loncar's ETF was launched in October 2015 and listed on the Nasdaq. The independent biotech investor, who runs a family office, decided to create the index and ETF to allow easier access to biotechnology investments. He plans to create indices and ETFs in other areas of biotechnology in the future.
"When I first created the index, it was more of an educational thing. I wanted to highlight companies that are doing such interesting work and making huge progress against cancer," says Loncar.
"In technology, everyone has heard of Tesla because they can see a Tesla car driving down the road. Or they know Google because they use it every day. That is not the case with biotech and pharmaceutical companies. But the advances being made are every bit as exciting as what is going on in technology."
The favourable regulatory environment for drugs in the US is another impetus for the performance of biotech stocks, which Loncar says can be attributed to the change in administration. "We have a new person running the FDA called Scott Gottlieb. He has been terrific. He has tried to make the FDA less bureaucratic and make drug approvals happen more quickly. He is trying to make the regulatory process more efficient and transparent. And that is something that benefits investors," he adds.
According to a Reuters article in January, the pharmaceutical industry saw a spike in drug approvals in 2014 and 2015, with the number of new drugs reaching the market hitting a 19-year high. Although the number fell last year, the recent advances in cancer cures and genetic therapies have contributed to full development pipelines for many firms. 
Areas of interest in biotech
In August and October, the FDA approved two versions of an immunotherapy treatment known as the CAR T-cell therapy to treat children and young adults whose leukaemia does not respond to standard treatments, and another to fight aggressive non-Hodgkin's lymphoma, a kind of blood cancer. The former was developed by US-based clinical-stage biopharmaceutical company Kite Pharma, which focuses on researching immunotherapy, while the latter was manufactured by multinational pharmaceutical company Novartis.
Loncar says the first generation of immunotherapy drugs is being commercialised by large companies such as Merck and Bristol-Myers Squibb. But smaller biotech companies are working on newer generations of immunotherapy drugs as well. For instance, a big acquisition occurred in August when US-based global biopharmaceutical company Gilead Sciences acquired Kite Pharma for US$11.9 billion. 
"That type of immunotherapy is called Car-T and it is really interesting how this technology works. Instead of taking a pill, what companies are able to do is take the patient's own cells and re-engineer them, programming them to look for and destroy the cancer cells in the body. They are seeing incredible results with that and the technology has already been approved for a few types of blood cancer here in the US," says Loncar.
Acker is also excited about the developments in this area of biotech. "A recent example is the CAR T-cell therapy for the treatment of aggressive non-Hodgkin's lymphoma. It is a leading scientific advancement that promises better patient outcomes," he says. 
"Gilead, a large biotech firm, just acquired a smaller company that is expected to launch a product based on this technology by the end of the year. The high price paid by Gilead caught the attention of investors, helping to spur a rally in the biotech sector."
CAR T-cell therapy uses the patient's own immune cells — called T cells — to fight cancer. According to the American Cancer Society, the use of CAR T-cell therapies on a type of non-Hodgkin's lymphoma showed encouraging results in clinical trials. In many of the patients, the cancer could not be detected after the treatment, although doctors are still studying the long-term impact of the therapy.
Loncar is also interested in the developments in gene therapy and the treatment of rare diseases. While rare diseases only target a small population, it may prove to be a more lucrative market for companies.
"In gene therapy, there is a new technology called CRISPR that people are very excited about. It is a much newer technology but it is in clinical trials and producing some really amazing results for really terrible diseases," he says. 
"There is also a class within drug development for rare diseases to treat things like muscular dystrophy, where there may not be a lot of patients, but are just as important medically, as companies have been doing a lot of research on this." 
Gene therapies attempt to treat genetic diseases by targeting defective genes and can be used as immunotherapy to fight cancer cells. CRISPR is a new technology in genome engineering that can edit DNA at precise locations. It is used in gene therapy. 
In terms of geography, most of the drug development is seen in the US, although Loncar sees China as an emerging player. Most of the companies in his ETF are US-based companies (the index only consists of US-listed companies). About 10 out of the 30 companies in the ETF are overseas.
"If you look at how China's tech industry has grown, it has learnt a lot from Silicon Valley. Many Chinese who worked in the US have returned to China and started their own technology companies," says Loncar.
"The same is starting to happen in biotechnology. Access to cutting-edge healthcare is growing globally and there is a huge desire for it in China and the rest of Asia-Pacific. So, I am very bullish on this growth sector.
"For example, we have a very interesting company in our fund called Beigene. Its headquarters is in Boston, which is kind of the biotech capital of the world. And it is also based in China. It is trying to be leaders in immunotherapy. There have been initial public offerings of Chinese biotech companies in the US. So it has been fun to watch."
Other companies Loncar finds interesting in China are Hutchison China MediTech, a biopharmaceutical company that is developing chemistry-focused therapies to tackle oncology and immunological diseases, and Zai Lab, a biopharmaceutical company developing and commercialising medicines for cancer and autoimmune and infectious diseases. 
"Another company that I am focused on is Cellectis because it has a version 2.0 of what Kite Pharma has been successful at. Another company in the CAR T-cell space that is fascinating is Bluebird Bio because it using the technology against a new type of cancer called multiple myeloma and it has good data," he says. 
Multiple myeloma is a type of blood cancer. Cellectis is a clinical-stage biopharmaceutical company based in France that is focused on generating immunotherapy treatments. US-based Bluebird Bio is developing treatments such as gene therapy, cancer immunotherapy and gene editing for a broad range of serious diseases.
In terms of gene therapy, investors should look out for US-based Spark Therapeutics, says Loncar. The company engages in gene therapy research with the purpose of determining whether new or functional genes can be used to restore or activate inactive mutated genes, which are the cause of genetic diseases. 
"They just had a preliminary meeting at the FDA that went very well and we will know by January if the gene therapy is approved for a type of blindness. If you have a genetic-based disease, you usually have to take pills the rest of your life to alleviate the symptoms. But this can be a one-time treatment," says Loncar. 
The Loncar Immunotherapy ETF is reviewed semi-annually. The fund's approximately 30 holdings include five large pharmaceutical companies and 25 biotech pure-play companies. Some 84% of the players involved in immunotherapy are clinical-stage biotech companies. The companies are given equal weighting in the ETF. 
"The small companies are coming up strongly and in fact, I would say that is where most of the innovation is now. The one thing that is good about the bigger companies is that because biotech is very volatile, over the short term, it provides some element of stability," he says.
The Janus Henderson Global Life Sciences Fund holds 99 stocks, 35.27% of which are in biotechnology and 28.26% are in pharmaceuticals, based on its fund fact sheet dated Sept 30. 
While Acker does not give specific stock recommendations, he says investors should watch out for companies with innovative products, either as ongoing concerns or acquisition targets. "One example is Puma Biotechnology, an oncology-focused company that received FDA approval this summer for its drug Nerlynx, indicated for the extended adjuvant treatment of early-stage HER2-positive breast cancer," he adds. 
"For patients with this aggressive type of cancer [about one-fifth of breast cancer patients express HER2], Nerlynx was shown to lower the risk of the cancer returning by about 33%. Our physician surveys indicate that the drug could be adopted rapidly by physicians and patients, providing upside potential for consensus estimates.
"Given the outlook for Nerlynx in its initial indication, the potential for expansion in Europe and other geographies, additional ongoing trials that could lead to further label expansion and patents that extend to 2030, we think peak sales for the drug should exceed US$1 billion, with an attractive margin profile. Given the scarcity of new blockbuster oncology launches, we feel Puma sets up well as either an independent company or a potential acquisition target."
Risks of investing in biotechnology
The rapid rise of biotech stocks in 2010 and the market correction last year signals that the sector can be quite a volatile one to invest in. Biotech or pharmaceutical company stock prices can also fluctuate based on clinical trial results. For instance, after the gains recorded by Merck last year, its stock recorded huge declines in October after it withdrew an application for the use of Keytruda in Europe as an initial or first-line treatment of advanced lung cancer in combination with chemotherapy, citing insufficient mature late-stage data as the reason. 
One thing investors should take note of is that for drugs to go to market, they have to go through pre-clinical and several stages of clinical testing before they can receive approval from regulators. Most of the drugs that go through clinical development do not actually end up being commercialised, says Acker.
"Recent successes for several ground-breaking new treatments have spurred further interest in the sector. However, given that 90% of the drugs that begin clinical development do not reach the market, we continue to be judicious, relying on our fundamental research and proprietary statistical models to try and target companies with a higher likelihood of success. It means investors should avoid passive approaches and think about active stock picking based on a deep understanding of company fundamentals. While we are positive on the long-term fundamentals of the sector, the shorter-term returns could suffer if we see a market event that creates volatility and prompts more defensive investing."
Loncar says that compared with other sectors, investing in biotech stocks requires more research and understanding of the company's fundamentals and technology. Many do not have the technical expertise to understand the technology behind the treatments.
"The biggest mistake I see people make, especially those who are not biotech experts, is falling in love with one biotech stock. If a small biotech company succeeds with a drug, it is possible for its share price to go up 10 or 20 times. But this is one of the riskiest sectors to invest in, and even the stock prices of big companies can increase or decrease a lot," he says.
"For example, [global biopharmaceutical company] Celgene just had a terrible earnings report and was down 30% to 40% in a week. That is tens of billions of dollars in value. You have to be diversified and spread your bets. That is why I think taking an index approach is so important because it helps you do that."
Various reports have pointed out that investing in large biotech companies with multiple approved drugs can be less risky for investors compared with those that rely on just one drug that has to go through clinical trials. The time lag between the trials and commercialisation can be long and costly.
Over the past year, many pharmaceutical companies in the US have been rocked by negative news in terms of arbitrary price hikes at the expense of consumers and regulatory efforts to address high drug prices. In October, when US President Donald Trump criticised high drug prices, healthcare stocks were badly affected. 
"You have to be more selective about who you invest in today than maybe five or six years ago. You have heard stories about price increases from Valeant Pharmaceuticals, which was making money doing artificial things. Those things have gone away and that is a good thing. You have to invest in companies that are delivering true value to patients and developing new medicines," says Loncar, adding that stock picking is very important in this sector and that investors should have a long-term outlook.
"In general, people should be aware that biotech is very volatile this year. For example, biotech funds are up anywhere from 17% to as much as 40%. Last year, they were down by that much," he says.
"Biotech can be quite a roller coaster. And as most biotech companies are still in the development stage, they do not have approved products or earnings. So, sometimes, it can be very hard to value them. 
"For anyone considering biotech, he should have a very long-term outlook. One thing that is very rewarding about biotech is that it is important for society in trying to help humans who are going through a very difficult time in life." 
Going forward, more clarity in US tax policies can potentially ignite a wave of acquisitions that can help revalue the market, says Acker. "2018 is shaping up nicely for the sector as long as the overall market conditions hold. We see less concern about regulatory risk and more focus on fundamentals. The fundamental outlook and attractive valuations of biotech firms will attract growth-hungry investors."