This article first appeared in Personal Wealth, The Edge Malaysia Weekly, on April 27, 2020 - May 03, 2020.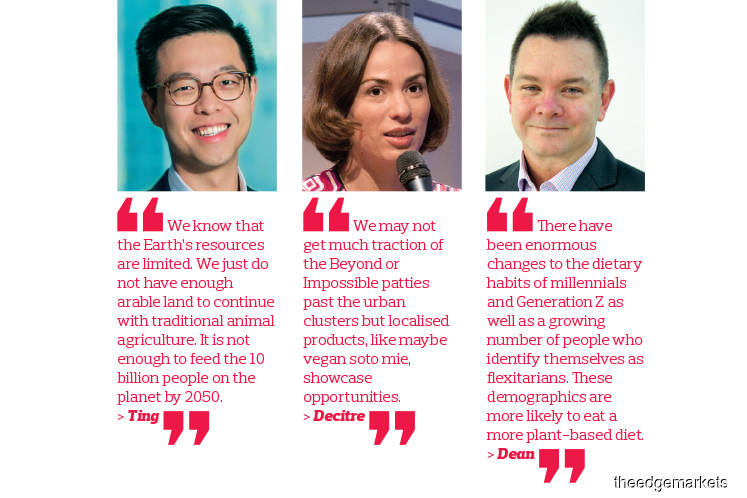 There has been growing investor interest in alternative proteins, such as plant-based substitutes and lab-grown milk and meat, as animal agriculture has long been viewed as a major contributor to greenhouse gases (GHG) and climate change. Investors have been able to tap into the emerging industry mostly by way of venture capital, thanks to the popularity of start-ups using technology to engineer meat in labs or manufacture it from plants over the last few years. 
The sustainable protein industry is expected to grow upwards, says Michael Dean, co-founder of AgFunder, a food and agriculture technology (agritech) venture capital firm based in San Francisco and Singapore. "We have a strong belief that alternative proteins will be successful as long-term trends in the production of milk and meat, as well as fish and seafood, have a material impact on the environment. We need to find replacements that are more efficient, and cleaner ways of producing such products will come to the fore."
First, the world's food system — which includes agriculture and land use, storage, transport, packaging, processing, retail and consumption — accounts for 21% to 37% of total GHG emissions, which is more than what all our cars, trucks, trains and airplanes combined produce, says the Intergovernmental Panel on Climate Change. This is significant as governments around the world had pledged to limit global warming to less than 2°C under the Paris Agreement in 2015.
As substantial public and private investments are crucial to achieving this goal, it incentivises start-ups to find innovative solutions to deal with an increasingly crowded, resource-scarce and more economically volatile world, says Isabelle Decitre, founder and CEO of Singapore-based ID Capital, an investment firm that focuses on food and agritech start-ups in the region.
Other reasons for the heightened engagement are sustainability megatrends and changing dietary patterns such as rising veganism and flexitarianism — a diet comprising mostly plant-based foods while allowing meat and other animal products in moderation — in the region, she adds.
Then, there are movements such as "Meatless Monday", which encourages people to adopt vegetarian diets at the start of the week, and critically acclaimed documentaries like The Game Changers that have demonstrated the growing popularity of meat alternatives.
For these reasons, Dean stresses that alternative proteins are not just a fad. "There have been enormous changes to the dietary habits of millennials and Generation Z as well as a growing number of people who identify themselves as flexitarians. These demographics are more likely to eat a more plant-based diet," he says.
"At the same time, there are emerging economies and a growing middle class, particularly in Asia, that are looking for more calorie-dense diets, which means an increase in animal agriculture. But concerns about the impact of agriculture on the planet and the animals themselves, and backed by a real desire to be healthier, are big drivers of alternative foods."
While meat has been the main source of protein in developed markets for years, and there has been a growing appetite for traditional protein in these markets, it is unlikely that animal protein will sufficiently satiate the demand for protein, says Lever VC vice-president Julian Ting. "We know that protein production doubles every 30 years or so. As the world population increases and countries get more affluent, more people want to consume more meat.
"On the other hand, we know that the Earth's resources are limited. We just do not have enough arable land to continue with traditional animal agriculture. It is not enough to feed the 10 billion people on the planet by 2050." 
Lever VC is a venture capital fund that invests in early-stage companies in the alternative protein sector. The firm is based in the US and Hong Kong. 
Proof is in the pudding
According to global consultancy firm AT Kearney, the global conventional meat supply is projected to fall from a market share of 90% in 2025 to 40% by 2040 as protein substitutes grown in vats and plant-based products gain ground. 
Plant-based alternatives are derived from protein-rich seeds, such as soy, peas and rapeseed, through dry or wet fractionation. Cultured meat and dairy products are made using tissue-culture technology, where animal cells are regenerated using a single cell as the source to propagate animal cells in vitro. This process creates muscle tissue that mimics animal muscles and has the same protein profile.
The AT Kearney model predicts that plant-based meat replacements will have a total market share of 25% and cultured meat, 35%.
Ting points out that the case for alternative proteins is evident and was illustrated clearly by the demand Beyond Meat Inc garnered when it made its debut on the Nasdaq last year. The manufacturer of plant-based Beyond Burger went public at a valuation of almost US$1.5 billion.
Burger King in the US then followed up with the release of the Impossible Whopper — a meatless plant-based variant of its most renowned product. The patty is manufactured by Impossible Foods, another US company that has raised more than US$700 million in disclosed equity funding, according to CB Insights. 
Ting says there has been a paradigm shift in consumer preferences towards the consumption of more plants and less meat, which means the interest in and demand for alternative proteins are likely to increase. "From an investment perspective, we want to know that when we invest, we have an exit. This is exhibited in the appetite of big food players, which have started investing in and acquiring companies in the [alternative protein] space.
"For example, WhiteWave Foods — a vegan food company — was acquired by Danone SA, a French multinational food product corporation, while Canadian dairy alternatives company Daiya Foods Inc was acquired for US$300 million by Japan-based Otsuka Pharmaceutical Co Ltd."
These examples point to the fact that there is a lot of interest in this space as companies are able to scale up quickly and access many points of sales and new markets. "We have a strong thesis on the ability of plant-based proteins to replace a big chunk of the animal agriculture system," says Ting.
In Asia, Lever VC has invested in several cultured meat companies such as Hong Kong-headquartered Avant Meats, which is making cell-based fish maw, and Singapore-based TurtleTree Labs, which is addressing the gap created by an insufficient and unsustainable animal-based dairy industry by making cell-based milk.
"Avant's goal is really to be a clean seafood or cellular seafood producer. It starts with stem cells, which are differentiated into a muscle. Then, those cells are grown on a scalpel to help them grow in a certain pattern. From there, these are put in a big tank, like those you see in big breweries, which is a bioreactor that simulates the right conditions, whether it is temperature or pressure. And then, the company replicates this until the outcome is 100% bioidentical to the original protein," says Ting.
"As for TurtleTree Labs, instead of creating just the components of milk, it starts by producing cells that secrete milk. It gets the cells to secrete milk by putting them in the right kind of environment, which is a liquid bath that stimulates lactation. Then out comes the milk, which is filtered, and you have milk that is bioidentical to dairy or human milk." 
TurtleTree Labs embarked on non-dairy alternatives as there is not a source of milk comparable to human breast milk.
Lever VC is not investing in companies that produce insect protein because it doesn't think the majority of consumers will be able to get over the "ick factor", says Ting. "We have not invested in a mycoprotein company yet, but we have looked at investment opportunities in that space."
Mycoprotein is a protein source typically composed of whole, unprocessed, filamentous fungal biomass, commonly known as mould. It has been around since the 1980s and is produced through the fermentation of biological feedstock. 
Meanwhile, ID Capital has not only invested in companies with technology in the human nutrition phase but also animal nourishment. Decitre points out that fishmeal prices have increased more than four times in the last 15 years.
"Fishmeal prices have increased quite a lot in the last decade, pushing the industry to find alternative sources of the protein portion of fishmeal. This includes chicken feed as well," she says.
One of ID Capital's investee companies is Ÿnsect, a French biotechnology firm that farms insects and turns them into premium, high-value ingredients for pets, fish and plants.
Lever VC has also invested in a company that produces animal protein through a proprietary fermentation-based technology and its first target market will actually be pet food. Bond Pet Foods uses cellular agriculture to grow high-quality animal protein, such as chicken, turkey, beef, pork and fish, by extracting muscle genes from the animal, adding the genes to a microbe such as yeast, and then fermenting it.
Asia's promising meatless landscape
The next spurt of growth for the sector is expected to come from Asia, which is home to more than half the world's population. The region, which already faces the greatest threat — food insecurity and its associated social, environmental and economic challenges — will need to aggressively push for sustainable protein production, according to the Asia Alternative Protein Industry Report 2020: New Decade, New Protein. 
The report, published by Hong Kong-based Green Queen Media, points out that although Asia's alternative protein landscape is still nascent, start-ups in the region are expected to overtake brands from the US and Europe, with China spearheading the industry's growth. Asia is poised to dominate the alternative protein market as governments there are already concerned about food security, given that the region will be home to more than five billion by 2050, as well as the fact that food safety is already top of mind. Asia is the global industry's fastest-growing sector, with an estimated annual growth of 9.3% until 2026, it notes.
As the alternative protein industry takes off in the region and taps into the mainstream consumer market, local companies will be far more price competitive than industry players in the West, with lower per unit production cost, says the report. "This is already underway in India, where plant-based leader GoodDot has achieved local price parity with meat, and is likely to be an important goal among a host of emerging start-ups across the region.
"Further, Asian players cater to local tastes and cuisines. The success of Omni­pork, the minced pork plant alternative created by the Green Monday group, must be highlighted. The ground pork imitation product, which was specifically designed for Asian cuisine applications such as dumplings, is now available in over seven countries across the region and served in both high-end Michelin-star restaurants and fast food chains alike." 
Based on the fact that companies like Omnipork are selling more than a million dumplings a week, the authors of the report believe that Asia's alternative protein start-ups have a discernible chance of overtaking their Western counterparts. "The group recently shared that since launching with Taiwan's largest QSR chain Bafang Yunji in January 2020, they are selling over a million Omni­pork dumplings per week, which would mean over 52 million annually in one country alone. This effectively dwarfs the much-advertised success of US players such as Impossible Foods (which sold 13 million burger patties between 2016 and 2018) and Beyond Meat (which had sold 25 million burger patties as at January 2019)."
However, they recognise that the alternative protein industry in Asia is still nascent, from product development to start-up funding and consumer awareness. These views are also espoused by AgFunder, ID Capital and Lever VC, which are among the plethora of venture capitalists investing in the alternative protein boom.
Lever VC's Ting says its presence in Hong Kong is mainly driven by China's booming multibillion-dollar food market. "Broadly speaking, there are about 950 of these companies globally and around half of those are in the US and a third in Western Europe. Asia as a whole does not have that many companies, but that is going to change. And as that changes, I think we will see availability and an uptick in demand."
Emerging Asia's young population is a clear bonus, he adds. "They have a more adventurous palate and the flexitarian phenomenon is way more prevalent among millennials and Gen Z. We do not look at Asia as one monolithic block. I would say that in urban centres such as Kuala Lumpur, Manila, Bangkok and Singapore, we are definitely going to see more alternative proteins on menus and in supermarkets."
Although the demand for meat substitutes is booming, it is still very costly to produce. Reuters previously reported that Singapore-based start-up Shiok Meats' lab-grown minced shrimp meat costs US$5,000 per kg, which translated into US$300 for a single siu mai (pork and shrimp).
Shiok Meats raised US$4.6 million in seed funding in April 2019 from US seed funder Y Combinator and Filipino food group Monde Nissin.
"There needs to be some thinking to come up with the best ways to achieve cost parity because it is easy to be idealistic if you are able to produce and have the purchasing power. But for many people, alternative protein is not an option. It is still very much an elitist market. However, Impossible Foods and Beyond Meat are on the path to becoming mainstream," says Decitre.
But this has spurred start-ups to explore the upstream prospects of developing a more cost-effective cultured meat process. Future Fields is one such company, says AgFunder's Dean. 
Future Fields is developing an animal-free media, nutrient-dense base that allows animal cells to rapidly grow and form meat in a lab at "100% of the current market costs" using its proprietary technology. "That will really drive down prices and increase the ability of these cellular meat and cultured meat producers to get a product to market in a way that will be affordable," says Dean.
The obvious drivers of clean meat mainly revolve around health concerns and the environmental impact of animal agriculture, which is probably the reason Asia is still a laggard as many countries are not in dire need of alternative food sources just yet, says Decitre.
The region may need time to adapt to the fake meat trend. But seeing that Asia has a strong culture of eating fermented vegetable protein such as tempeh and tofu, it just means that product innovation is key to localising flavours and creating a similar mouthfeel.
"We may not get much traction of the Beyond or Impossible patties past the urban clusters but localised products, like maybe vegan soto mie, showcase opportunities," says Decitre, referring to Indonesia's Daai Boga, which makes vegan noodles that cater for the domestic palate.
One of the biggest risks investors in the alternative meat industry should be wary of is expected to come in the form of regulations. No government has deemed cultivated animal protein safe for human consumption.
In the US, for example, state governments and lobbyists are waging a regulatory war against meat and dairy substitutes in a bid to rein in the alternative protein industry by attempting to prohibit labelling of non-dairy or non-meat products with terms such as milk, yogurt or meat, says Dean.
In Europe, cultured meat is regulated under the EU Novel Foods Regulation. Under this law, a company has to prove the safety of its product within 18 months. "But it remains to be seen what studies will be accepted by the European Food Safety Authority," he says.
Tapping into alternative protein
Investment opportunities in the alternative protein industry are still very niche despite the sector's booming prospects. Right now, the only way to invest meaningfully is through a venture capital fund or a direct acquisition, which makes affordability a barrier. Beyond Meat is currently the only publicly-traded alternative protein company in the market.
Nevertheless, venture capital firms are trying to democratise the space by offering lower barriers to entry. "Most people investing in us have access to the public markets obviously, as the access to venture capital is limited because firms tend to have a smaller number of limited partners who invest a large sum as they have a strategic interest in a sector," says AgFunder co-founder Michael Dean.
"We also open our funds to smaller investors. For as little as US$25,000, [accredited] investors can invest in AgFunder's fund and participate in these early-stage companies."
AgFunder launched its alternative protein fund — Protein Fund I — last year to cater specifically to investors vying for a slice of the sector's growing market share. The US$20 million fund has a 10-year tenure.
The fund is also open to family offices for a minimum investment of US$500,000 and corporations at US$1 million. AgFunder's investors currently comprise 75% corporates and family offices and 25% high-net-worth individuals.
Meanwhile, Lever VC has closed its initial fundraising exercise at US$20 million. Its vice-president Julian Ting says the target is to reach US$50 million by the second quarter of 2021.
"One of the benefits that we have is strategy. With a smaller fund size of US$50 million, we are coming in early and handing out pretty small cheques and scaling our investments in these companies as they scale. So, we will start with US$500,000 initially into 20 to 25 companies and then maintain six to eight core positions in companies that will receive up to US$5 million each," says Ting.
"The benefit of this approach is that when you come in earlier, you do not compete with as much capital. So, you have efficient pricing, which is better for the investor. Second, you get to really see the progress of the company through its early days and have a much stronger view on the execution ability of these companies."
The minimum investment amount to gain entry into a Lever VC fund is US$1 million. As the firm is investing in such early-stage companies, it is targeting to achieve three times net returns for its investors. "Currently, we have a range of investors — a public-listed conglomerate with a big food arm in China, a bunch of family offices with varying levels of sophistication and regular individual investors," says Ting. 
All of these funds are open to investors globally. 
Covid-19 could increase demand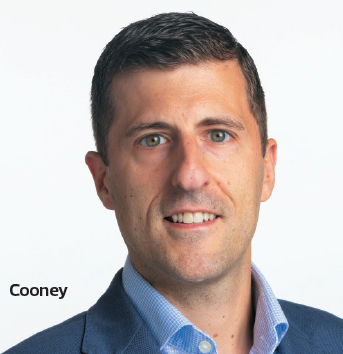 While the Covid-19 pandemic has highlighted the heavy consequences of wildlife trading, it has inadvertently shone a light on the problems associated with modern animal farming and consumption and with it, the need for sustainable alternatives. Thus, the pandemic could accelerate the demand for alternative protein products, says Lever VC founder and managing partner Nick Cooney.
The exploitation of animals for food is increasingly recognised as an important contributor to antimicrobial drug resistance. And given the devastating impact of Covid-19, alternative proteins are expected to get an added boost.
"The crisis will surely shift a number of things. And one of those will probably be an increased interest in a safe and healthy protein supply, particularly in Asia," says Cooney. 
"That will work to the benefit of alternative protein which, among other benefits, has zero risk of zoonotic diseases such as Covid-19, swine flu, avian flu and Severe Acute Respiratory Syndrome (SARS) since alternative protein production does not involve the use of live animals. So, I would expect to see increased government support for building up alternative protein technologies and production, as well as increased consumer interest."