This article first appeared in The Edge Malaysia Weekly, on March 29, 2021 - April 04, 2021.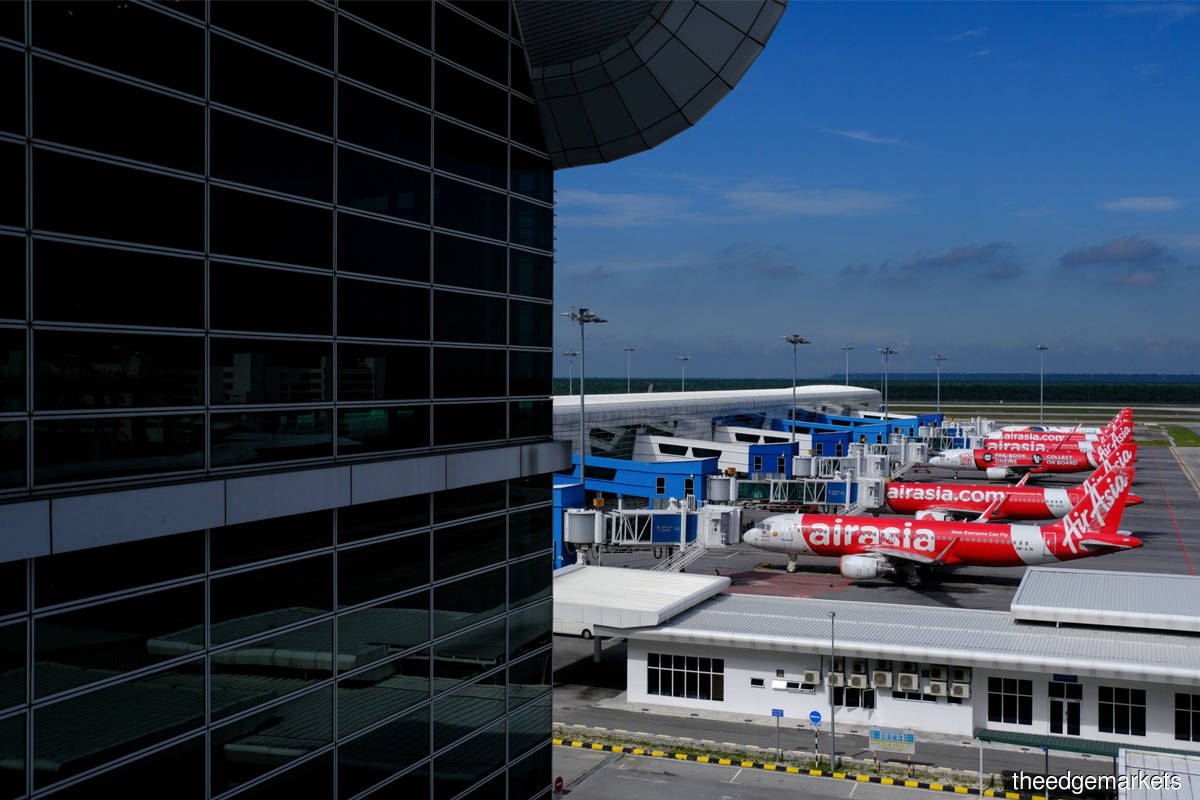 THE share price of AirAsia Group Bhd today is in stark contrast to what it was a year ago. At that time, the stock was trending downwards, as Covid-19 had put the brakes on global travel. Its price fell to a record low of 52 sen on March 19, 2020 as analysts started pegging "sell" calls and slashing target prices.
Today, as vaccination programmes are being rolled out and airlines are beginning to fly again, the stock is up 115.38% to RM1.12 last Thursday, near its one-year high.
Global aviation stocks are trending upwards, with RyanAir Holdings PLC having gained 93.57% from its March low, while Southwest Airlines Co has climbed 181.88% since bottoming out last May. Both are back to pre-pandemic levels.
But the turbulent ride for airlines is far from over.
AirAsia's stock has two "hold" calls and 14 "sell" calls among analysts, with target prices ranging from eight sen to 77 sen, working out to an average of 56 sen.
Its closing price of RM1.12 last Thursday — still off its five-year average of RM1.49 — values the group at RM4.27 billion.
In a March 22 report, UOB Kay Hian Research held on to its "sell" call, but raised its target price to 68 sen from 52 sen. It is one of only four houses that have done so since late last year.
The revision was done last Monday after AirAsia raised RM336.46 million by placing 470.21 million new shares at an average price of 71.5 sen, thanks partly to the recent share price rally that supported the issue price.
Eye on funding and dilution risk
"Placement of new shares at a substantial premium to book value is positive for minority shareholders. We applaud AirAsia's efforts in raising new capital, as, unlike other carriers such as Singapore Airlines and Cathay Pacific, AirAsia has not received state support for recapitalisation," UOB Kay Hian notes.
The placement is one of many steps to be taken by the bleeding company to raise between RM2 billion and RM2.5 billion to stay afloat.
AirAsia co-founder and group CEO Tan Sri Tony Fernandes tells The Edge in an exclusive interview that three banks have approved loans to AirAsia and will be applying to Danajamin for approval "very soon". He declined to provide specific details.
He also hinted at a rights issue to raise between RM800 million and RM1 billion (see Q&A).
Based on the company's latest shareholding, Fernandes and AirAsia chairman Datuk Kamarudin Meranun own 1.03 billion shares via Tune Live Sdn Bhd and Tune Air Sdn Bhd. The duo also directly own 1.6 million shares and two million shares respectively.
To maintain their combined equity ownership of 26.4% post the acquisition of BigLife Sdn Bhd, a potential cash call could entail their forking out between RM211.2 million and RM264 million.
After the recent placements, AirAsia's issued share base stood at 3.81 billion. The group also has 100 million warrants with a 3-to-1 conversion ratio expiring on April 26. It has also proposed to issue 85.86 million new shares to Aimia Group in exchange for the remaining 20% stake in BigLife.
Interestingly, AirAsia on Feb 17 proposed a long-term incentive scheme (LTIS) of up to 10% of the company's share capital, via an employee share option scheme, and a share grant scheme to senior executives as a substitute for cash bonus, if any.
"The proposed share grant scheme is intended to allow the company to award AirAsia shares to selected senior employees of the group, subject to certain performance conditions as set out in AirAsia's annual bonus scheme, and as prescribed by the LTIS Committee, in lieu of cash bonus," AirAsia states.
UOB Kay Hian in its note says it is "perplexed" by the proposal, and questioned the move at this juncture "when AirAsia is facing substantial forward liabilities, after having disposed of its fleet" several years back and adopting a leaseback model. The research house estimates lease and maintenance liabilities of RM6 billion from 2021 to 2023.
With the grant scheme and rights issue looming, new investors could enter the company when the rights trade, an analyst quips.
Cost being addressed, but recovery a wildcard
To cut costs, AirAsia has already shuttered its loss-making venture in Japan, with the one in India likely to follow. It is also in talks to reduce its fleet count by 26.5% to 180 planes from the current 245 by year-end, and is negotiating for new deliveries to be delayed until 2023. It has already cut fixed costs by 50% in 3QFY2020.
This suggests a smaller earnings pie in the medium term, even if capacity returns completely. It also hinges on new markets, if any — Fernandes says the group wants to focus on Asean for now. The company, which boasted a load factor of over 85% in the past, may also need to review its routes to achieve that efficiency without the passenger volume it once enjoyed.
The pace of traffic recovery could be determined by the rate of vaccination, says UOB Kay Hian. This year, the research house estimates that passenger throughput for Malaysia will rise 31% year on year and amount to 35% of 2019 levels. "AirAsia's Indonesian and Philippine airlines are likely to register slower recovery, owing to a lower rate of vaccination," it says.
For Malaysia, only 5.3 million people, or around 17% of the population, have registered for vaccination via MySejahtera.
Consensus estimates are for AirAsia to book a loss of RM3.05 billion in the financial year ended Dec 31, 2020 (FY2020) and to swing back to profit only next year.Before the company returns to the skies, however, the success of its cost restructuring, the commitment of its major shareholders to invest, and clarity on the structure of its fundraising exercise will determine its viability for investors.