This article first appeared in Personal Wealth, The Edge Malaysia Weekly, on August 13, 2018 - August 19, 2018.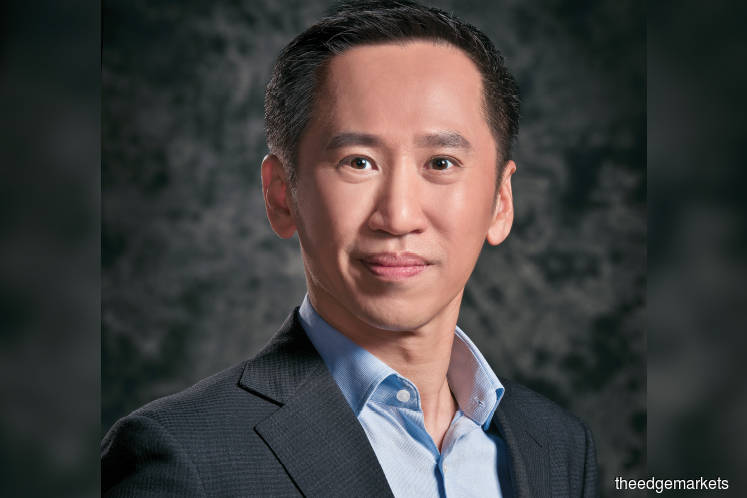 Thor Hong Chuan is one of the few Malaysians to have made his mark on China's venture capital scene. For more than a decade, the 48-year-old has played an instrumental role in the success of some of the largest Chinese companies such as Qihoo 360, the largest internet security company in the country which is listed on the Shanghai Stock Exchange, and Tuniu Corp, an online travel company that is listed on the New York Stock Exchange.  
Thor's investing acumen has been honed since he was young, when he learnt to fend for himself in order to achieve his goals. This taught him plenty about the power of perseverance. The son of a chicken farm owner, he was not born into a low-income family. But he still worked part-time while he was studying at Meiji University in Japan as he wanted to reduce his parents' financial burden because his elder sister was studying in Canada at the time.  
On weekends, Thor would work in a fast food restaurant or department store. He took on many jobs and performed menial tasks such as cleaning soy sauce bottles and bathtubs. "[In total,] I held more than 40 part-time jobs. Once, I ate only bread and eggs for two weeks to pay off my school fees," he says.
After he graduated, he became the first foreigner to be employed full-time by JAFCO Japan — the venture capital arm of Nomura Securities — in 1995. The firm wanted to send him to its Singapore office, but he insisted on staying put at the headquarters in Tokyo. He was the associate responsible for firm's investments in the high-technology sector. Later, he was sent to the US to assist the firm's team over there.
From 1995 to 1999, JAFCO was little known by venture capitalists and start-up founders in Silicon Valley. It was tough for the firm to build connections in investment circles and gain access to good deals. "We knocked on doors and people would spend 15 minutes with us before saying, 'Nice to meet you. Bye,'" says Thor.
However, the firm persevered and seized the opportunity to make itself known to the investing public when it invested in Ciena Corp, which today is a global supplier of telecommunications networking equipment.
Ciena was bleeding money when it was a start-up. While it had a good solution that could significantly reduce the cost of long-distance phone calls, it had failed to acquire any customers for a period of time. It was also losing
US$1 million to US$2 million every month, says Thor.
"Many investors gave up, but we came in to help them find customers. We leveraged our Asian background and eventually helped it to secure three customers. Two of them were Japanese companies —Teleway Corp (now known as KDDI) and Japan Telecom Co Ltd (now known as Softbank Telecom Corp). This helped Ciena generate millions in revenue and eventually, it became a successful deal for JAFCO," he adds.
Following the Ciena deal, JAFCO began to be recognised in Silicon Valley for its work and started to receive attractive deals as other venture capital firms would refer business to the company. This included the opportunity to fund and grow US-based chipmaker Nvidia Corp, says Thor.
"At that time, people came to recognise
JAFCO for its resourcefulness in the Asian market. At the time, chipmakers such as Nvidia wanted to find partners and vendors in Asia, where there were many strong PC brands back then, such as Toshiba and Acer. We invested in
Nvidia during its Series A funding round and exited later, earning a good return," he adds.
Staying focused
After leaving JAFCO, Thor joined Boston-based Highland Capital Partners, where he eventually became a partner. In 2005, he invested in Qihoo. At the time, it was an internet technology start-up and had made a loss of about US$8 million in its first year. Many of its investors were preparing to book losses on their investment in the company.
"Qihoo generated a couple of million dollars in revenue, but its losses were also massive. It became an unattractive deal for other investors. However, I looked into it and decided to invest in the company. I persuaded my partners in the US as they were extremely cautious," Thor tells Personal Wealth.
Shortly after, Qihoo became the first investment Highland Capital Partners made in China. It invested US$17.5 million in return for a 20% stake in the start-up.
Thor was confident about the company's prospects as he saw a gem in Qihoo founder Zhou Hongyi, who had made a name for himself in the industry when he started a company called 3721 Network Software Co in 1998. He had developed the 3721 Internet Assistant — a browser plugin that provides a keyword service in the Chinese language. According to media reports, the product was a market leader in its category. The company and the product were acquired seven years later by Yahoo! China for US$120 million. Zhou was chairman of Yahoo! China before leaving the company.
Despite investors' scepticism because of the millions in losses, Thor still believed in the potential of Zhou and his team. He was also impressed by Qihoo's other products. The key issue, he felt, was a lack of focus. With a large and talented IT team working under him, Zhou was developing too many products, none of which had gained much success.
"You will not succeed like this. A start-up should focus on just one thing. Then you improve and evolve your product every six months. They were doing the opposite. They formed about eight teams to develop eight products, all in one year," says Thor.
He discussed matters with Qihoo's team and proposed that they focus on the three products that offered the most significant value to customers. However, Zhou refused. "He said he couldn't do that. He told me: 'Come on, I have about 100 employees who fought together with me, working on these products. If you want to kill the products, what will happen to them?'"
So, Thor rolled up his sleeves and looked for buyers for Qihoo's products. He managed to do so and the people whom Zhou was trying to protect managed to keep their jobs, albeit working with a different company.
By 2008, Qihoo only had three products left under its belt. However, Thor still wanted the company to focus on only one product. After a discussion with the start-up's key personnel, they decided on the product that would offer the best value to internet users. "We decided to focus on the online ad blocker. And the theme going forward would be internet security," he says.
The ad blocker, which was offered free in China, caught on very quickly in the market as internet users were frustrated by pop-up ads that couldn't be shut off. Then, Zhou and his team leveraged their expertise and came out with the Qihoo browser to offer internet users a better ad-free online experience. Gradually, they started to monetise their products by selling search engine optimisation, like what Yahoo! and Google have done.
Then, Thor introduced Zhou to the founder of another start-up, who was head engineer of anti-virus software company Trend Micro Co Ltd in China. The companies eventually merged and gave birth to Qihoo's anti-virus product.
With Thor's guidance, the company grew by leaps and bounds and was listed on the New York Stock Exchange in 2011. Its initial public offering was underwritten by Citigroup Inc and UBS Investment Bank.
"The stock was trading at 90 US cents per share when I invested in 2011. That year, it had its IPO on the NYSE at US$14.50 per share. The stock was trading at US$120 apiece at its peak," says Thor.
Zhou, together with a group of Chinese investors, took the company private in 2016. According to him, he did so because the stock price did not reflect the company's real value at the time. The company was listed on the Shanghai Stock Exchange this year.
Thor has invested in a number of start-ups and exited several deals. They include online live streaming portal 6.cn, which he exited three years ago, online game streaming website ChuShou TV, internet security provider Beijing NetentSec and internet security entity 360 Enterprise Security Group.
During Thor's time at Highland Capital Partners, he helped the firm generate an internal rate of return (IRR) of 62% by investing in China from 2005 to 2015. In 2016, he was awarded the title of Top 100 Chinese Investors by investment service provider Zero2IPO Group.
Success factors
Thor attributes his successful investments to several factors. First is his ability to identify entrepreneurs who possess a tremendous fighting spirit and can think out of the box. He cites start-up founders such as Zhou and Liu Yan (the founder of 6.cn) as examples. They were pioneers in China's technology sector 10 years ago. While they may not have come from wealthy families or received formal education, they are creative individuals.
"They are out there to fight. When they lose, they go back to training and post a comeback later. You would never know where your weaknesses are and how to improve if you don't fight," says Thor.
Second, he builds strong relationships with the start-up founders he has invested in and works closely with them. For instance, Liu says Thor is one of the people he wants to meet up with before he dies.
While Thor does not want to dwell on these stories, some information can be found online. According to an article by China-based news portal SINA News, Thor invested in 6.cn after the 2008 global financial crisis forced Liu to lay off 190 employees and cut the salaries of the 60 remaining staff. He also played a key role when he helped the company sell its stake to a buyer in 2015.
"We went through many hardships together. I stuck by Liu and his start-up when he almost went bankrupt," says Thor.
He says this kind of relationship is also extended to other start-up founders he has invested in. "In my mind, a venture capitalist is not just a financier but also a business partner that goes through the ups and downs with the entrepreneurs. If you are just there for the money, the entrepreneurs won't respect you. Without trust, it will be hard to communicate genuinely and openly to solve problems together."
Thor recently picked up Muay Thai to keep him energised and focused in the fast pace of the start-up world. Many of his employees have also started training in Muay Thai or kickboxing. "In fact, we had a boxing performance to entertain our guests during our annual general meeting in June," he smiles.
Investing in ABCD5
Thor says his investment style is akin to being a "sniper". The aim is to hit hard and accurately with just a few shots at a time. During his tenure at Highland Capital Partners, his investment portfolio — which focused on Chinese start-ups — would not invest in more than 15 companies at any given time.
From 2005 to 2015, Thor successfully exited 60% of the deals. Of the total investee companies, 30% are still operating while about 10% have failed, he says.
"We are selective and prefer quality over quantity to increase our accuracy rate. This goes against the common perception that venture capitalists scatter their money across many start-ups just to get money over the short term," says Thor.
He is not resting on his laurels. In 2016, he quit his position as partner and founder of Highland Capital Partners China to start
AlphaX Partners — a venture capital firm that invests specifically in early-stage projects in the high-tech and internet sectors.
The firm's other co-founders include Yu Guangdong and Yao Yaping. Yu has 15 years of experience in the tech sector and was senior vice-president and product principal at Qihoo. Yao has a background in finance, having spent 11 years conducting cross-border mergers and acquisitions activities and financial consulting.
In May, AlphaX Partners saw the debut of its first dual-currency fund in China, which raised a total of US$314 million in US and Chinese currencies. The limited partners of the fund include a "government guidance fund" affiliated with China International Capital Corp, China-based financial technology firm CreditEast, Zero2IPO Group and Qihoo. There are also institutional investors from Europe and the US, according to the firm's announcement.
Thor says the firm has participated in the seed and Series A funding rounds of several start-ups in China and one in the US. The investment theme it is focusing on is called "ABCD5", which stands for artificial intelligence (AI), blockchain, cloud computing, big data and the 5G network. "We are investing in start-ups that are involved in a combination of these themes," he adds.
The firm has invested in an online security start-up that utilises AI and big data and another one that uses blockchain and cloud technology to provide users with a decentralised data storage service.
Thor is keeping an eye on the potential growth of the 5G network. The technology is known as the next generation of internet speed, which is expected to be 30 to 50 times faster than the 4G LTE.
UK-based global information provider IHS Markit estimates that the new technology will enable US$12.3 trillion worth of global economic output by 2035, giving rise to new products and services across various industries. The world's major economies, including the US and China, are reportedly in a race to implement the 5G network as it could give them a huge first-mover advantage in terms of technological advancements and economical benefits.
"The speed of the internet will be much faster than 4G and it could enable much wider use of new technology such as augmented reality and virtual reality. This could be a game changer that provides a new opportunity for start-ups and companies to disrupt the market," says Thor.
However, some of these technologies, such as blockchain, are still in their early stages and the firm is cautiously investing in them. "We do not put big money in start-ups that are involved in technologies such as blockchain. But we cannot afford to miss out either," he says.
Thor has been keeping an eye on tech start-ups in Malaysia but so far, none has caught his attention. That is because the local tech sector is not as advanced as those in the US and China. The market size is also much smaller.
"There have been successful examples in Malaysia such as AirAsia and Grab. While the Malaysian market size is small, the founders of these companies have a regional and global view. We do not want to miss out on such start-ups," he says.
Thor is currently a consultant for the 2018 Dream Factory Entrepreneur Contest, which is organised by Mystartr — one of the largest rewards-based crowdfunding platforms
locally — and supported by the Selangor Information Technology and E-commerce Council, which was established by the Selangor government to turn the state into a regional e-commerce trading hub and upgrade its start-up ecosystem.