This article first appeared in The Edge Malaysia Weekly, on February 19, 2018 - February 25, 2018.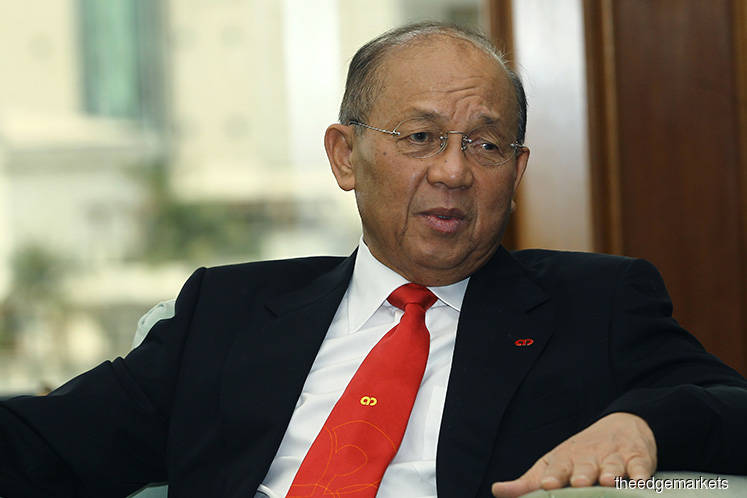 TAN Sri Azman Hashim is in no hurry to retire from the world of banking.
He gets, understandably, a tad annoyed at often being asked these days if he is actively looking for a buyer for his 12.97% stake in AMMB Holdings Bhd ahead of his impending retirement from the country's sixth largest banking group.
Recall that in January last year, AMMB announced that Azman, who turns 79 in July, would be retiring from six entities in the AMMB group in stages over a two-year period. He will retire as chairman of the key banking unit, AmBank (M) Bhd, and AmInvestment Bank Bhd by the end of this year.
Azman is, however, quick to point out that while he may be exiting these six entities, he will continue to be chairman of AMMB, the holding company.
"I'm not going anywhere. I'm still chairman of AMMB," he tells The Edge in an exclusive interview in Siem Reap, Cambodia, recently, where he attended an event organised by the Asian Institute of Chartered Bankers, of which he is chairman.
"I could be there [at AMMB] another 10 years if I survive. If I am chairman, I will still be holding my stake. If I have no stake, I won't stay," says the chartered accountant turned banker whose mind is as sharp as ever.
He concedes, however, that a stake sale is something he has to think about, albeit not immediately, given that none of his family members is in the banking business.
He states, for the record, that he is currently "not in serious talks" with any potential buyer for his stake. "No, not me. I'm not in serious talks or anything, but I don't know about ANZ."
ANZ, or Australia and New Zealand Banking Group, is AMMB's largest shareholder that is widely known to be exploring options to sell its 23.78% stake. Azman's 12.97% stake, held via his family vehicle Clear Goal Sdn Bhd, makes him the second largest shareholder in AMMB.
ANZ CEO Shayne Elliott said in November 2016 that the company was looking to sell its minority holdings in four Asian banks, including AMMB, over the next 12 to 18 months — which means by mid-2018, if that timeline still holds.
While Azman would prefer that AMMB steered clear of any mergers and acquisitions (M&A) while it built itself up over the next two to three years, ANZ may inevitably trigger such activity if it finds a suitable buyer for its sizeable stake.
"That's the only thing … I cannot stop them, [if that's] what they want to do," he remarks.
Azman has the right of first refusal on ANZ's stake but he reiterates that he has no plan to acquire that. ANZ's stake was valued at RM3.15 billion as at Feb 12 based on AMMB's closing price of RM4.39 on the stock market.
"I don't have the money for it, and I'm not allowed [by the regulator] to increase my shareholding. I'm not considered an institutional shareholder, so I can only hold up to 10%," he says, explaining Bank Negara Malaysia's shareholding rules for financial institutions.
"Anyway, it's okay. I'm 78. So I'm planning [the stake sale] slowly, not immediately. It will not be a pare-down — if I get out, I will get out completely, I think," he adds.
In June last year, there was an opportunity for both Azman and ANZ to sell their respective stakes as AMMB and RHB Bank Bhd entered into talks on a potential merger. However, the banks called off the planned merger after almost three months of talks, saying they were unable to reach an agreement on mutually acceptable terms and conditions.
Is a relook at RHB possible down the road? "You never know. I don't rule out anything, I have an open mind," Azman says.
However, he thinks it is too soon for AMMB to be considering M&A for now.
"Not so soon. I want to build it up in the next two or three years. We need to now really concentrate on building the bank. We brought in a lot of top management … almost all new, you know, and even the board members. [New] people that I don't know have been brought on board. So, I've got to make sure they can work together, gel among themselves and also with management," he says.
"Individually, they are all very strong professionals, very good people. If I can get them to work together, it'll be great. So, this is where we are now. We've got a nice platform to go forward and we should be, hopefully, improving."
Among the additions to AMMB's board in the last two years are Datuk Shireen Muhiudeen (founder of Corston-Smith Asset Management), Seow Yoo Lin (former managing partner of KPMG Malaysia) and Farina Farikhullah Khan (formerly of Petroliam Nasional Bhd). All three are independent directors.
Group CEO Datuk Sulaiman Mohd Tahir came on board in November 2015, and immediately got busy hiring top talent to help drive AMMB forward even as the old guard like Kok Tuck Cheong and Pushpa Rajadurai — leaders at the investment bank — left the group.
Entrepreneur at heart
Azman may be best known in Corporate Malaysia as a banker and property developer, but he is, by his own admission, an entrepreneur at heart.
"I'm an entrepreneur. My thing was building up the bank [from when I came in in 1982], from 200 staff to over 11,000, and from just an investment bank to a complete financial services group. That was my main role, actually," he says.
These days, he reckons that his entrepreneurial spirit may be better suited to things outside banking.
"Banks are big organisations … they require corporate thinking. I think individuals like me are probably more suited outside now. I can do my own thing, not be regulated too much," he says.
For that reason, once Azman eventually quits the banking industry, he says he will continue to keep his major shareholding in his other public-listed businesses — RCE Capital Bhd and Amcorp Properties Bhd.
"Banking, I don't want to stay there because I'm getting on. I think it's too big for me. So, if I sell my stake, I'm out. The others — I'm the majority shareholder, they're not 10% to 20%-type stakes. And the business there is unlike banking … it's not as strictly regulated. I'm in my entrepreneurial element there," he explains.
RCE Capital, in which Azman has a 60.68% stake via Cempaka Empayar Sdn Bhd, is in the general financing business. It provides financing to various cooperatives and foundations, which then lend to civil servants via personal loan schemes with direct salary deductions.
"It makes good profits, consistently," Azman remarks. RCE Capital recently reported a 13.8% year-on-year increase in net profit to RM65.66 million for the nine months ended Dec 31, 2017, on a 10% growth in revenue to RM182.66 million.
In Amcorp Properties, a property development and engineering company, Azman holds a 70.88% stake via Clear Goal.
Its net profit stood at RM102.65 million for the first nine months ended Dec 31, 2017, about 10 times higher than what it made in the same period a year ago, thanks to its joint-venture overseas projects. Revenue, however, fell 25% year on year to RM106.25 million because of lower sales contribution from its Malaysian properties like Kayangan Heights in Shah Alam.
As for AMMB, its net profit for the six months ended Sept 30, 2017, fell 2.3% year on year to RM659.74 million while revenue rose 1% to RM4.21 billion.
In 2016, AMMB embarked on a four-year strategic transformation plan, which, in a nutshell, is aimed at making it a top four bank by the financial year ending March 31, 2020, on several fronts, including market capitalisation, revenue growth and return on equity. It also aspires to be among the top four best employers.
Analysts say it is a good plan but the group is being watched for whether it can deliver.
Last month, it launched a mutual separation scheme for its employees in a bid to improve efficiency and get leaner, joining other local banks that had undertaken similar separation schemes in the last two years.  
Save by subscribing to us for your print and/or digital copy.
P/S: The Edge is also available on Apple's AppStore and Androids' Google Play.