This article first appeared in City & Country, The Edge Malaysia Weekly, on September 2, 2019 - September 08, 2019.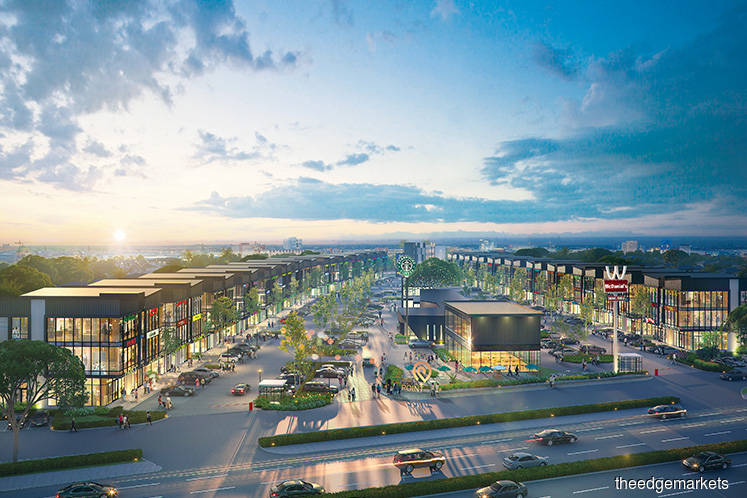 The 8.7-acre Iconic Point development will comprise semi-detached and detached shopoffices, drive-through units and a boutique hotel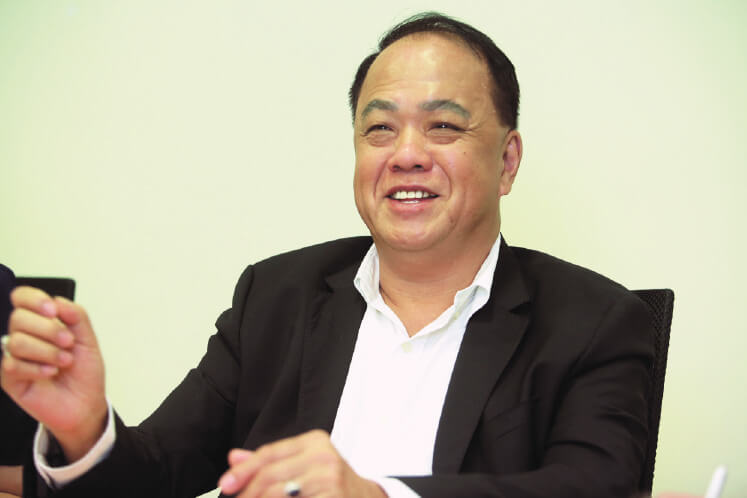 Eight years ago, the property market was doing really well and I felt that it was the right time to venture into the business and set up Iconic Group." — Tan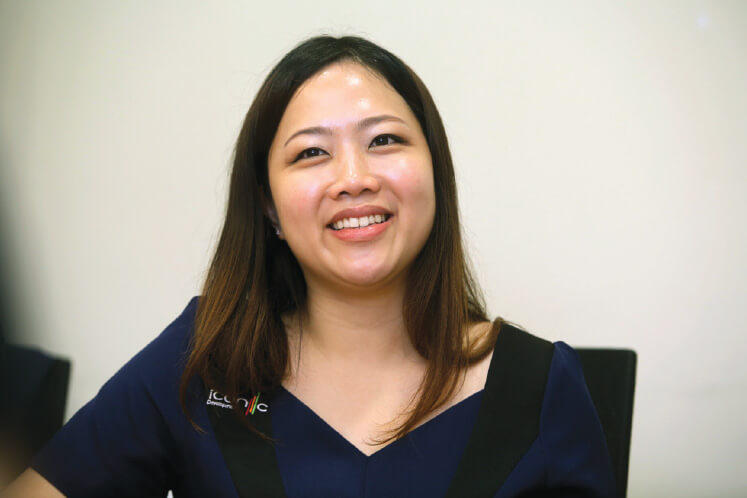 Today, Icon City is a vibrant place with many F&B options ... and our Iconic Hotel, which is popular among corporate guests." — Katherine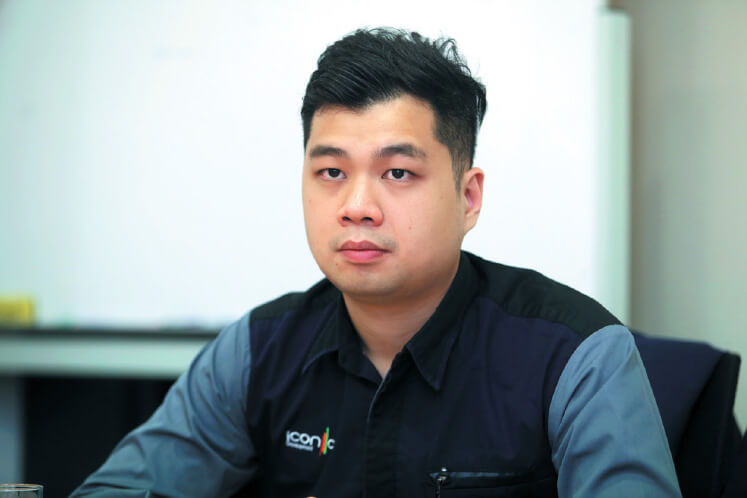 With lifts, the rental yield at Icon City, for example, is comparatively higher and the upper levels also enjoy good demand." — James
When aquaculture man Lucky Tan started purchasing land in Penang more than a decade ago, he deliberately chose parcels that he felt were viable for development. He later gave his 20-year-old aquafarming business to his brother, and set up property development company Iconic Group Sdn Bhd in 2011.
Today, the Penang-based company's maiden development — Icon City in Juru, Seberang Perai, which was completed in 2014 — is a bustling and vibrant commercial centre with a good mix of tenants such as restaurants, cafés and offices.
Still going by the name of Lucky in Penang — a propitious nickname he gave himself — Datuk Tan Kean Tet is now chairman of Iconic Group. City & Country sat down with him when he was in Kuala Lumpur with his daughter Katherine and son James — executive director and project director of the company respectively — to gain some insight into what inspired him to venture into property development, the group's ongoing projects and its plans going forward.
"Eight years ago, the property market was doing really well and I felt that it was the right time to venture into the business and set up Iconic Group," Tan speaks confidently in a mix of Mandarin and Penang Hokkien.
"Also, I have always wanted to build a business that can be sustained for a long time for my family to continue and saw an opportunity with this piece of land [on which Icon City is located]," he adds.
The freehold Icon City, with a gross development value (GDV) of RM161 million, comprises 68 three-storey semi-detached shopoffices and 3 four-storey detached shopoffices. Each unit comes with a private lift. The shopoffices had a starting price of RM2 million each and were recently transacted on the secondary market for RM4.1 million each.
All 71 units were sold within the first 20 minutes on launch day, says Tan. "There were over 200 potential buyers and each of them were allowed a maximum of two units. We did not allow interested buyers to book the units prior to the launch."
Apart from the unique design of the shopoffices, he attributes the success of Icon City to the gap in the market. "Previously, Seberang Perai had only one commercial centre, Auto City, which has banks, car showrooms and some F&B (food and beverage) outlets. I saw an opportunity for more commercial centres in the area.
"Today, Icon City is a vibrant place with many F&B options, ranging from Chinese to Japanese and Korean, and our Iconic Hotel, which is popular among corporate guests," interjects Katherine.
Operational since 2016, the four-star business hotel has an average occupancy rate of more than 80%, she says. "The hotel helps bring business to the tenants at Icon City while guests of the hotel can enjoy all the conveniences in the area."
Previously managed by the developer, Iconic Hotel is now run by tourism and property company Iconic Worldwide Bhd (formerly known as Sanbumi Holdings Bhd), in which Tan and James are direct and indirect shareholders with 21.724% and 3.723% equity interests respectively as at June 25.
Tan is the company's major shareholder and newly minted executive director.
"We bought [into] Sanbumi Holdings as we feel that its tourism and development business is complementary to Iconic Group," he says, adding that there are plans to turn around the loss-making company through the group's hotel management business as well as by injecting more projects into Sanbumi Holdings via joint ventures, starting with the upcoming Iconic Point commercial development.
Iconic Point at Simpang Ampat
With a GDV of RM139.5 million, Iconic Point is a 65:35 joint venture between Iconic Maison Sdn Bhd — formerly known as Sanbumi Sawmill Sdn Bhd and wholly owned by Iconic Worldwide — and Iconic Development Sdn Bhd, a wholly-owned subsidiary of Iconic Group. The development is slated to be soft-launched on Sept 7 at Iconic Sales Gallery in D'Piazza Mall in Penang.
Located in Simpang Ampat in Seberang Perai, the 8.7-acre Iconic Point will comprise 49 shopoffices, three detached commercial drive-through units and a stratified boutique hotel. The project has been dubbed Icon City version 2 and is set to emulate Icon City's success as well as be its newer and improved version.
"Iconic Point is quite near Icon City. We used to live in this area of Simpang Ampat and there isn't much choice if, say, you want to look for a coffee place at night," remarks Katherine.
Amenities within a 10km radius of Iconic Point include petrol stations, banks, a KTM station, GEMS International School, Batu Kawan Stadium,
Design Village outlet mall, Ikea and Icon City. The Sultan Abdul Halim Mu'adzam Shah Bridge (also known as the Second Penang Bridge) and the Penang Bridge are 11km and 15km from the development respectively.
The 25ft by 60ft, 3-storey semi-detached shopoffices will have built-ups of 4,350 sq ft each. There will also be a detached shopoffice with a built-up of 5,556 sq ft. Priced from RM2 million per unit, they will each have a private lift.
"This is a unique development as each property will be a corner unit, being a semidee. Such designs are ideal for SMEs (small and medium enterprises) and al fresco dining. Units on the ground floor will have high-volume ceiling," says Tan.
Like those in Icon City, the shopoffices in Iconic Point are expected to attract investors. "The ground floor units are usually rented out to F&B businesses while the upper levels are for offices and galleries," says James. He adds that the rent at Icon City ranges from RM12,000 to RM15,000 per unit.
"Typical 3 and 4-storey shoplots do not have lifts and their upper floors normally fetch much lower rent. With lifts, the rental yield at Icon City, for example, is comparatively higher and the upper levels also enjoy good demand," James continues.
As an improved version of its predecessor, Iconic Point will have basement parking. "As it is, Icon City is too crowded and people double or triple-park most of the time," he says. Iconic Point will offer 611 parking bays in total.
The three detached commercial drive-through units, which will occupy a total land area of around 70,000 sq ft, will be leased out. The developer is finalising agreements with an international coffee chain and a fast food chain for two of the units.
Meanwhile, there are plans to sell the 4-storey boutique hotel with 48 rooms. "We are also open to managing it ourselves as we have our own hotel team," says Katherine.
The shopoffices at Iconic Point have been attracting a lot of interest, including from owners of units at Icon City as well as those who had missed out on purchasing units at the commercial centre in Juru, reveals Tan.
Iconic Point will have a one-way street. "The development is thoughtfully designed to be easily accessible to car drivers, who will have to go pass every shop in the development once they enter and make a full circle before exiting," he points out.
"We don't sell our products at a premium because we want to give our customers room for their properties to appreciate in price," Tan emphasises, assuring that the quality of the units will still be maintained. "I don't sell properties with the kind of quality that I myself would not accept."
Building a good track record in Penang
Two of Iconic Group's ongoing projects are Iconic Regency in Sungai Nibong and Iconic Vue in Batu Ferringhi, both on Penang Island.
Iconic Regency is a RM255 million development with two components — a hotel (RM120 million) and serviced suites (RM135 million). The project is slated to be officially launched by year-end.
There will be 268 serviced suites priced from RM447,500 for a 500 sq ft unit to RM1.01 million for a 1,200 sq ft dual-key unit. The developer will retain the hotel component, which will come under its Iconic Hotel brand.
"Iconic Regency will be a low-density development with 10 units per floor, and have facilities on level 13 as well as on the rooftop on level 42. From the rooftop, you will be able to see both Penang bridges as well as the sea," says Katherine.
During the project's soft launch on Feb 23 and 24, the developer saw a booking rate of 70%. Construction began this year and the development is slated for completion in 2023.
"As you can see, we don't set prices at a premium. Our properties are priced at about RM600 psf while those in the Queensbay area, which is a short distance away, have a selling price of RM800 psf," says Katherine.
Iconic Regency is located 2km from Queensbay Mall, 5km from the Penang Bridge, 6km from the Second Penang Bridge and Penang International Airport, and 10km from Komtar and George Town. It is also 550m from the proposed Pesta and Sungai Nibong light rail transit stations.
"We are targeting to obtain a GBI (Green Building Index) gold certification [for the project upon its completion]," says Katherine.
As for Iconic Vue, the development of the RM80.6 million apartment project is in line with the Penang government's push for more affordable housing in the state. Located opposite Shangri-La's Rasa Sayang Resort & Spa and Golden Sands Resort, it will have 232 units. With selling prices ranging from RM300,000 to RM450,000 each, the units are fully sold. Launched in July 2016, it is targeted to be completed by end-September.
"Iconic Vue will be a low-density development with condominium facilities, which is quite rare for affordable housing. The units will also have views of the sea," says Katherine.
According to Tan, the group is able to develop affordable housing at this location because of the lower land cost since the parcel was acquired some time back. "We decided to pass on the cost savings to our customers, as is the case with our other developments."
One of the developer's completed projects is Iconic Skies, a RM258 million high-end, high-rise residence in Relau on Penang Island. With 299 condominiums and 14 sky villas — priced from RM500,000 for the condos to RM2 million for the villas — Iconic Skies is almost 90% sold, with the unsold units being bumiputera lots. Completed and handed over in August 2017, it has an occupancy rate of 70%.
Forward and beyond
While Iconic Group's land bank is mainly in Penang, both on the island and the mainland, the company is ready to venture out into areas such as Langkawi and Sabah.
"We have around 50 acres in Penang, about 10 parcels, but we have not decided what to do with them yet," says Tan.
In Langkawi, the developer has plans for two developments — a four to five-star resort on a five-acre parcel in Pasir Hitam and a serviced apartment on two acres in Kuah.
"We just acquired the parcels as we see potential for more resorts in Langkawi," says James.
In Sabah, the company is looking for land suitable for a hotel. "We are looking into these two areas in the [tourism and hospitality] sector as Langkawi is known to have the best hotel rates [in the country] and Sabah, for its [high] occupancy rates," he adds.
Meanwhile, Tan says the slower property market in the past three years have undoubtedly affected Iconic Group's business but not by much as its developments are competitively priced.
He is quite pleased with the company's progress and growth so far. It started out with no more than 10 employees and now has more than 100, including hotel staff.
"We have always aimed to offer good-quality products at competitive prices, as well as to fill the gap in the market," Tan says, adding that there are several companies, including developers in Kuala Lumpur and Sabah, which have approached him for joint-venture partnerships.
"Moving forward, I hope I can grow the company to be one of the top 10 property developers in the northern region in the next 5 to 10 years," he says with a smile.