This article first appeared in The Edge Malaysia Weekly, on December 9, 2019 - December 15, 2019.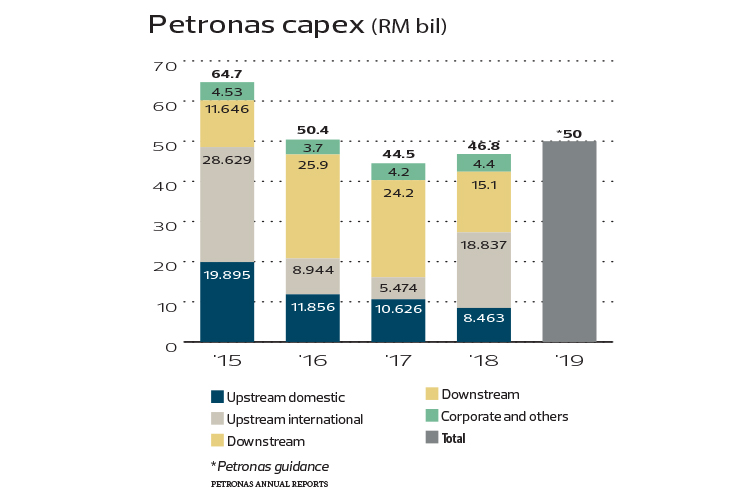 ON the 83rd floor of Tower 1 of the Petronas Twin Towers,  Tan Sri Wan Zulkiflee Wan Ariffin, president and CEO of Petroliam Nasional Bhd (Petronas), and some of his officers step into the room where The Edge team is waiting.
As always, he is punctual. He is his usual smiling, friendly self but becomes serious when he is talking about Petronas and what lies in store for the national oil corporation — Malaysia's only Fortune 500 Company.
Wan Zul, as he is popularly known, has helmed the company for more than 4½ years during very challenging times. In an interview with Azam Aris, Jose Barrock and Adam Aziz, he talks about navigating Petronas through the volatility facing the industry. Below is an excerpt from the interview.
The Edge: Petronas announced its 3Q results on Nov 26. Do you expect more of the same in the fourth quarter? Can you tell us the expected performance for the whole year?
Tan Sri Wan Zulkiflee Wan Ariffin: Last year, we planned for US$66 per barrel Brent [in 2019]. YTD, as we speak now, [the average] is round about US$63.90 ... We've got only one more month to go.
But for us, that is secondary. We must do what is within our control. That means our platforms must be producing well, our pipelines, plants and refineries must be running [efficiently]. We must get the best value for every molecule.
(Petronas' latest quarter ended Sept 30 [3QFY2019] was its weakest since mid-2017. Profit was down 48% year on year to RM7.42 billion from RM14.34 billion amid lower averaged realised prices despite lower costs and higher sales volume. Revenue fell 14% to RM55.11 billion from RM63.91 billion. For 9MFY2019, net profit fell 11% y-o-y to RM36.36 billion from RM40.99 billion, while revenue slipped 3% to RM176.23 billion from RM181.07 billion.)
What are the areas you are looking at next year?
We now have three main businesses [upstream, downstream and the gas and new energy business that was set up in April].
For 2020, we have got to work on the upstream portfolio that we have — the exploration blocks in Mexico, Brazil, Argentina and Khazzan in Oman. We've also got a lot of things happening in Malaysia, trying to sanction big and small projects.
LNG Canada is under the gas and new energy business. We are also growing the new energy portion. We have Amplus (Energy Solutions Pte Ltd) — our subsidiary with generation capacity in India and [which is] bidding for wind projects in Vietnam.
Downstream, it is to put RAPID (Refinery and Petrochemical Integrated Development project in Pengerang, Johor) into full commercial operation. And this is a big undertaking. At the same time, we are also looking at speciality chemicals. We just acquired Da Vinci Group BV. This is a speciality [chemicals company focusing] mainly on silicon — our first international acquisition in this area.
Anyway you look at it, we are still in line with our three-pronged strategy, which is to maximise cash, expand our core business and step out [into new areas]. Whatever we do, we fall back on this growth agenda.
What's the capex like for 2020?
One of our thrusts is that our capex stays in the range of RM50 billion a year. It is always about there, whether the oil price is low or high.
In fact, for our 2020 to 2024 plans and budget, our capex is estimated at RM255 billion over five years. So, it is still within that range.
We think that is a good way to plan our activities and our finances so that we can grow the business along our three-pronged strategy, and I believe that we must stay the course.
Will it be a bit more upstream heavy?
It has always been, in general, upstream heavy. When we were embarking on RAPID, a lot of it shifted to downstream. I wouldn't say that will be the normal trend. In our 1+4 year plan, it is about 50% upstream.
We went through your 2018 annual report and saw upstream contributed about 75% of your profit after tax, and it was up 42% from 2017. Was there any particular reason for that huge increase?
There have been certain quarters where prices went down and upstream went into the red. But because we have an integrated model (upstream, downstream and gas and new energy businesses), there is a kind of natural hedging. Other parts of our business really assisted during those [periods]. That is why we always believe in the integrated business model.
Maybe where you were looking at, you were comparing some of the periods where prices really went down, so that is why you see a big bump-up in the upstream contribution. Having said that, again, our upstream production has been on the increase. We produce about 2.3 million to 2.4 million barrels of oil equivalent per day (boepd).
You mention half of the capex is going into upstream. Is it going to be more local or otherwise, considering you have big upstream projects overseas?
In the past, we have been spending 70% in Malaysia and 30% overseas. But going forward, I think it is going to be 50:50 for a simple reason — resources are declining in Malaysia, and also we've got many projects ongoing overseas.
In this business, you have to follow oil and gas, where there's hydrocarbons. We have to follow geology for us to be sustainable.
(Petronas has indicated its local upstream capex at RM14 billion to RM15 billion in 2019, up from RM8.5 billion in 2018).
Most of your earnings are still from Malaysia?
Yes, most of the earnings are still from Malaysia, and that is why Malaysia will still remain our focus area.
Are you interested in Exxon's Terengganu upstream assets as Petronas is most familiar with those offshore production blocks?
You know, Exxon operates a very crucial gas hub for Peninsular Malaysia because it supplies to power plants. It has initiated this process. Our role is to make sure that whoever takes over will be competent, will have enough financial strength, and make sure that the supply will be a reliable supply.
In essence, that is Petronas....
No, no, not necessarily. I mean, whoever participates in the bid will have to get our approval. And our target is to make sure those companies that participate in the bid are reputable companies with a proven track record. Then the process will go on.
Having said that, we have the first right of refusal. It is also about the allocation of capex.
(It was reported in October that Exxon Mobil Corp is at the preliminary stages of putting its Malaysian upstream offshore assets up for sale for about US$2 billion to US$3 billion. According to its official website, Exxon Mobil operates four PSCs, producing one-fifth of Malaysia's oil production and half of gas supplies to Peninsular Malaysia.)
How do you see the challenges next year?
Volatility will still persist. In December, we have the OPEC (Organization of the Petroleum Exporting Countries) plus meeting. We have got to see what the outcome is. We have volunteered a 15,000 bpd cut [previously]. I think that level will stay.
What is your planning basis for next year? The Ministry of Finance (MoF) reduced its [oil price] estimate for Budget 2020 to US$62 per barrel.
For next year, we are in the high US$50s/bbl. We are very conservative [on the projection] because of this volatility. I just want to be sure that we manage our costs and sanction our projects based on a conservative plan. I hope I'm wrong [on the price] so that there will be an upside.
Is it safe to say that is how you estimate the price of oil? We know you said you don't have a crystal ball.
It is for our planning basis. We don't predict oil prices. That is too sophisticated for us.
NEW ENERGY, TECHNOLOGY AND PRODUCTS
What is your capex for the new energy business like?
For the next five years, it will be round about 5% to 7%. I'd like to explain the basis of that. When we do our scenario planning, in terms of the global energy mix, until 2040, all the data we had under all scenarios we ran, O&G still makes up more than 50%.
In this portion, gas' contribution will be growing higher. That is why we are investing in gas, LNG ... We've got lots of resources in Canada which fit into our scenario planning.
Renewables will build up; I think the maximum in one of our scenarios is only 18% of the global energy mix.
You remain bullish on gas?
Yes, we remain bullish on gas. It is, for a fact, the cleanest fossil fuel. The world will still rely on fossil fuel to drive the economies.
When we talk about renewables, there is always this problem of intermittency. One of the easier solutions to address intermittency is to couple it with gas, which is a clean fossil fuel. Renewables, essentially, is still a low-carbon solution.
Sometimes, [gas] buyers have their way; sometimes, the sellers. We have been in the business for so long, we have seen the cycles many, many times. But in the long term, it is still the right investment for the organisation.
Is Petronas investing in battery technology?
Direct investment, no. But we have created a venture capital (VC) company (Petronas Corporate Venture Capital). We have pledged US$350 million over 10 years. Out of that, US$250 million is for the US and Europe and US$100 million for this region.
This corporate VC in San Francisco is a small outfit that looks out for us for the relevant technologies that would be applicable to Petronas. Also, in Malaysia, there is a small company that today is helping Malaysian startups to scale up.
But we confine this scope of venture capital to what we call the Future of Facilities, the Future of Energy and the Future of Chemicals. There are areas that they should scan and maybe bring the technology that we can use back to the mother ship. So, batteries would be one of them.
Why don't you allocate a larger portion of the fund for the domestic market?
I don't think there is a need because firstly, in Malaysia, the ecosystem is not there. We are trying to build the ecosystem in Malaysia in our small way. We are identifying startups here, engaging with more or less 500 startups in the US, bring them here to conduct programmes on how Malaysian startups can grow and connect them with people in the US.
You need to have the right ecosystem where startups can mushroom. As for the amount that we put in the US, we are more keen to win technologies that we can use. In five years, we may tweak [the allocation], depending on how it goes.
Can you share more about the venture into speciality chemicals and how that is progressing?
We have completed that transaction (€163 million (RM753.14 million) acquisition of Da Vinci Group BV). So now, it is a 100%-owned subsidiary of Petronas. This company's main business is in silicon. Silicon, we can do many things with this ... we can make plastics, and for us, it is also an additive to the lubricants.
This is the first step to knowing the market, the technology, and very importantly, the customers. The next step [is] we will look at other potential acquisition candidates for us to have a better footprint in speciality chemicals.
SHALE OIL AND GAS
Can you comment on the development of shale oil? You can see that most of the majors are now acquiring a lot of shale assets. Will it continue to have an impact on oil prices?
Shale oil will be an increasingly growing contributor to the [market]. And that is why I think Opec Plus will have to consider very well how to play their roles because you know, the US, with its shale oil assets, is a big determinant of prices.
Oil majors are coming in, taking over many of the smaller independents. What this does is, it brings a lot of financial strength to the industry. A lot of the big companies with strong balance sheets come into the industry and they will be able to mitigate any volatility.
This will provide long-term sustainability and better investment in research and technology that can bring the cost of production lower. Of course, it won't be good for everybody. If I am in a company looking at shale oil, that will be some of my considerations.
A lot of the independent players have pulled out because the low-hanging fruits have already been taken.
Partly so. And also because many years ago, investors put in a lot of funds, but typically, investors also would want quick returns, which they have not seen.
So, the smaller players have been essentially wiped out?
Not all, but a good number are moving away from that space.
So what about your shale plan?
We are strong advocates for gas (including shale gas). We've got, in Canada alone, 52 trillion cu ft (tcf) of resources, which is second largest to the ones we have in Malaysia.
Today, we are producing about half-a-billion standard cu ft (scf) in Canada to the domestic market. We are building LNG Canada together with other partners (including Shell). We have a 25% stake. When that comes on, we will be producing 1.2 billion scf of gas from our upstream acreages.
We are not stopping there. We are looking for more monetisation options, including more LNG, and maybe some other C1 (syngas-based) petrochemicals, and also to sell more in the domestic (North American) market. Of course this is not an overnight thing; it is a long-term plan that we have in Canada.
You are also into shale oil.
The only place where we are into shale oil is Argentina. We are not the operator, we are in partnership with YPF. They are the operator. We have to monitor and learn about shale oil.
Do you see more investments in shale?
I think for many companies, there are more opportunities than capital. I gave upstream maybe 50% of our capex this year. They may, and they should have more opportunities, but they've got to rank them, and only the highest-ranking opportunities can be pursued.
But many of these places, it is not only the geology, it is also the above-ground risks that you've got to contend with and whether you want to put money into some of these countries.
APPROACHING FIVE YEARS AS PRESIDENT AND GROUP CEO
Next year will mark your fifth one as Petronas president and group CEO. How has the journey been so far? Rocky? Bumpy?
All of the above (laughs).
During that period, what were your biggest challenges in managing Petronas?
I believe that business plans we can change, but we must have a good pool of talent. You cannot run the organisation with a few persons; you need many, many people to run this organisation.
The important thing is for us to have a strong talent pool — from the operators who are competent to the top leadership. Everybody must be competent in their work, and we invest a lot to ensure they are competent.
We also have a performance management system. We do take consequence management on people who don't perform. Those kinds of things ensure the sustainability of the organisation.
The second one that I pay a lot of attention to is the culture. But what is a good culture? We have also invested to define our cultural beliefs, and what are the tools [to uphold them].
Everybody can give me feedback. We run a very transparent culture, and that is the second piece to ensuring the sustainability of the organisation.
The third piece that we spend a lot of time on is governance. It is very challenging, very challenging. But this is an area where it is also very important for any organisation to be sustainable. You spoke about governance before we started the interview. We've got to rely on a good governance system so that people are protected, people can do what they are supposed to do regardless of the circumstances, regardless of the context.
These are the few things I think are so important to Petronas.
We need to ask something a bit uncomfortable, about [former upstream CEO] Datuk Anuar Taib.
He decided to leave the organisation. As you know, we've got a very strong succession plan, a strong pipeline of leadership talents. I don't think it affects the organisation's business in any way.
Today, Adif [Zulkifli] is leading the E&P [business]. Adnan [Zainal Abidin] is heading gas and new energy, and Datuk [Md] Arif [Mahmood] is heading the downstream business.
How is your relationship with the chairman [Datuk Ahmad Nizam Salleh]?
Very professional.
Where do you see Petronas five years down the road?
Well, we will be a progressive energy and solutions partner, enriching lives for a sustainable future.