This article first appeared in The Edge Malaysia Weekly, on March 16, 2020 - March 22, 2020.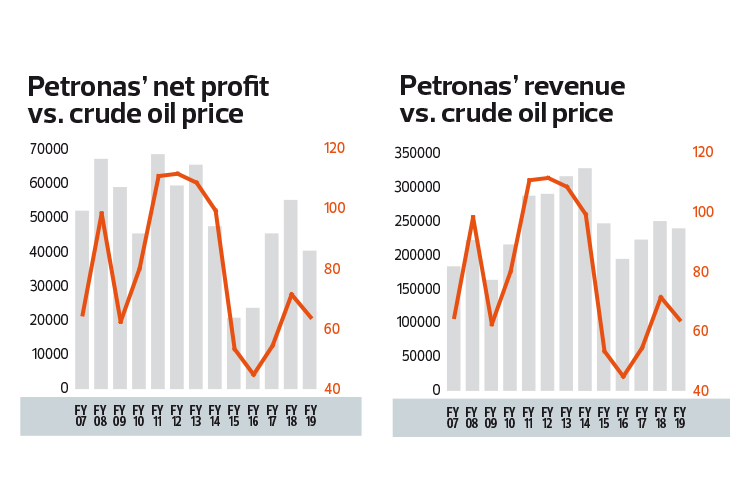 LAST month, Petroliam Nasional Bhd turned bearish on the outlook for its financial year ending Dec 31, 2020 (FY2020), due to the impact of the Covid-19 outbreak on market demand.
The unexpected war between oil producers Russia and Saudi Arabia, which portends an oversupply and slashed prices to under US$40/bbl this month, is yet another black swan event that will further pressure the major players in the sector. How bad will it be for the national oil company?
Petronas' portfolio
Petronas' core business is the production, refining and distribution of oil and gas, as well as producing refined products such as petrol, lubricants and petrochemicals. This means the price of crude oil and natural gas, as well as the selling price of its refined products have a huge impact on the company's earnings.
In its upstream division, the higher the price of crude oil and gas, the better the profit and vice versa.
In its downstream division, profit depends on the spread between the cost of the commodities and the selling price of the end products.
So when oil prices drop, the spread widens and downstream margins improve, although the selling price eventually tracks the movement of crude hydrocarbon.
Apart from affecting its operational profitability, the benchmark prices also impact the carrying value of Petronas' assets, which is reflected in its profit and loss statement as well.
How Petronas fared in the last downturn
In FY2015, when the dated Brent full-year average fell US$46.53 year on year to US$52.46/bbl, Petronas' profit after tax, excluding identified items, fell 42% to RM39.8 billion.
This came as upstream contribution plunged to RM19.6 billion from RM53.7 billion while downstream contribution jumped to RM9.3 billion from RM5.8 billion.
The group also recorded a RM19 billion net impairment on its assets that year. Cash flow from operations (CFFO) fell 33% year on year to RM69.6 billion.
In FY2016, dated Brent average fell US$8.77 to US$43.69/bbl but Petronas' FY2016 profit after tax, excluding identified items, rose 2% to RM40.1 billion, thanks to cost optimisation, higher production and value-focused activities.
Still, it booked another write-off constituting the bulk of its RM16.6 billion identified items in the period while CFFO fell further to RM53.8 billion.
In FY2019, when Brent average fell US$6.73/bbl year on year to US$64.31/bbl and average benchmark Henry Hub natural gas prices were lower by US$0.60/mmbtu, Petronas' profit after tax excluding identified items fell 6% year on year to RM47.8 billion. The group booked a net impairment of RM7.15 billion that year.
Despite the lower profit, its CFFO actually improved to RM90.8 billion from RM86.3 billion previously.
Bleak outlook but 2020 plan intact ... for now.
Year to date, the benchmark crude price has averaged US$56/bbl, down US$8 from US$64/bbl last year.
Furthermore, natural gas prices, which are correlated to oil prices, are at a multi-year low with Henry Hub natural gas futures below US$2/mmbtu. The demand headwinds mean prices may not move up anytime soon.
In an article last week, S&P Global Platts noted that low oil prices make oil-linked liquefied natural gas (LNG) cargoes cheaper by up to 30%, narrowing the gap between spot LNG prices and long-term LNG contracts.
"Roughly 70% to 75% of the LNG market is still under long-term contracts, and exporters like Australia, Qatar and Malaysia, which have a high dependence on oil-linked contracts, will see their revenue impacted by lower oil prices," it said.
In what appears to be a hard lesson learnt from the previous downturn, Petronas aims to increase the production of its Malaysian assets by 5% year on year in 2020 to offset lower prices with higher volume.
To offset the impact of low oil prices, Petronas has been actively expanding its downstream portfolio, as well as its gas portfolio and renewable energy footprint, to brace for the low-carbon world of the future.
Of its FY2019 profit after tax, RM22.27 billion or 55% was contributed by the upstream division, followed by the newly categorised gas and new energy (RM9.72 billion or 24%) and downstream (RM5.27 billion or 13%) divisions.
However, while this provided some diversification from crude oil, the cushion is limited due to the Covid-19 demand shock, says a senior analyst covering the oil sector. "Unlike previously, when manufacturing activity increased on low oil prices, this time around, there is also [the] risk of lower volume for petrochemicals, so the downstream's upside risk is also limited."
As for its LNG business, one long-term contract for a volume of 3.03 metric tons per annum — 10% of the LNG sold by Petronas last year on an annualised basis — was reportedly declared force majeure by a China-based client last month.
For the Petronas group, around 6% of its RM240.3 billion revenue comes from China. It will need to compete with other players that are also impacted by slower demand to offload its products in other markets. If the market remains suppressed, its credit rating could also be affected.
The bright spot is that crude benchmark is still within the "high 50s" range set by Petronas for its FY2020 planning basis.
Industry watchers point out that it typically takes around six months of prolonged low prices for oil majors to seriously look at recalibrating their budgets.
In a statement last week, Petronas said it is closely monitoring the Covid-19 outbreak and the oil price war and is reassessing its plans and budget. "However, we currently intend to maintain our domestic capex programme as well as the planned dividend of RM24 billion to be paid in 2020.
"We will continue to be cognisant of external factors that determine oil prices and will remain focused on elements that are within our control, including driving further efficiencies and cost-optimisation efforts across the group," it added.