This article first appeared in The Edge Malaysia Weekly, on January 14, 2019 - January 20, 2019.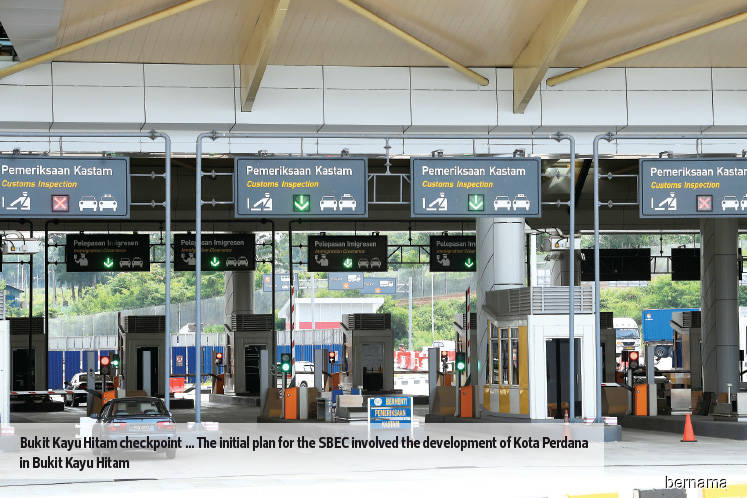 WHEN the late Tan Sri Sanusi Junid was Kedah menteri besar from 1996 to 1999, a large piece of land, measuring thousand hectares, was sold to businessman Tan Sri Syed Mokhtar Albukhary at a very cheap price, a source familiar with the deal tells The Edge.
"The joke then was that land in Kedah on a per sq ft basis was cheaper than roti canai," says the source.
Thirty years later, the Ministry of Finance's Aset Tanah Nasional Bhd, via its unit Sentuhan Budiman Sdn Bhd (see chart) and wholly-owned MKD Kencana Sdn Bhd — a company with a paid-up capital of RM2 — has acquired Syed Mokhtar's Northern Gateway Sdn Bhd for an unknown amount.
The key question is, was the land the tycoon bought part of Northern Gateway? While details are scarce, many individuals think it is.
To recap, Northern Gateway is the vehicle that will be involved in the development of the Special Border Economic Zone (SBEC) in Kedah.
It is worth noting that MKD Kencana has issued five tranches of debt papers — Islamic medium term notes — worth RM3.5 billion in total, with profit rates ranging from 4.23% to 4.85%, and expiring between February 2023 and October 2032.
According to the bond documents, the amount raised was to finance the development of the SBEC in Kedah, among others, and to finance investments and capital requirements for proposed developments in Sedenak, Johor. What developments are planned for Sedenak are not known.
Plans for the SBEC were first mooted by Tun Mahathir Mohamad in 2001, involved the development of Kota Perdana — which would involve cross-border cooperation between Malaysia and Thailand — at Bukit Kayu Hitam.
The initial plan was for a RM3 billion project that would span 3,515ha and was to be completed in 2010, with projections of an estimated RM20 billion worth of investments and over 20,000 jobs.
For some reason, the SBEC did not take off, but the plans were revived in Budget 2018 under the previous Barisan Nasional administration and maintained by the Pakatan Harapan government after it won federal power in May — perhaps on an even larger scale.
Deputy Finance Minister Datuk Amiruddin Hamzah, elaborating on the project, had said it would be carried out on a 4,400-acre site by Northern Gateway over seven phases.
Under Northern Gateway, there are four other companies — Northern Gateway Free Zone Sdn Bhd, Northern Gateway Commercial Sdn Bhd, Northern Gateway Development Sdn Bhd and Northern Gateway Logistic Center Sdn Bhd.
Northern Gateway has always been associated with Syed Mokhtar.
According to news reports, it was at one time controlled by Benua Bayu Sdn Bhd, a company linked to Syed Mokhtar.
A search with the Companies Commission of Malaysia indicates that Northern Gateway's address until September 2017 was 110, Jalan Maarof, Bangsar Baru — an address used by many of Syed Mokhtar's companies.
Northern Gateway Infrastructure Sdn Bhd, a wholly-owned unit of DRB-Hicom Bhd, has held the concession for the immigration, customs, quarantine and security complex in Bukit Kayu Hitam, Kedah, since November 2017. Syed Mokhtar has a 55.92% stake in DRB-Hicom.
In April 2012, Syed Mokhtar's Tradewinds group swapped Malay reserve land in Langkawi with non-Malay reserve land on the mainland at a conversion rate of RM5 psf. Reports had it that Tradewinds swapped 43.6 acres or 17.4ha of Malay reserve land in Langkawi, held under its units THR Hotel (Langkawi) Sdn Bhd and Benua Mahsuri Sdn Bhd, with non-Malay reserve land owned by Northern Gateway, and had an option to convert the status of another 119 acres in Langkawi with land in Kubang Pasu measuring 126 acres. In total, the exercise cost RM37.4 million.
It was reported to be a related-party transaction back then as Tradewinds' subsidiaries, THR Hotel (Langkawi) and Benua Mahsuri, entered into agreements to exchange its land status with Northern Gateway Free Zone, a wholly owned unit of Northern Gateway, also linked to Syed Mokhtar.
In December 2011, DRB Hicom exchanged its Malay reserve land in Pulau Rebak Besar, Langkawi, with Northern Gateway Free Zone's land in Sungai Laka, Kubang Pasu, for RM76 million cash, at a conversion rate of RM5.23, in another related-party transaction.
The swapping of Malay reserve land to non-Malay reserve land enabled DRB-Hicom and Tradewinds to enhance the value of their land in Langkawi — land with Malay reserve status carries less development potential.
Nevertheless, the size of the land that Tradewinds and DRB Hicom changed from Malay reserve to non-Malay reserve is small compared with the thousands of hectares required for the SBEC.
MKD Kencana was incorporated fairly recently in mid-March 2017, and judging by the appointment of Ministry of Finance directors, the government took over the company in November 2017.
"It was sometime before the general election last May that the government [via MKD Kencana]acquired it [Northern Gateway]," says a source who knows about the land.
When Syed Mokhtar sold the land and what the price was is not known.
"I can't remember the details but I know he made a killing," the source adds.
Save by subscribing to us for your print and/or digital copy.
P/S: The Edge is also available on Apple's AppStore and Androids' Google Play.