This article first appeared in City & Country, The Edge Malaysia Weekly, on May 27, 2019 - June 02, 2019.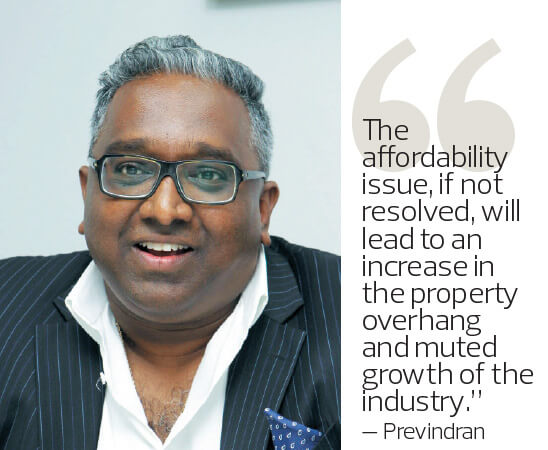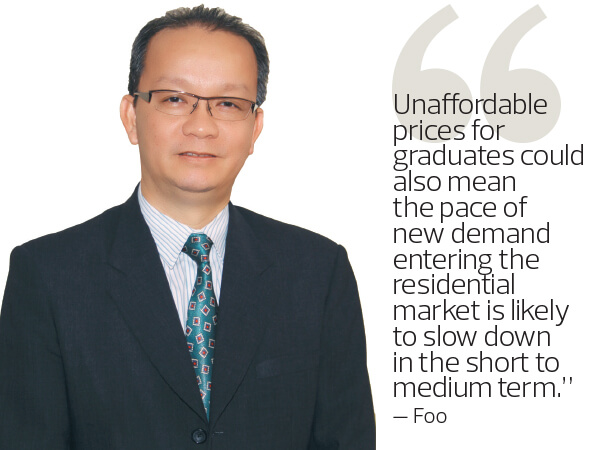 Click / Tap image to enlarge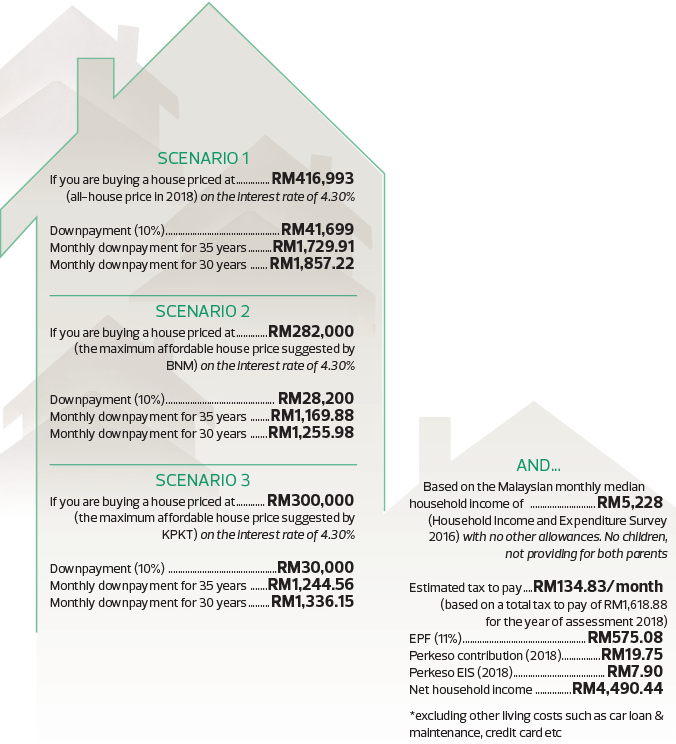 Click / Tap image to enlarge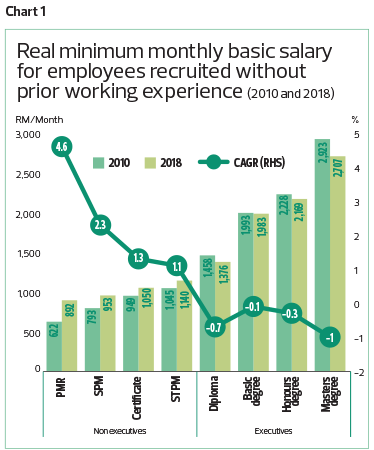 Click / Tap image to enlarge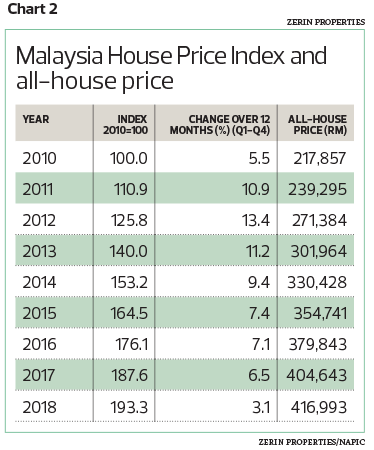 Click / Tap image to enlarge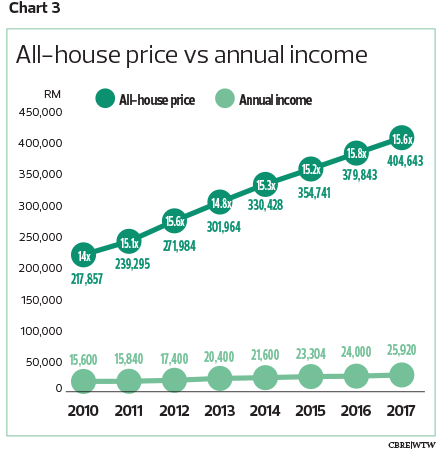 The problems of housing affordability and the property overhang are two of the most widely-discussed issues in the industry these days. Even as the residential property overhang continues to rise, Malaysians are reportedly finding it difficult to buy homes, with most putting the blame on high prices.
Many observers say property prices have grown much faster than household income over the years, leading to a widening mismatch.
Housing affordability has deteriorated across all states, Khazanah Research Institute (KRI) says in its report "Rethinking housing: Between state, market and society". Launched last month, the report states that from 2012 to 2014, the median house price increased at a compound annual growth rate (CAGR) of 23.5%, from RM175,000 to RM280,000, while the median household income grew significantly slower at a CAGR of 11.7%.
A salary survey by the Malaysian Employers Federation suggests that nominal starting salaries for graduates remain at modest levels, Bank Negara Malaysia says in its 2018 annual report.
"In fact, after adjusting for inflation, real starting monthly salaries for most fresh graduates have declined since 2010. A fresh graduate with a diploma earned a real salary of only RM1,376 in 2018 (2010: RM1,458) while a Master's degree holder earned a real salary of RM2,707, a significant decline from RM2,923 in 2010," the report states (see Chart 1).
The salaries of fresh graduates with tertiary qualifications dropped marginally by 0.1% to 1%. However, the salaries of lower-skilled workers who do not have tertiary education have been boosted in recent years by the implementation of the minimum wage. The real starting salaries of employees with PMR and SPM qualifications have risen by 4.6% and 2.3%, respectively.
CBRE|WTW Sdn Bhd managing director Foo Gee Jen says the CAGR of house prices of Malaysia is estimated to be 8.4% from 2010 to 2018.
"The divergence infers a weakening purchasing power of graduates in housing … Negative growth in salary certainly reflects the weakened purchasing power of graduates, and big-ticket items like residential property would be further out of their reach.
"As residential is the main segment of Malaysia's property market, with the bulk of the demand coming from locals, the property market will probably be among the first to feel the impact as purchasing power weakens. Unaffordable prices for graduates could also mean the pace of new demand entering the residential market is likely to slow down in the short to medium term."
However, in his investment column "Tong's Value Investing Portfolio" published in The Edge on May 13, The Edge Media Group chairman Datuk Tong Kooi Ong commented that Malaysians are "lowly paid" but the majority are not "underpaid".
Using a formula to tabulate the actual financial performance of companies listed on Bursa Malaysia (excluding financials and real estate investment trusts, plantation as well as oil and gas stocks), he notes that it is not about companies not paying their workers enough.
"The truth of the matter is that many businesses simply cannot afford to pay more — given that capital is also not getting sufficient returns. Returns, in fact, have been falling for some years now."
House Price Index
The National Property Information Centre (Napic) publishes the House Price Index (HPI), by property type and state, quarterly and yearly. The index captures the transaction prices of a basket of houses and tracks the changes over time.
Founder and CEO of Zerin Properties Previndran Singhe notes that the HPI is transaction-based, and measures the change in prices paid for an "average" house.
"The change in price is estimated by pricing a basket of house characteristics of the average house transacted in the current period and comparing it with the price of the same basket of house characteristics in the base year. Fundamentally, it is a ratio that shows how much the cost of housing has changed between two periods (the base and the current periods) if house buyers maintain their standard of living in the latter period," he says.
Napic data show that the HPI in 2018 stood at 193.3 points, up 3.1 points from the year before. The all-house price was RM416,993 in 2018, compared with RM217,857. (See Scenario 1 & Chart 2)
This translates into a whopping 91.4% jump in property prices in eight years, compared with the marginal drop in the actual starting monthly salaries for most fresh graduates during the same period.
Affordability and overhang
Foo thinks the negative growth in real salary for graduates is one of the reasons for the country's low annual income. Department of Statistics Malaysia data on median-income individuals show that annual income and house price both increased from 2010 to 2017, but there was a massive gap between the two. (See Chart 3)
He thinks the gap will possibly widen further.
"As at 2017, a house would cost 15.6 times a Malaysian's annual income, compared with 14 times back in 2010. The graph shows that historically, the base of the house price remains much higher than the base annual income that makes houses unaffordable," he explains.
"Looking at the longer term, a low salary and negative growth in real salary for graduates essentially lowers the base of annual income. Such a phenomenon is not going to correct the prevailing price-income mismatch."
Previndran notes that housing affordability has been an ongoing issue as salary growth is not catching up with rising property prices and living cost. He cites a 2015 KRI report, "Making Housing Affordable", which reveals that the house price has risen more than the mean household incomes since 2012.
"Also, based on the data from the Household Income and Expenditure Survey 2016, the actual median house price of RM313,000 was considered unaffordable compared with the estimated maximum price of an affordable home of about RM282,000 (See Scenario 2), given that the Malaysian monthly median household income was at RM5,228," he says.
"With the number of property overhang units in Malaysia, developers are definitely building houses but they are not building the right kind that most working adults can afford. The affordability issue, if not resolved, will lead to an increase in the property overhang and muted growth of the industry. It will result in negative sentiment in the market and adversely affect the country's economy."
Recently, Housing and Local Government Minister Zuraida Kamaruddin was quoted as saying that the price of affordable housing should be kept below RM300,000, but the prices would vary according to location. (See Scenario 3)
Napic, in its 2018 Property Market Report unveiled last month, notes that the country's residential property overhang climbed 30.6% by volume to 32,313 units in 2018, compared with 24,738 units in 2017. This was despite a drop in the number of units launched to 66,040 compared with 77,570 in 2017.
In terms of value, the residential property overhang jumped 27% to RM19.86 billion. High-rise residential units made up the bulk — 43.4% — of the total overhang units.
Foo believes unattractive starting salaries could deter graduates from becoming wage-earners and turn instead to self-employment or entrepreneurship. The evolution of working culture and technological advancement that enables flexible work arrangements could be complementary factors, he adds.
He says early-career graduates may look for additional employment opportunities, such as part time and freelancing work, to sustain themselves financially. Also, they may be more driven to undertake investments to amplify their income returns.
"Low salaries coupled with the rising cost of living make savings a challenge for graduates. Most of the income received would have to be channelled to consumption instead of savings. Economic theory suggests that higher consumption would lead to higher household debt, while low propensity to save usually results in slower capital formation within the economy," Foo explains.
Bank Negara emphasised the necessity to create high-skilled, higher-paying jobs in its annual report.
Foo says that employers as well as employees should be ready for vocational education and training courses for skill improvements.
While there is a need to take another look at the foreign labour policy and revise some labour laws, he says clear and consistent industrial policies by the government are vital.
"On the structural aspect, it is important to have continuous and concerted efforts to deliver the strategic plans in reshaping Malaysia's economy into the coveted high-income nation. Productivity has to be enhanced; value-add must be realised through higher knowledge and skill orientation; and factor inputs must be diversified and reduce reliance on manual labour inputs. All these could be part and parcel of matching the graduates' skill sets and expectations," Foo adds.
Previndran's view is that starting salaries definitely have to increase but it is imperative to acknowledge this is also a macro function of the strength of the ringgit. On efforts to facilitate home ownership, he suggests that banks consider giving out housing loans at lower interest rates to address the affordability issue.
"Bank Negara's RM1 billion fund for property at a 3.5% interest rate should be extended to properties below RM500,000 for qualified house buyers. At present, it is limited to properties up to RM150,000.
"The industry should also push for the build-then-sell concept to give time for the market to absorb overhang units and to reduce the mismatch between supply and demand. It should also promote rent-to-own schemes and encourage more affordable developers to offer the scheme," he says.
Owing a home one day is a common aspiration of Malaysians. While income growth may be a key factor, many are hoping that more can be done to help them achieve this dream.