This article first appeared in City & Country, The Edge Malaysia Weekly, on May 3, 2021 - May 09, 2021.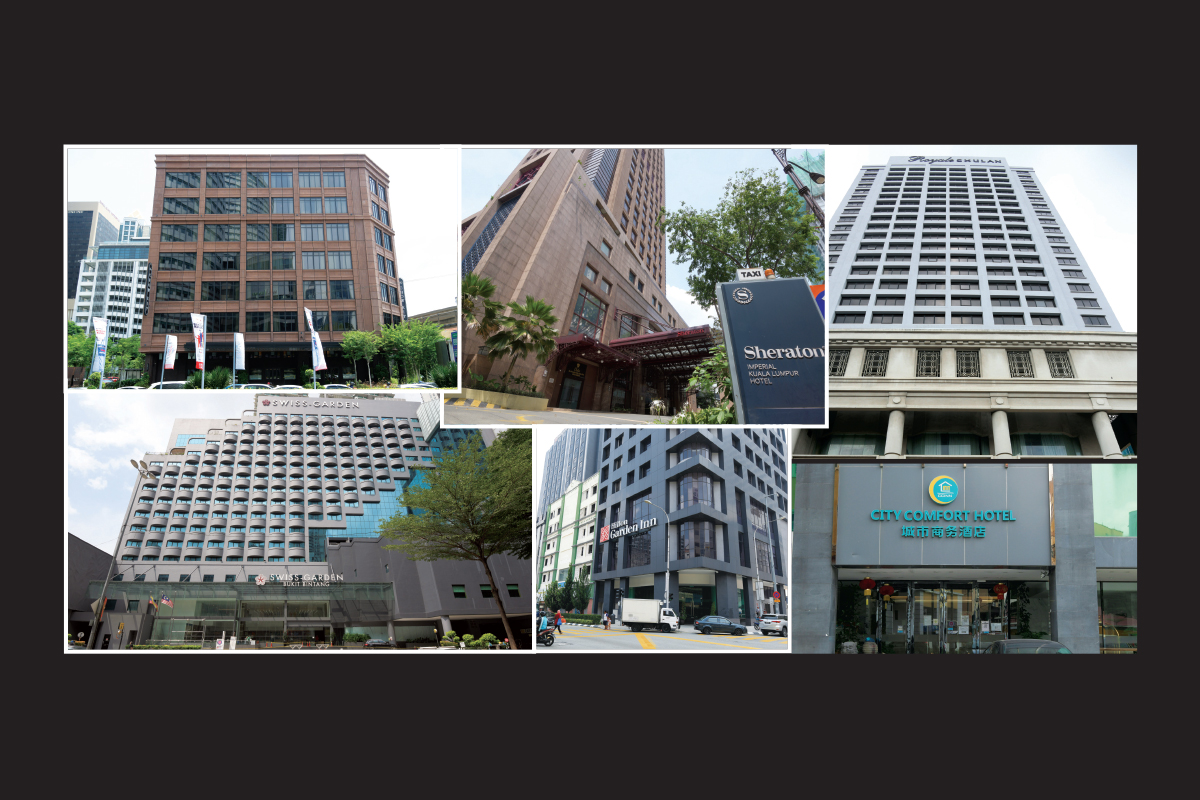 The hospitality industry has been hit hard by the Covid-19 pandemic and tourist arrivals have slowed to a trickle. The pandemic has also had an impact on hotel transactions. But interest in Malaysian hotels has been growing, with property experts expecting a recovery in the number of transactions in the near future.
"We conducted a survey in late 2020 on investment intentions in the Malaysian hospitality sector and got feedback from hotel owners and operators," says Knight Frank executive director of capital markets James Buckley.
"Malaysia is ranked as one of the top three investment destinations within Southeast Asia, after Thailand and Singapore. Interestingly, our survey indicated that 36% of respondents want to acquire hotels within the next six months to three years, with 8% within the next six to 12 months," he says.
Buckley adds that buyer preference is for city centre hotels rather than resorts. "They are considered to be more profitable as the main client segment comprises business travellers, who tend to stay during the week, and that helps the hotel achieve higher occupancy on weekdays, when the leisure segment is absent, making it less reliant on the holiday seasons."
CBRE|WTW group managing director Foo Gee Jen says, "Malaysia's hotel market has managed to pique the interest of foreign buyers in recent years and there will be good hotel investment opportunities even in the current conditions. As such, the Klang Valley is expected to be an attractive hotel investment destination.
"The type of hotels available in the market is unlikely to vary in the foreseeable future — upscale or luxury hotels for business travellers and midscale or boutique hotels within the shopping belts that have a good track record will be preferred."
While there is interest in the purchase of hotels, Zerin Properties managing director and CEO Previndran Singhe believes it will take some time before transaction activity improves.
"The trend of hotel transactions in Malaysia seems to have strengthened and 2020 was a relatively active year, considering the market conditions during a pandemic. But it is going to take some time for transactions to recover to the pre-pandemic level. 
"The improvement will also depend on the restrictions that will be imposed during the Conditional Movement Control Order period. We will have to wait for international borders to reopen and interstate travel to resume before the hospitality sector can fully recover," he adds.
Types of hotels transacted
The majority of the hotels transacted over the past year were a mixture of mid-tier and high-end products. "In the Klang Valley, the bulk of hotels for sale have been upscale or luxury hotels catering to business travellers and midscale/boutique hotels located in shopping districts such as Bukit Bintang and KLCC, which are dependent on tourism," says Foo.
"Likewise, in other states, resorts and local brand hotels in tourism hotspots, including beachside and the town centre, have emerged in the market owing to the halt in tourism, which is observable in states such as Penang, Johor and Pahang."
Says Previndran, "Generally, the majority of hotels being transacted are located in major tourism spots such as KL city centre, Genting Highlands and Bukit Fraser. Based on these locations, it is probably due to increasing domestic leisure demand, fuelled by strong pent-up demand, combined with long-term structural growth for destination/experiential travel anticipated in 2021 and beyond."
While the pandemic has caused hotel transactions to slow, strong holding power and financing have also played a part in the situation.
"Despite the turmoil that the travel and tourism sector has been facing because of the pandemic and strict travel restrictions, few prime hotels were transacted in the last 12 months. One key reason is the lack of prime hotels that have come onto the market," says Knight Frank's Buckley. 
"I would describe a hotel as prime after considering its location, star rating, condition and whether it is internationally branded or owner operated," he adds.
Moreover, some prime hotel owners would prefer to wait out the pandemic to ensure pricing and sentiment have improved. "Prime hotels are very tightly held and it was back in 2017 when the sector saw a flurry of prime hotel assets changing hands. These included the Hilton Sentral, Hard Rock Penang, Lone Pine Penang, Canopy by Hilton, Four Seasons Langkawi and the Renaissance Kuala Lumpur," says Buckley.
"Another reason for the drop in hotel sales is the constraints in the debt market, which is making it difficult for buyers to raise sufficient debt to finance acquisitions. According to Real Capital Analytics, the total value of hotel transactions across Malaysia in 2020 was RM497 million, which is 85% down on the 10-year long-term average."
Moreover, the sale and purchase of hotels go through a different process compared with other product types. This could also contribute to a slower transaction take-up. 
Savills Malaysia managing director Datuk Paul Khong says, "Hotels are usually sold on a 'confidential basis' via private treaty, rather than through a public press release or an advertisement blast on its proposed sale. It is a specialised property and attracts a targeted group rather than the public at large.
"As these buyers are usually limited to certain categories of investors or operators, there is less expectation to push the listings to all, especially as they are not like residential properties, which require fuller marketing coverage.
"Generally, most sellers do not want publicity on the sale of their operating hotel in the press as this will usually spook hotel employees. Hotel sales are usually undertaken on a select-and-targeted basis and should not be simply waved around like an open listing. Many of the international agents have a database of potential buyers, which is helpful."
Who are the buyers?
"In recent years, several hotels were bought by foreign investors, especially Singapore-based companies," says JLL Property Services (M) Sdn Bhd country head YY Lau. 
"Singapore tycoon Choo Chong Ngen acquired Swiss-Garden Hotel Bukit Bintang in 2019, two years after he made his first hotel acquisition of Nova Hotel in Jalan Alor in December 2017.
"Wisma KFC was sold to Singapore's Royal Group for RM130 million in February 2019. Boustead's Royale Chulan in Bukit Bintang was sold to Singapore-listed Hotel Royal Ltd in January 2021, after both parties were said to have entered into a sale agreement in 2019."
Lau also highlights several local purchases, namely from the Ministry of Finance and Ivory Properties Group Bhd.
"Lembaga Tabung Haji's hospitality arm, TH Hotel & Residence Sdn Bhd, last year sold four hotels from different states to Urusharta Jamaah Sdn Bhd, a Ministry of Finance special-purpose vehicle. They are TH Hotel Terengganu (RM133.74 million), TH Hotel and Convention Centre Alor Setar (RM160.63 million), TH Hotel Kota Kinabalu (RM110.18 million) and TH Hotel Bayan Lepas (RM89.66 million).
"City Developments Ltd sold Copthorne Orchid Hotel & Resort Penang to Ivory Properties Group Bhd for RM75 million," she says. She adds that the developer may be considering redeveloping the property into both a hotel and serviced apartments.
According to Previndran, the properties were sold by TH Hotels for pragmatic reasons. "The TH Hotels were sold off to revive the financial situation of Tabung Haji and to restructure for better management. TH Hotel Penang in Bayan Lepas, for example, is now operated under a new hotel brand, Raia Hotel Penang. 
"Meanwhile, ECML Hotels Sdn Bhd has been acquiring the Tune Hotels as part of its diversification plan to own and manage hotels," he says. 
Investment funds, according to Foo, have also been doing some hotel shopping. "Both foreign and local hotel investor groups, real estate investment trusts (REITs) and private investment funds have taken part in the market. Examples of foreign buyers are Hotel Royal Ltd, Royal Group, Ventura International and Daito Trust; examples of local buyers are Sunway REIT, YTL Hospitality REIT, Tabung Haji and PNB Investment Sdn Bhd. 
"Most of these buyers already have a presence in the hospitality industry, hence, any acquisition is a new addition to their hotel portfolio and they remain as hotel operators, usually after refurbishment and rebranding exercises," he says.
Lau says some hotel investors are using the downtime to upgrade their product. They are temporarily halting operations and embarking on an intensive refurbishment exercise, with the plan being to reopen once the pandemic is under control. These hotels include Parkroyal Kuala Lumpur, President House and Renaissance Kuala Lumpur Hotel, she adds. 
Knight Frank's Buckley believes there is an opportunity for the Malaysian hotel industry to adopt a new trend. "One trend that we are seeing overseas is hotel investors looking to diversify into longer-stay income. There is increasing interest in serviced apartments or 'apart' hotels, which are serviced apartments with a hotel-style booking system, similar to renting a fully furnished apartment but with no fixed contract, allowing occupants to check out whenever they wish."
At present, each property agency has some hotels on its books, with Savills Malaysia having a portfolio of more than six domestic hotels across Malaysia.
"We have Savills Hotels working with us and focusing exclusively on transactions and advisory services related to hospitality projects. It is connected to the world of specialist hotel investors on a regional and global basis," says Khong.
Knight Frank is currently marketing two hotels — Sheraton Imperial Hotel in Jalan Sultan Ismail and Hilton Garden Inn in Jalan Tuanku Abdul Rahman. "Both hotels have been extensively renovated and the Sheraton Imperial has found a buyer, who has paid a deposit," Buckley reveals.
As for CBRE, it has a 5-star hotel in Melaka and two 4-star hotels in Johor on its books. 
JLL has several listings, which include a 99-key hotel in Pudu, a 70-key hotel in Chinatown, a 5-star hotel development in Langkawi, a 300-key hotel in Mont'Kiara and a 680-key hotel in KLCC.
Zerin Properties has not handled any direct hotel transactions in recent times but Previndran says it has handled transactions of office buildings that are being considered for conversion into hotels.
Outlook for hotel transactions
With no end to the pandemic and while vaccines are being rolled out, hotel transactions should pick up as owners try to shore up their financial standing as they wait out the pandemic. 
"The market will continue to see new hotels being put up for sale by distressed owners, especially if the situation prolongs. The challenge, however, lies in meeting the asking and offer prices," says CBRE's Foo.
Zerin Properties' Previndran concurs. "Transactions for hotel assets are expected to gain traction in the future as owners seek to dispose of low-quality assets to improve their balance sheet, while other industry players will use this opportunity to find good deals, with plans to reposition or rebrand the acquired assets in the future," he says.
Knight Frank's Buckley says, "We will see a few internationally branded prime hotels transacted over the next two years but I do not expect to see a lot of distressed sales, as most of the owners we have talked to are well capitalised and have owned their hotels for a long time and are not highly leveraged."
Says Savills' Khong, "As we move into 2Q2021, there will be some more hospitality assets available for sale but this may not be from the international hotel chains, as this category of asset owners will usually have the muscle to adopt a long-term view and refine their strategies in asset positioning."
JLL's Lau says, "We are hopeful that the worst is over. Whether this will happen, will depend on how soon international and state border restrictions will be lifted, and how the market will rebound after the pandemic ends."