This article first appeared in The Edge Malaysia Weekly, on October 7, 2019 - October 13, 2019.
Click / Tap image to enlarge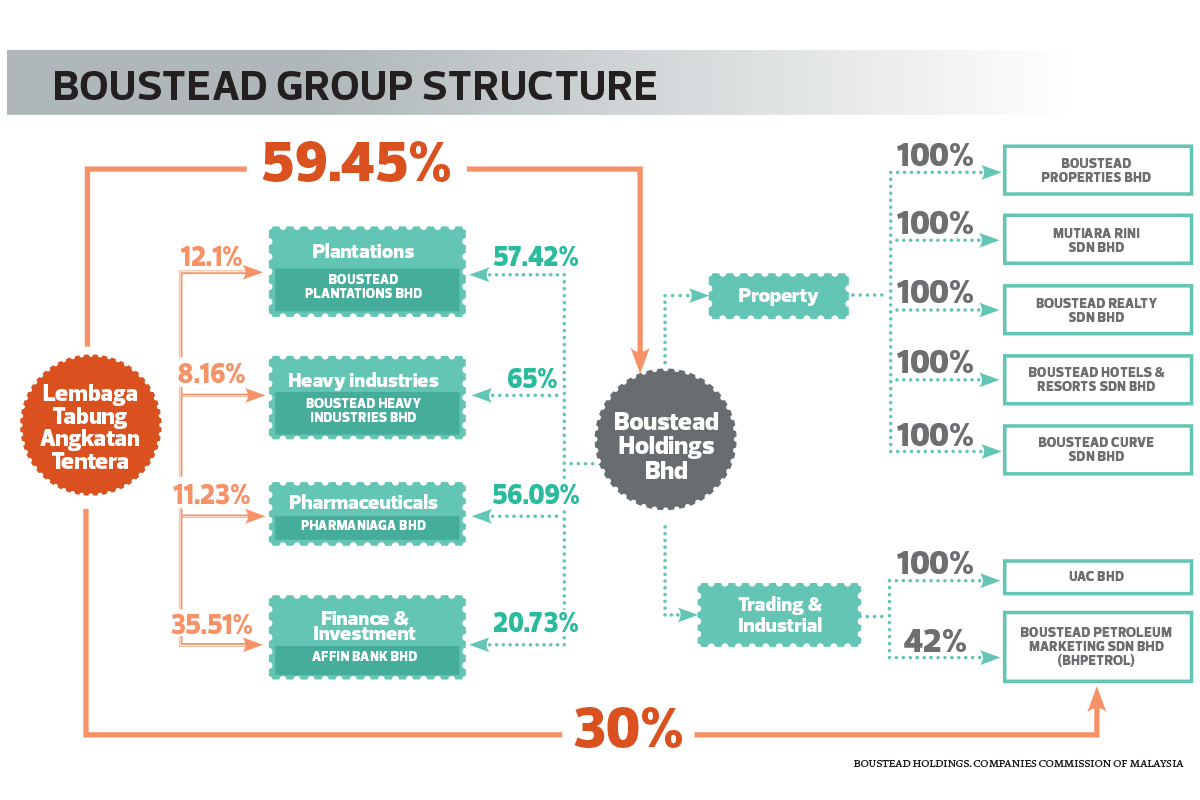 THERE was a time when Boustead Holdings Bhd, with its sprawling interests, was seen as the local equivalent of the great "hongs" of Hong Kong's yesteryears. But those days are gone.
The consistent dividends have stopped, for now at least. Its long-standing high-leverage acquisition strategy has culminated in a debt conundrum just as many key businesses are being hit by multiple headwinds, further straining its finances.
Boustead Holdings has not declared any dividends for the first two quarters of the financial year ending Dec 31, 2019 (FY2019), as it recovers from a net loss of RM469 million on RM10.19 billion in revenue in FY2018 its first net loss in 17 years.
A deeper look at its financials indicates that there is much work to be done before it can resume normal service. The company tells The Edge that its dividend policy will be revisited amid a wider reorientation of the whole organisation.
In a brief email response to a host of queries, Boustead Holdings says it is "cognisant that we are facing an uphill task in turning the group around, particularly with operating margins challenged. To this end, we are reviewing our business model ... we will review each business for its ability to deliver sustainable earnings, excluding one-off gains".
It adds that it is too early to speculate on what the new business model could be.
The prospect of no dividends (or relatively little) from Boustead Holdings this year will significantly drag down majority shareholder Lembaga Tabung Angkatan Tentera's (LTAT) FY2019 returns to its members (see Page 76).
In FY2018, LTAT, or the Armed Forces Fund, received RM60.25 million from Boustead Holdings, less than half of FY2017's dividends and less than a third of that in FY2016, culminating in LTAT's record low return of 2%.
When asked about efforts to get the dividends flowing again, Boustead Holdings says: "As a listed entity, we have a dividend policy in place but given current challenges we will need to revisit and review this.
"Towards this end, a capital management framework is being formulated to reinforce our ability to pay sustained dividends. Given our debt standing and the fact that certain divisions are not contributing to the bottom line, dividends will be a challenge. Obviously, this is a critical situation and the respective divisions are working to improve business prospects. However, we only expect improvements in the mid to long term."
The turnaround effort is already underway, led by managing director Datuk Seri Amrin Awaluddin, who assumed the post on May 6.
Amrin takes over from Tan Sri Lodin Wok Kamaruddin, who vacated the seat on Dec 31 last year, after 35 years. He was also CEO of LTAT for 36 years up to September 2018.
Lodin is seen as a long-time associate of ousted prime minister Datuk Seri Najib Razak. He also chaired the 1Malaysia Development Bhd (1MDB) board from December 2009 until April 2016. His departure from both entities is part of the post-general election corporate shake-up last year.
A look at the company's filings indicate that tackling the debt issue should be one of Amrin's top priorities. The debt conundrum adds on to other issues such as outdated governance structures, inefficient capital management strategies and a structural complexity due to its conglomerate structure. (The Edge reported on this in Issue 1262, April 15.)
Not enough cash flow
Halfway through FY2019, it is clear that Boustead Holdings is not generating enough cash from operations to meet its financial commitments.
As at Dec 31, 2018, its audited borrowings totalled RM7.53 billion, of which RM4.86 billion are short term. This does not include current payables of RM2.51 billion. The average interest rate on its total borrowings comes to 5.54%, though some portions incur more, such as banker's acceptances (6%), overdrafts (7.8%) and perpetual sukuk (6.7%).
By June 30, its total borrowings had crept up to RM7.64 billion, though the short-term portion had reduced slightly by 7.7% to RM4.48 billion. Cash balances stood at RM781 million plus RM1.27 billion in current receivables.
In the first six months of FY2019 (1HFY2019), Boustead Holdings generated net cash of RM1.12 billion from its operations. However, it also had to pay RM972.7 million in various loan repayments and interest while juggling RM626.7 million worth of purchases for property, plant, equipment and property development assets.
It is also worth noting that among its six core segments, only three recorded pre-tax profits in 1HFY2019: Finance & Investment; Pharmaceutical; and Trading & Industrial.
As for the other three, Property recorded a small operating profit of RM25.9 million, which was wiped out by RM66.7 million in finance costs. Plantation and Heavy Industries recorded a combined operating loss of RM71 million in 1HFY2019, before accounting for combined finance costs of RM97.8 million.
This resulted in the group drawing down new loans totalling RM720 million in 1HFY2019. Clearly, refinancing to reduce interest costs and revisiting other spending is a priority.
In July, Boustead Holdings issued a RM650 million Islamic medium-term note (IMTN) under a RM2 billion sukuk programme. The IMTN proceeds will be used to refinance existing borrowings, it says.
"We are mindful of the need to ensure that any reorganisation of our debts must be optimal, allowing the matching of debt repayments and debt servicing against the cash and revenue generation ability of the group, which is currently not the case," the company says.
Also worth noting is that a proposed RM172 million sale of land in Bukit Jalil by LTAT to Boustead Holdings was called off (see Page 76). Had it gone through, LTAT's FY2018 dividends may have been significantly higher — its 2% dividend amounted to a RM161.2 million cash payout.
But refinancing alone would not be enough. According to Boustead Holdings' 2018 annual report, committed capital expenditure for FY2019 amounted to RM1 billion. Of that sum, RM491.4 million has been authorised and contracted. In comparison, annualising 1HFY2019 cash flow indicates that the company will generate only about RM200 million from operations in FY2019. That means it faces a dilemma — either borrow more money to meet its capital expenditure commitments or sell existing assets to raise money for the investments (see accompanying story).
The company did not address a question from The Edge of how much of its committed capex in FY2019 can be deferred if absolutely necessary.
What went wrong?
To Corporate Malaysia, it is clear that the situation Boustead Holdings finds itself in was years in the making. In a nutshell, the group had grown and acquired businesses on the back of borrowings in order to sustain dividends.
Leveraging debt to grow is not a negative proposition in itself, so long as the returns justify the investment. Indeed, LTAT consistently delivered high returns to its members for many years. However, the risk is the model may eventually reach a point where the resulting debt strain would be too much, especially when returns decline. The present management agrees. "This is a culmination of a high-leverage acquisition strategy over the years and, as such, we need to pare down these debts in the mid to long term."
One example is its RM534 million acquisition of 86.81% equity interest in Pharmaniaga in 2011 from Khazanah Nasional Bhd's unit UEM Group Bhd. The aim, on hindsight, was obvious — to increase earnings, particularly as Pharmaniaga had a lucrative 10-year concession to supply government hospitals.
The concession expires in end-November and Pharmaniaga did not respond to queries on the prospective renewal as well as what the company's long-term business model is envisioned to be, among others.
This quest for income to support dividends can be seen by the big surge in dividend payout ratio for Pharmaniaga after the acquisition. In FY2010, its dividend payout ratio was 26.3%. In FY2011, that rose to 61.1% and it continued rising to remain above 90% from FY2015, culminating in a 98% payout ratio in FY2018.
In 2017, Al-Hadharah Boustead Real Estate Investment Trust was privatised in a RM611.08 million exercise.
In 2011, Boustead Holdings acquired a 51% stake in MHS Aviation, marking its entry into aviation services. MHS Aviation provides helicopter services to oil and gas players including Petroliam Nasional Bhd.
Subsequently, MHS bought five new EC225 heavy helicopters to support upstream operations in Kerteh via a 10-year contract supporting Petronas Carigali Sdn Bhd, ExxonMobil Explorations and Production Malaysia Inc and Newfield Peninsula Malaysia Inc.
A crash in October 2012 in Europe eventually led to some operators grounding their EC225 helicopters. By July 2016, 80% of the global EC225 fleet had reportedly been grounded, although some grounding orders have since been lifted.
As a snapshot, 10 years ago, in FY2009, Boustead Holdings had about RM2.94 billion in borrowings (see borrowing trend table). That figure crept upwards to RM7.53 billion over the following decade, though equity also grew and mitigated the impact on gearing to some extent.
However, return on equity generally trended downwards, culminating in negative returns in FY2018. Similarly, return on assets also generally fell, as did annual dividend yield.