This article first appeared in The Edge Malaysia Weekly, on May 31, 2021 - June 06, 2021.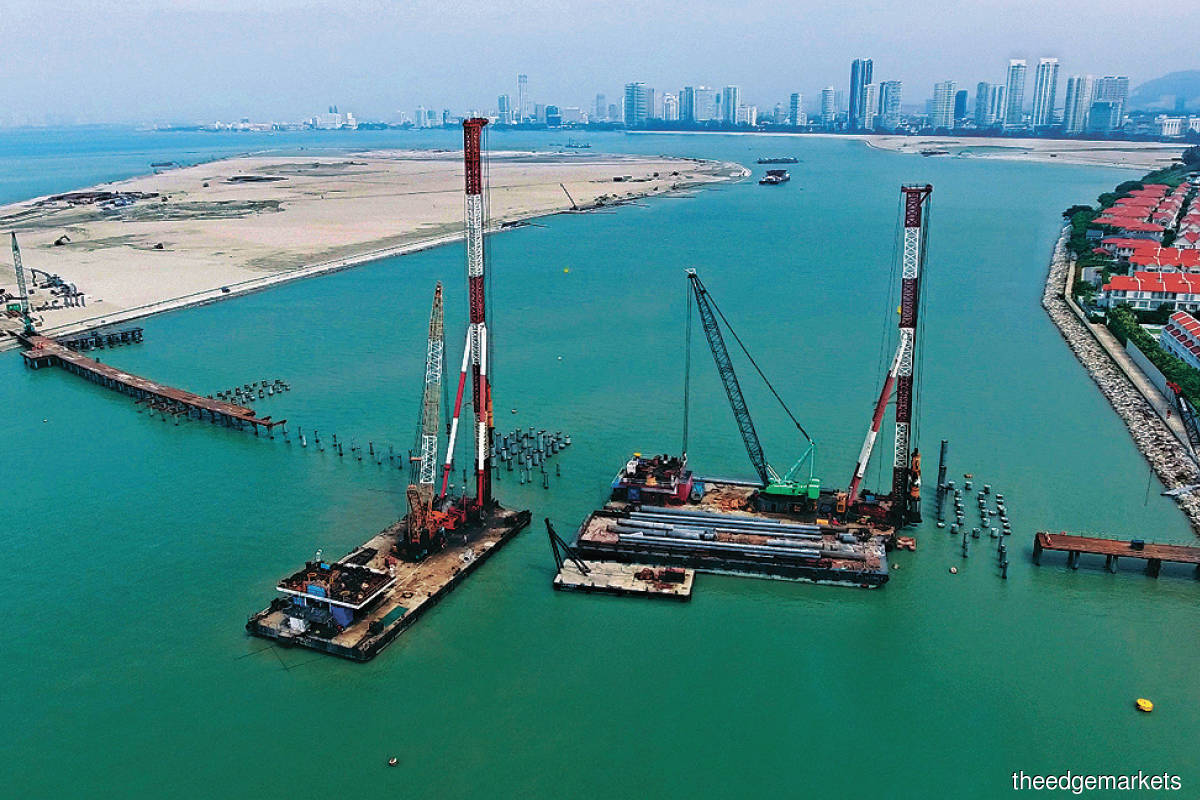 LIGHTENING its debt load is not a priority for Eastern & Oriental Bhd (E&O), according to executive chairman Datuk Tee Eng Ho. "I am comfortable with the debt level. I don't think it is right to keep thinking of reducing the debt, as it will end up [with us] doing nothing with no new launches. You can borrow, but make sure you have sales and launches," he stresses.
He is of the view that E&O's shareholders should not be too concerned about its debt level. "I have already put so much money in E&O. If I am not worried, why should they? The most important thing is how you create the value."
As at end-March 2021, E&O had gross borrowings of RM1.27 billion, higher than the RM1.19 billion recorded as at end-Dec 2020.
Tee says there is no plan to raise funds for E&O at the moment. "Borrowings are cheaper as the banks can give us a good rate."
For the financial year ended March 31, 2021 (FY2021), E&O remained in the red with a net loss of RM73.24 million compared with a loss of RM195.94 million in the previous year. The loss was due to impairment losses and writedowns on properties of RM133.8 million.
According to Bloomberg data, there is one "buy" call and six "hold" recommendations on E&O, with a consensus target price of 58 sen.
Tee believes he will be able to turn around the company and take it to the next level of growth in the next two to three years.
"To me, the ups and downs in the property market are just a cycle. The important thing is how to make things turn around. If you ask me whether I can do it in six months or a year, my answer is no. I can't [do] magic. I need some time.
"I have been involved in development projects at Kerjaya Prospek Property Bhd (KPP) since 2010. Running property development [projects] is much easier compared with being a contractor. Development is about financing and good land. But I need to work almost every day for construction."
Reducing cost at E&O is another major task for him. "When you bring the construction cost down, then you can sell at more reasonable prices and attract a lot of buyers," he says.
Equally important is knowing house buyers' needs. "I know what the buyers want. We are not selling a house; we are selling the living style, concept and sustainability. Besides the great environment, we also emphasise on security and safety."
With the Seri Tanjung Pinang (STP) 2A land fully reclaimed, E&O is scheduled to launch its maiden development for the STP 2A project in 1Q2022. The company plans to build two blocks of 35-storey serviced apartments with a gross development value of over RM700 million.
Early this month, Kerjaya Prospek Group Bhd (KPG) accepted a letter of award worth RM28.4 million from E&O to undertake the foundation work for the property project.
Confidence in securing financing from banks
When asked about the challenges in pushing ahead with the STP project in view of the lacklustre environment and the company's high debt level, Tee replies: "Frankly speaking, it is a bit different when I talk to the banks. They are supportive of me, KPG and KPP. I can get the funding much cheaper in the current market."
"They know the way I work. For me, normal working hours are from 7am to 7pm. On weekends and public holidays, I work less hours."
In terms of the land reclamation cost, he says it is higher for STP 2 compared with STP 1 due to the deeper sea levels. "STP 2A is a bit expensive because of the two bridges, whereas infrastructure for 2B and 2C is quite minimal," he explains.
In April 2017, E&O secured Kumpulan Wang Persaraan (Diperbadankan) (KWAP) as the level 1 strategic investor for the STP 2A project, which covers a total gross area of about 253 acres. STP 2A is the closest to the Gurney Drive foreshore.
To ensure the success of the STP 2 project, Tee highlights the quality of property development there. "I always welcome developers to form a joint venture or buy land in STP 2A, but we must see what products they want to put in, including the façade. We are the master developer; we don't want one developer to spoil the whole development as it will not be fair for other investors."
Overall, he is of the view that the property market may start to recover by the end of this year. "The world is printing too much money and inflation will come back. So, we will see property prices shooting up. People could have more money as they don't have the chance to spend."
But specifically for Iskandar Malaysia, Tee thinks the development will be very slow there due to the oversupply. "It is not easy for property prices in Iskandar Malaysia to go back to the levels seen three years ago."
Internationally, E&O has a presence in the UK — including Princes House along Kingsway, ESCA House in Bayswater, and a commercial property in Hammersmith.
"The London market should be picking up in the last quarter of this year because more than 50% of [the city's] population have taken at least one vaccine dose. Its Covid cases have dropped drastically," says Tee.
He says E&O is not looking at other overseas markets as the group will continue to focus on the local scene. "I am still positive on the Malaysian market. If anything happens in Malaysia, it is easy to control."
Despite having KPG as its construction arm, he stresses that any property project at E&O will be tendered through a fair mechanism. "E&O will invite contractors for open tenders. As KWAP is our partner in Penang, they will also call their contractors to come and tender.
"I am not on the tender board and the tendering process will be checked through by the consultants."
He adds that KPG will not sacrifice its profit margins for any E&O jobs. "You can see that KPG is still getting a double-digit profit margin."
E&O Hotel in Penang may be sold if price is right
Given its heritage value, the Eastern & Oriental Hotel in Penang is seen as one of the premium assets under the group's portfolio. But the group will consider selling the hotel if the price is right.
"For a developer, everything can be up for sale if the price is right. However, it is not easy to sell, as we want a high premium [and not just the] market price," Tee says candidly.
E&O also operates the E&O Residences Kuala Lumpur.