This article first appeared in Options, The Edge Malaysia Weekly, on September 10, 2018 - September 16, 2018.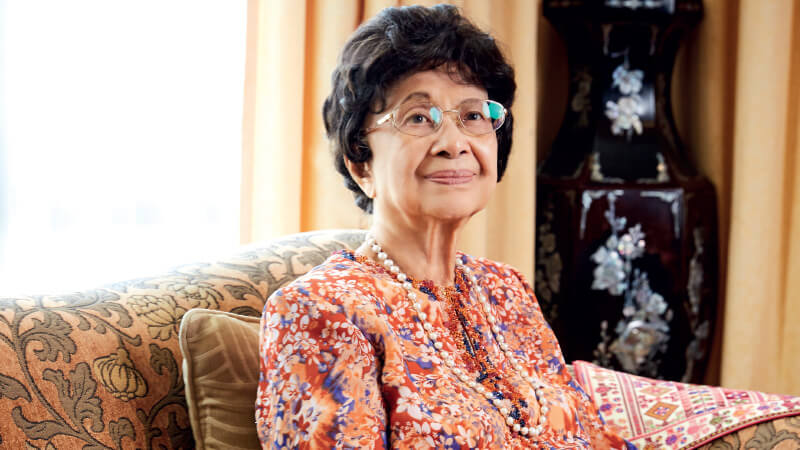 When Tun Dr Mahathir Mohamad made history by helping his coalition win the country's now-legendary GE14 on May 9 — becoming the world's oldest elected leader along the way — Malaysians also rejoiced at the return of his well-loved wife, Tun Dr Siti Hasmah Mohd Ali. In the run-up to Malaysia Day on Sept 16, Anandhi Gopinath and Shalini Yeap speak to the ever-gracious nonagenarian on what coming back to Putrajaya has been like, her take on the Malaysia Baru sentiment from her unique vantage point and her experience of being the wife of the prime minister once again.
The Perdana Leadership Foundation is housed in a stately building on the banks of Tasik Putrajaya, and the upper floors provide excellent views of the federal administrative capital that our then Prime Minister Tun Dr Mahathir Mohamad conceptualised. The building houses the Perdana Library, an auditorium and a multipurpose hall in addition to the offices of Mahathir — the foundation's honorary president — and his wife, Tun Dr Siti Hasmah Mohd Ali.
The couple has worked from these offices since leaving Putrajaya's political scene in 2003, enjoying the fruits of what they had built even though they were no longer involved in the nation's administration.
For the full story, pick up a copy of The Edge Malaysia (September 10, 2018) at your nearest news stands or visit optionstheedge.com.