This article first appeared in Personal Wealth, The Edge Malaysia Weekly, on April 24, 2017 - April 30, 2017.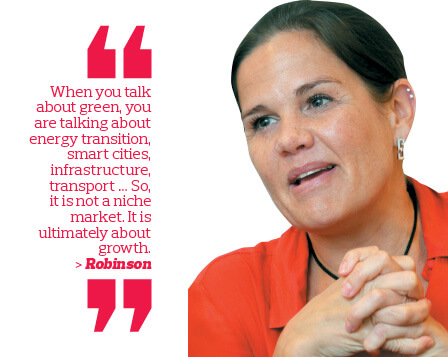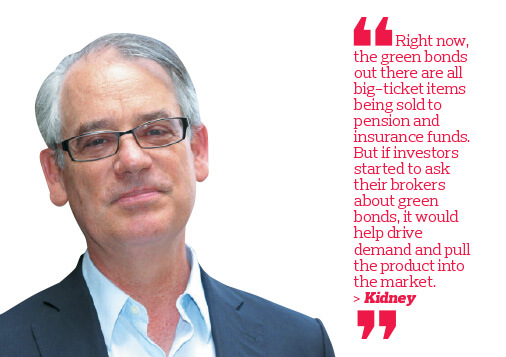 As China takes the lead in green issuances to fund its environmental projects, the rest of Asia is getting its act together and following suit. Green bonds allow investors to employ their capital to fix the problems of environmental degradation that have led to climate change while issuing companies get access to a new pool of money to address sustainability issues.
This year could see the rise of the green bond. A confluence of global events such as the Paris Agreement and Sustainable Development Goals, as well as a growing awareness among institutional investors, has created both supply and demand for green bond issuances globally. 
Sean Kidney, co-founder and CEO of the Climate Bonds Initiative (CBI), explains what a green bond is. "It is a very simple idea — a bond or an investment that earns a comparable interest rate at a comparable risk rating of other bonds. It is mainly investment grade and not particularly high risk. 
"There is a difference, though. The proceeds go to assets and projects material to fixing climate change. That is it. There is a whole rule structure behind that and things you must do to make sure you can play, but I can guarantee you, the principle is very simple. 
"You do not lose money and you do not make any more money [than you would with a similarly rated investment]. But there is a big difference — the money goes to help fix the planet."
Jessica Robinson, head of Asia at Principles for Responsible Investment (PRI), says the tide is shifting as people become more aware of how their investments can affect issues close to the heart of the planet. 
PRI was set up 10 years ago as an international investor network and Robinson describes it as the global gold standard for responsible investment. Today, it has more than 1,600 signatories, who have some US$60 trillion in assets under management (AUM). This represents about a fifth of the world's capital, she points out.
The growth in the last two to three years has been dramatic, says Robinson. "We have seen big pension funds sign up, big asset managers ... and the growth rate has been significant. We have the California Public Employees' Retirement Scheme (CalPERS) in North America, big sovereign wealth funds in Europe and companies such as BlackRock, Aberdeen Asset Management ... So, most of the big players are there."
PRI recently opened an office in Asia. "To begin with, Asia was far behind in terms of global AUM for sustainable investment strategies. We were looking at less than 1%. But there has been a major shift in the last couple of years," says Robinson.
What brought about this shift? "Basically, the sustainability agenda is much more clearly defined. I think you see a lot of that in Malaysia as well," she says. 
"Governments are becoming clearer about sustainability objectives. We have a very long way to go, but the fact that they are talking about sustainability ... some of these countries even have ministers of climate change. There are also stock exchanges with ESG disclosure rules."
Some of the region's stock exchanges are global leaders in this area, Robinson points out. "Bursa Malaysia, for instance, is a signatory of the Sustainable Stock Exchanges initiative, which is co-run with PRI and is often held up as a good regional leader. It is really starting to transform the discussions taking place within the financial markets."
Perhaps the most significant contributor has been the changes taking place in China. Its commitment to low carbon growth and, consequently, the need for green finance to support this commitment have absolutely transformed the market.
"If we look at the commitment China has made in its 13th five-year plan, we see that it needs US$300 billion a year just to deliver that. Only 15% of this can come from the government, so there is a huge role for the private sector to play. And in the last 12 months, we have seen the green bond market explode!" Robinson enthuses. 
She adds that China's state-owned banks have many green bond issuances lined up. "So, I think 2017 will be a huge year for green bonds."
China has assumed the leadership role in pushing the green agenda. For instance, it made sure that green finance was specifically included in the G20 communique. "As someone who has been living and working in the region for a long time, to see China move that quickly ... the only countries I would compare it to on the green finance side are the UK and France," says Robinson.
China, she says, has issued its second big paper on green finance, which identified 12 areas it is going to focus on. "So, green lending, green insurance, green IPOs ... and they are setting up a mini-green investment bank. I think they are calling it a Green Fund. So, if you look at the numbers for what is needed and at the action China is taking, it is very extensive."
CBI's Kidney agrees. "China has some environmental challenges, as we all know. In the latest five-year plan, there is a big chunk on green finance and the green economy. Many parts of the Chinese government are figuring out what they can do about it."
Some years ago, he says, China's banking regulator issued guidelines on green finance, telling banks how they were going to operate and what they needed to do to help the country achieve its policy objectives and transition to the green economy.
"We have been working in China for four years with the central bank and others on how to do that. We proposed a green bond market as part of it and they agreed. On Dec 22, the People's Bank of China finally published its green bond guidelines and encouraged banks to issue them," says Kidney.
"The National Reform and Development Commission came out with its own guidelines for the sectors it regulates a few weeks later and since then we have seen US$36 billion issued. That is the domestic side of it. There have been some overseas bonds by Chinese issuers, but not many — only about US$8 billion issued externally are green bonds."
He adds that the global market for green bonds doubled last year to US$81 billion. "China accounted for a big chunk of that."
In fact, China is the biggest green bond market in the world, followed by the US and France.
PRI's Robinson says "green" is a massive market opportunity. "When you talk about green, you are talking about energy transition, smart cities, infrastructure, transport … So, it is not a niche market. It is ultimately about growth.
"So, when you look at the simple investment and funding need, it is just huge. If I were an investment banker, I know where I would put my focus and energy. The problem is, most investment bankers do not think beyond the next three months."
There has been more interest in green investments following the signing of the Paris Agreement (dealing with reducing greenhouse gas emissions, adaptation and finance starting in 2020) and the Sustainable Development Goals (signed in September 2015 to end poverty, protect the planet and ensure prosperity for all). "These provided a really important step in building investor confidence. The message I was getting two or three years ago was, 'We just don't want to act because of policy uncertainty. We don't know what governments are going to sign up to'," says Robinson.
"But what we saw in Paris was that China and the US came to the table. And what that said to institutional investors is that we now have policy certainty," she adds, pointing out that investors only invest when they have policy certainty.
And no matter what US President Donald Trump's views are on climate change, Robinson believes that the trajectory to clean energy investment is going to happen. "I think here in the region, we know we have to build our clean energy options and every country is looking into that."
Green investments, she says, are for those who are willing to take a long-term view. "It comes down to materiality and risk management. If you are a long-term investor and you want to invest so that your children and grandchildren have enough money to go to university, surely you won't be looking at fossil fuels — because in 20 years, the fossil fuel investment profile will not look good. You would be better off looking for clean energy, energy storage, energy efficiency, smart buildings and things like that."
Tanja Havemann, director of Clarmondial AG — a Swiss investment advisory company with a focus on sustainable natural resource investments in emerging markets — is a seasoned environmental finance expert, with experience in developing and supporting sustainability-focused investments for individuals, companies, governments and non-governmental organisations. She has had discussions with key stakeholders in Malaysia to see if they would launch the first green bond or green sukuk in the country. 
"A couple of years ago, together with the Climate Bonds Initiative, we tried to see if we could explore things more in Malaysia. We definitely saw opportunities for a green sukuk," says Havemann. 
"But it always takes time to get these things mobilised. You really need to have strong local champions to move things forward."
She says there will definitely be demand for green issuances, not only from local investors but also international ones. "We have consistently seen unmet demand for quality green issuances. So, I definitely think that even if it is something classed as an Islamic finance product, it will be of interest to investors in Europe and the US."
Havemann adds that there is a lot of "soft" money floating around for those who meet the green criteria. "It is worth pointing out that although there is a lot of soft money, it is always limited to some extent."
The soft money comes from organisations such as the Green Climate Fund and the Global Environment Facility. "There is all this free money sloshing around, but you need to work through things called accredited entities, such as one of the UN institutions, to get access to it," says Havemann.
There are also investors operating in countries with low interest rate environments who may be willing to accept slightly lower returns because of the conditions of their domestic markets or to have a certain environmental or social impact. "I think both trends are interesting from a green bonds perspective," says Havemann.
To appeal to the European market, however, the product has to be of a certain quality and structured properly, she adds. "For instance, you would need to be properly rated."
Clarmondial is putting together a green shariah-compliant product. "We have spoken to groups in various Islamic finance centres (mostly in the Gulf states) and it seems that it may be quite interesting to structure something that is shariah-compliant. We want to look at that," says Havemann.
"There does not seem to be a lot of green Islamic finance products. And going by some of the conversations we have been having, it does seem to be of interest to investors. But it is not something we have fully tested ourselves."
For retail investors who are interested in green bonds, there is not much choice out there at the moment. "The difficulty is that there is just not a lot for individuals to do yet. It is mainly an institutional market. But that does not mean that there couldn't be a retail market and I keep talking to people about doing it," says Kidney. 
"Right now, the green bonds out there are all big-ticket items being sold to pension and insurance funds. But if investors started to ask their brokers about green bonds, it would help drive demand and pull the product into the market."
Green bonds will at least help investors directly participate in fixing the problem. And it is a huge one. Kidney says, "We will get desertification in many parts of the world, which means the collapse of agricultural economies. We will have monsoons failing one in five years in the subcontinent, which will mean famine in Pakistan. And where will these people go? They will try and cross the border, which will mean war. 
"Fundamentally, it will mean war, epidemics and pestilence. That is what happens when we see massive chronic changes and we are not able to adapt or address them quickly enough. The irony is that it is a horror of our own making."
These are the things we are heading for on our current trajectory. No wonder there is an epidemic of depression among climate scientists globally. "Because they have been talking about it for 35 years and it does not look like anyone is doing anything about it," says Kidney.
Although the prognostications about climate change are very grim and dire, he points out that the solutions are pretty straightforward. "A lot of clean energy, mass transit, low energy-use buildings and things like that. They will actually make a difference and allow us to address climate change. 
"All of this is bond-able. The green bond market has developed because there are a lot of institutional investors very worried about climate change."
CBI has also been marketing the concept to issuers. "The argument we make to issuers is that they may not get a better price out of this, but they are going to win new investors and get great marketing benefit as well as reputational benefit," says Kidney.
Basically, the green bond gives investors something to do now that they have identified the problem. "I say to people, 'Look, if you are going to buy a bond and you have a choice, at least buy the green one. You are going to get the same risk and yield, but you may make a minor contribution to saving the planet and that's essentially it,'" says Kidney.
Robinson says as an investor, she would like to be given a choice as to where she can put her money. "To be honest, I do not want to invest in a company that is polluting the world or that does not respect labour rights. It is hard to know where to start, but we need to stand up for something stronger and better. Otherwise, we will not get anywhere."
Havemann agrees. "I wish more people were interested in where they put their money and how that might impact the world at large. I think too many people do not think about where their pensions go or bring those kinds of managers to account."
Kidney thinks the market needs a bit of a push. "People have to be pushed over the line to get things started. Markets get started — they do not happen spontaneously. A couple of people push and push and push until a few deals get done. Then everyone else is like, 'Hey, that was a good idea. Why don't we do one of those?' And then, like sheep, they follow," he says.
"That is how markets work. And that is what we need in Malaysia at the moment. The regulator can gently prod, but we need a few big corporations to get their act together and get it out."
Asean to introduce green bond standards 
Last month, the Asean Capital Markets Forum (ACMF) — a grouping of the region's capital market regulators chaired by the Securities Commission Malaysia — announced that it was endorsing key initiatives under the ACMF Action Plan 2016-2020. This includes cooperation with the International Capital Market Association (ICMA) to introduce Asean green bond standards.
This initiative is supposed to facilitate Asean capital markets in tapping green finance to support sustainable regional growth and meet investor demand for green investments. It is part of the ACMF's broader efforts to develop green finance in the region.
The Asean Green Bond Standards will be developed based on ICMA's Green Bond Principles (GBP). They are intended to provide additional guidance on the application of the GBP as well as to enhance transparency, consistency and uniformity of Asean green bonds, which will contribute to the development of the new asset class. 
Khazanah-linked Cenergi Sea mulling green bond
Cenergi Sea Sdn Bhd is a Malaysian company exploring the possibility of issuing a green bond. The Khazanah Nasional Bhd subsidiary specialises in renewable energy and energy-efficiency projects and requires massive amounts of capital to fund its planned expansion. 
Executive director Ahmad Jauhari Yahya says the company has been working hard to introduce debt into its renewable energy and energy-efficiency projects. "But we are having a hard time doing so one project at a time. We believe that financing will be the key constraint to meeting our business plan targets."
The company, which was established in 2013, is said to be the foremost developer of biofuel projects in Malaysia. It owns and operates four biogas plants in the peninsula, which generate renewable energy from organic waste streams such as palm oil mill effluent. "Through our biogas plants, we are able to generate clean energy and clean methane gas, which reduces the harmful components of wastewater effluents and cuts down on carbon emissions," says Ahmad Jauhari.
With regards to energy efficiency, Cenergi Sea retrofits buildings to save energy consumption and takes a percentage of the savings as payment. This model allows the building owner to pay nothing but still reap the benefits of the savings almost immediately. The company is currently running four energy-efficient projects in the country. The latest and largest project is with the International Islamic University Malaysia. 
Cenergi Sea plans to expand to Sabah and Sarawak as well as the Asean region. "While our biogas projects make up the majority of our renewable energy portfolio, we have keen interest in developing biomass projects as and when and where the market is favourable for this sector of renewable energy. Also, we consider developing and investing in other renewable energy projects using proven technologies in solar, hydro and geothermal technologies and review these on a case-by-case basis," says Ahmad Jauhari.
While looking around for solutions, the company stumbled upon the green bond concept. "The green bond idea was a result of looking for solutions to our financing hurdles and to have available resources for our projects. We believe that if Cenergi were to tailor an innovative financing mechanism for our energy-efficiency projects, we would be able to shorten the long process of conventional methods."