This article first appeared in The Edge Malaysia Weekly, on June 24, 2019 - June 30, 2019.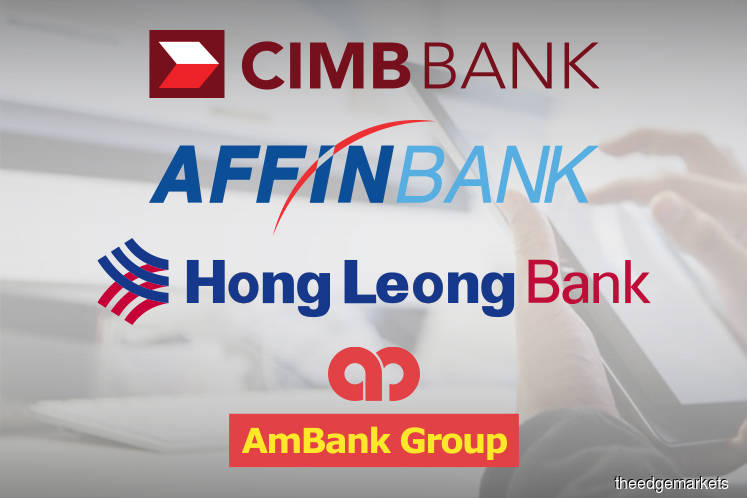 TECHNOLOGY firm Grab and at least four banks — CIMB Group Holdings Bhd, Affin Bank Bhd, Hong Leong Bank Bhd and AMMB Holdings Bhd — have signalled their interest in pursuing a digital or virtual banking licence in Malaysia.
"As the leading mobile wallet [platform] in the region, we are fully supportive of Bank Negara Malaysia and the government's [plan] to offer digital banking licences as part of an effort to grow the cashless economy. We are definitely keen to explore [this] and are currently in discussions with the regulators," a Grab spokesperson tells The Edge.
Grab's interest in the upcoming licences is not surprising. The Malaysia-born firm is already gearing up to apply for a digital banking licence in Singapore if the regulator opens up the sector, Reuters reported two weeks ago, citing unidentified sources.
CIMB Group — one of seven banks that responded to questions from The Edge — says it is measuring its options. It is the only local bank that already owns a digital bank, having set up one in the Philippines in January.
"If what has happened in Hong Kong is anything to go by, apart from having the option to enter the digital or virtual banking space by ourselves — similar to what we've done in the Philippines — we could also participate in this development through a joint venture (JV) with a financial technology company, for example. So, I think all options are open as we await the guidelines from Bank Negara," says group CEO Tengku Datuk Seri Zafrul Aziz.
Hong Kong started granting virtual banking licences this year — eight have already been handed out — and allowed traditional banks to partner tech firms for such licences.
It is worth noting that CIMB Group has a 52% stake in tech firm Touch 'n Go Sdn Bhd, with the other shareholders being MTD Equity Sdn Bhd (28%) and PLUS Malaysia Bhd (20%).
Meanwhile, Affin Bank — controlled by the Armed Forces Fund Board — is considering carving out a digital bank within the group.
"We are currently studying the possibility of creating a digital-only bank within Affin Bank entities. At this point in time, there is no concrete decision yet on whether we are going for a JV or applying for a virtual banking licence on our own for this initiative as the study is still in progress," says group CEO Kamarul Ariffin Mohd Jamil.
AMMB does not discount the possibility of setting up a digital bank, but says it would be premature to speculate on specific plans. "Ultimately, the possibility of AmBank setting up a digital bank is not remote," says Datuk Sulaiman Mohd Tahir, its group CEO.
As for Hong Leong Bank, group managing director and CEO Domenic Fuda says, "Should the right opportunity arise, we would certainly consider applying for a digital banking licence."
Whether Bank Negara will allow traditional banks — and not just tech players or newcomers — to apply for a digital banking licence remains to be seen, as the central bank is only expected to announce licensing rules by year-end.
Last Wednesday, Suhaimi Ali, director of the central bank's financial development and innovation department, told reporters at the MyFintech Week 2019 conference that more than 10 parties — comprising newcomers and financial players — had expressed interest in setting up a digital bank in the country. He did not name them.
Industry observers expect Grab, Touch 'n Go and other e-wallet companies to apply.
CIMB Group's Zafrul told reporters last week that Touch 'n Go was looking at expanding its products in the e-financial segment. Recall that it partnered Alibaba's Ant Financial Group in July 2017 to come up with the Touch 'n Go e-wallet app.
"This is our foray into mobile payments and we are looking to expand. In the pipeline, we have CASA (current account, savings account) remittance, personal financing and wealth management," he said on the sidelines of MyFintech Week.
Whether or not traditional banks get the chance to establish their own digital banks, what is clear is that they need to buckle down and compete with the disruptors.
There are lessons to be learnt from the disruptors, according to consulting firm EY.
"Traditional banks must follow the lead of new entrants and find ways to better engage [with] customers with a truly customer-centric approach. This includes redesigning the customer value proposition, moving from a product-push strategy to one built around proactive, needs-driven solution offerings and merging their services into customers' daily life. Partnering fintechs and other providers will underpin customer-centric strategies in an open data world, where customers will increasingly be looking for experiences rather than products," EY says in a report titled Banking in Asia-Pacific — Time to reinvent the digital landscape.