This article first appeared in Personal Wealth, The Edge Malaysia Weekly, on January 27, 2020 - February 02, 2020.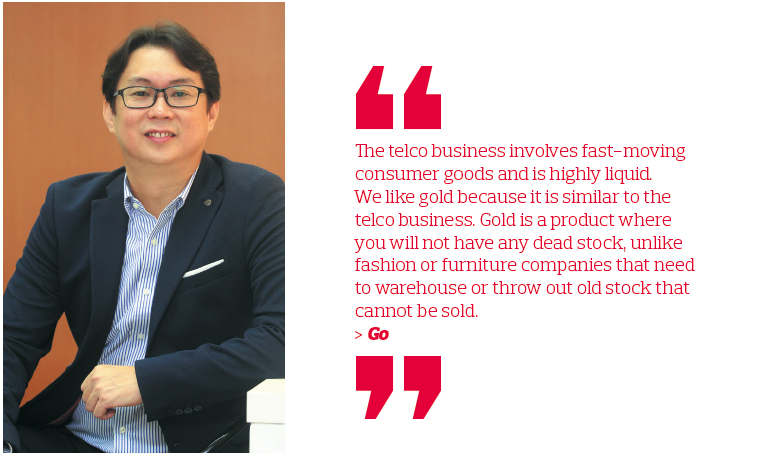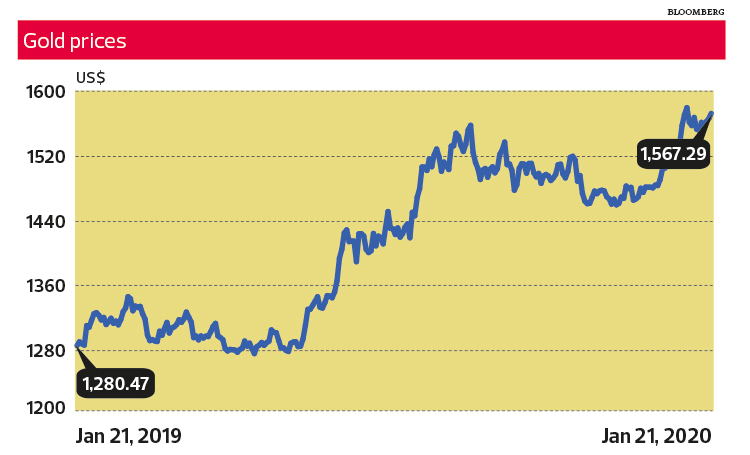 At the height of uncertainty and turmoil in global financial markets last year, few assets gave investors assurance like gold. The precious metal was one of the best investments in 2019 as prices surged 18.4%, outperforming bonds and emerging-market stocks.
It was the best year for gold since 2010 — a consequence of geopolitical turbulence on multiple fronts, expectations of weaker economic growth and a low interest rate environment. As at Jan 21, the precious metal was trading at US$1,560.77 per oz.
It was the qualities of this enduring asset that got Go Yoong Chang, CEO of ACE Innovate Asia Bhd, into the business of trading gold in 2011 and the precious metal's unwavering robustness that encouraged him to list the company on the Leading Entrepreneur Accelerator Platform (LEAP) at the start of this year. It is the only player in its industry on the LEAP market.
ACE Innovate started out as a small-time gold bullion platform for industry players, enabling the trading of physical gold products such as scrap gold bars, cast gold bars and minted gold bars with refineries, manufacturers and retailers. The group, through its subsidiaries, later expanded the range of its services to include melting old jewellery into gold bars and metal assaying, which are then traded on the platform. It is also a market maker for the Bursa Malaysia Derivatives Gold Futures Contract and PT Bursa Komoditi dan Derivatif Indonesia.
ACE Innovate, which controls 8.8% of the estimated RM12.4 billion bullion trading market in Malaysia, made its debut on the LEAP market on Jan 7. Its share price rose to 36 sen on Jan 14, from its issue price of 26 sen.
Interestingly, Go's background had nothing to do with gold trading. One thing that the mechanical engineering graduate of Universiti Tenaga Nasional knew for sure at the beginning of his career was that he did not covet a desk job.
"I was just 21 years old. I had just started an internship at this factory in Johor. The nature of an engineer's job is such that we have to start work earlier than the others and be among the last to leave," says Go.
"It was dark when I went to work and dark when I came home. And I thought to myself, 'Is this how I want to live for the next 20 to 30 years?'"
After deciding that this was not the life he wanted, he joined a bank and became a mortgage officer in the early 2000s. While he was working there, he got acquainted with the property market — although deep down, he was yearning to start his own business.
"I grew up in a business-oriented family. My mother used to own a shop that sold school supplies such as bags and uniforms. My siblings and I used to help her during the school holidays. So, when I was working at the bank, my entrepreneurial spirit was very strong," says Go.
This prompted him to return to his hometown of Batu Pahat, Johor. There, he got together with a few of his friends and started a DiGi Telecommunications dealership, distributing prepaid top-up cards.
The business reached its peak in 2008. That was when he met Fong Pok Yee, then a distributor for Maxis Communications, who would become ACE Innovate's chief marketing officer.
The prepaid telco card industry started to decline soon after and the duo felt that the time was right to begin a new venture together. Together with several friends and business partners, Go and Fong established ACE Capital to deal in property investments. But things did not go as planned as some of their investments failed to pan out.
Then they decided to get into bullion trading as Fong was knowledgeable about the gold trading market and Go showed interest in it too. "The telco business involves fast-moving consumer goods and is highly liquid. We like gold because it is similar to the telco business. Gold is a product where you will not have any dead stock, unlike fashion or furniture companies that need to warehouse or throw out old stock that cannot be sold," says Go.
They started trading bullion the old-fashioned way in 2011, by making phone calls. To ensure that their customers got the best proposition, they traded by offering live gold prices and a minimum spread of RM1 to RM2.
As their reputation grew and the business prospered, more people started calling to trade bullion. But the company's manpower had reached its capacity and it was not able to manage more calls.
"At one point, in our haste for more transactions, we began to make mistakes and sometimes recorded information wrongly. There were more disputes with customers on the price per gram because wrong orders were being jotted down at different prices," Go recalls.
"We realised that these man-made errors could be fixed using technology. So, in 2016, we took a year to develop a platform — GTP-EASY [GTP stands for Gold Trading Platform] — so that our customers could look at the live prices and buy there and then. It made things more transparent too."
By then, the company had already built a solid business network. "For example, if you own gold jewellery and you trade it with a retailer to buy new jewellery, the old jewellery has to go somewhere, so it comes to us. What we do is melt and separate it, do an assay report and supply it to the manufacturer so it can make new jewellery. It is a cycle," says Go.
The platform is open to gold traders and businesses that deal in gold.
Bridging the gap
Despite being a safe haven during perilous economic conditions, gold is still considered a traditional product. That is why Go believes that its appeal is diminishing among the younger generation.
"It is a unique product. I understand that youngsters today are not so keen on gold. But that is because there is a gap between industry players and consumers. That is the gap we are trying to bridge," he says.
ACE Innovate intends to expand its offerings on the GTP-EASY platform and accompanying end-to-end solutions to businesses that have already amassed retail consumers. These businesses include financial institutions and digital wallet operators. One of the things that it plans to do is keep the gold price spread low so it can offer more attractive prices to its customers.
Today, to buy investment-grade gold, one has to make an over-the-counter purchase at a gold retailer or open a gold investment account at a bank. For those who are comfortable with financial apps, there is the alternative to buy and sell gold on financial technology platforms. However, the spread between the buy and sell prices is relatively higher — ranging from 2% to 5% — than that offered by ACE Innovate.
"Gold retailers need to calculate their operating costs into the spread. So, it is hard for them to sell at a cheap price," says Go.
"And if you look at the products offered by banks, the spread is nearly 3% to 4%. On top of that is the safety aspect — consumers do not feel safe taking home their gold. These scenarios cause consumers to shy away from gold as an asset."
ACE Innovate's customers use the GTP-EASY platform to trade bullion. The spread, of about RM1 to RM2, is less than 1%.
"We are taking the business-to-business-to-consumer approach, where we are offering this solution to financial institutions and retailers in the hope that the price will be lower for consumers," says Go.
The platform does not have a minimum trading amount, but ceiling limits are determined when a manufacturer or retailer signs up with the platform. This means a trader on the platform can trade as little as 1g of gold.
"Let's say I want to trade a bar that is 921g and someone has locked in 920g, the remaining 1g is still tradeable on the platform in order to sell the whole bar," says Go.
"The spread is adjusted according to the demand and supply. Then, a gold refinery fee is added. There are a few premiums and discounts to take into account before the price is finalised."
The company is able to keep the spread low as it is a volume game, he says. If the platform sees a lot of trading, the assets are very liquid. But when trading volumes are low, prices tend to stagnate.
"That is why we would rather go to retailers and financial institutions than to end consumers directly because they already have an established market of customers. These businesses also have the trust of their customers, be it banks, retailers or e-wallet players," says Go.
So, if financial institutions decide to keep their spreads at 1%, they will still make money while keeping prices low.
He says if the spread is low, people can offload their gold investments whenever there are movements in the market. "This means if they invest now and if [US President] Donald Trump posts a tweet that affects the market, they can immediately make a profit if they sell.
"When this happens, people tend to buy and sell more. So, the volume game can cover the margins that financial institutions need to make."
ACE Innovate is also venturing into e-commerce, mainly to test its theory that consumers will take to gold if offered convenience and the right pricing. Consumers can purchase gold from the company via Lazada. While the prices offered are fixed, these are only slightly higher than ACE Innovate's live prices.
"I believe a lot of the purchasers are from the younger generation [40 years old and below] because they are comfortable buying [things] online. Surprisingly, we have done well at Lazada and that is why we are trying to convince them to allow us to offer live pricing. All we have to do is connect our GTP-EASY platform's application programme interface to Lazada and we can integrate the live pricing," says Go.
"This is a new concept. So, it is taking us some time to convince them. To sell at stagnant prices means I have to sell higher just to cover our costs because we need to cushion the fluctuation of gold prices within the day."
Another reason it took to Lazada was because it did not incur any additional costs. "We started offering this option at end-2018 and last year, we saw a full year of positive growth on Lazada. Some months, we saw more than 20% sales growth," he says.
Consumers who purchase via Lazada receive a neatly packaged gold piece with a greeting card and customised box. ACE Innovate's bullions are certified by the Istanbul Gold Refinery (IGR) and the gold bars are delivered in protective, hard plastic assay cards.
"The final product is tamper-proof and there are authenticity markings when put under ultraviolet light. The only way to get the gold out of the packaging is to cut the card, which means the product cannot be swapped out or replaced without damage," says Go.
This is one of the many appealing security features, apart from the fact that gold is transported using a verified and insured postal service, he adds.
The company is in talks with e-wallet operators and financial institutions to integrate their solutions with its mobile app. By doing so, their customers would be able to see live prices of gold and buy and sell anytime using the app.
A feature that is in the pipeline is the ability to transfer gold using the app. The idea stems from an initiative of WeChat, one of the popular apps in China, which started offering users the option of sending a gold ang pow during Chinese New Year in 2017.
"That is not all. There are a lot more things that we hope to do. For example, if you have gold but need money urgently, you can apply for a loan by leveraging your gold holdings," says Go, adding that the company is in talks with several financial institutions to offer their gold products.
ACE Innovate's offerings are shariah-compliant. So, each gram of gold has to be backed by physical gold. "At the end of the day, the customer still owns the gold and the bank is just the custodian. This means if anything happens such as if the bank collapses, the gold will still belong to you," he says.
Go says the company is working on a way for people to redeem their gold. "Let's say you have invested RM5,000 but you want 1g to be used as a gift for a friend or family member's wedding, you can request for it to be delivered to you."
Listing the company on the LEAP market will enable it to focus on developing new features to enhance its platform and make the interface more user-friendly. The listing exercise raised RM10.14 million, of which RM8.95 million is for working capital.
ACE Innovate is also looking to expand to Sabah and Sarawak. "There is a huge consumption of gold and jewellery in Sabah and Sarawak. There are also a lot of Indonesians and Filipinos who love gold in Sabah," says Go.
Following the scandal involving gold investment firm Genneva Malaysia Sdn Bhd in 2012, there were a lot of aspersions when it came to gold investments. Go says the move to list on the LEAP market was to instil credibility in the company and its products and foster greater confidence among traders.
Gold continues shine
The prospects of bullion trading are immense in Malaysia, says Go, as Prime Minister Tun Dr Mahathir Mohamad has repeatedly proposed revisiting the idea of using the gold dinar and barter trade among Muslim countries. This idea was initially mooted in 1997 during the Asian financial crisis and was brought up again last year.
There are a lot of jewellery manufacturers in Malaysia as it acts as a hub for Dubai which, in turn, is a hub for the Middle East, Africa and India. As manufacturing is too expensive to be done in Dubai, they tend to import from Malaysia given its credentials in abiding by Islamic trade practices.
"Malaysia produces and supplies a lot to Dubai. So, when manufacturers produce a lot of jewellery, they need raw materials and we are the ones supplying it," says Go.
ACE Innovate received shariah-compliance certification for its trading process as well as trading system, which makes the company's business proposition more attractive to Muslim-majority markets. To receive the certification, the company made sure that the products it supplies is backed by physical and not paper gold.
The reason the company chooses to work with IGR on gold packaging is to adhere to the shariah-compliant nature of the business. Go explains that for a gold bar to be shariah-compliant, it cannot come with motifs such as animal figures on its coins and bars. The Turkey-based refinery is recognised by the London Bullion Market Association (LBMA).
LBMA is the governing body for all the refineries in the world. When a refinery is accredited by LBMA, it means the gold bars have an assay certification of 999 purity, says Go. "A refinery does not have to be certified by LBMA. But if you bring an un-certified bar to the international market, it is usually sold at a cheaper rate."
The asset class will continue to remain attractive this year, especially since it has been regarded as a safe haven in times of global macroeconomic uncertainties. According to a DBS Economics and Macro Strategy group research paper published on Jan 13, at the height of the US-Iran tensions, gold soared to a seven-year high of US$1,610.90 per oz. The report says the attractiveness of gold investments should remain, given the persistently low interest rates, uncertainties surrounding the global macro-economy and US-China trade tensions.
"Given its safe-haven status, gold has historically outperformed all asset classes during periods of geopolitical tensions. Another key driver adding to a bullish outlook for gold is inflation arising from oil price appreciation. In the near term, we expect gold prices to consolidate around US$1,600 per oz in 1H2020," says DBS equity analyst Lee Eun Young in the report.
Looking at the US-China trade tensions, gold has been on an upward trajectory because investors tend to be uncertain about the market during times of volatility and move funds to invest in gold, says Go. "When this shift happens, prices go up. When the market does well, investors offload some of the gold and put the funds in equity markets or unit trusts, or whatever they believe is more profitable than gold.
"The problem is that gold is an asset class that does not generate any income but appreciates over time because the cost to mine gold increases every year."