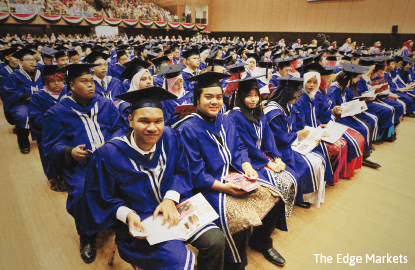 This article first appeared in The Edge Malaysia Weekly, on October 19 - 25, 2015.
Mike, a 23-year-old fresh graduate of a foreign university, is happy that he found work at a multinational electronics company.
He is the first among his group of friends to have found a job, but he isn't the envy of his peers, who are still looking for work.
"My friends are picky. They complain that the starting salary of RM2,700 for an engineering graduate is too low. Many of them are expecting at least RM3,800," says Mike.
"They may have a point as they graduated with first class honours. And some say the jobs offered are not what they are looking for."
Announcements of job cuts make the headlines. This is despite the country's 3.3% unemployment rate in July, which is deemed "full employment".
Given that the job market is showing signs of possible softening as economic growth slows, will the young graduates relook at their salary expectations and choice of jobs?
According to the International Labour Organization's (ILO) 2015 Global Employment Trends for Youth report, the youth workforce is often the most severely impacted during an economic crisis.
ILO defines "youth workforce" as those who are typically between 15 and 24 years who are currently without work but available for work and actively seeking a job.
"... youth are the 'first out' as economies contract and the 'last in' during periods of recovery. Evidence from previous crises suggests that it takes an average of four to five years from the resumption of economic growth before overall employment returns to its pre-crisis levels," says the report.
Greece, for example, whose debt crisis imploded in 2010 and is now bankrupt, has seen its youth unemployment numbers escalate. World Bank data shows youth unemployment in Greece rose to 58.4% in 2013 from 20.5% in 2007.
Thankfully, Malaysia is nowhere near Greece's unemployment level. That said, the data does show that Malaysia's youth unemployment rate has been above 10% since 2001. In 2007, it was 10.7% and in 2013, it inched up to 11.1%.
Dr Yeah Kim Leng, dean of the School of Business at Malaysia University of Science and Technology, views youth unemployment as a serious matter.
"Unemployment is essentially underutilisation of resources. For now, many of our fresh graduates are still supported by their families, so there is less of a social problem," he says.
"But prolonged unemployment among the youth can result in a structural problem like what we saw in Europe during the [2008-09 global] economic crisis. It (youth unemployment) needs to be addressed urgently."
Employment patterns have also undergone some changes since the retirement age was raised to 60 in 2013, says Malaysian Employers Federation executive director Datuk Shamsuddin Bardan.
"In the past, retirement made room for about 200,000 new workers every year. But since the implementation of the new retirement age, this number has dropped significantly," he says.
Malaysia produces some 270,000 graduates each year, shares Shamsuddin. Now with the new retirement age, one can only imagine the frustration of fresh graduates going after fewer available jobs in soft labour market conditions.
A 2014 survey by Group GTI — the producer of the annual Malaysia's 100 Leading Graduate Employers magazine — reveals that most students expect to be able to secure a job within 3.9 months upon graduation.
However, this is not quite the reality, Minister in the Prime Minister's Department Datuk Seri Abdul Wahid Omar told reporters last May. He also said there were about 161,000 graduates who failed to find jobs more than six months after graduating.
Shamsuddin estimates that the number of unemployed youth with a diploma or degree could have even reached about 200,000 by now.
Group GTI's survey also reveals that graduates expect to work an average of 8.1 hours per day and get an average starting monthly salary of RM3,140. Many respondents listed the top three attractive factors of a potential employer as work-life balance, good career prospects and personal development.
Surprisingly or not, a recruiter highlights that many fresh graduates have problems with basic communication skills.
"Language is one issue. But we find that many fresh graduates are not able to articulate their thoughts properly. This is also a problem among some overseas graduates," says the recruiter.
"It is also a big put-off when fresh graduates with zero experience demand unrealistic starting salaries and complain about working hours. We have some asking for starting salaries of about RM4,000 because they graduated from an overseas university. It doesn't work that way."
While picky fresh graduates like Mike's friends could be one contributing factor to unemployed youth, TalentCorp Malaysia says employers find it increasingly difficult to find the right people to fill job vacancies.
"What we often hear through our engagements with employers is that it's becoming increasingly difficult to find the right talent, which suggests that there continues to be a mismatch between supply and demand for talent," says TalentCorp in an email reply to The Edge.
"Based on the findings of the Economic Monitor June 2014 survey by the World Bank and TalentCorp, firms regularly cite talent as one of their top business challenges. That said, addressing this mismatch calls for greater industry participation in talent development and reskilling."
The 1Malaysia Training Scheme, which was launched by the government in 2011, is one such talent development programme. It has seen the participation of more than 100 private organisations and government-linked companies.