This article first appeared in City & Country, The Edge Malaysia Weekly, on October 31, 2022 - November 06, 2022.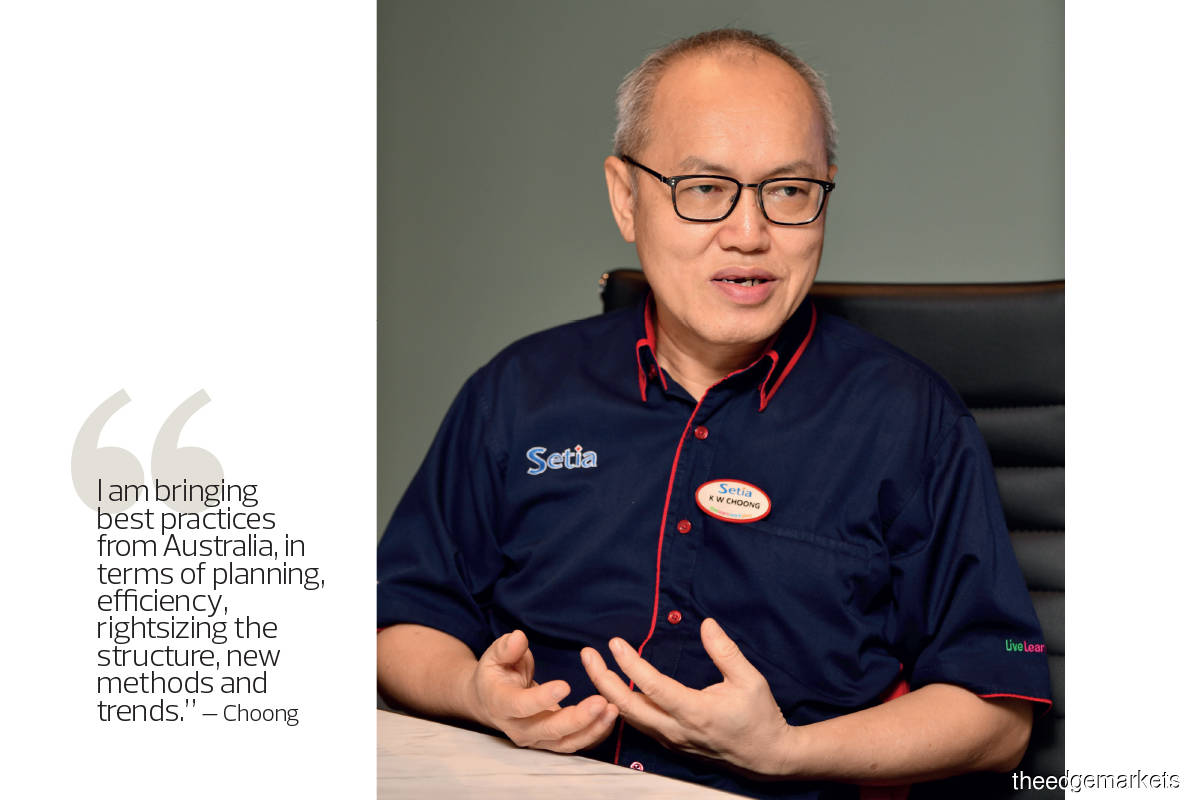 Since taking on his new role as S P Setia Bhd president and CEO on Oct 1, 2021, Datuk Choong Kai Wai has been a lot busier, but the change has not needed too much of an adjustment.
"I have been with the company for more than 12 years ... I am already immersed in the Setia culture. But, coming here in a bigger role, it is more challenging and has more responsibilities," Choong tells City & Country during an interview at the group's corporate headquarters in Setia Alam, Shah Alam.
"My intention is to make Setia a fitter Setia, to consolidate it and broaden our income base." He adds that this goal is to counter the ever-increasing competitive nature of the property development business.
Choong, previously CEO of Setia (Melbourne) ­Development Co Pty Ltd in Australia, brings with him more than 30 years of experience in the property and construction industry. Having graduated with a Bachelor of Science in mechanical engineering from City, University of London, he joined S P Setia
in May 2010 and headed the group's Australian division in Melbourne. The business Down Under has grown and S P Setia is now a recognised brand in the property market there.
Its completed projects in Australia include the 805-unit Fulton Lane on Franklin Street, the 329-unit Parque Apartments on St Kilda Road, the 48-unit Maison on Neerim Road and the 47-unit Marque on High Street, Prahran.
Meanwhile, its ongoing developments include the Sapphire by the Gardens twin-tower project, with a 64-storey residential tower alongside the five-star Shangri-La Hotel; and the 636-unit Uno Melbourne on A'Beckett Street.
As Choong has spent so much time managing the Australian projects, he believes his experience will benefit the group as a whole. "I am bringing best practices from Australia, in terms of planning, efficiency, rightsizing the structure, new methods and trends," he says.
The new methods he is looking to bring in ­involve construction, such as how to lock in the price in design and contracts to reduce project overruns. Other areas that he would like to see level up are product quality and delivery, workmanship and customer service.
In the meantime, the group's property sales in both local and international markets have been good, surpassing its FY2021 ended Dec 31 sales target of RM3.8 billion to reach RM4.26 billion. Local sales contributed 82%, coming mostly from the central region of Peninsular Malaysia, while 18% were from international sales.
For FY2022, the sales target is RM4 billion. According to the group's 2QFY2022 financial report, the first half of the year saw RM1.67 billion collected, with local sales making up 83%, or RM1.38 billion, and the remaining 17%, or RM294 million, from overseas sales. The central region contributed the most with RM944 million, supported by RM286 million from the southern region and RM149 million from the northern region. Cleared inventory contributed RM272 million. Choong says the group aims to increase sales targets incrementally to reach RM6 billion by 2027.
As at 1H2022, the group was anchored by 47 ongoing projects, with a land bank of 7,042 acres and an estimated gross development value (GDV) of RM120.88 billion.
 S P Setia will be launching a new phase in its residential development Musika Homes (GDV of RM463 million) in Setia Alam. Musika Homes will offer 436 two-storey terraced houses. There will be a total of four phases.
Phase 1, called Altora (114 units), was launched on Oct 15, with selling prices from RM963,000 to RM1.34 million. Phase 2, called Barola (120 units), is scheduled for launch either at end-November or in early December, with selling prices from RM998,000 to RM1.44 million. The two other phases, called Caprica (102 units) and Dimina (100 units), will be launched at a later date.
S P Setia will also be launching Temasya Prisma in Temasya Glenmarie in Shah Alam. The mixed-use development sits on 2.14 acres of freehold land and will offer 216 residential units with built-ups of 678 to 1,098 sq ft.
Creating greater value
Choong points out that the digitalisation of the sales process has helped improve its business ope­ration and would be a necessity for developers if they want to succeed. Apart from banking on township developments to aid its sales, he says, the group is looking to add to its portfolio by venturing further into the industrial property sector.
"Township development is our mainstay, but we are going into new areas like industrial property, where there is a demand now. We have two big pieces of land that are suitable for industrial development."
One of the tracts is in Setia Alam and measures 400 acres; a memorandum of understanding has been signed with an international firm to deve­lop the site. The land is undergoing conversion from agriculture to industrial use. As the areas surrounding the tract are already industrial in nature, Choong is confident that the areas and the industrial property to be built there will do well.
The other industrial project is the 192-acre Taman Industri Jaya in Johor. In early October, the group unveiled Setia Neo II, a RM75.4 million development consisting of 56 two-storey terraced factories with a land area of 24ft by 80ft and 24ft by 108ft and priced from RM1.12 million.
Choong envisions future industrial properties to be build-then-sell and build-sell-lease products. He says the former will immediately give the group a profit while the latter will provide recurring income.
He believes properties that provide recurring income are necessary for the group to grow. "We want to build up our investment property portfolio and not just depend on trading properties," he says, pointing to projects such as its malls, which are well occupied and provide good rental income. He also highlights that the Shangri-la Hotel in Melbourne will provide the group with RM93 million a year.
Moreover, Choong wants to "unfreeze" its land parcels to develop catalytic products and amenities such as petrol stations, schools and malls. He says there is about RM2.4 billion worth of land that could provide more value if it were given a change in use.
He adds that long-term projects such as the Battersea Power Station, which includes the recent launch of Koa, comprising 204 apartments priced from £560,000 (RM3 million); Setia Federal Hill in Kuala Lumpur, a 50-acre integrated mixed-use development; and those in Sabah need monitoring and there are dedicated teams to manage each project.
In addition to ensuring good financial performance, reducing its gearing is a key goal for the group, says Choong. He is also exploring senior living developments, for which the group is looking for suitable land. 
He says high- or low-rise apartments could be built then sold, thus generating immediate profit for the group. To add further value, management of the property can provide the group with another source of income.
Choong cites as an example Stockland, an Australian property developer that has built about 60 retirement living villages. On July 28, the company announced on its website that it had sold its retirement living business, except for one property.
Choong says, "We are looking for land that is near a shopping centre, not too far from a golf course or train station. Obviously, we will take baby steps. We may do a joint venture with an Australian or Canadian company and take it from there."
As for environmental, social and governance (ESG) matters, Choong says that for the environmental portion, the group plans to install solar panels at its new houses and design them to be EV charger-ready. 
For now, it plans to install solar panels on commercial properties, which were kick-started with a ceremony on Sept 28, when the group rolled out its green initiative with Tenaga Nasional Bhd with the installation of solar panels atop S P Setia's corporate headquarters in Setia Alam. Six other commercial assets — Setia City Mall, Setia City Convention Centre 1 and 2, Setia Ecohill Club 360, and the welcome centres in Setia Alamsari and Setia Tropika — will soon be fitted with solar panels.
Other ways to help reduce energy consumption in residences include the installation of a "green switch" that turns off the electricity except for essential items, devices or appliances. On a community level, Choong aims to install water dispensers in common areas in S P Setia's developments where possible to reduce the use of single-use plastic bottles.
For the social component, the group has helped facilitate the Covid-19 vaccination programme by offering the use of its convention centre in Setia Alam, providing food aid, donating medical equipment and helping with the education needs of children, among others.
For the governance portion, Choong says the group has established an integrity and governance unit, an integrity framework and policies, as well as pledged against corruption and undertaken risk management, business continuity management and sustainability reporting. 
"Integrity is very important to me. Any company without integrity will go down," he adds.
For FY2022, the group has planned to launch RM4.25 billion worth of products. At least RM2.59 billion, or 61%, will be from the central region and the remaining portion will be in the southern and northern regions as well as international markets. Product-wise, 65% will be landed properties. In terms of price, 58% of its products will be priced below RM1 million. 
Choong believes Australia and Vietnam will contribute more significantly to the group because of the ongoing projects there. In Vietnam, the group signed a joint venture with Becamex, a leading real estate developer in the country, to form Setia Becamex. The plan is to develop two projects: the 226ha EcoLakes in Binh Duong province, which comprises landed and high-rise residential properties, commercial lots, a medical centre, schools and a clubhouse; and the 10.8ha EcoXuan, a boutique township development in Lai Theu.
Choong says S P Setia is always on the lookout for opportunities. Locally, the land has to be close to good infrastructure and he sees development growth corridors in the west and south of Peninsular Malaysia.
On the overseas front, he says the group is always keeping its ear to the ground, but certain pragmatic conditions need to be met. "I always look to develop projects in a city or place where the population is growing. Melbourne and Sydney are growing, Vietnam is growing. That is the first thing we look at. Of course, [economic] stability and clarity in planning will reduce our risk."
In summarising his mission for S P Setia, Choong says, "Setia will continue to lead in building sustainable communities across the nation and in countries where it is present, as well as create spaces for communal living, enriching lives. 
"Malaysians will need more homes, and we will build sustainable homes for them."