This article first appeared in Personal Wealth, The Edge Malaysia Weekly, on August 31, 2020 - September 06, 2020.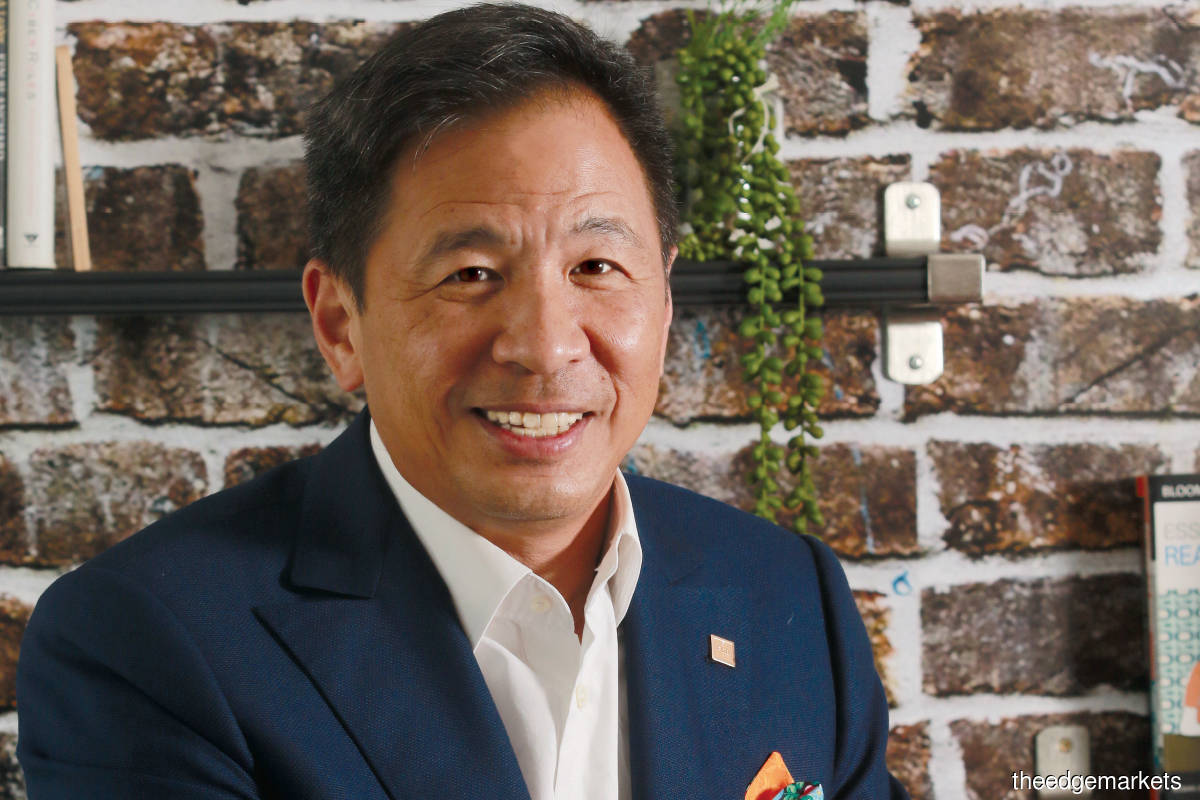 Lee Lung Nien is leaving Citi Malaysia after six years at its helm to take on the wider role of chairman, South Asia, Citi Private Bank. In this exclusive interview, he shares the ups and downs of his journey.
In 2014, when Lee Lung Nien crossed the Causeway to take over as CEO of Citi Malaysia, little did he know that he would be steering the ship through one of the most exciting but turbulent periods in Malaysia's history.
Back then, banking and financial services, driven by new technology, were beginning to see changes that today are shaking and reshaping the whole landscape. Many bankers were already shifting their focus to new ­areas of growth as well as getting a grasp of the implications of technological change on the industry.
Still, not all changes were anticipated. Many were caught flat-footed, not only by the change in government following the 2018 general election but also by a virus that has shuttered the world and killed thousands of people, sending the global economy right into the eye of an economic storm this year. The jury is still out on when the twin crises — health and economic — will end.
For Lung, while it was an exciting ride, it was also very challenging as the chief steward of the bank. Despite the bumpy ride, he managed to build on the solid foundations of Citi Malaysia, taking the bank from strength to strength.
"There have been some difficult years, trying to navigate challenges for the franchise, but I am happy that we showed about 4% growth every year. In the last few years, we have had to navigate some challenges and credit issues on certain corporates, but we have managed to be the best performing foreign bank in Malaysia," he says.
Come Sept 1, however, Lung will leave Citi Malaysia to take on the post of chairman, South Asia, Citi Private Bank. He will be based in his homeland, Singapore.
In this exit interview, Lung looks back at his six-year tenure and shares his thoughts with Personal Wealth on what has passed and what is to come.
"For me, change has been the biggest challenge, more so in the last few years," he says. In this context, he identifies three major events that he thinks had a great impact on the industry, one being the general election in 2018.
"It has been exciting to witness the his­toric developments. Since I have been here, there have been three governments, three central bank governors and three prime ministers. In my 30 years of corporate experience, this has been a novel change," he says.
Another big challenge came in 2016, when Bank Negara Malaysia announced changes to the Foreign Exchange Policy guidelines. The new guidelines were to promote a deeper and more transparent onshore market to enable the hedging of risks and to curb offshore trading of ringgit NDFs (non-deliverable forwards).
To recall, the last quarter of 2016 saw strong ringgit transactions in the offshore NDF market, driving up volatility in the exchange rate and affecting the price of the local currency onshore. Malaysia has not allowed offshore trading of the ringgit since the 1997/98 Asian financial crisis.
Like most new guidelines, clients had to be briefed on the implications. Lung remembers he was on a holiday in Japan when the guidelines were announced. "Every night, I was with our team doing conference calls, trying to sort out client communication and understand what the implications were. On each call, there would be 300 to 400 clients dialling in."
But of course, the biggest black swan of all was the Covid-19 pandemic and the lockdowns worldwide. For Lung, the priority was ensuring the safety of the bank's employees and minimising the disruption to its operations.
"We were already prepared for it three to four weeks before Malaysia imposed the Movement Control Order (MCO). We had all our technology and crisis management plans in place. We had started pushing our people to work from home since February," he says.
"Initially, we had daily crisis management calls, but we slowly reduced them to twice weekly and now once a week. I reduced the crisis management team to four persons to ensure decisions were made quickly and accurately.
"We were very quick to deploy our technology logistics to employees who were already working from home even before the MCO was implemented. Now, we have about 32% of our employees back at our sites/offices around Malaysia while the rest are still working from home with minimal disruption to our business and no drop in productivity."
Despite the challenging environment, Lung is happy with what he has achieved at the bank, in terms of the goals he set for himself and in terms of its bottom line. "My main goal when I arrived here was to make this the best Citi franchise and the best bank in Malaysia. I wanted to focus on four pillars — people, clients, governance and relationships. I believe that the objectives I started out with, using these four pillars, have been achieved," he says.
Lung points out that Citi Malaysia has built a resilient franchise with steady growth in both its institutional clients and consumer banking. The bank has also invested in two global and regional solution centres in the country, which today serve customers, multinational corporations, financial institutions and small and medium enterprises (SMEs) across the world.
"On the client front, we have continued to deepen relationships, particularly with the big corporates. Over the last four years, we have participated in major deals or mandates for some of the country's global champions and leading corporations such as Genting Bhd, Petroliam Nasional Bhd (Petronas) and Tenaga Nasional Bhd," he says.
"Landmark bond issues were managed, new relationships were forged and existing ones were strengthened. We have a good balance of local conglomerates and multinational corporations. It is easier to do business when you are able to pick up the phone and speak with someone familiar. People who know me know that I am very customer-focused — I enjoy meeting people and solving their problems."
The bank recorded a total net income of RM502 million for the first quarter ended March 31. Citi Malaysia's total capital ratio stood at 19%, slightly above the industry average.
When Lung arrived at Citi Malaysia, one of his priorities was to inculcate an inclusive culture among its workforce. He wanted to break down the walls of seniority or official titles between the different working levels. He did so by personally going down to the floors to meet and engage with the younger staff. He reckons that he has succeeded in this endeavour, partly reflected by the low employee attrition rate.
For this interview, we met at the Commune on the 35th floor of Menara Citibank. It is the bank's open working space with a café and recreational area. Lung has played a key role in setting it up as part of Citi Malaysia's approach to enhancing work-life balance, in sync with the kind of working environment that appeals to the younger generation.
Are there any regrets of things not done or of things that could have been done better? "I am someone who always thinks that I could have done better. Wishing that I could have done more ... Budgets and key performance indicators are moving targets. If you are halfway through the year and you are doing well, you shouldn't lift the foot off the pedal. If you do, you will start coasting. You need to be able to continue pushing. For me, I will not stop pushing until December," he says.
How would he want Citi Malaysia to remember him? "I want to be remembered as someone who broke down barriers. Someone who encourages employees to feel that they are a partner and that they are able to collaborate with each other. Someone who encourages a culture that is inclusive, where employees can raise issues without being fearful and have the courage and ability to speak up."
Creature of habit
Lee Lung Nien, as he says so himself, is a creature of habit. There are two coffee shops in the city that he regularly frequents (almost every morning). The first is Ah Weng at ICC Pudu and the other is Soo Kee (Meng Chuan) in Imbi.
"I am at the coffee shop every morning at around 7.15am. Sometimes, there will be customers who come and talk to me. Sometimes, some employees will join me. Most of the time, I eat the same things. I have even taken my bosses to these coffee shops whenever they visit Malaysia. [When I leave] I will surely miss my breakfast, the local food and the people," he says.
Lung says that when the coffee shop owners heard he was leaving, they gave him extra kaya for his bread and extra beef for his noodles.
Making a difference in private banking
On Sept 1, Lee Lung Nien takes on the new role of chairman, South Asia, Citi Private Bank. Private banking will be a new focus for him, but he is confident that with his experience accrued over the years at Citigroup, it will not be a difficult transition and that he will be able to add value to the Citi Private Bank franchise.
"I am excited to move into this new role because it gives me the chance to utilise my experience, know-how and relationships to attract new clients to Citi Private Bank. The potential for the industry remains strong and I believe that I can make a difference," says Lung.
"I have not formally taken on the role yet [at press time], but I believe Asia still holds the most promise for wealth creation. Growth rates for the region have dimmed somewhat due to the Covid-19 pandemic, but if you believe in the future potential of Asia, then this is the place to be."
In particular, he sees great opportunities in Asean. "Southeast Asia is a big growth market, in my opinion. I think digital is key to all these markets as well as the information flow and execution. Digitalisation allows us to reach a wider audience in a much faster time," he says.
Although Lung has not really deep-dived into his new role, he says he would still work around the four main pillars — clients' needs, growing and developing the customer base and having the right people in place. "There is a lot of low-hanging fruit in the region … the moment you leverage the other departments, you bring more products and solutions to clients. The good thing about private banking is that clients here make faster decisions than corporates," he says.
Lung has identified several trends that will define wealth management and private banking in the coming decade. The first, he believes, is technology which, in fact, is already shaking things up.
"There will be a greater adoption of digital tools and data analytics. It is about enhancement of digital capabilities and optimising digital channels. We need to be able to balance between physical face-to-face and digital channels," says Lung.
"A lot of it, going down the road with the next generation, will be greater self-guided products and services or relationship managers (RMs) assisting, rather than executing, everything. That means the tools have to be advanced. Hybrid advisory — a bit of relationship management but also client self-serve products and solutions.
"Again, it depends on the segment of clients. The average 80-year-old will probably not appreciate self-service investment solutions, but the younger ones may. Upskilling and reskilling of RMs, and even clients, are critical."
He also thinks the approach in the future will be more holistic client-centric advisory than pure tactical deal-type structures. "You have to look at more customer engagement, more product expertise being pulled in. Rather than looking at trading, you should look at portfolio management," he points out.
"A lot of the trading mentality moving forward will be looking at the client portfolio as a whole. More towards family office type of approach. More holistic tax structures, discretionary trading, wealth planning, trust services, governance and corporate social responsibility, compared with specific trading of foreign exchange and bonds. With this, you will need more expertise from various departments of the organisation to look after the individual."
Lung anticipates that servicing of clients will become more complex because of the pillars that exist in family offices. "There will be heightened governance around operation risk, compliance and controls, especially around risk management," he notes.
"There will also be greater cyber risks. We should look at building risk management into advisory platforms, especially on the technology side, and there should be continued oversight by the regulators."
Another trend that will become more marked during this decade is the transfer of baby boomer wealth to the next generation over the coming decade.
Lung opines that this is an area that Citi Private Bank does well, specifically because of its history and technical expertise. "Generational wealth transfer has taken place in the West for some time now, and we have been able to bring that knowledge, twinned with our experience of catering to Asian clients, to the region. We typically bank multiple generations of wealthy families and have built up a level of trust that helps see through this process."