This article first appeared in The Edge Malaysia Weekly, on September 14, 2020 - September 20, 2020.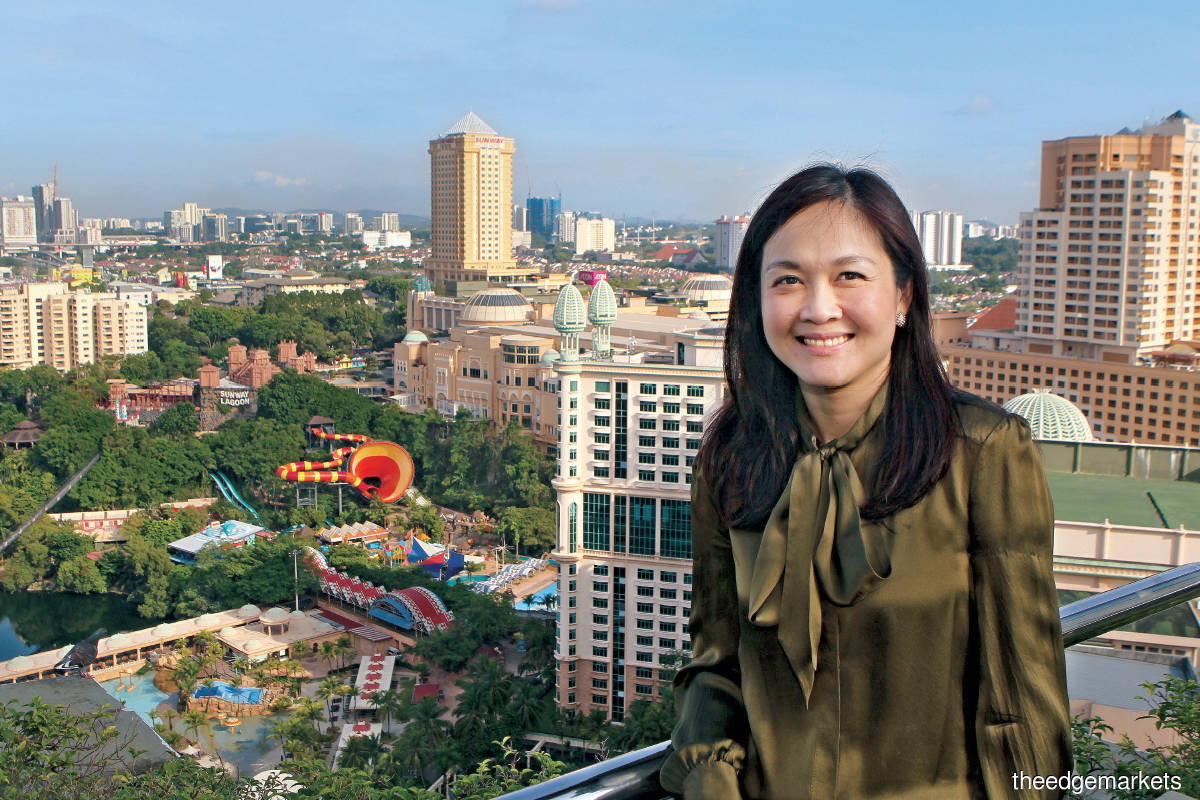 BEING in survival mode is essential during a crisis, but having a growth mindset is equally as important, Sarena Cheah declares on navigating businesses through prolonged uncertainty. The director of Sunway Bhd believes the conglomerate is fundamentally a lot stronger today than during the Asian financial crisis (AFC) more than two decades ago, in terms of its balance sheet, talent strength, corporate infrastructure and business stability.
So, although affected by Covid-19, the group is preparing for better times post-pandemic so that it can avail itself of potential opportunities. "It makes sense for us to ride the growth going forward. Ultimately, the economy will bounce back. It is just a matter of when. So, this is the time to plan and prepare," Cheah tells The Edge in an exclusive interview.
"The new norm resulting from this pandemic will push us forward to become more data-driven and digitally connected to grow our market share and build up our revenue base. As we have some breathing space this time around, versus during the AFC, this will allow us to quickly adapt our strategies in accelerating our digital initiatives while exploring new M&A and/or business opportunities.
"Ultimately, we will continue to expand on the strength of the ecosystems we have created. But this time around, these are no longer limited to physical ones but include virtual communities."
She points out that the group is raising funds to "plan for any eventualities" and also to seize any opportunities that are already available. But as with every deal, it comes down to pricing and value. The opportunities "need to add strategic value" to the group, she says.
Sunway is undertaking a proposed rights issue of 1.11 billion irredeemable convertible preference shares (ICPS) to raise up to RM1.1 billion to repay borrowings, expand and develop its hospitals and invest in the group's property segment. The proposed repayment is expected to result in interest savings of about RM8.3 million a year (based on the minimum scenario) to RM26.3 million a year (based on the maximum scenario).
It will also decrease its gearing level as well as strengthen its capital base. As at March 31, the group's total net borrowings stood at RM4.3 billion while its gearing stood at 0.4 times.
"Gearing-wise, we are still stable. Gearing is not a bad thing actually if you are able to create value. Cash generation and management are key," says Cheah.
"Our chairman and group president have seen [us] through the past two economic crises. Of course, every crisis comes in a different shape and form. But it is still a crisis. So, we are fortunate to have them provide us with the oversight, guidance and vision to help us manoeuvre through this round."
Cheah's father, Tan Sri Jeffrey Cheah, is founder and chairman of Sunway while the group's president, Tan Sri Chew Chee Kin, has been with the group since 1981. They were pivotal in navigating Sunway out of troubled waters during the 1997/98 AFC, when it was heavily geared at almost 2 times and forced to restructure and recapitalise itself.
Part of the enforced pain involved disposing of some businesses, including one of the group's first — quarrying. But Sunway learnt from the painful experience and its gearing today stands at 0.4 times — manageable given its size, say analysts.
"It is a plausible strategic decision to conserve cash and create debt headroom now to prepare and position the group on a new footing post-Covid-19," says an analyst who covers the stock, adding that investors should look at how companies strategise and position themselves for next year.
Cheah says the group's balance sheet is still stable, but recognises the need to "be careful" when it comes to spending. "Yes, every business has risks. And this time around, we will be selective and careful in our new investments. Yes, we are still expanding but we will be prudent. We are always watching our gearing and ensuring that we invest wisely, hence our net gearing level over the past years has been within the comfortable range of below 0.5 times.
"We know there are opportunities in a crisis. So in the end, whether it is a new business or M&A, it has to make sense for us. I have nothing to announce at this point and we will do so when there is one. But there are opportunities."
Over a week ago, Bloomberg reported that Sunway was looking to divest itself of a 20% to 25% stake in Sunway Medical Centre Bhd that could fetch at least US$250 million (RM1.04 billion) and that non-binding bids were expected to close as early as October. In a subsequent filing with Bursa Malaysia, Sunway said it had appointed Maybank Investment Bank Bhd to explore strategic investment options for its healthcare portfolio.
Cheah says to bring the group to the next level, a new phase of growth for the 46-year-old conglomerate will be to extract value from the ecosystems it has built over the decades. She points to the healthcare sector as an example of growth potential and discloses that the group will plan its investments accordingly to expand its portfolio in this space.
"In the end, we aim for investments that can provide sustainable growth. That is key. That is where we will explore new revenue models ... but based on our expertise," she says.
Digitising Sunway
Cheah says the way forward for Sunway is to be more digital-driven and asset-light so it can be more agile and dynamic in a rapidly changing landscape.
Of the 13 business segments the conglomerate is in, those that have been most severely affected by the pandemic include hospitality and retail malls. The two segments are parked under its property investment business unit, which saw a 129% y-o-y decrease in earnings before tax to a loss before tax of RM35.8 million for its second quarter ended June 30.
For 1HFY2020 ended June 30, Sunway's net profit contracted 81.3% year on year (y-o-y) to RM71.58 million from RM382.9 million, on the back of a 30.5% decline in revenue to RM1.53 billion from RM2.2 billion. All of its business segments saw lower profit before tax, with its property investment and healthcare segments posting losses before tax of RM3.77 million and RM20.44 million respectively. Despite the temporary setback in the performance of the healthcare segment in 1HFY2020, we are seeing strong recovery going into 2HFY2020, says Cheah.
The silver lining in the healthcare business aside, Sunway is also increasing its pace in the digital sphere — an initiative that started in 2000 but has picked up momentum only recently. Today, it has carved out a standalone business pillar in digitalisation for the group.
"Everybody knows that the adoption of technology has accelerated greatly with this pandemic. This presents opportunities for us to review how we adapt to new channels of communication, delivery and engagement as well as how we transact," Cheah points out.
"Since 2000, we have invested more than RM200 million in our digital transformation journey, including improving our internal processes, enhancing customer-facing initiatives and business ventures. Moving forward, we target to invest about 1% to 2% of our revenue yearly."
In FY2019, Sunway's revenue stood at RM4.8 billion.
Three years ago, the group set up Sunway Innovation Labs (Sunway iLabs) to foster entrepreneurship and stimulate market-driven innovations, particularly in the digital space through five verticals: Smart Cities, Digital Health Tech, Edutech, Agrifoodtech and eCommerce.
Sunway categorises its digital journey into three components. "The first one refers to our investment in technology enablers and digital infrastructure to build up the organisation's backbone to drive efficiency and productivity for our businesses," Cheah explains.
This is not new to the group and has been an ongoing process over the last decade or so, she says, with capex and training investments close to RM200 million that include robotics, automation, e-procurement, e-payment systems and the adoption of Microsoft office tools to facilitate remote working and meetings. Sunway has also built its own shared services centre for the group's human resources, IT and finance functions.
The second component focuses on building digital platforms for closer customer engagement, with a view to expanding market share and customer base. "How are we using digital to better engage with customers in every business unit? After the MCO, people are getting more comfortable with online purchases, online education, virtual showrooms and even telemedicine. This is where all our business units look at how digital platforms will help us increase and better engage with our customer base," says Cheah, noting that with digital, "the world is your market".
The third component of Sunway's digital journey is transformative. The group is looking to invest in new digital businesses. This is where a potential new business, which the group has earmarked to be digitally linked, is expected to transform the group, says Cheah.
"As we continue to build upon and improve how we run our current businesses in this new digital era, whatever new ventures we look at will likely be in the digital space, which is scalable and at the same time, helps us amplify our strengths and capture new markets. With the rise of big data and the rapid adoption of financial technology (fintech), we believe there is an opportunity for us to venture into digital payments and banking," she adds.
Cheah points to Sunway's business ecosystem that covers multiple industries including real estate, construction, trading and manufacturing, building materials, healthcare, retail, hospitality, theme parks and education. "Within this ecosystem, we see myriad opportunities with the amount of transactions we do on a daily basis."
The group recently acquired a 51% stake in Credit Bureau Malaysia, a move that it says is part of its plans to build a fintech ecosystem and secure a digital banking licence in partnership with others.
Lessons learnt from Covid-19
The Covid-19 pandemic is Sarena Cheah's first crisis where she is deep in the trenches together with Sunway Bhd's leadership navigating a multibillion-ringgit conglomerate through a global health and economic crisis.
But it was very different during the 1997/98 Asian financial crisis (AFC) for the Sunway director. Back then, she had just graduated with a Bachelor of Commerce (accounting and finance) degree from the University of Western Australia and was only in her second year at work.
The past six months since the Movement Control Order (MCO) have been tough, with difficult decisions to be made over a short span of time, affecting many stakeholders across the spectrum. Sunway's net profit contracted 81.3% year on year (y-o-y) to RM71.58 million for the six months ended June 30 (1HFY2020) from RM382.9 million a year earlier, while revenue shrank 30.5% to RM1.53 billion from RM2.2 billion.
All business segments saw lower profit before tax, with its property investment and healthcare segments posting losses before tax of RM3.77 million and RM20.44 million respectively. But the group's diverse businesses helped to cushion the fallout.
"When the pandemic hit us, our first priority was our people. The diversity we have in our group in terms of professions and expertise gives our group a different flavour," Cheah tells The Edge in an exclusive interview.
"We were fortunate that we could form a comprehensive crisis management task force comprising doctors, security personnel, communications experts, facilities managers, cybersecurity representatives and more, who are all our own staff. Our diversity during this crisis proved to us that together we are stronger, especially during the MCO period … Of course not unhurt, but better than most."
Sunway is one of Malaysia's largest conglomerates with 13 business divisions operating across 50 locations worldwide and employing 16,000 employees in a multitude of industries, including retail malls, theme parks and hotels, property, education and healthcare.
"We really must thank our colleagues, some of whom had to work doubly hard while others had to put themselves on the frontlines during critical periods. In the end, a crisis really tests the strength and unity of our people. We hope to further build upon this strength," says Cheah.
Six months into the Covid-19 pandemic, which is not only a global health crisis but an economic one as well, she spells out the lessons learnt: "React fast. Act fair. Keep the future in mind."
Cheah says certain decisions had to be made quickly during the MCO period and that was where speed and clarity of mind were important as well as communication. "There were certain decisions we had to make that would have consequences. So, I think that perspective of having to be fair to all stakeholders was important."
One such difficult decision was the waiving of rents for the tenants of Sunway Malls during the MCO period — the first mall operator in the country to make that call. "It was not an easy decision," Cheah stresses, as there were "a lot of stakeholders to consider".
She believes that if one is fair and takes a more medium to long-term perspective, the strategy will work out. "It was a calculated and informed decision, but the principle was one of shared responsibility during tough times, to build trust and a more sustainable relationship. In everything that we do, we should act fairly," she asserts.
Fairness should be extended to all stakeholders, and that includes the staff, Cheah believes. "During the MCO period and even now, our staff continues to work doubly hard. While we have taken measures to reduce interim operational costs, we have to consider things like recognising and rewarding our staff when the situation normalises. I believe we would not have been able to come this far without being fair to our stakeholders."
'Every crisis presents opportunities for learning'
Over the past two decades, it has been fairly smooth for the generation being groomed to take over the family business in this part of the world. However, Covid-19 is likely to have affected that momentum.
Every crisis presents opportunities for learning, says Cheah, the eldest of Sunway founder Tan Sri Jeffrey Cheah's three children. Her brothers Evan and Adrian also work at Sunway.
"Be it the next generation or our leaders, we will continue to drive professionalism at Sunway. Tan Sri Jeffrey Cheah empowers his people. That is why we have been able to grow organically. My siblings and I subscribe to that — finding good talent and empowering them. Everything comes down to talent and empowerment," says Cheah.
"If you ask me, businesses in the future do not need to be exactly the same. It will take a different shape and form as we continue to stay relevant. The new generation of consumers are now more digitally savvy, and we should tap this trend to grow. In fact, my brother Evan is very involved in our digital ventures and we're able to create value from there to complement our existing business."
She adds that the one thing that will not and should not change are Sunway's core values. "I subscribe to our core values wholeheartedly. As the next gen, what we need to continue to impart is integrity, humility and excellence. It may sound conceptual but going through this crisis first-hand, I see how these values guide our leaders' actions and decisions, forming a strong foundation for the success of our company. It is important to keep that foundation and legacy alive."