This article first appeared in City & Country, The Edge Malaysia Weekly, on October 24, 2022 - October 30, 2022.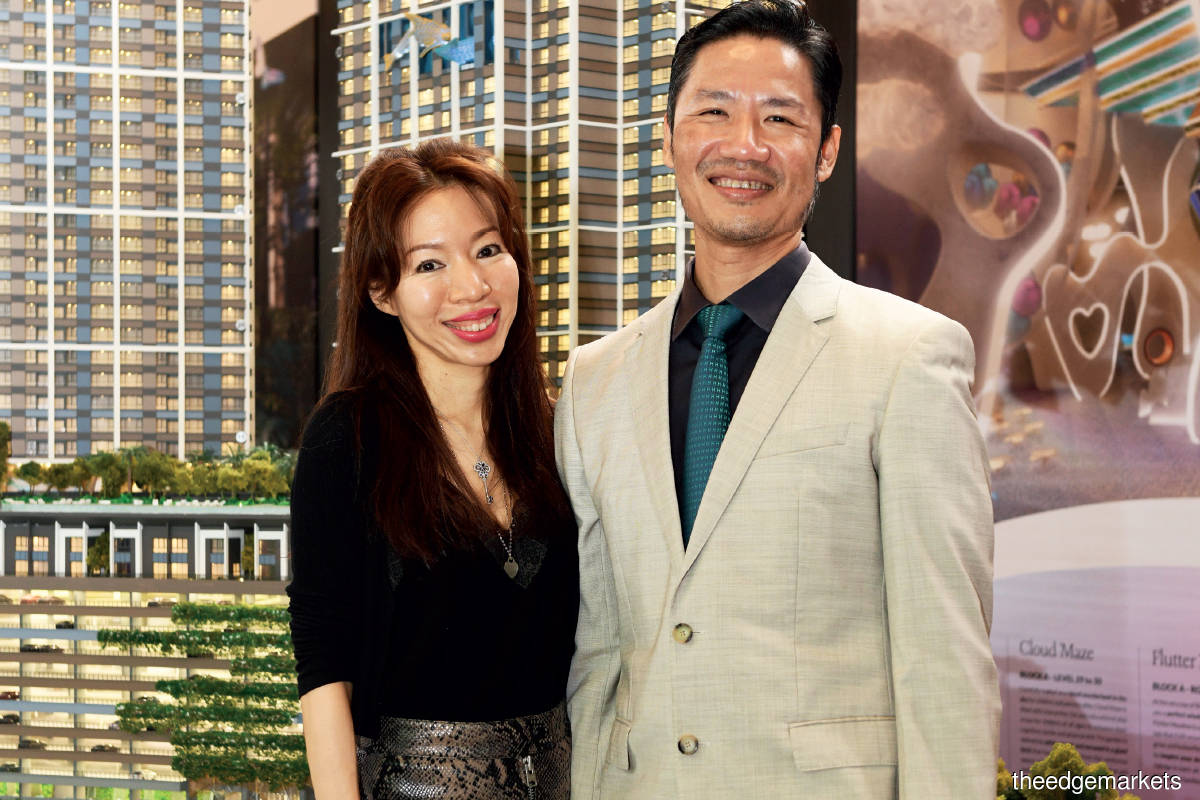 The Covid-19 pandemic has changed the way people live and work, effectively reshaping the way property products are designed. Developers are increasingly emphasising functionality, comfort and density control in their projects. 
"People have changed their living patterns [as we transition to] the endemic stage. Many of us are not comfortable with long commutes anymore and we tend to look for a place (property development) that is not overly crowded, with easy access to commercial areas and conveniences," Eupe Corp Bhd managing director Datuk Beh Huck Lee tells City & Country in an exclusive interview.
"Looking at the bigger picture, the property market is going through a volatile time with challenges such as political instability, unanticipated inflation, high unsold stock and the changing of [property] buying preferences and patterns. I feel like we (developers) need to play our part and help find solutions, and this sense of mission reaffirms Eupe's goal in building something that the market truly needs, and probably has not yet addressed." 
He points out that for every project that Eupe has launched, the master plan was drawn up from the perspective of the target buyers and occupiers. Therefore, each project has strong characteristics that help to differentiate its products from those of other developers.
For example, Est8 — Eupe's third project in Kuala Lumpur that is located in the affluent enclave of Seputeh and targets middle- to high-income buyers — was crafted as a distinctive and innovative placemaking development with a focus on an iconic design and innovative facilities such as a barbecue area that takes inspiration from a kaleidoscope, a gym designed in the shape of eye-catching twin bubbles and a multipurpose hall that looks like a cavern, says Beh.
"We do not copy or duplicate a design for different locations because every location has its own DNA and serves a different group of buyers. Our goal is to make our project the iconic development in every location. Iconic means the project has to be able to define the destination, as well as how people live in the building," he adds.
Beh says every common space within Est8 is functional and designed to be different from other similar products in the vicinity, to elevate the entire living experience as well as to fulfil the expectations of target buyers.
"We just don't simply plan our product. There are many things we have done but we don't shout about it. For example, Est8 is a family-friendly development, so we didn't pick conventional equipment for our children's playground. We picked something that can help enhance the motor skills of young children. You will appreciate it and see the value of it if you have children," he says.
"What I was trying to say is, we are really serious and take pride in everything that we design, even the little things. We want our buyers to feel that the property is worth the price. Even better, it is worth more than what they have paid for. We are not trying to spoil the market, we want to complement the location with our product."
When asked how the developer finds the balance between the cost of its aesthetic design and the overall cost of construction, Eupe head of marketing and sales Datin Michelle Gan says it is a myth that the aesthetic design will burn a hole in your pocket.
"You are going to hire a designer to design the facilities, a landscape designer to plan the greenery and an architect to draw the structure anyway. It will not make a significant difference in the design cost or increase the maintenance fees in the long term because we will have a multipurpose hall, barbecue pit and gym anyway," she points out. 
"It is just that we are putting in more effort to make these different from conventional ones, and to be functional and interesting. The biggest cost [of the aesthetic design] could be the time we spent designing the building and facilities."
Gan stresses that it is worth investing more time in the design because it will create value for buyers. "We spend so many hours at home, especially in the past two years. So, it is worth the effort to elevate the overall living experience."
Helix2 @ PJ South
Beh and Gan believe that a good product will speak for itself. All three projects in KL — Novum in Bangsar South (handed over in 2020), Parc 3 in Cheras (handed over in 2022) and Est8 — were well received by the market. Novum and Parc3 are fully sold, while Est8 has a 88% take-up rate after opening for sale in November 2021.
The property developer is looking to launch its fourth project in the Klang Valley, Helix2 @ PJ South, this month.
"It is a project that targets Malay buyers as about 50% of the units are bumiputera lots. As usual, we conducted extensive research on how the locals live, what their demands are for a high-rise residential unit and the expected price points, among others," says Beh.
The key findings of its market survey and research, which have informed the design direction of the resort-home development, show that homebuyers are increasingly looking for spacious layouts that include a common space for families to get together and a sanctuary in which they can relax and unwind. 
With a gross development value (GDV) of RM227 million, Helix2 sits on a 2.85-acre tract just a few minutes' drive from the bustling Sunway City in Petaling Jaya. It consists of a single 33-storey residential tower with 500 units. 
The units have built-ups of 572 to 1,065 sq ft and are priced from RM346,000. Each unit comes with at least two parking bays.
"Like we mentioned earlier, we always design a project from the perspective of users, in terms of how they live and what they really want in a project but has probably not been answered by the market. For Helix2, where our target buyers are local Malays who enjoy gatherings and family time, we have Kenduri Alfresco and Gourmet Kitchen included on our facilities floor, so that residents can easily hold open houses or kenduri in their resort-themed condo," says Gan.
"Resort-themed" is not just a marketing tool to Eupe, stresses Beh. The residents of Helix2 will be greeted by Langkawi's St Regis Hotel-inspired verdant greenery and drop-off lobby. The full-fledged, resort-standard facilities can be found on the ground floor, level 1, level 2 and the sky garden, he adds.
"I was inspired by my recent trip to Langkawi. I was thinking that if we can't afford to stay at a nice resort every day, why don't we bring the resort home?" Gan smiles. "At the same time, we are focusing on the practicality of the layout and space. That is why we have the bay window design to replace the conventional balcony in a condo development."
She explains that the decision to have a bay window, which could be doubled as a sitting area or reading nook, is based on the target buyers usually having larger families. "Space is crucial. By having a bay window, you can use it as a sitting area without needing to buy a big sofa just to fulfil the same need. 
"We also made sure every room is able to fit a double bed comfortably. And we have a dedicated corner in 2-bedroom units that can be turned into a storage space, which is not common in the market."
Bread-and-butter projects
Up north in Kedah, where Eupe hails from, the developer is looking to launch three phases at its ongoing township developments, namely The Somerset, Astana Jaya and Villa Natura. All of them are located in Sungai Petani.
Eupe recently acquired a large prime site in Sungai Petani, strategically located next to key transport routes and existing population catchment areas. The project, called Edgewater Estate, will offer both residential and commercial developments and have a GDV of RM350 million. 
Eupe aims to launch the project in the second half of 2024, subject to market conditions. The development is expected to play a major part in growing the revenue of its northern operations for a number of years.
Beh says that in the past two years, almost 50% of the group's revenue contribution has come from the northern region, up from 20% before the pandemic.
"The area (Kedah) is actually resilient and strong. It is a homebuyers' market, with not [much] speculation and investments," he notes.
"Therefore, if you can address their needs, the product will sell. It is also our bread and butter, thanks to the consistency of the local housing demand. So far, we do not have property that we have built but can't sell [in the northern region]."
Beh explains that revenue contribution from the central region has spiked since the developer expanded to the region in 2016, due to the shorter turnover time for projects in the Klang Valley as the majority of projects in Kedah are landed township developments.
"The [project turnover] speed here in the Klang Valley is two to three times faster [than in Kedah], so it makes sense that the revenue contribution here is a lot more than in Sungai Petani. However, the projects in Sungai Petani have a longer-term effect, one project could easily last us 10 to 20 years," he says.
Business expansion
As the country transitions to the endemic phase of Covid-19, the revenue contribution from the central region has climbed to almost 60%. While Beh does not have a fixed ideal revenue contribution for both regions, he has set an intermediate target of hitting the RM300 million revenue mark in financial year 2024 (FY2024) ending Feb 28, 2024.
"We are doing RM223 million now (FY2023). We should be able to hit our target of RM300 million to RM400 million by FY2024, and then maintain that range for the next few years," he says.
To achieve the target, the developer will continue to acquire land and expand its operations to include other states.
"I have plans to acquire land outside of the Klang Valley and Kedah. I will not confine myself to these two states, not even to this country. I believe if we do things correctly, we should be able to spin off and expand to other parts of the world," he adds.
Beh foresees that new township developments or property hotspots that are located further away from the city will mushroom in the near future as people are now focusing more on space and quality of living environment. 
"The city is overcrowded. The township developments in different areas of Greater KL will pick up very fast because infrastructure is mature or is in the planning stage. It will be one of the areas we are looking at, but we will not stop looking for pockets of land with high potential in mature areas as well, such as the land we recently acquired in Belfield."
In May, Eupe announced the acquisition of a 4.812-acre parcel located along Jalan Damansara and Jalan Belfield in the residential development of Kampung Attap, off Jalan Istana, for RM125 million. It plans to develop the parcel into a high-rise, mixed-use development that comprises serviced apartments and commercial property.
"The Belfield land is surrounded by greenery. It is a rather quiet area now but many things will happen here and the surroundings include the new highway, more developments and the completion of Merdeka PNB 118," says Beh.
"Some may wonder why we would plan a commercial property in such a secluded and quiet location. But we are trying to be one step ahead of the others. 
"Sunway Belfield is such a big residential development there, plus the Kuen Cheng High School is nearby. We can have a big catchment if we plan the development right and introduce the location correctly. 
"The project will be something very different from what we have done earlier. It may be small, but we never define the project size by the quantum because small projects too can create a big impact."
He adds that the project will be designed for young professionals with middle to high income from the surrounding areas. The developer is looking to launch the project in FY2024.
Eupe is preparing to launch more projects in the northern and central regions, worth RM1.18 billion in GDV, in 2023.
"Underlying property demand, particularly among the younger demographic, continues to improve as the economy recovers from the pandemic. Demand for housing and commercial units should remain relatively strong, provided there are no sudden changes or disruptions to the market," says Beh.
"Government initiatives to support homebuyers help to improve market sentiment. Yet risks remain, including rising interest rates and a sharper-than-expected deterioration in global economic conditions. The current conditions make it even more important for developers to offer buyers value for money and design innovation — on which Eupe continues to focus and refine its property development model."