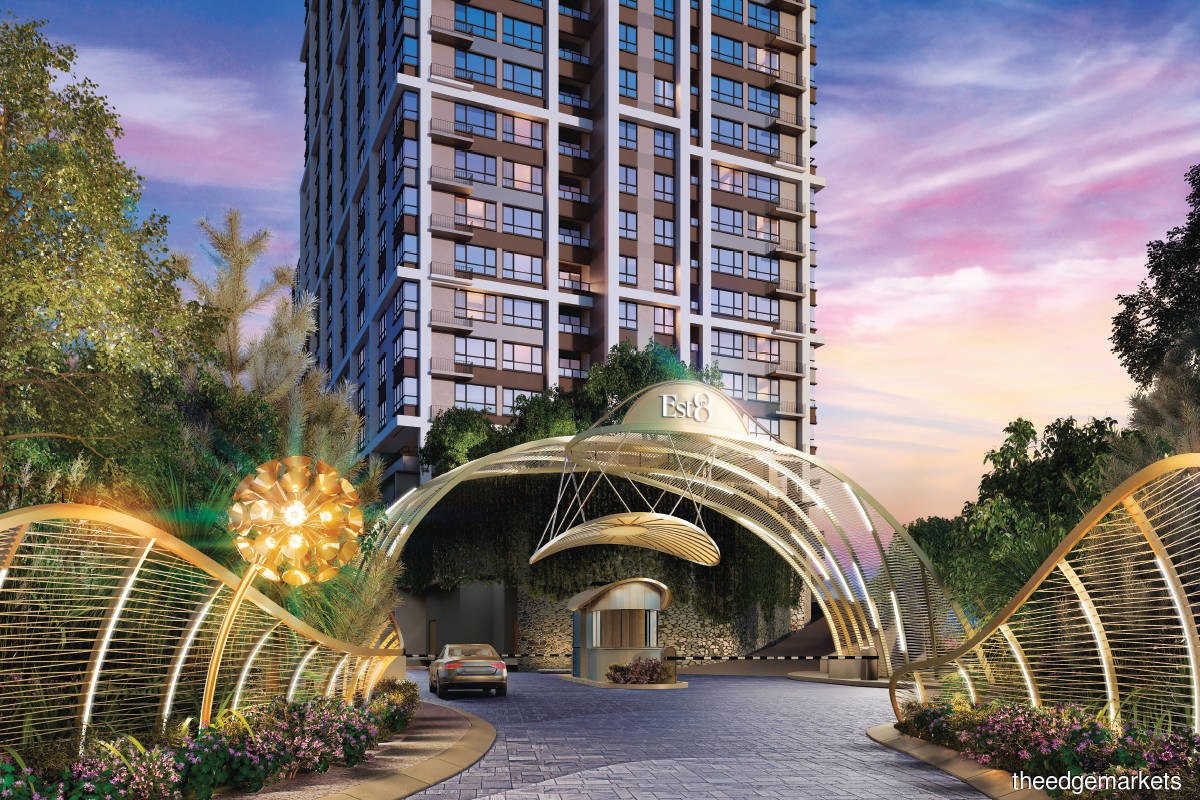 Following the success of its maiden project Novum in South Bangsar and later, Parc3 in Cheras, Kedah-based developer Eupe Corp Bhd is looking to launch its third Kuala Lumpur development — Est8 in Seputeh — this month.
In an interview with City & Country, group managing director Datuk Beh Huck Lee says Eupe Corp envisions Est8 as a haven of security, success, serenity and style, and an escape from the city just outside its walls.
"The name was inspired by a vision for creating an estate and a state of difference in terms of a unique lifestyle offering. The design intent was inspired by imagination, fantasy and fairy tales to elevate the state of mind, where you can escape to a place that gives you a sense of calm, tranquillity and peace. That is how the name Est8 (a state) was selected."
Sitting on a 2.9-acre leasehold parcel near The Japan Club, Est8 has a gross development value (GDV) of RM575 million. It will comprise a 42-storey tower, a 41-storey tower and a 2-storey block. There will be 821 residential units in total — 432 in Tower A, 372 in Tower B and 17 in Block C. Est8 will have 1,274 parking bays, and each residential unit will be entitled to one to three parking lots.
The typical units at Est8 will come in 2- and 3-bedroom layouts with built-ups ranging from 753 to 1,084 sq ft. The duplex units, meanwhile, will have 2-, 3- and 4-bedroom layouts with built-ups of 1,213 to 1,947 sq ft, and each will come with a private garden.
The 1- and 2-bedroom villas will have built-ups of 543 to 975 sq ft, and some will have a private garden, while the dual-key units will come in 2-bedroom layouts and measure 753 sq ft each. The 2-bedroom duplex villas, which are only in Block C, will have private gardens and built-ups of 914 to 1,175 sq ft.
Selling prices start at RM530,000 or RM850 psf and the project is expected to be completed by 2026. The maintenance fee is tentatively set at 44 sen psf per month.
"Units at Est8 will feature practical and spacious layouts catering for families, young professionals, upgraders, downsizers, couples, singletons, investors as well as buyers from the surrounding areas such as Brickfields, Taman Bukit Desa, Taman Bukit Angkasa, Taman Desa Seputeh, Taman Desa, Taman Halimahton, Petaling Lama and Old Klang Road," says Beh.
He believes the prospects for the development are good, owing to its proximity to the KL city centre, and shopping malls such as Mid Valley Megamall, Nu Sentral, KL Gateway Mall, Bangsar Village, Bangsar Shopping Centre; educational institutions such as Valley International School, Methodist College Kuala Lumpur, SMK Taman Desa, Tsun Jin High School and University of Malaya; healthcare facilities such as iHeal Medical Centre, Pantai Hospital Kuala Lumpur and Taman Desa Medical Centre; and recreational facilities such as the Kuala Lumpur Butterfly Park and Royal Selangor Golf Club.
Transport hubs within a 5km radius include the Seputeh and Mid Valley KTM stations, and Abdullah Hukum and KL Sentral LRT stations.
Beh highlights that the neighbourhood is centrally located. "It is easily accessible via the Federal Highway, SMART Tunnel, East-West Link Expressway, New Pantai Expressway, Sprint Expressway, Kuala Lumpur-Seremban Expressway, Maju Expressway, and the Setiawangsa-Pantai Expressway (DUKE 3), which is under construction."
Post-pandemic features and facilities
Eupe Corp plans to incorporate special features into the project that will minimise the spread of Covid-19. These include an active drainage ventilation system that ensures the water seal in bathrooms, floor trap and sink trap remain filled and sealed at all times.
Beh explains that an efficient drainage system design manages the mix of air and water so the air pressure regime within the boundary is controlled. This prevents the spread of potential pathogens and other harmful particles in the air and limits the exposure of residents to contaminated fluid. 
It ultimately increases the efficiency of piping and is a more sustainable approach to building design.
Est8 will have five sky gardens — Floating Garden, Cloud Maze and Flutter Meadow located on levels 25, 29 and the rooftop in Tower A, as well as Paradise Blue and Garden of Giants located on levels 28 and 36 in Tower B. "We have integrated these gardens into the development so its urban art becomes part of the building, similar to a frame that showcases art in a realistic setting," says Beh.
He adds that the development will also have three walking trails — The Relaxing Walk, A Walk in the Woods and The Enchanting Walk — located on the ground, ninth and 12th floors respectively. These trails will have facilities such as a 50m lap pool, children's pool, bubble dome gymnasium, jungle-themed children's playground, the Grand Burrows (multipurpose hall), the Secret Burrows (business centre), Kaleidoscope Kitchen (celebrity kitchen), Kaleidoscope Courtyard (barbecue area), Water Lily courtyard, Hammock Grove, Chime Garden and outdoor fitness area.
"We designed these [trails and facilities] to make them look classy instead of appearing cartoonish and 'Disney-like'. The challenge is to merge sophistication with fairy tale, so we have to ensure we do not go overboard because the project will end up looking like a theme park if not planned carefully," says Beh.
He adds that the common areas are created not only for entertaining but also to give people the illusion that they are entering the setting of a fairy tale where they can reminisce about their childhood.
In addition, social distancing features will be implemented in the common areas. "A supplemental fresh air system via the air conditioning ducting will introduce outdoor fresh air into common areas such as the lobbies, the Grand Burrows, bubble dome gymnasium and Kaleidoscope Kitchen to purge potentially contaminated air. This system can be activated during the pandemic or in normal times when air conditioning is not turned on," Beh explains.
As for furniture, the developer has to take into consideration the need to allow social distancing to be carried out. For instance, the Secret Burrows will be designed as individual pavilions/workstations and have rooms for group meetings, the facilities in the gymnasium will be placed 1m apart, and the fittings in the common areas will be arranged in small clusters to allow groups to be separated. Sanitising stations and hand wash basins will also be provided in those areas.
"In addition, we will replace the windows with louvres to promote cross-ventilation in common areas and have lockers for contactless delivery services so as to reduce cross-contamination and safer deliveries," adds Beh.
Est8 has met the ventilation requirements in line with Eupe Corp's sustainability efforts. It is aiming to achieve a GreenRE (Green Real Estate) Gold rating for the development.
Challenges and upcoming plans
Although the current market conditions remain challenging, Beh believes that reasonably priced properties in the right locations will continue to attract buyers.
"We were told that Novum was launched at a bad time in 2016, but we still managed to sell all the units and it was handed over in June last year. Meanwhile, our second project in KL, Parc3, has been 96% taken up since its launch in 2017. It comprises 793 serviced apartments with built-ups of 592 to 1,470 sq ft, and prices starting from RM425,000. They are expected to be completed by the end of this year."
He highlights that a good property developer should have a comprehensive understanding of planning laws and construction requirements, as well as an appreciation for how to realise good investment returns. When developers want to build a project, it is important to identify a suitable piece of land in a good location, build a development that is reasonably priced, have good construction practices, and do thorough market research of the surrounding area and identify the right target audience.
Beh notes that every development has to create an impact on buyers. "We hope Est8 will provide added value to homebuyers by elevating their lives, and mental and emotional state, as we are building something unique.
"This pandemic highlighted an important aspect for property developers — to 'visualise' the spread of Covid-19 and anticipate residents' needs [so they can find] sanctuary. As such, Est8 serves as a self-contained serviced apartment in a mature neighbourhood," says Beh.
Moving forward, Eupe Corp's Helix 2 in Jalan PJS 5/30, Petaling Jaya, is slated to be launched in the second half of next year. The serviced apartment project will occupy a 2.85-acre leasehold parcel and has a GDV of RM227.8 million. It will cater mainly to first-time homebuyers and young families.
Despite the unprecedented challenges posed by the pandemic for most of 2020, the group's revenue climbed 1.9% year on year to RM304 million for the financial year ended Feb 28, 2021 (FY2021). This was due to higher progress billings for Parc3 as well as contribution from its affordable township products in the northern region. The group's pre-tax profit for FY2021 increased 16.3% y-o-y to RM82.8 million from RM71.2 million in FY2020.