This article first appeared in Digital Edge, The Edge Malaysia Weekly, on November 2, 2020 - November 08, 2020.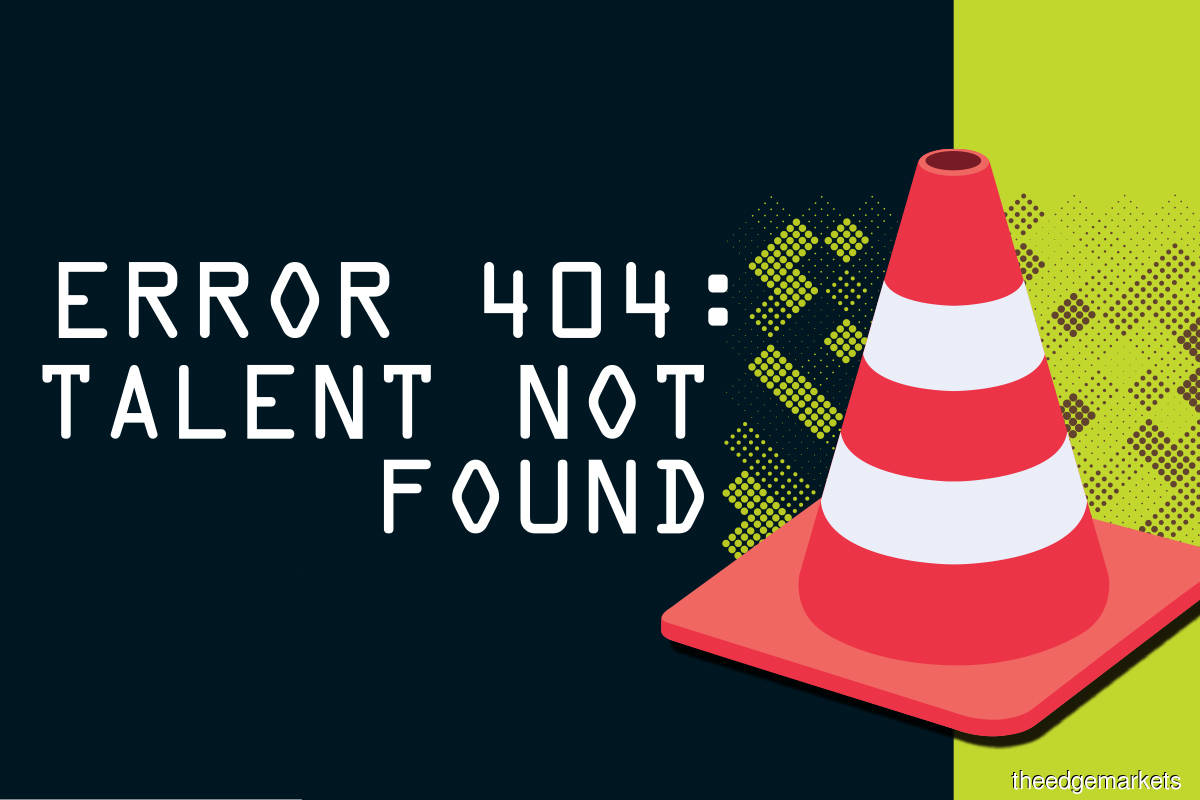 Freddie (not his real name) was in the midst of interviewing a candidate for his growing software development start-up. It just so happened the candidate graduated from his own alma mater, although Freddie had graduated some 16 years ago. Both had taken software engineering degrees and at one point during the interview, Freddie came to a startling realisation.
"I was shocked to discover that the candidate's syllabus was almost entirely identical to mine 16 years ago. Other than a few minor differences, this candidate had been taught skills and technologies that are largely irrelevant by today's software engineering standards."
In fact, Freddie, who developed an interest in coding as a teenager, said key portions of the syllabus were already outdated when he was in university. So, perhaps unsurprisingly, his tech team is staffed entirely by foreign nationals, a measure he says is unavoidable given the scarcity of local talent. In addition, local talents tend to face such steep learning curves that Freddie simply lacks the resources to train them.
This is by no means an isolated incident. According to Thomas Yip, founder and CEO of Perak-based Radica Software, staffing his team is a challenge, to say the least. "For every 95 people we interview, we end up hiring just one or two. The attrition rate for our interview process is very high, and that is already accounting for the fact that we are prepared to provide additional training and development to new hires. The talent is out there, but it is exceptionally difficult to find. This applies to both Perak, where we operate, and Kuala Lumpur," he tells Digital Edge.
Radica Software is a high-end, electrical engineering software solutions developer. The company, which operates on the software-as-a-service (SaaS) model, provides solutions to the likes of Apple, The Ford Motor Co, Amazon and even the National Aeronautics and Space Administration (NASA).
Yip — who serves on the electrical engineering advisory panel for a major public institution of higher learning — says graduates are sorely lacking in exposure to industry, while the ICT education ecosystem itself is heavily geared towards spoonfeeding.
Graduates spend most of their degrees simply completing assignments given to them by lecturers. They are not exposed to industry, which leaves them ignorant of the importance of solving complex problems on the fly, and under time pressure. As a result, many of them receive fantastic grades and graduate with very strong credentials — on paper, at least. This, he says, is why his company has an interview attrition rate of nearly 100%.
The vast majority of candidates who apply for tech positions at Radica Software do not even have profiles on developer communities such as Stack Overflow, he adds. Stack Overflow is an online community for both professional and enthusiast programmers. Globally popular, it allows users to both ask and answer questions related to all things tech. The questions vary widely in complexity, with the portal having essentially gamified the problem-solving process.
The more problems a user solves, the more reputation points he earns. The higher one's reputation points, the more accomplished he is perceived to be by the community. Users unlock new privileges as their reputations grow, including the ability to vote, comment and even edit other people's posts, according to Stack Overflow's Wikipedia page.
A small number of these users are widely feted as masters in their field, with their reputations running into millions of points. They are the tech world's equivalent of social media super influencers.
For example, user Jon Skeet — a veteran programmer at Google — is one of Stack Overflow's most respected and recognised names. At the time of printing, his profile boasts 1,216,963 reputation points, putting him in the top 0.01% of users, according to the portal.
"Ideally, I would love to see more candidates coming in and presenting their Stack Overflow profiles, so I can look at the real-world problems they have solved for others in the developer community," Yip says.
"But if I rely on that consideration, there would simply be nobody to interview," he points out.
Immigration and visa regulations are another expensive and drawn-out complication employers have to contend with. This is because a large chunk of the experienced, industry-ready tech talent in the country tend to be foreign nationals.
Tim Hendricks, co-founder of local low-code platform (LCP) operator Orangeleaf Consulting, says it is becoming increasingly difficult to meet the criteria required to hire foreign talent.
"In Malaysia, foreign staff are required to have their visas sponsored by employers. However, in order for us as an employer to be eligible to sponsor someone's visa, we need to show the authorities that we have certain key statuses, MSC status being one.
"The problem, however, is that these statuses are becoming increasingly difficult to acquire, and it seems to have coincided with recent and frequent changes, both to government and policy."
An LCP is essentially a digital canvas on which non-tech-proficient users can build unique enterprise applications of varying complexity, using a vast array of boilerplate visual cues and objects. Given the relative scarcity of tech talent in Malaysia, LCPs are potentially decisive tools that allow businesses to digitally transform without the need to hire IT experts.
In an earlier interview, Hendricks told Digital Edge that the technology enables businesses to develop their own tech tools and software much faster than before, and with far less need for large amounts of coding and software engineering expertise. "Even big corporations with thousands of staff struggle to meet their IT needs and programming demands. That problem is even more acute for the small business community," he says.
Tech's failing grade
One industry player says Malaysia's education ecosystem has lagged industry for many years now. There are two major reasons for this, according to Datuk Eric Ku, co-founder and executive director of regional IT education provider iTrain Group. They are inadequate long-term policymaking and a major disconnect between academia and industry.
The 1990s and early 2000s were periods of intense interest in all things IT, Ku recounts. "An entire generation of people grew up with Vision 2020 drummed into their heads. During Tun Mahathir Mohamad's first stint as prime minister, he instituted this very long-term vision for Malaysia to become a high-tech nation by the year 2020.
"Many of the government tech agencies that we are familiar with today had their start in the 1990s and early 2000s. Teachers and parents knew to prepare this generation of children for tech and tech-adjacent fields."
The proof, he said, was in university enrolment numbers. For instance, Ku's alma mater, Universiti Sains Malaysia (USM), was the country's premier destination for tertiary IT education. "I recall the IT classes were so consistently packed that students had no choice but to spill out into the corridors. There was just not enough space to accommodate all the students looking to enter IT-related fields," he recounts.
Somewhere along the way, Malaysia lost that singular focus. Strangely enough, the closer the country came to 2020, the further away it moved from IT. Today, even private sector universities struggle to get just a few hundred students enrolled in IT degree courses, says Ku, who sits on the advisory panel of a number of major tertiary education providers.
Business and business-adjacent faculties, meanwhile, have boomed in the years since, he adds. "When there is a lack of clear and long-term direction, as previously existed with Malaysia's Vision 2020, students will gravitate towards generalist degrees, and to be fair, you can't go wrong with a good business degree."
But in 2020, the tech skills mismatch came to haunt employers like never before.
Ku explains: "This year, the skills gap problem has become exponentially more acute. In this time of Covid-19, we are seeing two years' worth of digital transformation occurring in just two months. We simply do not have the volume and quality of tech talent to keep pace with this speed of transformation."
He stops short of assigning blame to the education industry. The problem is much more fundamental. Ku, who has consulted for the Education Ministry in previous years, says the country's education ecosystem is overregulated.
"There are simply too many rules and regulations that prevent universities from innovating to keep up with the times. For example, there are many institutions that want to launch data science graduate and post-graduate programmes. But the application and approval processes can easily take up to five years or more.
"By the time an institution receives the necessary approvals to run the programme in the country, the technologies and processes it wants to teach may well be outdated. It doesn't make financial sense for these institutions to invest all that time and money, especially in this day and age when students with the means could just as easily study overseas.
"Local tertiary institutions [and vocational schools to an extent] are also required to offer secondary school level math, in addition to Bahasa Melayu, among other compulsory modules. These subjects take up valuable time that should instead be spent exposing students to the full breadth and depth of the real world, and highly relevant tech modules," Ku elaborates.
Crisis on the horizon? 
The long-term consequences of the tech talent gap are dire, says Ku. There are major implications for a number of key industries that, over the last couple of decades, had contributed billions in foreign direct investment (FDI).
"Malaysia has long been a global business process outsourcing (BPO) hub. Some of the world's biggest companies came to Malaysia, thanks to the long-term planning under Vision 2020, to set up their global shared services operations.
"In addition to various tech-based tax incentives, these large employers were incentivised to hire and relocate foreign talent to Malaysia. This was how much of the early wave of foreign tech talent first entered the country."
Covid-19 is threatening to permanently upend this dynamic. With the free movement of talent no longer a realistic prospect, these companies are going to be starved of tech capabilities. And with the local talent pool not at all ready to make up for the shortfall, Ku fears these companies are going to end up rethinking their long-term plans for Malaysia.
These concerns, he adds, also extend to the financial services industry. As key financial services functions — insurance actuarial analysis, loan and credit services as well as investment analysis and decision-making — become increasingly automated, previously well-paying jobs in these fields are going to be decimated.
These particular insurance and banking departments also tend to take up the bulk of local financial services employment, which means there could soon be a disproportionate number of white-collar professionals finding themselves being made permanently redundant.
But in yet another strange twist, these are the very people who are best placed to make an immediate transition into tech fields, says Ku.
"In recent years, we have taken to partnering with various local institutions to teach very short and intensive 'micro-degrees' in tech-related fields. Those who stand to benefit the most from transitioning into tech fields via these micro-degrees are those who already have a strong grasp of mathematics and statistics, such as credit officers, investment analysts and actuarial scientists.
"These people, as well as undergraduates (and recent graduates) in the broad (non-tech) science, technology, engineering and mathematics (STEM) disciplines could become the next generation of tech specialists. These are the people who are going to become local pioneers in the artificial intelligence, big data analytics and enterprise-level Internet of Things subsectors."