This article first appeared in Personal Wealth, The Edge Malaysia Weekly, on June 17, 2019 - June 23, 2019.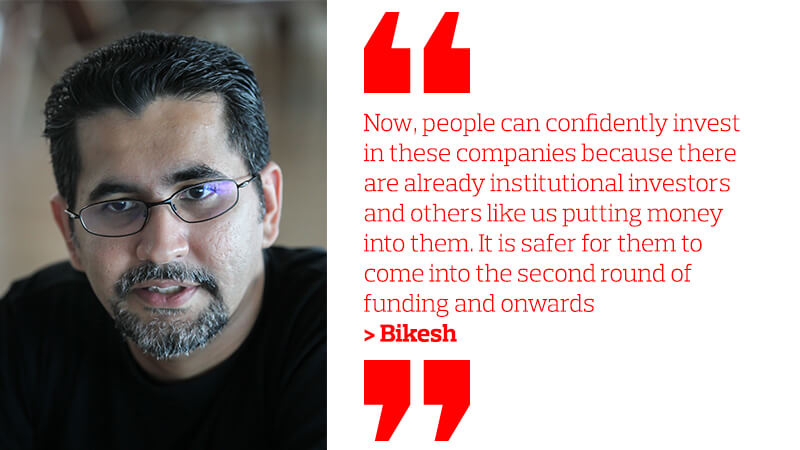 The three operators that received equity crowdfunding licences (ECF) last month will be operating in different segments. All three, however, have a background in crowdfunding or nurturing startups.
Ethis Ventures Sdn Bhd is the only Islamic ECF platform operator in the country. Its founder, Umar Munshi, wants to attract global startups in the Islamic economy to Malaysia and raise funds on his platform, which will be named Ethis Equity. He will help them to raise funds and guide them through the process of setting up their companies.
He also plans to target small and-medium-sized enterprises (SMEs) that want to digitalise. "It might be a bigger company that wants to raise funds to transform itself and is willing to share equity," he says. All startups that go through Ethis Equity must be shariah-compliant.
Umar is confident that his experience as an entrepreneur and that of the co-founders — Ronald Wijaya and chairman Datuk Mohd Radzif, who is the former managing director of the Small Medium Enterprise Development Bank Malaysia — will help to source good deals on Ethis Ventures.
"We already have a few potential startups in the pipeline in the Islamic economy, because even without the ECF licence, quite a number of startups have asked us about opportunities to work together or to refer investors to them. The network is always there," Umar says. He hopes to launch Ethis Equity by the end of this year or early next year.
Another new ECF player, 1337 Ventures Sdn Bhd, is no stranger to the local startup scene. Since 2013, it has been a technology startup accelerator and venture capital firm focused on pre-seed and seed-stage investments in Malaysia and the region.
Bikesh Lakhmichand, founding partner and CEO, often gets offers and inquiries for co-investments with 1337 Ventures. He decided to become an ECF platform operator to give retail investors an opportunity to invest in early-stage startups. The platform will be called Leet Capital.
"Now, people can confidently invest in these companies because there are already institutional investors and others like us putting money into them. It is safer for them to come into the second round of funding and onwards," Lakhmichand says.
He also wants to target bricks-and-mortar businesses that want to transform themselves. 1337 currently helps companies innovate to keep up with the modern economy.
"They want to figure out how to transform themselves and create new business units that are more agile and digital. Eventually, these companies might want to spin off the digital arm into different subsidiaries or entities, so, we recommend ECF as an alternative method of financing," he says.
Companies that have not gone through 1337's accelerator programme can also join Leet capital but they must go through an online training programme called Leet Academy.
"We want to make sure that anyone who wants to raise money from us has a baseline. For example, the business model, pitches and projections are done in a certain way. There will be some consistency in the deals that you see on our platform," Lakhmichand says.
He hopes to launch Leet Capital by the fourth quarter of this year. "We have a deal flow and pipeline of investees already. We are focusing on fintech startups, while the next vertical we are interested in is healthcare and medical technology. We also want to focus on digitising local SMEs that are brands people already know," Lakhmichand says.
One ECF component that he hopes to see introduced in the future is a secondary market, in line with the wishes of several other ECF players Personal Wealth has spoken to.
"P2P financing investors see returns quite quickly but, for ECF, you are holding the equity for the long term unless there is an exit or buyout. Otherwise, you cannot see returns or liquidate. The secondary market is definitely something we support and we would love to see how we can be a part of that," Lakhmichand says.
Combining rewards with equity
MyStartr Sdn Bhd has its roots in rewards-based crowdfunding and is modelled on popular platforms like Kickstarter, where only rewards — and not equity — are offered. CEO and founder Goh Boon Peng decided to include the ECF element after successfully incubating startups via the platform.
The pipeline of startups has come via MyStartr's annual Dream Factory, which started in 2017. Interested startups had to raise the RM8,000 entry fee through the crowdfunding platform. In return, participants receive training and mentoring sessions with seasoned entrepreneurs.
"Crowdfunding is part of the learning process. I also brought some investors into the competition and told them that these startups have successfully crowdfunded their fees, so they have gone through market validation," Goh says.
This was how he ended up with 66 startups that went through the programme. These include Idospa, an online spa and wellness booking platform; Rtist, an online platform to hire freelance designers; ArtistCommunity, which commercialises artists' designs into products or advertisements; and Printcious, an online platform for printing photos on cups and other objects. Many have an artistic element to them because MyStartr was originally founded to support creative projects. After hosting the competition, MyStartr has a wider variety of startups, including those in the food and beverage sector.
He wants to differentiate himself from the current ECF platform operators by offering rewards alongside equity. Since there is no secondary market for ECF, the rewards are an incentive for investors to join the platform.
"Other platforms do it but they don't highlight it. We want to highlight the services first and convince the investor to join us as a customer first," he says.
But how will he incorporate the rewards element into the funding process? Goh says this will differ from startup to startup.
He uses Craft Café, one of the startups that went through the competition, as an example. The café, which is based in Taman Connaught, Kuala Lumpur, wants more funding to open a second outlet. It is famous for its waffles, which have fruit toppings arranged to look like flowers.
"They need RM500,000 to open a second branch in Sunway. So, the founder can give you a package. The investor puts in RM5,000 and the founder gives you RM800 in credits every year to use in the café," Goh says. "Then every year, the founder gives you a 4% dividend based on the amount you invested, which will last for five years (for example). So every year, you get RM200 in cash and RM800 in credit. In five years, you get everything back. By then, the founder will give you an option, via a preference share, to convert into an ordinary shareholder of the café or to exit."
Of course, not all issuers can offer rewards and equity or a preference share.  The platform, which is expected to be launched by October, will clarify which projects will involve a mixture of rewards and equity.
"Platforms like Rtist, which provide services on a subscription basis to corporations, can invite clients to become their shareholders. For instance, invest RM5,000 and the startup will provide RM6,000 in credits to use their services. This will bind the customer to the service," Goh says.