This article first appeared in City & Country, The Edge Malaysia Weekly, on March 16, 2020 - March 22, 2020.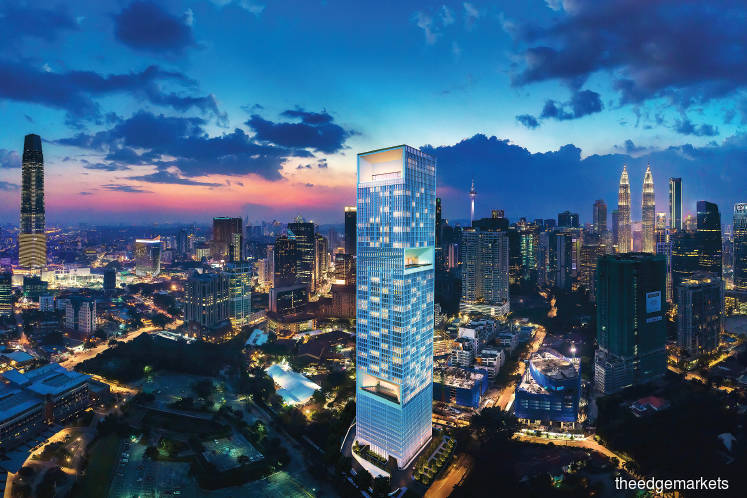 An artist's impression of the 51-storey Conlay, which is due to be completed in 1Q2024. Photo by E&O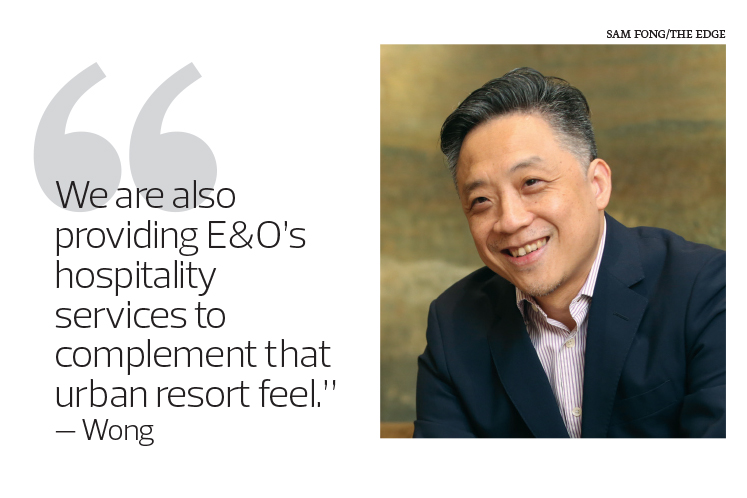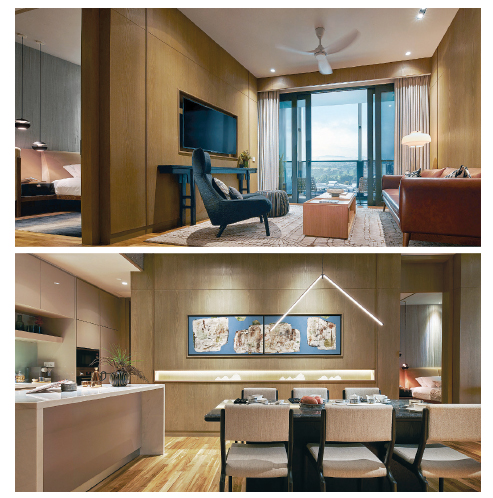 Above and below: The living room, and kitchen and dining area of the 1,335 sq ft show unit. Photo by E&O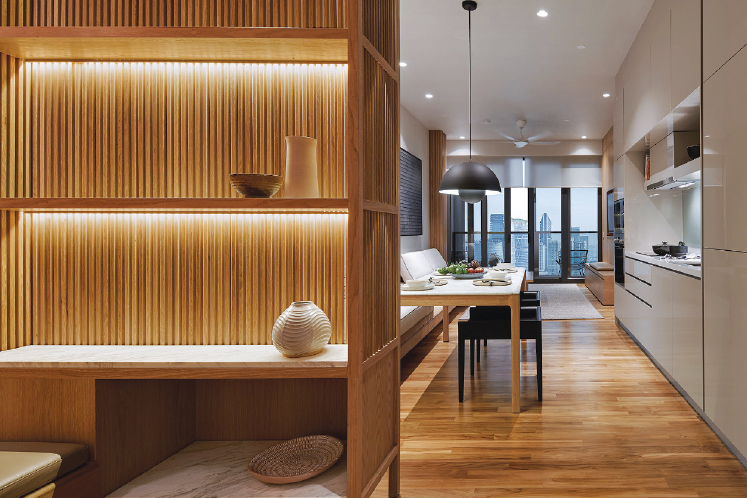 The entrance of the 743 sq ft show unit. Photo by E&O
Click / Tap image to enlarge
The coupling of Eastern & Oriental Bhd's prestigious hospitality with Kerry Hill Architects' renowned design will soon be enjoyed in Jalan Conlay in the vibrant heart of Kuala Lumpur. Standing tall at 51 storeys, Conlay is a luxury serviced apartment project developed by Patsawan Properties Sdn Bhd, a 51:49 joint venture between E&O and major Japanese real estate developer Mitsui Fudosan Group.
The development, which has a gross development value of about RM900 million, is E&O and Mitsui Fudosan's second partnership. Their next one is a luxury residence development in the affluent Damansara Heights suburb, says E&O senior general manager of marketing and sales Wayne Wong in an exclusive interview with City & Country.
"Our first joint venture was for The Mews in 2013, but our working relationship started in 2011 when they (Mitsui) promoted some of our Malaysian projects in Tokyo. The Mews is fully sold and was completed two years ago. The partnership for Conlay was inked in 2015. Our third project in Jalan Teruntung in Damansara Heights will be launched in the second half of this year," he says.
The Damansara Heights project, tentatively named The Peak, will feature 54 units of 3-storey condo-villas. Details are being finalised, adds Wong.
Conlay took time to be designed and fine-tuned, he says. "Both shareholders felt that it has to be very unique. Therefore, it took us a while to come up with the right product as it has got to be an iconic addition to the city skyline." Strategically located, the freehold 1.44-acre site is within walking distance of Pavilion Kuala Lumpur and Bukit Bintang's shopping belt and is located next to the upcoming Conlay MRT underground station. Expected to be operational by 2022, the MRT station will be one stop away from the KLCC East and Tun Razak Exchange MRT stations and offer direct access to the proposed high speed rail to Singapore at the Bandar Malaysia South MRT station four stops away.
"It is a very prime location with embassies and palaces in the neighbourhood. It is also near The Royal Selangor Golf Club, Prince Court Medical Centre as well as KLCC further down the road. Even though you're in the centre of everything, the location is kind of tranquil," Wong describes.
An urban resort in the city centre
Kerry Hill Architects has designed numerous hotels, resorts and high-rises in the world such as The Datai in Langkawi, Amanemu in Japan, Martin No 38 in Singapore, The Sukhothai Residences in Bangkok and Amanyangyun in China.
Inspired by Kerry Hill Architects' design of Aman Tokyo in Japan, Conlay is designed in collaboration with local firm GDP Architects. Behind its sleek fin-lined façade with three picture-framed bezels, which house facilities like swimming pools and sky gardens, lies a refined palette of textures and tones with crafted timber, stone cladding and granite floors.
"As we wanted something iconic, we engaged one of the most celebrated architects in the world to design something unique for us. Our management looked around at projects in town and in different parts of the world and found Aman Tokyo to be a really nice, urban-city-centre kind of project," Wong says. "Basically, we call this an urban resort in the city centre. Although the site is tight and space is constrained, [the late] Kerry Hill was still able to create a resort [atmosphere] … vertically, instead of horizontally.
"Hence, the positioning of Conlay would be something more upmarket, whereby we are looking for discerning buyers or owners who are extremely well-heeled, well-travelled and who really appreciate design, which is what Kerry Hill [Architects] is all about," says Wong.
He adds that the 491-unit Conlay would typically appeal to professional executives, expatriates, top management of MNCs, business owners over 35 years of age, as well as couples and families looking for an urban retreat in the KL city centre.
Atmosphere-wise, Conlay is designed to exude an understated elegance, from the entrance to the rooms. "Residents are welcomed by luxuriously tall, finely-honed timber doors, while the oak-veneered joinery and teak flooring complement the warm-hued kitchen. Carefully laid-out rooms flow seamlessly from one to another, cleverly drawing the lines between private and family [areas].
"The experience is very important to us and we want to create something people really appreciate and remember, which is why we are also providing E&O's hospitality services to complement that urban resort feel. You'll get the same level of service as at the E&O Hotel," says Wong.
Residents can opt for on-demand E&O Hospitality services that include full concierge service 24 hours a day, a personal chef for private dinners, a fully-set-up apartment with E&O-branded linen and towels that are replenishable on request, housekeeping services, bathroom amenities as well as basic handyman services.
Designed with an open-plan interior, the apartments come in layouts of one to 2+1 bedrooms with sizes ranging from 743 sq ft to 1,335 sq ft. Each unit has full-height glass sliding doors, a balcony and a spacious master bedroom with walk-in wardrobe and en suite.
Kitchens come fully-fitted with bespoke cabinets and premium appliances including Bosch hood and hob, oven and microwave, Electrolux refrigerator, Hansgrohe taps and a Teka sink while the bathrooms are fitted with TOTO sanitary ware and Hansgrohe showers and taps.
Lifestyle spaces on Levels 11 and 36 will provide residents with two heated swimming pools, two fitness centres, Jacuzzis, sauna rooms, rooms for meeting, music, billiards and multimedia, a pool deck, bar, kids' pool, multi-purpose lounge and function room. A commercial space on Level 50 will be leased out for lifestyle or F&B purposes.
Selling prices start from RM2,300 to RM2,600 psf and the maintenance fee is estimated at 80 sen psf. The project is slated for completion in 1Q2024.
According to Wong, Conlay has attracted potential buyers from Japan, South Korea, Hong Kong, Taiwan, China and Singapore. "I think city centre developments would likely attract foreign buyers, especially those from the high-end segment. Also, Kerry Hill Architects has its own following and our E&O brand has a lot of followers — many who are foreigners — [especially] from our E&O Hotel in Penang. The local market also forms an important segment as we have done many projects in KL and Penang," says Wong.
Existing clientele and registrants were given a preview last year, Wong says. "We released seven floors last year and another seven floors just after Chinese New Year. Response was very good.
"So far, we have a mix of investors and owner-occupiers ... and because of its proximity to Prince Court Medical Centre, we also had doctors who came to look at our project," he says.
The developer has prepared two show units at the new E&O Gallery at 211A, Jalan Tun Razak, Kuala Lumpur.
Attracting the well-heeled crowd
Despite the soft economy, Wong is confident the appeal of luxury condominiums in the KLCC area will be sustained and Conlay will attract the niche market of discerning owners who appreciate the development for its fine details. "There is limited supply in this product category in the market as many products that are being marketed are small units. At E&O, we are cognisant of our buyers' needs and their appreciation of space and quality. For example, our 743 sq ft unit has only one bedroom whereas many other projects are offering two bedrooms for a similar-sized unit.
"It is the developments with soft aspects such as lifestyle, security, services and landscaping, beyond the hard aspects of design and finishing, that will have the edge. We believe discerning buyers will choose developers with a strong track record and that have demonstrated long-term commitment to continuously enhance the overall value of their properties. We believe Conlay fulfils the above value proposition and we are confident in bringing it to the market," he adds.
Meanwhile, E&O has continued to reduce its inventory. According to Wong, the company managed to sell RM181.9 million worth of properties across Penang, Kuala Lumpur and Johor in the first half of FY2020 ended Sept 30, 2019.
In addition, it is also in the midst of finalising the master plan design of Seri Tanjung Pinang Phase 2A (STP2A) after completing reclamation works last November. "We are incorporating several bold, game-changing components to anchor STP2A as a truly unique first-choice destination to live, play and work in Penang," he adds. The launch of STP2A is scheduled for 1Q2021.
"The Penang market has been doing all right for us so far. We have managed to clear most of our existing stock in STP Phase 1, which is fully completed. I think that is very encouraging. We are now only left with a couple more superlink houses and apartments," Wong says.
He remains optimistic that upcoming city centre developments will spur further growth and vibrancy for Kuala Lumpur. "I'm feeling as excited with Conlay as when KLCC just started because of the Tun Razak Exchange (TRX) next door. There will be a lot of new offices coming up and some banks have announced they will be moving into their headquarters in TRX. There will be another round of new developments coming up. It's like KLCC 2.0."
"Nonetheless, we believe that as long as we get our products right in a good location, there will be people who will appreciate them. Conlay checks a lot of boxes, especially in terms of its location, connectivity and accessibility, right up to its architecture and design," Wong concludes.