This article first appeared in City & Country, The Edge Malaysia Weekly, on April 15, 2019 - April 21, 2019.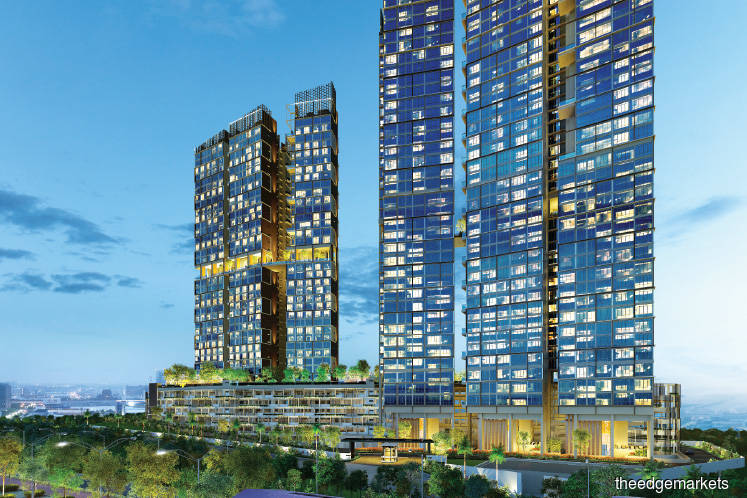 An artist's impression of The Peak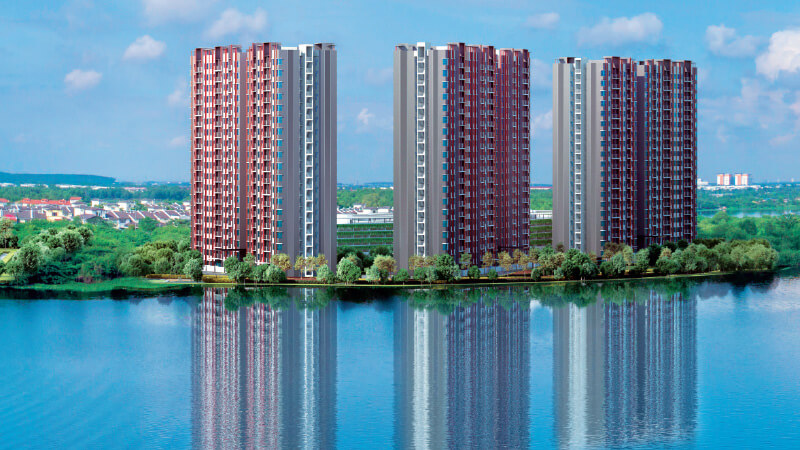 E'island has a GDV of RM501 million
It is a sunny Tuesday morning when we arrive at the Gabungan AQRS Bhd headquarters in Kota Damansara, Selangor. Group CEO Datuk Azizan Jaafar and group deputy CEO Datuk Paul Ow welcome us warmly, clearly enthusiastic to talk about the company .... and with good reason. Gabungan AQRS has undergone a massive restructuring to tackle its mounting debts and dwindling construction order book and was ready to embark on the next phase of its journey.
Listed on the Main Market of Bursa Malaysia in 2012, the group's core businesses are construction — the key contributor to revenue — and property development.
Its completed and ongoing construction projects include the Klang Valley Mass Rapid Transit Line1, Sungai Besi–Ulu Kelang Elevated Expressway, Light Rail Transit 3 (LRT3) and Pusat Pentadbiran Sultan Ahmad Shah (PPSAS) — the new Pahang government and state assembly complex.
The turnaround can be credited to Azizan, who first joined the board as an independent non-executive director in 2011 before he was made executive director in 2012, and CEO in 2016. On Jan 1, 2017, he was appointed group CEO.
The restructuring exercise, which began in 2016, managed to lift the group's order book to RM1.5 billion in 2016 and RM1.3 billion in 2017, and cut its operating cost from 22.8% in financial year 2015 to 16% in FY2016 and 14% in FY2017.
According to Azizan, Gabungan AQRS has been rebranding and reconsidering its business model over the past three years and the focus now is on the property development division, which will be revived this year.
"We hope to achieve a balanced portfolio of 50:50 for property development and construction in terms of revenue 2020," he says.
The company is targeting RM500 million in sales this year from The Peak in Johor Baru and E'island Lake Haven in Puchong, Selangor, he adds. "No borrowings were required for these projects and we expect them to generate net operating cash flow of about RM640 million for the next four to five years."
Another upcoming project is One Jesselton Waterfront in Kota Kinabalu.
Ow stresses that the new leadership is hands-on to ensure each project is worth every penny the purchasers pay for. "Azizan's philosophy is that we will try our best not to go through real estate agents as we want to give the best value to prospective customers."
He notes that one of the group's strategies is to have joint ventures with landowners. "As such, we do not need to purchase big tracts of land and we can pick and choose what we want. We are doing joint ventures with the landowners for The Peak and One Jesselton Waterfront, while for E'island, we bought the land."
Ow says two to three land parcels that were not aligned with the company's vision have been disposed of.
The Peak
The Peak in Johor Baru was first launched in 2015 but was put on hold because of the group's financial difficulties then.  The buyers at the time were compensated for the delay in completion. The project is ready to be relaunched and has started selling units at the beginning of April.
Ow says every aspect will be well planned, from the positioning of parking spaces to the interior design of the units.
Located in the heart of Johor Baru city, the premium low-density development occupies a 5.5-acre freehold commercial parcel and has a gross development value of RM603 million.
Expected to be completed in 3Q2019, The Peak comprises two 39-storey interconnected towers that will offer 668 semi-furnished serviced apartments. Three lift lobbies will serve a maximum of four units per floor.
For the relaunch, the group company is introducing a Flexi Home Ownership plan that includes a cashback option and a "Reside Before You Decide" scheme. Bumiputera buyers will get special rebates.
"The Peak represents the new Gabungan AQRS, we see The Peak as good value because it is one of three property developments with commercial freehold status in the city centre. Our prices are 30% to 40% cheaper in general than other similar developments in the area," says Azizan.
Under the cashback option, buyers will get rebates of 14% to 16% from the selling price. In addition, they will enjoy RM90,000 of cashback savings.
For the Reside Before You Decide scheme, potential buyers can rent and lock in the units for 36 months before they sign the sales and purchase agreement.
The 36 months of rent will go towards part-settlement of the purchase price, therereducing the housing loan amount. Azizan explains that the company is able to provide this plan as the development was completed with zero borrowings.
The serviced apartments will have four layouts. The smaller 2-bedroom units, measuring 947 sq ft, will sell for RM520,300 and above. The 2+1 bedroom suites come in two variants: Executive (built-up of 1,130 sq ft, prices from RM633,800), and Panorama (built-up of 1,217 sq ft, prices from RM650,200).
For those looking for larger homes, The Peak also offers 4-bedroom sky villas and sky garden villas (1,948 to 2,184 sq ft), as well as dual-key units with built-ups of 2,192 to 2,200 sq ft.
"The sky garden villa comes with a larger layout, with a generously sized balcony. Unlike most designs, this balcony can be transformed into a private garden or sanctuary space, for a seamless extension from the living room," says Ow.
The dual-key sky villa is designed for multigenerational families, or for owners to explore other investment opportunities. Standard units will be equipped with wardrobes, kitchen cabinets, sanitary wares and kitchen appliances.
Prices for these units start at RM1.04 million (sky villa), RM1.05 million (sky garden villa), and RM1.13 million (dual-key sky villa). The maintenance fee is 30 sen psf.
"All units will be fitted with built-in kitchen cabinets and four concealed air conditioners. We want the building's façade to look nice and clean," says Azizan.
What differentiates The Peak — which sits on the highest hill in Johor Baru — from other similar developments in the city is a sense of luxury and privacy, he adds.
"All units — from the cheapest to the most expensive — will have a view of the beautiful scenery of Johor Baru," he adds.
"All units are designed as corner units and provide a liveable, comfortable and functional environment. We want to provide real value to our buyers."
Each unit will be allocated two to four parking bays, depending on the size.
Where most developments have a generic facilities deck, The Peak stands apart with a total space of 1.85 acres over two levels in two towers, says Azizan. Residents will get to enjoy a total of 38 facilities in a space designed to recreate the exclusivity and privacy of a private club.
The Peak Club on Level 6 will include a 50m infinity edge pool, floating sun lounges, jets, a separate children's Aqua Park, adult Aqua Gym facilities and an Aqua Walk.
There will be two Sky Clubs, on Levels 20 and 22 on each tower. Facilities in the clubs will include sky barbecue, sky dining, chill-out zone, children's play area, viewing point, reading corner, WiFi zone, games corner, aerobics deck, yoga deck and outdoor gymnasium.
"The facilities will be built facing the lake. We will configure the building so that none of the units is directly exposed to sunlight," explains Ow.
The Peak is accessible via five highways, including the North-South Expressway, Senai-Desaru Expressway, Skudai Highway, Tebrau Highway and Pasir Gudang Highway.
Amenities nearinclude the Sultan Ismail Hospital, Mid Valley Southkey Megamall and Ponderosa Golf & Country Club. The development is a 35-minute drive from Woodlands Singapore.
E'island Lake Haven
Gabungun AQRS plans to do a soft launch of E'island Lake Haven in Putra Perdana, Puchong, end April. The development will be featured in the Home Ownership Campaign 2019 from April 26 to 28 in Mid Valley Megamall. The development, which has a GDV of RM501 million, will feature four 19-storey serviced apartment blocks with five levels of parking. Azizan says the unique selling point is the 360° lake view.
"We are confident that this development will be a highly sought-after product. Our vision is to allow buyers to experience island-like living at a value-for-money price," he states.
E'island will offer 1,140 units, comprising family suites, lakeview suites and garden suites, all of which will have three bedrooms and built-ups ranging from 881 to 1,099 sq ft.
"90% will be priced at an affordable range of RM295,000 to RM399,000," says Azizan.
There will be only 32 garden suites, each of which will have its own private garden and direct access to the sheltered car park on the ground floor. All E'island units will be fitted with four air conditioners, kitchen cabinets and wardrobes in the master bedrooms.
Buyers are entitled to a 15% rebate and the first 500 will get two years of free maintenance.
Purchasers with a household income of less than RM5,000 will enjoy up to 100% margin of finance after rebates.
Buyers will be entitled to two to three parking bays depending on the size of their units. Selected units will also be allocated storage space in addition to their parking bays.
The maintenance fee is 20 sen psf.
Among the facilities are a 500m lakefront boardwalk and jogging track, a lakefront pool with slides, lakefront gymnasium and an indoor badminton court.
E'island is accessible via the North-South Expressway Central Link (ELITE), Maju Expressway (MEX), Lebuhraya Damansara-Puchong (LDP), and South Klang Valley Expressway (SKVE). It is just a short distance from Puchong Perdana, Puchong Prima and Cyberjaya North MRT and LRT stations.
Amenities within a 10km radius include IOI Mall Puchong, Multimedia University and Columbia Asia Hospital.
The Peak and E'island will boast an advanced cardless and keyless security system, operated via a mobile phone application called Prime Xcess. The system is fully customisable, permitting or restricting access to specific areas and allowing residents to manage the access times of pre-registered guests and visitors.
Prospects
Gabungan AQRS' upcoming One Jesselton Waterfront is expected to take the company to another level because of its prestige and iconic status, says Azizan.
The 29-storey mixed-use integrated development in Kota Kinabalu on a 6.28-acre parcel will comprise a premier lifestyle mall, hotel, corporate offices and retail units, and serviced residences. It has an estimated GDV of RM1.8 billion.
Gabungan AQRS will have an 82% stake in the development, which will be jointly developed with the landowner, Suria Capital Holdings Bhd.
The residential component will be launched in 4Q2019.
"We will be targeting mainland Chinese for One Jesselton Waterfront as many of them often visit Kota Kinabalu," says Azizan.
"The waterfront overlooks the South China Sea and affords views of beautiful sunsets."
Marketing for the development started in some Chinese cities in March. Road shows will be held in Shanghai in May and June and move to cities in South Korea, Japan and Taiwan in 3Q2019.
Gabungan AQRS faces the same challenges as other developers, say Azizan. "This is the reason why we are offering the Reside Before You Decide scheme and cashback option. We will not have the pressure to sell all our projects this year. In a way, we are more comfortable in facing the challenges as we have taken precautions to mitigate the challenges that the industry currently faces."
"For E'island, we are giving value for the price and we hope that it will be attractive to customers. We are able to do so as the land is not encumbered and as such, do not carry any interest cost," he adds.
As the company has no land bank as of now, Azizan says, "We will be focusing on these three projects for the next five years to ensure they are a success."