This article first appeared in City & Country, The Edge Malaysia Weekly, on May 9, 2022 - May 15, 2022.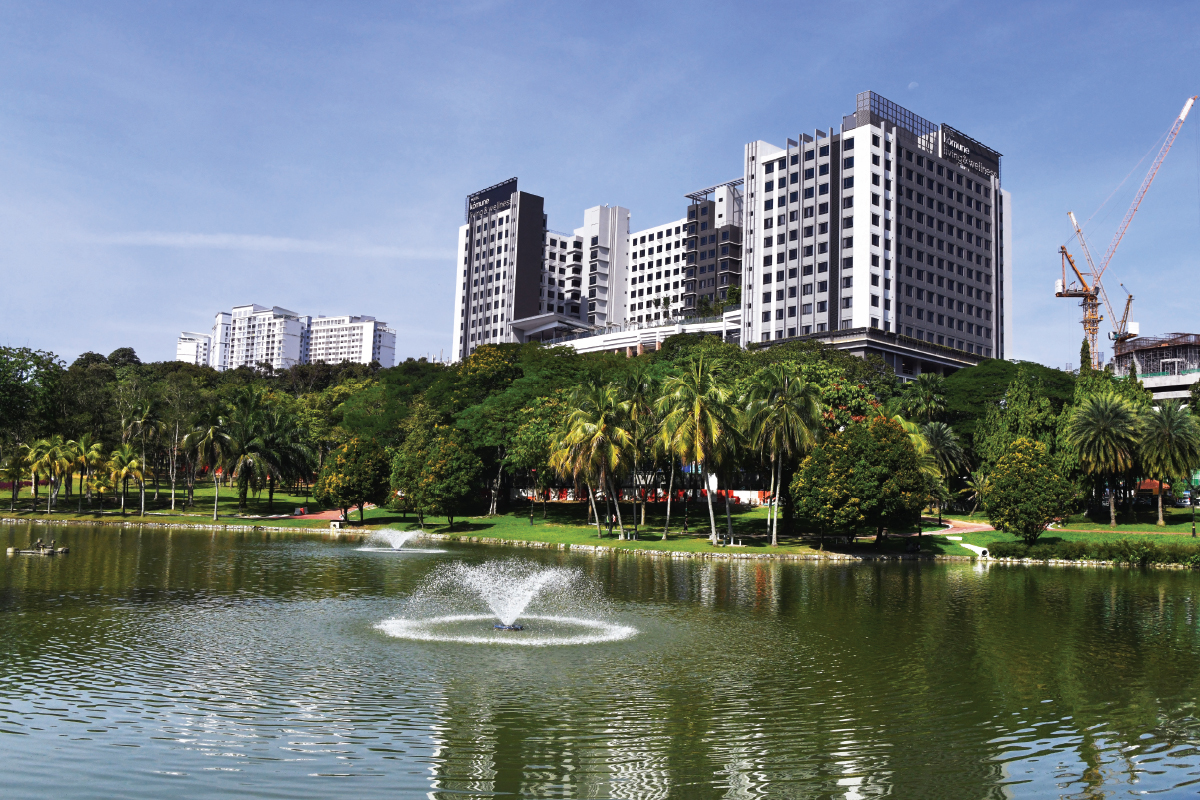 As Malaysia moves closer to becoming an ageing nation, many developers have embarked on projects that cater for seniors and their needs. One of them is UOA Development Bhd, which is set to unveil its senior-living product called Komune Living & Wellness on May 12. 
With wellness features aimed at providing a wholesome and holistic lifestyle, Komune Living & Wellness has a valuation of RM298 million and sits on a two-acre parcel with a total built-up of 423,000 sq ft. It is located beside Taman Tasik Permaisuri, a 99-acre park in Cheras, and overlooks the lake and the nearby Cheras Stadium.
At first glance, the development appears to be a hotel with plenty of F&B outlets and facilities for the young and upwardly mobile. However, on closer inspection, the attention to detail reveals a product that is designed with seniors in mind. It is not a place for them to sit around and while their time away, but one that strives to engage and uplift their mind, body and spirit.
"Our objective at Komune Living & Wellness is to create a safe and engaging community for seniors, where they can age actively with all the facilities and support they need to maintain both their physical and mental well-being," says general manager Mark Chen. He adds that the product provides a "hotel-like" environment for independent, active seniors — coupled with good medical care that may be required by others.
"We believe that our senior co-living model — supported by high-quality communal facilities and activities, as well as top-notch on-site medical facilities and care — offers a unique solution. Our residents can 'age in place' in a stimulating and fun environment where they can build long-term friendships and bonds, while enjoying lots of enriching and fun activities," he continues.
While the property is mainly targeted at seniors, Chen highlights that it also caters for other age groups for staycations, confinement and recuperation from surgery. The confinement units are located on a separate floor with kitchen facilities. Meanwhile, the developer is in talks with the nearby Hospital Canselor Tuanku Muhriz UKM (formerly known as Hospital Universiti Kebangsaan Malaysia) to see how they can work together on patient recuperation after an operation. Additionally, Komune Living & Wellness accepts dementia patients, but they need to undergo an assessment first. It does not provide palliative care.
Komune Living & Wellness' facilities are located on Levels 4 and 6, with the former being more exclusive for select guests while the latter is open to all guests. Other facilities include childcare, eldercare, physiotherapy, medical service and traditional Chinese medicine (TCM), as well as a food court.
The property is managed by UOA's hospitality arm that provides all housekeeping services and helps maintain the units, which are not for sale.
Heading the team that manages Komune Living & Wellness is Chen, who has over 26 years of hospitality experience, starting in sales and marketing before switching to operations and hotel openings.
Specially designed units
There are 15 levels and 791 rooms, with 656 ­co-living rooms for hotel stays, 31 confinement units on 
Level 7, which will be managed by a business partner, and 104 senior-living units on Levels 9 and 10. The reason the co-living rooms are called such and not hotel rooms is because the Komune Living brand stands for more than just a hotel. UOA opened its first Komune Living in Bangsar South in late 2019.
"Our take on co-living is all about a new way of living, focused on community and convenience as well as an alternative accommodation option or for experience-seekers when travelling or on holiday," says Chen.
"So, move in for months or stay a few nights. Whether as a short-stay guest or as a long-stay resident, you are welcome to live as part of our community and share custom-designed spaces and community activities with the comfort of being able to retreat to your own fully furnished private studio at the end of the day. 
"Hence, this new development, Komune Living & Wellness, carries the same co-living brand essence and has added on wellness components."
There are 10 room layouts, including studios, two-bedroom studios and one-bedroom suites with built-ups of 173 to 573 sq ft. There are also rooms for the disabled, which have wider spaces for ease of manoeuvrability with handrails, pull buttons in the bathroom and press buttons near the bed for emergencies.
"The entire building combines three elements — co-living, wellness and senior living. In senior living, we have independent-living and assisted-living units. The co-living side is for normal hotel stays," says Chen.
The independent-living units are for active seniors, whose rooms can be customised to include special services such as full or part-time care packages, an emergency response system, medical escort services and healthy meal plans. Otherwise, they can live just as they would in any other condo or apartment unit, allowing them to age in place.
The assisted-living units are designed for seniors who require 24/7 assisted care. In addition to the optional services provided in the independent-living units, there are also mobile app monitoring services, a range of essential care services and hospital-grade beds. There will be round-the-clock medical staff, and new guests will be medically accessed by Komune Care on arrival to gauge the level of support required.
Komune Care is a dedicated wellness partner, created through a collaboration between UOA and Care Concierge for the property. The services it provides will include a 6,600 sq ft senior daycare facility, which will be equipped with nursing stations, rehabilitation areas and common areas for seniors to receive essential care and participate in activities.
A holistic environment
To showcase in greater detail what is on offer, Chen takes me on a tour of the premises. On the ground level is an open foyer with ample space for cars or larger passenger vehicles to drop off or pick up visitors and guests. There are also several circular planter boxes with lovely flowers and plants.
On entering, to the left is the wellness lobby for seniors to check in or go to their rooms without bumping into other guests, who may be checking in for a staycation, he explains.
The co-living lobby is to the right and offers the option of a traditional check-in at the reception or self-check-in using a kiosk, which Chen says is becoming a common practice nowadays.
He takes me to the Level 6 facilities deck, which overlooks the lake and is open for all guests to use. It has a swimming pool, gym, lounge, barbecue area and several games rooms with arcade games, darts, and pool and ping pong tables. There is also a children's corner with toys, jigsaw puzzles and a small library, as well as a space for seniors to entertain their adult children and grandchildren.
"In the gym, we cut down on free weights and put in a lot of cardio machines. There are also physio­therapy machines," says Chen, adding that physiotherapists from its business partner will be on hand to provide assistance or guidance on the use of the machines.
Chen then takes me to the smallest co-living unit, which can come with twin beds or a queen-sized bed. This basic room did not provide much space to move around in, but is ideal for people to leave their luggage, have a good shower and sleep after a day of activities.
He then shows me another unit that is slightly larger at about 400 sq ft with two bedrooms. "This room is very popular. For enquiries on senior-independent living, where they might want to bring in a helper, we would recommend this room. The room doesn't have an induction cooker installed because there is a community kitchen [on Level 4] to encourage people to go cook together."
Chen reveals that the much larger rooms, which are on Levels 13 and 15, are not ready yet but will be progressively opened to the public. They will each look like an apartment, with elements such as a kitchenette and powder room. These are for longer-staying customers.
Moving to Level 4, the lift opens to a shady and expansive facilities floor that evokes the feeling of a modern resort.
"Facilities on this level are only available to those in three categories — hold a membership, which we will pursue later; senior-living clients who are staying long term with us, and long-stay clients, who stay for more than a month," says Chen, adding that activities that stimulate the mind and body will be arranged by a recreation department, specially set up to manage and facilitate all activities for guests.
Chen shows me a discreetly cordoned off area where the Jacuzzi and warm water pool are located. The water is heated to between 35°C and 38°C. Just outside this area is a small outdoor gym.
We then walk towards an open seating area, which is breezy as the sides are open to allow in plenty of fresh air. Tables and chairs for people to have their meals can be found here, along with a space to lounge in with friends and family.
Further along is the community kitchen, which is equipped with fridges, induction cookers, microwaves and ovens. Guests need only bring their own ingredients to cook up a storm. Chen says that all cooking utensils, cutlery and plates are provided. Those in a wheelchair are also able to enjoy the cooking activities as the space has been specially designed to accommodate them.
There are rooms with mahjong sets, which Chen says is good to keep the mind active, and karaoke machines for those who love to sing a tune or let out their inner Frank Sinatra.
Residents who enjoy movies can head to the ­theatrette, where films will be shown daily for guests and their family members.
Those who prefer to handle their own laundry can make use of the laundry room with coin operated machines to wash and dry their clothes. Irons are also available. Any larger items to be washed can be sent to housekeeping, Chen says, adding that an app will soon be ready to help with the booking of rooms, facilities or activities.
As we make our way to the mezzanine level for the penultimate stop of the tour, Chen shares that UOA is constructing a rooftop farm using aquaponics. "We are working with a business partner. We are only taking 12,000 sq ft of the roof for this venture. We will open it up to anyone who is interested in planting something."
On arriving on the mezzanine level, Chen points out the Tong Xin Tang facility, which is an established and reputable TCM business. Services provided include acupuncture, massage and cupping. It has over 50 private consultation and treatment rooms. Apart from treatments, it will also provide optional and complimentary TCM health talks and seminars.
Also on this floor is a children's daycare centre Cutie Cottage and elderly daycare centre Komune Care, and just next to that is the physiotherapist's office and facilities.
Chen highlights that with the child daycare centre located close to the elderly daycare facilities, it allows adult children to drop off both their child or children and their parents before they head to work and pick them up after.
"In Malaysia, many children look after their parents. However, due to the hectic demands of modern working life, many seniors spend a lot of time alone at home, often without the kind of stimulation and community they need to help preserve their physical and mental well-being, through no fault of their families," says Chen.
"We understand that there can be some stigma or guilt associated with putting parents into care, due to old stereotypes of what senior care is like. That is why we have deliberately set out to create a new concept of senior care based on a world-class facility, in an environment which enables seniors to have fun, build new friendships and connections in a location which is very accessible and enjoyable for their families to visit and even stay."
As we make our way to the escalator to take us to the final stop of the tour, Chen points out the about 20,000 sq ft space taken up by UMH Healthcare & Medical Group that will have a general medical practice, a dental practice, ambulatory daycare screening services, a medical aesthetics clinic and an anti-ageing clinic.
At the bottom of the escalator is the entrance to Taman Tasik Permaisuri and to the left is the food court. There is a space in front of the food court and leading to the park that will be open for activities for guests, visitors and park-goers. Security guards are stationed there to ensure safety. 
Chen directs me to the 12,000 sq ft food court, which has space for 12 stalls with six opened thus far. The first stall at the entrance, which sells typical nasi lemak bungkus, teh tarik and all other goodies Malaysians adore, has been doing brisk business, particularly from park-goers, says Chen. The other stalls offer heartier meals such as chicken rice, herbal soup and Mexican fare. For those who love coffee, there is a café at the rear of the food court.
Future amenities will include a mini-mart, pharmacy and a hair and beauty salon.
Room rates and future plans
Settling down for a cup of coffee, Chen says 40 units have been booked for May 12 — the day that Komune Living & Wellness will open — with the majority being seniors on short stays. He says they are testing out the facilities before considering if a longer stay would be beneficial for all parties involved.
As the development is not a normal hotel but more of a long-stay product, Chen and his team are aware that it will take time for seniors to decide on making a move and changing their living arrangements. Thus, Chen says the developer aims to achieve a modest 40% occupancy rate by year end for all components of Komune Living & Wellness. However, it has not set any specific targets as it believes its product needs to be experienced before people would consider staying for a longer term.
"We don't want to give the impression that this whole building is only for seniors. We want young people to come here to eat, and the seniors will feel more vibrant. This is a place to bring in multigenerations.
"We don't want this place to be thought of as an old folks' home. That is why we have brought in this modern food court, so that adult children can come and eat with their parents on the weekends, and go play in the park. So, it will be something they would want to do rather than be forced to do," says Chen.
The room rates at Komune Living & Wellness vary depending on the needs of the guests. Rates for the independent-living units start from RM2,100 per month while the assisted-living units start from RM6,800 net per month and includes access to daycare, a range of other care services, daily activities, and community and social programmes.
Rates for those wishing to stay for a longer term but under three months start from RM2,100 per month while those staying more than three months start from RM1,850 per month.
Standard day rates for short stays start from RM179 per night and bookings can be made via the property's website and other hotel booking platforms.
As for the future, plans are afoot to replicate Komune Living & Wellness in another location in Malaysia, although the exact site is being kept under wraps — all will be revealed at a later date, says Chen.
With the tour ended and coffee finished, Chen concludes by saying, "What we are looking at is for people who stay here to have a different experience compared to what they would find out there in the market, so they can see a different lifestyle they can look forward to."